Quick Facts
Region: Asia & Oceania
Full Name: Republic of Uzbekistan
Capital City: ashkent (Toshkent)
Language Spoken: Uzbek 74.3%, Russian 14.2%, Tajik 4.4%, other 7.1%

Uzbekistan Travel Insurance
Get travel insurance to Uzbekistan from Direct Travel Insurance. We offer low cost and high quality travel insurance to Uzbekistan and most of the world.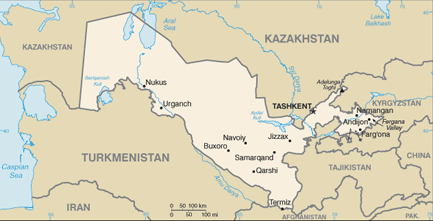 Geographic data
41 00 N, 64 00 E
Elevation Extremes
lowest point: Sariqarnish Kuli -12 m highest point: Adelunga Toghi 4,301 m
Land boundaries
total: 6,221 km border countries: Afghanistan 137 km, Kazakhstan 2,203 km, Kyrgyzstan 1,099 km, Tajikistan 1,161 km, Turkmenistan 1,621 km
Natural hazards
NA
Natural resources
natural gas, petroleum, coal, gold, uranium, silver, copper, lead and zinc, tungsten, molybdenum
Land use
arable land: 10.51% permanent crops: 0.76% other: 88.73% (2005)
Environmental current issues
shrinkage of the Aral Sea is resulting in growing concentrations of chemical pesticides and natural salts; these substances are then blown from the increasingly exposed lake bed and contribute to desertification; water pollution from industrial wastes and the heavy use of fertilizers and pesticides is the cause of many human health disorders; increasing soil salination; soil contamination from buried nuclear processing and agricultural chemicals, including DDT
Climate
Uzbekistan has an extreme continental climate. It is generally warmest in the south and coldest in the north. Temperatures in December average -8°C (18°F) in the north and 0°C (32 °F) in the south. However, extreme fluctuations can take temperatures as low as -35°C (-31°F). During the summer months, temperatures can climb to 45°C (113°F) and above. Humidity is low. The best time to visit is during the spring and autumn.
Time difference
time difference: UTC+5
Population
27,307,134 (July 2006 est.)
Age structure
0-14 years: 32.9% (male 4,572,721/female 4,403,405) 15-64 years: 62.3% (male 8,420,174/female 8,594,478) 65 years and over: 4.8% (male 539,336/female 777,020) (2006 est.)
Median age
total: 22.7 years male: 22 years female: 23.3 years (2006 est.)
Population growth rate
1.7% (2006 est.)
Birth rate
26.36 births/1,000 population (2006 est.)
Death rate
7.84 deaths/1,000 population (2006 est.)
Net migration rate
-1.5 migrant(s)/1,000 population (2006 est.)
Sex ratio
at birth: 1.05 male(s)/female under 15 years: 1.04 male(s)/female 15-64 years: 0.98 male(s)/female 65 years and over: 0.69 male(s)/female total population: 0.98 male(s)/female (2006 est.)
Life expectancy at birth
total population: 64.58 years male: 61.19 years female: 68.14 years (2006 est.)
Total fertility rate
2.91 children born/woman (2006 est.)
Business Practices
Business meetings are normally somewhat formal and suit and tie are expected. Most businessmen speak Russian, and a few speak English. Business cards are often exchanged at meetings. Appointments should be made in advance. Office hours are 0900-1800 Monday to Friday.
Crime
Crime in the city of Tashkent and Uzbekistan in general, while on the rise has not yet reached the levels experienced in many major western cities. Visitors are reminded to watch their handbags while touring crowded marketplaces or traveling on crowded buses or trams. Thieves have been known to cut handbags open with a razor blade and surreptitiously remove the contents. Visitors should also be alert for the ubiquitous "dropped money scam." One man will drop money on the ground and walk away. A second individual retrieves the cash and attempts to engage the intended victim in conversation, offering to split the proceeds. At this point the man who ostensibly lost the money returns, accuses the intended victim of theft, and demands redress, often at knifepoint. Several western women have been molested by intoxicated males while using public transportation and taxis, particularly at night. Western women are advised to dress conservatively, minimize the wearing of jewelry and attempt to travel in groups.
Hotels
Visitors are still required to stay in hotels that are licensed by Uzbektourism and most hotels are run by them. The main hotels in Tashkent are the Hotel Uzbekistan (tel: (3712) 336 244), the Hotel Tashkent (tel: (3712) 332 735) and the Hotel Russia (tel: (3712) 562 874). In Bukhara, there is the Hotel Bukhara (tel: (36522) 35004) and the Hotel Zerafshan (tel: (36522) 34067). In Samarkand, the Hotel Samarkand (tel: (3662) 330 127) and the Hotel Zerafshan (tel: (3662) 333 372). All other regional capitals have at least one Uzbektourism hotel that will accept foreigners. Services and facilities are not up to Western standards and security is often haphazard, but efforts are being made to improve them.
Communications
Telephone IDD service is available, but calls from hotel rooms still need to be booked either from reception or from the floor attendant. The country code is 7 (3712 for Tashkent). International calls can also be made from main post offices (in Tashkent this is on Prospekt Navoi). Direct-dial calls within the CIS are obtained by dialling 8 and waiting for another dial tone and then dialling the city code. Calls within the city limits are free of charge. Fax services are available from major hotels for guests only. Post office hours: 0900-1800 Monday to Friday. There are a number of international courier services based in Tashkent, these include: DHL and UPS
Electricity
is 220 volts AC, 50Hz. Round 2-pin continental plugs are standard. Electricity 220 volts AC, 50Hz. Round two-pin continental plugs are standard.
Plug Types
C,F
Food And Dining
Uzbek food is similar to that of the rest of Central Asia. During the summer and autumn, there is a wide variety of fruit: grapes, pomegranates, apricots ? which are also dried and sold at other times of the year ? and, dwarfing them all, mountains of honeydew and watermelons. Uzbeks pride themselves on the quality and variety of their bread. In general, hotel food shows a strong Russian influence. There are a number of restaurants that serve both European and Korean food (Stalin transported many Koreans from their home in the east of the former Soviet Union, believing them to be a security threat). There is a hard-currency restaurant at the top of the Hotel Uzbekistan in Tashkent that serves Chinese and Korean food. Beer, wine, vodka, brandy and are all widely available in restaurants.

National specialties:
? Plov is the staple food for both every day and celebrations, and usually consists of chunks of mutton, shredded red and yellow carrot and rice fried in a cast iron or aluminum pot. There are dozens of variations of this dish.
? Shashlyk (skewered chunks of mutton barbecued over charcoal ? kebabs ? served with sliced raw onions).
? Lipioshka (rounds of unleavened bread) are served in restaurants and are often sold on street corners and make an appetizing meal.
? Samsa (samosas) are also sold in the street, but the quality is variable.
? Manty are large boiled dumplings stuffed with meat.
? Shorpa is a meat and vegetable soup.
? Strogan is the local equivalent of Beef Stroganoff.
? Pirmeni originated in Ukraine and are small boiled dumplings of meat and vegetables, similar to ravioli, sometimes served in a vegetable soup. National drinks:
? Tea is the staple drink of Central Asia, and chai-khanas (tea houses) can be found almost everywhere in Uzbekistan, full of old men chatting the afternoon away with a pot of tea in the shade.
? Shampanski, sparkling wine.
? Kefir, a thick drinking yogurt, is often served with breakfast.

Tipping:
It is usual to tip 5 to 10 per cent in restaurants, bars and nightclubs. Restaurants in international hotels usually include service in the bill.

Nightlife
Tashkent has a variety of theaters that show everything from European operas to traditional Uzbek dancing and music. The Navoi theater, opposite the Tashkent Hotel, shows opera and ballet. The prices are low by Western standards; shows generally start at 1800. There is also a number of themed Western-style bars, restaurants and discos.
Entry departure requirements
* Please see visa & costs section
Visa immigration information
Passports
Passport valid for six months after departure date required by all.
Visas
Required by all except the following:
(a) nationals of the CIS (except nationals of Kyrgyzstan, Tajikistan and Turkmenistan who do require a visa);
(b) transit passengers continuing their journey within 24 hours by the same or first connecting aircraft provided holding valid onward or return documentation and not leaving the transit area.
Types of visa and cost
Tourist and Business. Single-entry: US$40 (seven days); US$50 (15 days); US$60 (30 days); US$80 (three months); US$120 (six months); US$160 (one year). Multiple-entry: US$60 (one month); US$150 (six months); US$250 (one year). Group: US$15 per person (15 days); US$25 per person (30 days). Transit: US$20 (24 hours); US$25 (48 hours); US$30 (72 hours); US$40 (double-entry).
Note: (a)1. US nationals can obtain multiple-entry business or tourist visas issued for up to four years for a cost of US$100 and transit visas for a cost of US$25. (b) Visa applications are subject to a US$20 service charge (US$10 for transit visas). (c) Visa regulations within the CIS are liable to change at short notice.
Validity
Tourist visas are normally single-entry/exit and are valid for the duration of the tour. Business visas are multiple-entry, valid for six months in the first instance and extendable. Nationals of Austria, Belgium, France, Germany, Italy, Japan, Spain, Switzerland and the UK can obtain a multiple-entry visa for tourist/business stays of up to one month; nationals of the USA can achieve such visas for stays of up to four years. Visas should be used within one month of date of issue.
Application to
Uzbek
Embassies
where they exist.
Application requirements
(a) Valid passport valid for entire period of stay with at least one blank page to affix the visa. (b) Two completed and signed application forms. (c) Two passport-size photos. (d) Fee, payable by cheque in Pounds Sterling on collection of visa. (e) Pre-paid, stamped, self-addressed envelope, if applying by post. Tourist: (a)-(e) and, (f) Letter of invitation from inviting partners in Uzbekistan. Applications are usually made through a travel agent. Business: (a)-(e) and, (f) Business invitation from Uzbekistan giving details of activities to be undertaken and length of stay in Uzbekistan. This letter can be sent directly to the Ministry of Foreign Affairs in Uzbekistan, who will then contact the Embassy directly, giving permission for the stay. Private visits: (a)-(e) and, (f) Letter of invitation from friends/relatives endorsed by the immigration department of the Ministry of Internal Affairs in Uzbekistan. Transit: (a)-(e) and, (f) Air ticket to onward destination.
Note
(a) Tourists (other than nationals of Austria, Belgium, France, Germany, Italy, Japan, Spain, Switzerland and USA, who also do not need to submit letters of invitation as part of their visa application requirement) will normally have their visa application completed by their travel agent. (b) A personal interview may be required before a visa can be issued. (c) Visitors staying longer than three days must register with the Ministry of Internal Affairs within three working days. However, most hotels will automatically do this on behalf of the visitor. (d) Before applying by post, applicants should first contact the Consular section of the Embassy (except for nationals of Austria, Belgium, France, Germany, Italy, Japan, Spain, Switzerland and USA).
Working days required
10. For nationals of Austria, Belgium, France, Germany, Italy, Japan, Spain, Switzerland, the UK and USA, allow two days.
Temporary residence
It is possible to apply for temporary residence. The government of Uzbekistan officially requires visitors to carry a medical certificate proving they are free of HIV, but this is rarely enforced.
HIV entry requirements
Test required for anyone staying longer than 15 days
Departure tax
US$10. Embassies
Embassy of the Republic of Uzbekistan in the UK
41 Holland Park, London W11 3RP, UK
Tel: (020) 7229 7679.
Website: www.uzbekembassy.org
Opening hours: Mon-Fri 0900-1800; Mon-Wed and Fri 1000-1300 (consular section).
Embassy of the Republic of Uzbekistan in the USA
1746 Massachusetts Avenue, NW, Washington, DC 20036-1903, USA
Tel: (202) 887 5300.
Website: www.uzbekistan.org
Consulate General of the Republic of Uzbekistan in the USA
801 2nd avenue, 20th Floor, New York, NY 10017, USA
Tel: (212) 754 7403/4718.
Opening Hours: Mon-Wed 1000-1300; Thurs (collection of documents only).

Travelers should avoid all but essential travel to areas bordering Afghanistan, Tajikistan and Kyrgyzstan other than via authorized crossing points.
There is a high threat from terrorism in Uzbekistan. Travelers should be aware of the potential risk of indiscriminate attacks which could be against civilian targets, including places frequented by foreigners. Travelers should be particularly vigilant in public places and should pay attention to any security announcements by the Uzbek authorities.
This advice is based on information provided by the Foreign, Commonwealth & Development Office in the UK. It is correct at time of publishing. As the situation can change rapidly, visitors are advised to contact the following organizations for the latest travel advice:
British Foreign, Commonwealth & Development Office
Website: https://www.gov.uk/foreign-travel-advice/uzbekistan
US Department of State
Website: https://travel.state.gov/content/travel/en/international-travel/International-Travel-Country-Information-Pages/Uzbekistan.html
Currency
Uzbek Sum (UZS) = 100 tiyn. Notes are in denominations of UZS1000, 500, 200, 100 and 50. Coins are in denominations of UZS50, 25, 10, 5 and 1, and 50, 25, 10, 5 and 1 tiyn.
Currency restrictions
The import of foreign currency is unlimited, but should be declared on arrival. Travelers importing sums in excess of US$1000 may be subject to a body search. The export of foreign currency is permitted. Travelers who have imported sums in excess of US$2000 are required to provide proof of lawful exchange into Sum, otherwise a fine of 30 per cent of the amount imported will be payable. The import and export of local currency is unlimited.
Banking hours
Mon-Fri 0900-1800. Some banks open Sat 0900-1500.
Currency exchange
Tourists and businesspeople without special status have to pay for hotels, hotel services and transport in hard currency; US Dollars are the most widely acceptable. All bills are normally settled in cash. It is illegal to change money on the black market and penalties can be harsh. Banks and the currency exchange bureaux in major hotels will change at the official rates.
Credit cards
Acceptable in some of the major hotels in tourist centers. Uzbekistan has said that it intends to introduce its own Visa card in the near future.
Travellers cheques
Limited acceptance.
| City/Region | City/Area code | Followed by |
| --- | --- | --- |
| Andijan | (8)74 | + 7 digit subscriber nr |
| Bukhara | (8)65 | + 7 digit subscriber nr |
| Fergana | (8)73 | + 7 digit subscriber nr |
| Gulistan | (8)67 | + 7 digit subscriber nr |
| Jizak | (8)72 | + 7 digit subscriber nr |
| Karakalpakstan | (8)61 | + 7 digit subscriber nr |
| Karshi | (8)75 | + 7 digit subscriber nr |
| Khorezm | (8)62 | + 7 digit subscriber nr |
| Namangan | (8)69 | + 7 digit subscriber nr |
| Navoi | (8)79 | + 7 digit subscriber nr |
| Samarkand | (8)66 | + 7 digit subscriber nr |
| Surkhandaria | (8)76 | + 7 digit subscriber nr |
| Tashkent | (8)71 | + 7 digit subscriber nr |