Quick Facts
Region: Europe
Full Name: Ukraine
Capital City: Kyiv (Kiev)
Language Spoken: Ukrainian (official) 67%, Russian 24%, small Romanian-, Polish-, and Hungarian-speaking minorities
Ukraine Travel Insurance
Get travel insurance to Ukraine from Direct Travel Insurance. We offer low cost and high quality travel insurance to Ukraine and most of the world.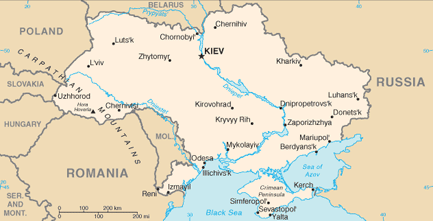 Geographic data
49 00 N, 32 00 E
Elevation Extremes
lowest point: Black Sea 0 m highest point: Hora Hoverla 2,061 m
Land boundaries
total: 4,663 km border countries: Belarus 891 km, Hungary 103 km, Moldova 939 km, Poland 526 km, Romania (south) 169 km, Romania (west) 362 km, Russia 1,576 km, Slovakia 97 km
Natural hazards
NA
Natural resources
iron ore, coal, manganese, natural gas, oil, salt, sulfur, graphite, titanium, magnesium, kaolin, nickel, mercury, timber, arable land
Land use
arable land: 53.8% permanent crops: 1.5% other: 44.7% (2005)
Environmental current issues
inadequate supplies of potable water; air and water pollution; deforestation; radiation contamination in the northeast from 1986 accident at Chornobyl' Nuclear Power Plant
Climate
Temperate with warm summers; crisp, sunny autumns; and cold, snowy winters. Required clothing Lightweight clothes needed in summer, light- to mediumweight in the spring and autumn and heavyweight in the winter.
Time difference
time difference: UTC+2 daylight saving time: +1hr, begins last Sunday in March; ends last Sunday in October
Population
46,710,816 (July 2006 est.)
Age structure
0-14 years: 14.1% (male 3,377,868/female 3,203,738) 15-64 years: 69.3% (male 15,559,998/female 16,831,486) 65 years and over: 16.6% (male 2,635,651/female 5,102,075) (2006 est.)
Median age
total: 39.2 years male: 35.9 years female: 42.2 years (2006 est.)
Population growth rate
-0.6% (2006 est.)
Birth rate
8.82 births/1,000 population (2006 est.)
Death rate
14.39 deaths/1,000 population (2006 est.)
Net migration rate
-0.43 migrant(s)/1,000 population (2006 est.)
Sex ratio
at birth: 1.07 male(s)/female under 15 years: 1.05 male(s)/female 15-64 years: 0.92 male(s)/female 65 years and over: 0.52 male(s)/female total population: 0.86 male(s)/female (2006 est.)
Life expectancy at birth
total population: 69.98 years male: 64.71 years female: 75.59 years (2006 est.)
Total fertility rate
1.17 children born/woman (2006 est.)
Business Practices
Business attire in Ukraine is generally formal and conservative. Suits, and ties for men, are expected for official business while appropriate dress for women can extend from a suit to dress slacks and blazer. The exchange of business cards is extremely common and visitors are advised to bring company cards. Many Ukrainian entrepreneurs speak some English. Office hours are Mon-Fri 0900-1800. Lunch tends to be at least 1.5 hours.
Crime
Inflation, unemployment, and the breakdown of the country's social fabric have contributed to an ever-increasing violent crime rate. Crime in general is a growing problem. Criminals increasingly view Westerners and their residences as choice targets. Pick pocketing, robbery, and other petty crimes are a common occurrence on the mass transit system. Special care should be taken on the subways, buses, trams, and other means of mass transportation. Visitors should avoid traveling alone, particularly via mass transit and at night. A common scam is to drop a wallet or bundle of money in front of a traveler. The criminal then "finds" the money and asks if it is the traveler's or offers to share the money with them. If approached in this way, walk away without engaging in conversation. Beware of accepting drinks in bars from casual acquaintances, as they could be spiked. A number of racially-motivated assaults and incidents of harassment have been reported. While these attacks do not seem to be premeditated or related, the U.S. Embassy in Kiev, including Unification Park (the site of one of the attacks), serve as gathering points for "skinhead" groups, who have targeted individuals of African or Asian heritage in the past. Persons of African or Asian descent are also subject to frequent stops and searches by local police. There are several credible reports that such incidents have led to harassment and physical abuse. To minimize the risk of an incident with local law enforcement authorities, carry photocopies of your passport at all times. Under Ukrainian law, individuals may be detained for up to three hours while their identity documents are being verified. If stopped and detained, attempt to comply with all instructions from law enforcement officers but also make it clear that you are a foreign national. Burglaries of apartments and vehicles represent the most significant threat to long-term residents. Although few cars are actually stolen, primarily because of increased use of alarm systems and security wheel locks, vehicular break-ins and vehicular vandalism are becoming more common. There are few safe, low cost lodgings such as youth hostels. Public facilities in Ukraine are generally not equipped to accommodate persons with physical disabilities. Ukraine lacks tourist and travel services for foreign victims of crime. Transferring funds from the United States, replacing stolen traveler's checks or airline tickets, or canceling credit cards can be difficult and time consuming. Organized crime syndicates operate in the Ukraine. There activities generally do not affect travelers or expatriate residents, but turf disputes between competing groups sometimes erupt into violence, including bomb attacks on businesses, marketplaces and vehicles. Computer fraud is becoming more common in Ukraine. Internet scams appear to be on the rise. Refrain from wiring money unless the recipient is well-known and the purpose of business is clear.
Hotels
There is a range of Western-style hotels in Kiev, varying in price. Better hotels include Grand Hotel in Lvov, the Hotel Dnister, in Kiev, the Hotel Complex Kievskaya Rus. Some of the cheaper hotels in Kiev include Hotel Dnipro on vul. Khreshchatik and Hotel Lybid. The restored London Hotel in Odessa is elegant and more or less of Western standard. In Yalta, the Hotel Yalta is only a few meters from the sea and of a good standard. Please check and confirm rates at your hotel prior to arrival. If preferred, various agencies in Ukraine can suggest apartment rentals on a daily, weekly, or monthly basis for business travelers. Please be advised that, during the winter months, heating may not be available in many hotels outside Kiev. Hot water is generally available in hotels, but there are periods (2-6 weeks during the summer) when the hot water pipes are turned off for cleaning and repairs.
Communications
Ukraine now has reliable communications with the West, and most major cities provide telephone IDD facilities and can be dialed from abroad. The country code is 380 and the outgoing international code is 810. Telephone counters in the central post offices of city centers are usually open 24 hours. Fax facilities are good and are available in most offices and hotels. Ukraine's local telecommunications system has made marked improvements over the last two years; particularly in international, cellular, and mobile communications. The Main Post Office in Kiev is open 24 hours. Post office hours elsewhere are generally 0800-1700.
Electricity
is 220 volts AC, 50Hz. Travelers might also want to consider bringing a surge protector, especially for portable computers and other electronic devices. Electricity 220 volts AC, 50Hz.
Plug Types
C,F
Food And Dining
Visitors now have a wide choice of cuisines (including French, Indian, Italian, Japanese or Thai), particularly in Kyiv.

National specialties:
? Borshch (beetroot soup).
? Varenniki (dough containing cheese, meat or fruit).
? Holubtsi (cabbage rolls).
? Chicken Kiev exists but is better known in the West. National drinks:
? Crimean wines are excellent, especially dessert wines such as Krasny Kamen ('Red Stone').
? Abrau and Miskhako are excellent brands of cabernet.
? Artyomov champagne (bottled in eastern Ukraine).
? Fortified wines from Massandra, particularly one named 'Black Doctor'.

Tipping:
Tips and, if appropriate, small gifts are appreciated. Service is sometimes included in first-class restaurants and hotel bills.

Nightlife
Opera is performed in the ornate theaters of Kyiv, Lviv and Odessa. Ukrainians have a deep-rooted musical tradition and singing is very popular. Most cities also have good musical comedy, puppet-theater and troupes performing theatrical works in Ukrainian and Russian. Tickets are cheap by Western standards and readily available on the day of performance at the box offices. Prominent visiting artists most often perform in Kyiv's vast Ukraine Theater, where prices are higher.
Entry departure requirements
Note (a) Ukrainian visas are not valid in the Russian Federation, and Russian Federation visas are not valid in Ukraine. (b) As a general rule, visitors requiring visas should apply before traveling.
Visa immigration information
Passports
Passport valid for at least one month beyond return date required by all.
Visas
Required by all except the following:
(a) nationals of countries referred to in the chart above;
(b) nationals of all CIS countries (except nationals of Turkmenistan who do need a visa);
(c) nationals of Andorra, Hungary, Iceland, Liechtenstein, Monaco, Mongolia, Norway, Poland, Romania, San Marino, Switzerland and Vatican City.
Types of visa and cost
Tourist: US$34 (single-entry); US$60 (double-entry); Business/Private: US$34 (single-entry); US$69 (double-entry); US$189 (multiple-entry). Student: US$17 (single-entry). Transit: US$17 (double-entry); US$86 (multiple-entry, business only).
US citizens: US$108 (single-entry); US$119 (double-entry); US$179 (multiple entry) (inclusive of handling fee).
Note: A handling charge of US$34 is also required from the Embassy for each application.
Validity
Single-entry: Valid for stays of up to 90 days within six months after first trip to Ukraine; Double-entry/Multiple-entry: Six to 12 months; Transit: Five days for each entry.
Application to
Consulate (or Consular section at Embassy); see Passport/Visa Information.
Application requirements
(a) Valid passport/travel document with at least one blank page. (b) One completed application form. (c) Two recent passport-size photos. (d) Fee (postal order or company cheque only; if applying by post, enclose two separate postal orders or company cheques covering the handling charge and visa fee). (e) A contact telephone number. (f) Recorded, registered, self-addressed envelope for postal applications. Tourism: (a)-(f) and, (g) Tourist voucher with confirmation of hotel booking. Business: (a)-(f) and, (g) Letter of invitation from Ukrainian company or organization stating purpose of the visit (*see note below). (h) Copy of registration certificate of company or office in Ukraine. (i) For multiple-entry visas, detailed letters from Ukrainian company and company in home country explaining necessity for multiple-entry visa (*see note below). Private: (a)-(f) and, (g) Letter of invitation from Ukraine (faxed copy is acceptable) issued by the Passport and Immigration Department of a local Police Station in Ukraine (*see note below). Student: (a)-(f) and, (g) The original invitation letter from the Ministry of Education of Ukraine or from the University/College. Transit: (a)-(f) and, (g) Photocopy of the visa (if required) of the country of destination.
Note
*Nationals of Canada, the EU, Japan, Switzerland, Turkey and the USA applying for business or private visas do not require a letter of invitation.
Working days required
10 if submitted by post; three if submitted in person. This applies only to nationals of Turkey. For all other nationals, processing will always take approximately 10 days.
HIV entry requirements
Test required for anyone staying longer than 3 months
Departure tax
None
Embassies
Embassy of Ukraine in the UK
60 Holland Park, London W11 3SJ, UK
Tel: (020) 7727 6312.
Website: http://uk.mfa.gov.ua/en
Opening hours: Mon-Thurs 0900-1300, 1430-1830; Fri 0900-1300, 1430-1715.
Not open to personal callers.
Consular section: Ground Floor, 78 Kensington Park Road, London W11 2PL, UK
Tel: (020) 7243 8923 or (0906) 550 8955 (information line).
Opening hours: Mon-Fri 0930-1200.
Embassy of Ukraine in the USA
3350 M Street, NW, Washington, DC 20007, USA
Tel: (202) 333 0606.
Consulate General of Ukraine in the USA
240 East 49 Street, New York, NY 10017, USA
Tel: (212) 371 5690.
Opening hours: Mon-Fri 0915-1200.
Website: http://usa.mfa.gov.ua/en

Most visits to Ukraine are trouble-free but you should be aware of the global risk of indiscriminate international terrorist attacks, which could be against civilian targets, including places frequented by foreigners.
Travelers should be aware of petty crime, particularly in crowded areas, tourist spots and on public transport.
This advice is based on information provided by the Foreign, Commonwealth & Development Office in the UK. It is correct at time of publishing. As the situation can change rapidly, visitors are advised to contact the following organizations for the latest travel advice:
British Foreign, Commonwealth & Development Office
Website: https://www.gov.uk/foreign-travel-advice/ukraine
US Department of State
Website: https://travel.state.gov/content/travel/en/international-travel/International-Travel-Country-Information-Pages/Ukraine.html
Currency
Hryvnya (UAH) = 100 kopiyok (singular: kopiyka). Notes are in denominations of UAH200, 100, 50, 20, 10, 5, 2 and 1. Coins are in denominations of 50, 25, 10, 5, 2 and 1 kopiyok.
Currency restrictions
The import of local currency is limited to UAH1000. The export of local currency is limited to UAH10,000. Amounts over UAH1000 require a customs form. The import of foreign currency is limited to US$10,000 and any amounts exceeding US$1000 require a special customs form. The export of foreign currency is limited to US$5000. Amounts over US$1000 must be declared on a customs form. Any higher amounts can be exported with special permission from the National Bank of Ukraine.
Banking hours
Mon-Fri 0930-1730.
Currency exchange
Money should only be changed at currency booths on the street or in banks. It is advisable to keep receipts showing money changed. Changing money with black-market traders is not recommended and can be dangerous.
Credit cards
Not readily accepted. Only a few restaurants and hotels will accept them. Travelers should be aware there is a high level of credit card fraud.
Travellers cheques
Not generally advised. If taken, they should be made out in US Dollars.
| City/Region | City/Area code | Followed by |
| --- | --- | --- |
| Alchevsk | (8)6442 | + 5 digit subscriber nr |
| Alupka | (8)654 | + 6 digit subscriber nr |
| Alushta | (8)6560 | + 5 digit subscriber nr |
| Amvrosiivka | (8)6259 | + 5 digit subscriber nr |
| Andriivka | (8)6262 | + 5 digit subscriber nr |
| Andrushivka | (8)4136 | + 5 digit subscriber nr |
| Antoniny | (8)3855 | + 5 digit subscriber nr |
| Antonivka | (8)5537 | + 5 digit subscriber nr |
| Antratsyt | (8)6431 | + 5 digit subscriber nr |
| Apostolove | (8)5656 | + 5 digit subscriber nr |
| Arbuzynka | (8)5132 | + 5 digit subscriber nr |
| Arkhanhelske | (8)5535 | + 5 digit subscriber nr |
| Armiansk | (8)6565 | + 5 digit subscriber nr |
| Artemivka | (8)5347 | + 5 digit subscriber nr |
| Artemivsk | (8)6274 | + 5 digit subscriber nr |
| Artsyz | (8)4845 | + 5 digit subscriber nr |
| Askanija Nova | (8)5538 | + 5 digit subscriber nr |
| Auly | (8)5617 | + 5 digit subscriber nr |
| Avdiivka | (8)6236 | + 5 digit subscriber nr |
| Azovske | (8)6564 | + 5 digit subscriber nr |
| Babai | (8)572 | + 6 digit subscriber nr |
| Babyntsi | (8)4477 | + 5 digit subscriber nr |
| Baherove | (8)6557 | + 5 digit subscriber nr |
| Bakhchysarai | (8)6554 | + 5 digit subscriber nr |
| Bakhmach | (8)4635 | + 5 digit subscriber nr |
| Balabyne | (8)612 | + 6 digit subscriber nr |
| Balakliia | (8)5749 | + 5 digit subscriber nr |
| Balta | (8)4866 | + 5 digit subscriber nr |
| Bar | (8)43410 | + 4 digit subscriber nr |
| Baranivka | (8)41444 | + 4 digit subscriber nr |
| Barvinkove | (8)57572 | + 4 digit subscriber nr |
| Baryshivka | (8)4476 | + 5 digit subscriber nr |
| Bashtanka | (8)5158 | + 5 digit subscriber nr |
| Bazaliia | (8)3844 | + 5 digit subscriber nr |
| Belz | (8)3257 | + 5 digit subscriber nr |
| Berdiansk | (8)6153 | + 5 digit subscriber nr |
| Berdychiv | (8)4143 | + 5 digit subscriber nr |
| Berehomet | (8)3730 | + 5 digit subscriber nr |
| Berehove | (8)3141 | + 5 digit subscriber nr |
| Berestechko | (8)3379 | + 5 digit subscriber nr |
| Berezanka | (8)5153 | + 5 digit subscriber nr |
| Berezhany | (8)3548 | + 5 digit subscriber nr |
| Berezivka | (8)4856 | + 5 digit subscriber nr |
| Berezna | (8)4644 | + 5 digit subscriber nr |
| Berezne | (8)3653 | + 5 digit subscriber nr |
| Bereznehuvate | (8)5168 | + 5 digit subscriber nr |
| Berezoluky | (8)3368 | + 5 digit subscriber nr |
| Berezyne | (8)4847 | + 5 digit subscriber nr |
| Bershad | (8)4352 | + 5 digit subscriber nr |
| Beryslav | (8)5546 | + 5 digit subscriber nr |
| Bibrka | (8)3263 | + 5 digit subscriber nr |
| Bila Krynytsa | (8)4132 | + 5 digit subscriber nr |
| Bila Krynytsia | (8)5532 | + 5 digit subscriber nr |
| Bila Tserkva | (8)4463 | + 5 digit subscriber nr |
| Bilenke | (8)6264 | + 5 digit subscriber nr |
| Bilhorod-Dnistrovskyi | (8)4849 | + 5 digit subscriber nr |
| Biliavka | (8)4852 | + 5 digit subscriber nr |
| Bilokamiansk | (8)692 | + 6 digit subscriber nr |
| Bilokurakyne | (8)6462 | + 5 digit subscriber nr |
| Bilolutsk | (8)6463 | + 5 digit subscriber nr |
| Bilopillia | (8)5443 | + 5 digit subscriber nr |
| Bilozerka | (8)5547 | + 5 digit subscriber nr |
| Bilozerske | (8)6277 | + 5 digit subscriber nr |
| Bilshivtsi | (8)3431 | + 5 digit subscriber nr |
| Blyzniuky | (8)5754 | + 5 digit subscriber nr |
| Bobrovytsia | (8)4632 | + 5 digit subscriber nr |
| Bobrynets | (8)5257 | + 5 digit subscriber nr |
| Bohodukhiv | (8)5758 | + 5 digit subscriber nr |
| Bohorodchany | (8)3471 | + 5 digit subscriber nr |
| Bohuslav | (8)4461 | + 5 digit subscriber nr |
| Boiarka | (8)4498 | + 5 digit subscriber nr |
| Bolekhiv | (8)3477 | + 5 digit subscriber nr |
| Bolhrad | (8)4846 | + 5 digit subscriber nr |
| Borova | (8)5759 | + 5 digit subscriber nr |
| Borshchiv | (8)3541 | + 5 digit subscriber nr |
| Borynia | (8)3269 | + 5 digit subscriber nr |
| Boryslav | (8)3248 | + 5 digit subscriber nr |
| Boryspil | (8)4495 | + 5 digit subscriber nr |
| Borzna | (8)4653 | + 5 digit subscriber nr |
| Brailiv | (8)4332 | + 5 digit subscriber nr |
| Bratske | (8)5131 | + 5 digit subscriber nr |
| Bratslav | (8)4331 | + 5 digit subscriber nr |
| Brazhyne | (8)6256 | + 5 digit subscriber nr |
| Brianka | (8)6443 | + 5 digit subscriber nr |
| Briukhovychi | (8)322 | + 6 digit subscriber nr |
| Brody | (8)3266 | + 5 digit subscriber nr |
| Bronytska Huta | (8)4141 | + 5 digit subscriber nr |
| Broshniv-Osada | (8)3474 | + 5 digit subscriber nr |
| Brovary | (8)4494 | + 5 digit subscriber nr |
| Brusyliv | (8)4162 | + 5 digit subscriber nr |
| Brylivka | (8)5542 | + 5 digit subscriber nr |
| Bucha | (8)4497 | + 5 digit subscriber nr |
| Buchach | (8)3544 | + 5 digit subscriber nr |
| Buchmany | (8)4135 | + 5 digit subscriber nr |
| Bukachivtsi | (8)3435 | + 5 digit subscriber nr |
| Buky | (8)4748 | + 5 digit subscriber nr |
| Burshtyn | (8)3438 | + 5 digit subscriber nr |
| Buryn | (8)5454 | + 5 digit subscriber nr |
| Bushtyna | (8)3134 | + 5 digit subscriber nr |
| Busk | (8)3264 | + 5 digit subscriber nr |
| Bykivka | (8)4146 | + 5 digit subscriber nr |
| Chapaieve | (8)5755 | + 5 digit subscriber nr |
| Chaplyne | (8)5679 | + 5 digit subscriber nr |
| Chechelnyk | (8)4351 | + 5 digit subscriber nr |
| Chemerivtsi | (8)3859 | + 5 digit subscriber nr |
| Cherkaska Lozova | (8)5763 | + 5 digit subscriber nr |
| Cherkasy | (8)472 | + 6 digit subscriber nr |
| Chernelytsia | (8)3430 | + 5 digit subscriber nr |
| Cherniakhiv | (8)4134 | + 5 digit subscriber nr |
| Chernihiv | (8)4622 | + 5 digit subscriber nr |
| Chernihivka | (8)6140 | + 5 digit subscriber nr |
| Chernivtsi | (8)3722 | + 5 digit subscriber nr |
| Chervone | (8)5444 | + 5 digit subscriber nr |
| Chervonoarmiisk | (8)4131 | + 5 digit subscriber nr |
| Chervonohrad | (8)3249 | + 5 digit subscriber nr |
| Chervonohryhorivka | (8)5662 | + 5 digit subscriber nr |
| Chervonozavodske | (8)5356 | + 5 digit subscriber nr |
| Chkalovske | (8)5746 | + 5 digit subscriber nr |
| Chop | (8)3137 | + 5 digit subscriber nr |
| Chopovychi | (8)4133 | + 5 digit subscriber nr |
| Chornobai | (8)4739 | + 5 digit subscriber nr |
| Chornobyl | (8)4493 | + 5 digit subscriber nr |
| Chornomorske | (8)6558 | + 5 digit subscriber nr |
| Chornukhy | (8)5340 | + 5 digit subscriber nr |
| Chornyi Ostriv | (8)3822 | + 5 digit subscriber nr |
| Chortkiv | (8)3552 | + 5 digit subscriber nr |
| Chudniv | (8)4139 | + 5 digit subscriber nr |
| Chupakhivka | (8)5446 | + 5 digit subscriber nr |
| Chyhyryn | (8)4730 | + 5 digit subscriber nr |
| Chynadiieve | (8)3131 | + 5 digit subscriber nr |
| Dashava | (8)3245 | + 5 digit subscriber nr |
| Dashiv | (8)4345 | + 5 digit subscriber nr |
| Debaltseve | (8)6249 | + 5 digit subscriber nr |
| Demydivka | (8)3659 | + 5 digit subscriber nr |
| Derazhnia | (8)3856 | + 5 digit subscriber nr |
| Desna | (8)4646 | + 5 digit subscriber nr |
| Dihtiari | (8)4639 | + 5 digit subscriber nr |
| Diliatyn | (8)3475 | + 5 digit subscriber nr |
| Dniprodzerzhynsk | (8)5692 | + 5 digit subscriber nr |
| Dnipropetrovsk | (8)562 | + 6 digit subscriber nr |
| Dniprorudne | (8)6175 | + 5 digit subscriber nr |
| Dobrianka | (8)4641 | + 5 digit subscriber nr |
| Dobromyl | (8)3238 | + 5 digit subscriber nr |
| Dobrotvir | (8)3254 | + 5 digit subscriber nr |
| Dobrovelychivka | (8)5253 | + 5 digit subscriber nr |
| Dokuchaievsk | (8)6214 | + 5 digit subscriber nr |
| Dolynska | (8)5234 | + 5 digit subscriber nr |
| Domanivka | (8)5152 | + 5 digit subscriber nr |
| Donetsk | (8)622 | + 6 digit subscriber nr |
| Dovbysh | (8)4144 | + 5 digit subscriber nr |
| Dovhe | (8)3144 | + 5 digit subscriber nr |
| Drabiv | (8)4738 | + 5 digit subscriber nr |
| Drobysheve | (8)6261 | + 5 digit subscriber nr |
| Drohobych | (8)3244 | + 5 digit subscriber nr |
| Druzhba | (8)5456 | + 5 digit subscriber nr |
| Druzhkivka | (8)6267 | + 5 digit subscriber nr |
| Druzhne | (8)6252 | + 5 digit subscriber nr |
| Dubliany | (8)3252 | + 5 digit subscriber nr |
| Dubno | (8)3556 | + 5 digit subscriber nr |
| Duboviazivka | (8)5447 | + 5 digit subscriber nr |
| Dubrovytsia | (8)3658 | + 5 digit subscriber nr |
| Dunaivtsi | (8)3858 | + 5 digit subscriber nr |
| Dvorichna | (8)5750 | + 5 digit subscriber nr |
| Dykanka | (8)5351 | + 5 digit subscriber nr |
| Dymer | (8)4496 | + 5 digit subscriber nr |
| Dymytrov | (8)6239 | + 5 digit subscriber nr |
| Dymytrove | (8)5235 | + 5 digit subscriber nr |
| Dzerzhynsk | (8)6247 | + 5 digit subscriber nr |
| Enerhodar | (8)6139 | + 5 digit subscriber nr |
| Feodosiia | (8)6562 | + 5 digit subscriber nr |
| Frunze | (8)6473 | + 5 digit subscriber nr |
| Frunzivka | (8)4860 | + 5 digit subscriber nr |
| Hadiach | (8)5354 | + 5 digit subscriber nr |
| Haisyn | (8)4334 | + 5 digit subscriber nr |
| Haivoron | (8)5254 | + 5 digit subscriber nr |
| Henichevsk | (8)5534 | + 5 digit subscriber nr |
| Hertsa | (8)3740 | + 5 digit subscriber nr |
| Hirnyk | (8)6237 | + 5 digit subscriber nr |
| Hlevakha | (8)4471 | + 5 digit subscriber nr |
| Hlobyne | (8)5365 | + 5 digit subscriber nr |
| Hlyboka | (8)3734 | + 5 digit subscriber nr |
| Hlyniany | (8)3265 | + 5 digit subscriber nr |
| Hnivan | (8)4355 | + 5 digit subscriber nr |
| Hnizdychiv | (8)3239 | + 5 digit subscriber nr |
| Hoholeve | (8)5345 | + 5 digit subscriber nr |
| Hola Prystan | (8)5539 | + 5 digit subscriber nr |
| Holoby | (8)3352 | + 5 digit subscriber nr |
| Holovanivsk | (8)5252 | + 5 digit subscriber nr |
| Holovne | (8)3377 | + 5 digit subscriber nr |
| Horlivka | (8)6242 | + 5 digit subscriber nr |
| Hornostaivka | (8)5544 | + 5 digit subscriber nr |
| Horodnia | (8)4645 | + 5 digit subscriber nr |
| Horodok | (8)3851 | + 5 digit subscriber nr |
| Horodyshche | (8)4734 | + 5 digit subscriber nr |
| Hoshcha | (8)3650 | + 5 digit subscriber nr |
| Hrebinka | (8)5359 | + 5 digit subscriber nr |
| Hrymailiv | (8)3557 | + 5 digit subscriber nr |
| Hrytsiv | (8)3840 | + 5 digit subscriber nr |
| Hubynykha | (8)5612 | + 5 digit subscriber nr |
| Huiva | (8)4122 | + 5 digit subscriber nr |
| Huliaipole | (8)6145 | + 5 digit subscriber nr |
| Hvizdets | (8)3433 | + 5 digit subscriber nr |
| Illichivsk | (8)4868 | + 5 digit subscriber nr |
| Ilovaisk | (8)6257 | + 5 digit subscriber nr |
| Irdyn | (8)4722 | + 5 digit subscriber nr |
| Irshansk | (8)4145 | + 5 digit subscriber nr |
| Ivanivka | (8)5531 | + 5 digit subscriber nr |
| Ivankiv | (8)4491 | + 5 digit subscriber nr |
| Ivano-Frankivsk | (8)342 | + 6 digit subscriber nr |
| Ivano-Frankove | (8)3259 | + 5 digit subscriber nr |
| Ivanychi | (8)3372 | + 5 digit subscriber nr |
| Iziaslav | (8)3852 | + 5 digit subscriber nr |
| Izium | (8)5743 | + 5 digit subscriber nr |
| Izmail | (8)4841 | + 5 digit subscriber nr |
| Izvaryne | (8)6435 | + 5 digit subscriber nr |
| Kaharlyk | (8)4473 | + 5 digit subscriber nr |
| Kakhovka | (8)5536 | + 5 digit subscriber nr |
| Kalanchak | (8)5530 | + 5 digit subscriber nr |
| Kalush | (8)3472 | + 5 digit subscriber nr |
| Kalynivka | (8)4333 | + 5 digit subscriber nr |
| Kamianets-Podilskyi | (8)3849 | + 5 digit subscriber nr |
| Kamianka | (8)4732 | + 5 digit subscriber nr |
| Kamianka-Dniprovska | (8)6138 | + 5 digit subscriber nr |
| Kamin-Kashyrskyi | (8)3357 | + 5 digit subscriber nr |
| Kaniv | (8)4736 | + 5 digit subscriber nr |
| Kapitanivka | (8)5256 | + 5 digit subscriber nr |
| Karlivka | (8)5346 | + 5 digit subscriber nr |
| Katerynopil | (8)4742 | + 5 digit subscriber nr |
| Kazanka | (8)5164 | + 5 digit subscriber nr |
| Kelmentsi | (8)3732 | + 5 digit subscriber nr |
| Kerch | (8)6561 | + 5 digit subscriber nr |
| Kharkiv | (8)57 | + 7 digit subscriber nr |
| Kherson | (8)552 | + 6 digit subscriber nr |
| Khmelnytskyi | (8)382 | + 6 digit subscriber nr |
| Khmilnyk | (8)43388 | + 4 digit subscriber nr |
| Kholmy | (8)4657 | + 5 digit subscriber nr |
| Khorol | (8)5362 | + 5 digit subscriber nr |
| Khotin | (8)542 | + 6 digit subscriber nr |
| Khotyn | (8)37312 | + 4 digit subscriber nr |
| Khrystynivka | (8)4745 | + 5 digit subscriber nr |
| Khust | (8)31422 | + 4 digit subscriber nr |
| Kilia | (8)4843 | + 5 digit subscriber nr |
| Kirovohrad | (8)522 | + 6 digit subscriber nr |
| Kirovsk | (8)6446 | + 5 digit subscriber nr |
| Kirovske | (8)6555 | + 5 digit subscriber nr |
| Kitsman | (8)3736 | + 5 digit subscriber nr |
| Kivertsi | (8)3365 | + 5 digit subscriber nr |
| Kivsharivka | (8)5742 | + 5 digit subscriber nr |
| Klesiv | (8)36552 | + 4 digit subscriber nr |
| Klevan | (8)362 | + 6 digit subscriber nr |
| Kobeliaky | (8)5343 | + 5 digit subscriber nr |
| Kodyma | (8)4867 | + 5 digit subscriber nr |
| Kolky | (8)3376 | + 5 digit subscriber nr |
| Kolomak | (8)5733 | + 5 digit subscriber nr |
| Kominternivske | (8)4855 | + 5 digit subscriber nr |
| Kompaniivka | (8)5240 | + 5 digit subscriber nr |
| Komsomolsk | (8)5348 | + 5 digit subscriber nr |
| Komsomolske | (8)6217 | + 5 digit subscriber nr |
| Komyshnia | (8)5355 | + 5 digit subscriber nr |
| Komyshuvakha | (8)6141 | + 5 digit subscriber nr |
| Komysh-Zoria | (8)6147 | + 5 digit subscriber nr |
| Kopaihorod | (8)4341 | + 5 digit subscriber nr |
| Korets | (8)3651 | + 5 digit subscriber nr |
| Kornyn | (8)4137 | + 5 digit subscriber nr |
| Korop | (8)4656 | + 5 digit subscriber nr |
| Koropets | (8)3555 | + 5 digit subscriber nr |
| Korosten | (8)4142 | + 5 digit subscriber nr |
| Korsun-Shevchenkivskyi | (8)4735 | + 5 digit subscriber nr |
| Korystyshiv | (8)4130 | + 5 digit subscriber nr |
| Kosiv | (8)3478 | + 5 digit subscriber nr |
| Kostiantynivka | (8)6272 | + 5 digit subscriber nr |
| Kostopil | (8)3657 | + 5 digit subscriber nr |
| Kostryzhivka | (8)3737 | + 5 digit subscriber nr |
| Kotelva | (8)5350 | + 5 digit subscriber nr |
| Kotovsk | (8)4862 | + 5 digit subscriber nr |
| Koviahy | (8)5753 | + 5 digit subscriber nr |
| Kozelshchyna | (8)5342 | + 5 digit subscriber nr |
| Koziatyn | (8)4342 | + 5 digit subscriber nr |
| Kozliv | (8)3547 | + 5 digit subscriber nr |
| Kozyn | (8)4472 | + 5 digit subscriber nr |
| Krasni Okny | (8)4861 | + 5 digit subscriber nr |
| Krasnohorivka | (8)6212 | + 5 digit subscriber nr |
| Krasnohrad | (8)57442 | + 4 digit subscriber nr |
| Krasnohvardiiske | (8)6556 | + 5 digit subscriber nr |
| Krasnoilsk | (8)3735 | + 5 digit subscriber nr |
| Krasnopavlivka | (8)5745 | + 5 digit subscriber nr |
| Krasnopillia | (8)5459 | + 5 digit subscriber nr |
| Krasnyi Luch | (8)6432 | + 5 digit subscriber nr |
| Kremenets | (8)3546 | + 5 digit subscriber nr |
| Kreminna | (8)6454 | + 5 digit subscriber nr |
| Krolevets | (8)5453 | + 5 digit subscriber nr |
| Kryve Ozero | (8)5133 | + 5 digit subscriber nr |
| Kryvyi Rih | (8)564 | + 6 digit subscriber nr |
| Kryzhopil | (8)4340 | + 5 digit subscriber nr |
| Kudriavtsivka | (8)5163 | + 5 digit subscriber nr |
| Kulykivka | (8)4643 | + 5 digit subscriber nr |
| Kurortne | (8)6566 | + 5 digit subscriber nr |
| Kuznetsovsk | (8)3636 | + 5 digit subscriber nr |
| Kyiv | (8)44 | + 7 digit subscriber nr |
| Kyrnasivka | (8)4335 | + 5 digit subscriber nr |
| Kyrykivka | (8)5457 | + 5 digit subscriber nr |
| Kyrylivka | (8)6131 | + 5 digit subscriber nr |
| Ladan | (8)4637 | + 5 digit subscriber nr |
| Ladyzhyn | (8)4343 | + 5 digit subscriber nr |
| Lanivtsi | (8)3549 | + 5 digit subscriber nr |
| Lebedyn | (8)5445 | + 5 digit subscriber nr |
| Letychiv | (8)3857 | + 5 digit subscriber nr |
| Lityn | (8)4347 | + 5 digit subscriber nr |
| Liubar | (8)4147 | + 5 digit subscriber nr |
| Liubashivka | (8)4864 | + 5 digit subscriber nr |
| Liubeshiv | (8)3362 | + 5 digit subscriber nr |
| Lokachi | (8)3374 | + 5 digit subscriber nr |
| Lopatyn | (8)3255 | + 5 digit subscriber nr |
| Losynivka | (8)4631 | + 5 digit subscriber nr |
| Lubny | (8)53615 | + 4 digit subscriber nr |
| Luhansk | (8)642 | + 6 digit subscriber nr |
| Luhyny | (8)4161 | + 5 digit subscriber nr |
| Lukiv | (8)3363 | + 5 digit subscriber nr |
| Lutsk | (8)332 | + 6 digit subscriber nr |
| Lutuhyne | (8)6436 | + 5 digit subscriber nr |
| Lviv | (8)32 | + 7 digit subscriber nr |
| Lymanske | (8)4853 | + 5 digit subscriber nr |
| Lypova Dolyna | (8)5452 | + 5 digit subscriber nr |
| Lypovets | (8)4358 | + 5 digit subscriber nr |
| Lysets | (8)3436 | + 5 digit subscriber nr |
| Lysianka | (8)4749 | + 5 digit subscriber nr |
| Lysychansk | (8)6451 | + 5 digit subscriber nr |
| Mahdalynivka | (8)5611 | + 5 digit subscriber nr |
| Makariv | (8)4478 | + 5 digit subscriber nr |
| Makiivka | (8)6232 | + 5 digit subscriber nr |
| Mala Vyska | (8)5258 | + 5 digit subscriber nr |
| Marhanets | (8)5665 | + 5 digit subscriber nr |
| Mariupol | (8)629 | + 6 digit subscriber nr |
| Markivka | (8)6464 | + 5 digit subscriber nr |
| Mashivka | (8)5364 | + 5 digit subscriber nr |
| Melitopol | (8)6142 | + 5 digit subscriber nr |
| Mezhova | (8)5670 | + 5 digit subscriber nr |
| Milove | (8)6465 | + 5 digit subscriber nr |
| Mizhhiria | (8)3146 | + 5 digit subscriber nr |
| Mizoch | (8)3652 | + 5 digit subscriber nr |
| Mohyliv-Podilskyi | (8)4337 | + 5 digit subscriber nr |
| Monastyryshche | (8)4746 | + 5 digit subscriber nr |
| Morshyn | (8)32606 | + 4 digit subscriber nr |
| Mostyska | (8)3234 | + 5 digit subscriber nr |
| Murovani Kurylivtsi | (8)4356 | + 5 digit subscriber nr |
| Mykhailivka | (8)6132 | + 5 digit subscriber nr |
| Mykolaiv | (8)512 | + 6 digit subscriber nr |
| Mykolaivka | (8)5657 | + 5 digit subscriber nr |
| Mykulyntsi | (8)3551 | + 5 digit subscriber nr |
| Myrne | (8)6299 | + 5 digit subscriber nr |
| Myronivka | (8)44474 | + 4 digit subscriber nr |
| Narodychi | (8)4140 | + 5 digit subscriber nr |
| Nedryhailiv | (8)5455 | + 5 digit subscriber nr |
| Netishyn | (8)3848 | + 5 digit subscriber nr |
| Nosivka | (8)4642 | + 5 digit subscriber nr |
| Nova Kakhovka | (8)5549 | + 5 digit subscriber nr |
| Nova Odesa | (8)5167 | + 5 digit subscriber nr |
| Nova Ushytsia | (8)3847 | + 5 digit subscriber nr |
| Nova Vodolaha | (8)5740 | + 5 digit subscriber nr |
| Nove Selo | (8)3543 | + 5 digit subscriber nr |
| Novhorodka | (8)5241 | + 5 digit subscriber nr |
| Novhorod-Siverskyi | (8)4658 | + 5 digit subscriber nr |
| Novi Biliary | (8)482 | + 6 digit subscriber nr |
| Novi Sanzhary | (8)5344 | + 5 digit subscriber nr |
| Novoarkhanhelsk | (8)5255 | + 5 digit subscriber nr |
| Novoazovsk | (8)6296 | + 5 digit subscriber nr |
| Novodnistrovsk | (8)3741 | + 5 digit subscriber nr |
| Novomykolaivka | (8)6144 | + 5 digit subscriber nr |
| Novoorzhytske | (8)5357 | + 5 digit subscriber nr |
| Novoozerne | (8)6569 | + 5 digit subscriber nr |
| Novoselivske | (8)6553 | + 5 digit subscriber nr |
| Novoselytsia | (8)3733 | + 5 digit subscriber nr |
| Novotroitske | (8)5548 | + 5 digit subscriber nr |
| Novoukrainka | (8)5251 | + 5 digit subscriber nr |
| Novovasylivka | (8)6133 | + 5 digit subscriber nr |
| Novovolynsk | (8)3344 | + 5 digit subscriber nr |
| Novovorontsovka | (8)5533 | + 5 digit subscriber nr |
| Novyi Aidar | (8)6445 | + 5 digit subscriber nr |
| Novyi Buh | (8)5151 | + 5 digit subscriber nr |
| Novyi Rozdol | (8)3261 | + 5 digit subscriber nr |
| Nyzhni Sirihizy | (8)5540 | + 5 digit subscriber nr |
| Nyzhni Vorota | (8)3136 | + 5 digit subscriber nr |
| Nyzhnia Duvanka | (8)6471 | + 5 digit subscriber nr |
| Nyzhnohirskyi | (8)6550 | + 5 digit subscriber nr |
| Ochakiv | (8)5154 | + 5 digit subscriber nr |
| Odesa | (8)48 | + 7 digit subscriber nr |
| Oleksandrivka | (8)6269 | + 5 digit subscriber nr |
| Onufriivka | (8)5238 | + 5 digit subscriber nr |
| Opishnia | (8)5353 | + 5 digit subscriber nr |
| Orativ | (8)4330 | + 5 digit subscriber nr |
| Ordzhonikidze | (8)5667 | + 5 digit subscriber nr |
| Ostroh | (8)3654 | + 5 digit subscriber nr |
| Ovidiopil | (8)4851 | + 5 digit subscriber nr |
| Ovruch | (8)41483 | + 4 digit subscriber nr |
| Pavlohrad | (8)5672 | + 5 digit subscriber nr |
| Pechenihy | (8)5765 | + 5 digit subscriber nr |
| Perechyn | (8)3145 | + 5 digit subscriber nr |
| Pereiaslav-Khmelnytskyi | (8)4467 | + 5 digit subscriber nr |
| Perevalsk | (8)6441 | + 5 digit subscriber nr |
| Pershotravensk | (8)5673 | + 5 digit subscriber nr |
| Pershotravneve | (8)6297 | + 5 digit subscriber nr |
| Pervomaisk | (8)6455 | + 5 digit subscriber nr |
| Pervomaiske | (8)6552 | + 5 digit subscriber nr |
| Pervomaiskyi | (8)5748 | + 5 digit subscriber nr |
| Petropavlivka | (8)5671 | + 5 digit subscriber nr |
| Petrove | (8)5237 | + 5 digit subscriber nr |
| Piatykhatky | (8)56510 | + 4 digit subscriber nr |
| Pidhaitsi | (8)3542 | + 5 digit subscriber nr |
| Pishchanka | (8)4349 | + 5 digit subscriber nr |
| Pohrebyshche | (8)4346 | + 5 digit subscriber nr |
| Poliana | (8)3133 | + 5 digit subscriber nr |
| Poliske | (8)4492 | + 5 digit subscriber nr |
| Polohy | (8)6165 | + 5 digit subscriber nr |
| Polonne | (8)3843 | + 5 digit subscriber nr |
| Poltava | (8)532 | + 6 digit subscriber nr |
| Popasna | (8)6474 | + 5 digit subscriber nr |
| Popilnia | (8)41372 | + 4 digit subscriber nr |
| Porkovske | (8)5678 | + 5 digit subscriber nr |
| Prykolotne | (8)5752 | + 5 digit subscriber nr |
| Prymorsk | (8)6137 | + 5 digit subscriber nr |
| Pustomyty | (8)3230 | + 5 digit subscriber nr |
| Putyla | (8)3738 | + 5 digit subscriber nr |
| Putyvl | (8)5442 | + 5 digit subscriber nr |
| Pyriatyn | (8)5358 | + 5 digit subscriber nr |
| Radyvyliv | (8)3633 | + 5 digit subscriber nr |
| Rakhiv | (8)3132 | + 5 digit subscriber nr |
| Ratne | (8)3366 | + 5 digit subscriber nr |
| Reni | (8)4840 | + 5 digit subscriber nr |
| Reshetylivka | (8)5363 | + 5 digit subscriber nr |
| Rivne | (8)36 | + 7 digit subscriber nr |
| Rokytne | (8)4462 | + 5 digit subscriber nr |
| Romny | (8)5448 | + 5 digit subscriber nr |
| Rotmistrivka | (8)4733 | + 5 digit subscriber nr |
| Rovenky | (8)6433 | + 5 digit subscriber nr |
| Rozdol | (8)3241 | + 5 digit subscriber nr |
| Rozivka | (8)6162 | + 5 digit subscriber nr |
| Rubanivka | (8)55431 | + 4 digit subscriber nr |
| Rubizhne | (8)6453 | + 5 digit subscriber nr |
| Ruzhyn | (8)4138 | + 5 digit subscriber nr |
| Sakhnovshchyna | (8)5762 | + 5 digit subscriber nr |
| Saky | (8)6563 | + 5 digit subscriber nr |
| Sarata | (8)4848 | + 5 digit subscriber nr |
| Savran | (8)4865 | + 5 digit subscriber nr |
| Semenivka | (8)5341 | + 5 digit subscriber nr |
| Serednie | (8)3122 | + 5 digit subscriber nr |
| Seredyna-Buda | (8)5451 | + 5 digit subscriber nr |
| Sevastopol | (8)69 | + 7 digit subscriber nr |
| Shakhtarsk | (8)6255 | + 5 digit subscriber nr |
| Sharhorod | (8)4344 | + 5 digit subscriber nr |
| Shchors | (8)4654 | + 5 digit subscriber nr |
| Shevchenkove | (8)5751 | + 5 digit subscriber nr |
| Shostka | (8)5449 | + 5 digit subscriber nr |
| Shpola | (8)4741 | + 5 digit subscriber nr |
| Shumske | (8)3558 | + 5 digit subscriber nr |
| Shyriaieve | (8)4858 | + 5 digit subscriber nr |
| Shyshaky | (8)5352 | + 5 digit subscriber nr |
| Sieverodonetsk | (8)6452 | + 5 digit subscriber nr |
| Simferopol | (8)65 | + 7 digit subscriber nr |
| Skole | (8)3251 | + 5 digit subscriber nr |
| Skvyra | (8)4468 | + 5 digit subscriber nr |
| Slavuta | (8)3842 | + 5 digit subscriber nr |
| Slavutych | (8)4479 | + 5 digit subscriber nr |
| Smyha | (8)3656 | + 5 digit subscriber nr |
| Sniatyn | (8)3476 | + 5 digit subscriber nr |
| Snihurivka | (8)5162 | + 5 digit subscriber nr |
| Sofiivka | (8)5650 | + 5 digit subscriber nr |
| Sokyriany | (8)3739 | + 5 digit subscriber nr |
| Solone | (8)5616 | + 5 digit subscriber nr |
| Sosnytsia | (8)4655 | + 5 digit subscriber nr |
| Sovietskyi | (8)6551 | + 5 digit subscriber nr |
| Stakhanov | (8)6444 | + 5 digit subscriber nr |
| Stanychno-Luhanske | (8)6472 | + 5 digit subscriber nr |
| Stara Syniava | (8)3850 | + 5 digit subscriber nr |
| Stara Vyzhivka | (8)3346 | + 5 digit subscriber nr |
| Starobilsk | (8)6461 | + 5 digit subscriber nr |
| Starokonstiantyniv | (8)3854 | + 5 digit subscriber nr |
| Staryi Saltiv | (8)5741 | + 5 digit subscriber nr |
| Stavyshche | (8)4464 | + 5 digit subscriber nr |
| Stepanivka | (8)5422 | + 5 digit subscriber nr |
| Stryzhavka | (8)432 | + 6 digit subscriber nr |
| Sumy | (8)54 | + 7 digit subscriber nr |
| Sverdlovsk | (8)6434 | + 5 digit subscriber nr |
| Svitlovodsk | (8)5236 | + 5 digit subscriber nr |
| Synelnykove | (8)5615 | + 5 digit subscriber nr |
| Talalaivka | (8)4634 | + 5 digit subscriber nr |
| Talne | (8)4731 | + 5 digit subscriber nr |
| Tarashcha | (8)4466 | + 5 digit subscriber nr |
| Tatarbunary | (8)4844 | + 5 digit subscriber nr |
| Telmanove | (8)6279 | + 5 digit subscriber nr |
| Teplyk | (8)4353 | + 5 digit subscriber nr |
| Ternopil | (8)352 | + 6 digit subscriber nr |
| Tetiiv | (8)4460 | + 5 digit subscriber nr |
| Tlumach | (8)3479 | + 5 digit subscriber nr |
| Tokmak | (8)6178 | + 5 digit subscriber nr |
| Tomakivka | (8)5668 | + 5 digit subscriber nr |
| Tomashpil | (8)4348 | + 5 digit subscriber nr |
| Torchyn | (8)3322 | + 5 digit subscriber nr |
| Torez | (8)6254 | + 5 digit subscriber nr |
| Tovste | (8)3554 | + 5 digit subscriber nr |
| Troitske | (8)6456 | + 5 digit subscriber nr |
| Trostianets | (8)5458 | + 5 digit subscriber nr |
| Truskavets | (8)3247 | + 5 digit subscriber nr |
| Tsarychanka | (8)5610 | + 5 digit subscriber nr |
| Tsebrykove | (8)4859 | + 5 digit subscriber nr |
| Ulaniv | (8)433861 | + 3 digit subscriber nr |
| Ulianovka | (8)5259 | + 5 digit subscriber nr |
| Uman | (8)4744 | + 5 digit subscriber nr |
| Ustyluh | (8)3342 | + 5 digit subscriber nr |
| Ustynivka | (8)5239 | + 5 digit subscriber nr |
| Uzhhorod | (8)312 | + 6 digit subscriber nr |
| Vapniarka | (8)4350 | + 5 digit subscriber nr |
| Varna | (8)4636 | + 5 digit subscriber nr |
| Vatutine | (8)4740 | + 5 digit subscriber nr |
| Velyka Novosilka | (8)6213 | + 5 digit subscriber nr |
| Velykyi Bereznyi | (8)3135 | + 5 digit subscriber nr |
| Verkhnii Rohachyk | (8)5545 | + 5 digit subscriber nr |
| Verkhovyna | (8)3432 | + 5 digit subscriber nr |
| Vesele | (8)6136 | + 5 digit subscriber nr |
| Viitivtsi | (8)3845 | + 5 digit subscriber nr |
| Vilniansk | (8)6143 | + 5 digit subscriber nr |
| Vilnohirsk | (8)5653 | + 5 digit subscriber nr |
| Vilshanka | (8)5250 | + 5 digit subscriber nr |
| Vinkivtsi | (8)3846 | + 5 digit subscriber nr |
| Vinnytsia | (8)43 | + 7 digit subscriber nr |
| Volodymyrets | (8)3634 | + 5 digit subscriber nr |
| Vorokhta | (8)3434 | + 5 digit subscriber nr |
| Vradiivka | (8)5135 | + 5 digit subscriber nr |
| Vuhledar | (8)6273 | + 5 digit subscriber nr |
| Vylok | (8)3143 | + 5 digit subscriber nr |
| Vyshnivets | (8)3550 | + 5 digit subscriber nr |
| Yablunets | (8)4149 | + 5 digit subscriber nr |
| Yahotyn | (8)4475 | + 5 digit subscriber nr |
| Yampil | (8)4336 | + 5 digit subscriber nr |
| Yaremcha | (8)34342 | + 4 digit subscriber nr |
| Yarmolyntsi | (8)3853 | + 5 digit subscriber nr |
| Yelanets | (8)5159 | + 5 digit subscriber nr |
| Yemilchyne | (8)41494 | + 4 digit subscriber nr |
| Yuzhnoukrainsk | (8)5136 | + 5 digit subscriber nr |
| Zachepylivka | (8)5761 | + 5 digit subscriber nr |
| Zalozhtsi | (8)3540 | + 5 digit subscriber nr |
| Zaporizhia | (8)61 | + 7 digit subscriber nr |
| Zarichne | (8)3632 | + 5 digit subscriber nr |
| Zdolbuniv | (8)36522 | + 4 digit subscriber nr |
| Zelenodolsk | (8)5655 | + 5 digit subscriber nr |
| Zhashkiv | (8)4747 | + 5 digit subscriber nr |
| Zhovti Vody | (8)5652 | + 5 digit subscriber nr |
| Zhovtneve | (8)4191 | + 5 digit subscriber nr |
| Zhurivka | (8)4470 | + 5 digit subscriber nr |
| Zhytomyr | (8)412 | + 6 digit subscriber nr |
| Znamianka | (8)5233 | + 5 digit subscriber nr |
| Znlia | (8)6559 | + 5 digit subscriber nr |
| Zolochiv | (8)5764 | + 5 digit subscriber nr |
| Zolotonosha | (8)4737 | + 5 digit subscriber nr |