Quick Facts
Region: North & Central America & the Caribbean
Full Name: United States of America
Capital City: Washington, DC (capital)
Language Spoken: English 82.1%, Spanish 10.7%, other Indo-European 3.8%, Asian and Pacific island 2.7%, other 0.7% (2000 census) note: Hawaiian is an official language in the state of Hawaii
United States Travel Insurance
Get travel insurance to United States from Direct Travel Insurance. We offer low cost and high quality travel insurance to United States and most of the world.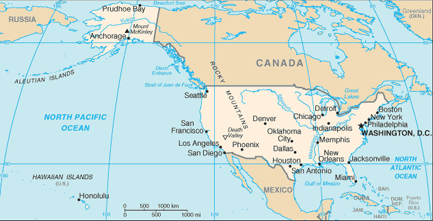 Geographic data
38 00 N, 97 00 W
Elevation Extremes
lowest point: Death Valley -86 m highest point: Mount McKinley 6,194 m
Land boundaries
total: 12,034 km border countries: Canada 8,893 km (including 2,477 km with Alaska), Mexico 3,141 km note: US Naval Base at Guantanamo Bay, Cuba is leased by the US and is part of Cuba; the base boundary is 28 km
Natural hazards
tsunamis, volcanoes, and earthquake activity around Pacific Basin; hurricanes along the Atlantic and Gulf of Mexico coasts; tornadoes in the midwest and southeast; mud slides in California; forest fires in the west; flooding; permafrost in northern Alaska, a major impediment to development
Natural resources
coal, copper, lead, molybdenum, phosphates, uranium, bauxite, gold, iron, mercury, nickel, potash, silver, tungsten, zinc, petroleum, natural gas, timber
Land use
arable land: 18.01% permanent crops: 0.21% other: 81.78% (2005)
Environmental current issues
air pollution resulting in acid rain in both the US and Canada; the US is the largest single emitter of carbon dioxide from the burning of fossil fuels; water pollution from runoff of pesticides and fertilizers; limited natural fresh water resources in much of the western part of the country require careful management; desertification
Climate
See the individual State sections.
Time difference
time difference: UTC-5 (during Standard Time) daylight saving time: +1hr, begins second Sunday in March; ends first Sunday in November note: the United States is divided into six time zones
Population
298,444,215 (July 2006 est.)
Age structure
0-14 years: 20.4% (male 31,095,847/female 29,715,872) 15-64 years: 67.2% (male 100,022,845/female 100,413,484) 65 years and over: 12.5% (male 15,542,288/female 21,653,879) (2006 est.)
Median age
total: 36.5 years male: 35.1 years female: 37.8 years (2006 est.)
Population growth rate
0.91% (2006 est.)
Birth rate
14.14 births/1,000 population (2006 est.)
Death rate
8.26 deaths/1,000 population (2006 est.)
Net migration rate
3.18 migrant(s)/1,000 population (2006 est.)
Sex ratio
at birth: 1.05 male(s)/female under 15 years: 1.05 male(s)/female 15-64 years: 1 male(s)/female 65 years and over: 0.72 male(s)/female total population: 0.97 male(s)/female (2006 est.)
Life expectancy at birth
total population: 77.85 years male: 75.02 years female: 80.82 years (2006 est.)
Total fertility rate
2.09 children born/woman (2006 est.)
Business Practices
Business people are generally expected to wear shirt and tie, although a man may wear a short-sleeved shirt under his suit in hot weather. Normal business courtesies should be observed, although Americans tend to be less formal than Europeans. Appointments and punctuality are normal procedure and business cards are widely used. Dates in America are written month-day-year: 4 July 1998 would thus be abbreviated as 7/4/98. Write out the month in full to avoid confusion. Office hours are 0900-1730 Monday to Friday.
Crime
Visitors to major cities should be vigilant to their surroundings. Visitors should avoid walking alone at night, and should avoid walking through obviously run-down neighborhoods. To avoid becoming victims of pickpockets, purse-snatchers, or muggers, visitors are advised not to wear flashy jewelry and to carry only necessary cash and credit cards. Gangs and thieves are targeting vehicles and their contents on an increased basis. Visitors are advised to lock their vehicles properly and park their cars in well-lit areas. Visitors should not sleep on the side of the road or pick up hitchhikers. Hitchhikers have been known to rob, assault, and even murder their drivers. Carjackings against tourists are a main concern of foreigners traveling to Miami. In late 1992 and early 1993, a number of tourists were killed in Miami carjackings, including, in separate incidents, two Canadians and a German woman. The German woman was murdered after she took a wrong turn while leaving Miami airport. Thugs bumped her rental car -- identifiable by its unique license plate -- beat her, then ran her over with their own vehicle. It is comforting to know that tourist attacks have decreased in recent years. Miami authorities have put forth several efforts to crack down on crime against foreigners.
Hotels
Hotels are plentiful in nearly every U.S. destination. The majority of hotels are modern and part of national and international chains, often with standard prices. In general the quality of accommodation is high, with facilities such as televisions and telephones in each room. Basic categories fall into 'Super', 'Deluxe', 'Standard', 'Moderate' and 'Inexpensive'. Prices vary according to standards.
Communications
Full telephone IDD service is available. The country code is 1 and the outgoing international code is 011. For emergency police, fire or medical services, dial 911. There are fax bureaus in all main centers, and major hotels also have facilities. Fax services are very widely available at many corner pharmacies and stationary shops. Post office hours are 0900-1700 (24 hours at main offices in larger cities).
Electricity
is a 110/120 volts AC, 60Hz. Plugs are of the flat 2-pin type. Electricity 110 volts AC, 60Hz. Plugs are of the flat two-pin type. European electrical appliances not fitted with dual-voltage capabilities will require a plug adaptor, which is best purchased before arrival in the USA. The television system is NTSC I/II and is not compatible with the PAL and SECAM systems used in Asia and Europe, although cassettes can be converted.
Plug Types
A,B
Food And Dining
In large cities, restaurants are mostly modern and very clean, offering a vast range of cuisines, prices and facilities. Restaurants come in all shapes and sizes, ranging from fast-food, self-service and counter service to drive-in and table service. The ?diner? is an integral part of the US way of life; consisting of a driveway, neon lights and simple food served from the counter; these are generally located in or just outside smaller towns. See Food & Drink in the individual State sections for further details on regional specialties.

National specialties:
? Fried chicken.
? Hamburgers.
? Apple pie. National drinks:
? Coca-Cola.
? Espresso.
? Regional wines.
? Microbrewery beer Things to know: There are also many types of bars, ranging from the smart cocktail lounge, cafe-style, high ?saloon? style bars and imitations of English pubs to the ?regular? bar. Generally speaking, waiter/waitress service costs more. Drinking laws are set by the individual States, counties, municipalities and towns, although traditionally closing time in bars is between midnight and 0300. Legal Drinking Age: The legal age for drinking also varies from 18 to 21 from State to State and the laws on the availability of alcohol run from New Orleans? policy of anytime, anywhere and to anyone, to localities, such as in Utah, where drinking is strictly prohibited.

Tipping:
Widely practiced, as service charges are not usually included in the bill and waiters depend heavily on tips for their income. Waiters generally expect 15 to 20 per cent, as do taxi drivers and hairdressers. It should be noted that a cover charge is for admission to an establishment, not a tip for service. Porters generally expect US$1 per bag.

Nightlife
Clubs generally stay open until the early hours in cities, where one can find music and theater of all descriptions. Theater tickets for Broadway, New York?s equivalent of London?s West End ?Theaterland?, can be booked through the Group Sales Box Office, 226 West 47th Street, 10th Floor, New York, NY 10036 (tel: (800) 223 7565 or (212) 398 8383; website: www.bestofbroadway.com). Special discounts for group bookings are available. Tickets must be paid for in advance and will be mailed out or kept at the theater box office for collection on the night of the performance. Gambling is only allowed in licensed casinos and the legal age for gamblers is 21 years of age or over.
Entry departure requirements
Restricted entry The following are not eligible to receive a USA entry visa: (a) people afflicted with certain serious communicable diseases or disorders deemed threatening to the property, safety or welfare of others; (b) anyone who has been arrested (except for very minor driving offences) or who has a criminal record; (c) narcotics addicts or abusers and drug traffickers; (d) anyone who has been deported from or denied admission to the USA. Note: Those who are ineligible may be eligible for a waiver of ineligibility.
Visa immigration information
Passports
Valid passport required by all; validity varies - for most countries it is required for the duration of the stay; check with the Embassy (see Passport/Visa Information).
New Requirements for Travelers: The US Intelligence Reform and Terrorism Prevention Act of 2004 requires that by January 1, 2008, travelers to and from the Caribbean, Bermuda, Panama, Mexico and Canada have a passport or other secure, accepted document to enter or re-enter the United States. In order to facilitate the implementation of this requirement, the Administration is proposing to complete it in phases following a proposed timeline, which will be published in the Federal Register in the near future. This is a change from prior travel requirements and will affect all United States citizens entering the United States from countries within the Western Hemisphere who do not currently possess valid passports. This new requirement will also affect certain foreign nationals who currently are not required to present a passport to travel to the United States. Most Canadian citizens, citizens of the British Overseas Territory of Bermuda, and to a lesser degree, Mexican citizens will be affected by the implementation of this requirement.
For further details about the Western Hemisphere Travel Initiative, visit the website of the US Department of State: www.state.gov).
Note
(a) For nationals included in the Visa Waiver Program (see below), passports must be valid for at least 90 days from date of entry (except for nationals of Andorra, Brunei and San Marino, who must hold passports valid for at least six months beyond the intended date of departure from the USA).
(b) All travelers entering the USA under the Visa Waiver Program now require individual machine-readable passports. Children included on a parent's passport also now require their own machine-readable passport. Travelers not in possession of machine-readable passports will require a valid USA entry visa.
(c) Passports issued on or after 26 October 26 2005, will need to have a biometric identifier in order for the holder to travel visa free under the Visa Waiver Program (VWP). Machine-readable passports issued between 26 October 2005 and 25 October 2006 require a digital photograph printed on the data page or an integrated chip with information from the data page. Machine-readable passports issued on or after 26 October 2006 will require an integrated chip with information from the data page (e-passport).
Visas
Required by all except the following:
(a) citizens of countries under the Visa Waiver Program (see 2. below);
(b) 1. nationals of Bermuda and Canada, provided holding valid passports;
(c) nationals of Mexico, provided holding a valid passport and a US Border Crossing Card.
Note: (a) Landed Immigrants of Canada and British residents of Bermuda who are citizens of, and have valid passports from, Commonwealth countries or Ireland are no longer eligible to enter the USA without a visa. (b) The Transit Without Visa (TWOV) and International-to-International (ITI) transit programs have been indefinitely suspended as of 2 August 2003. All passengers using US airports for transit purposes are now required to obtain a transit visa. This does not affect qualified travelers traveling visa free under the Visa Waiver Program (see below).
Visa Waiver Program
(a) 2. The following nationals, upon presentation of a valid passport (see Note above), do not require a visa under the Visa Waiver Program: Andorra, Australia, Brunei, EU countries (except nationals of Cyprus, Czech Republic, Estonia, Greece, Hungary, Latvia, Lithuania, Malta, Poland and Slovak Republic, who do require a visa), Iceland, Japan, Liechtenstein, Monaco, New Zealand, Norway, San Marino, Singapore and Switzerland.
To qualify for visa-free travel under the Visa Waiver Program, nationals must travel on a valid passport (see Note above), for holiday, transit or business purposes only and for a stay not exceeding 90 days.
If entering the USA by air or sea, passengers must hold a return or onward ticket or itinerary (if onward tickets terminate in Bermuda, Canada, Mexico or the Caribbean Islands, travelers must be legal permanent residents of those countries), hold a completed form I-94W and enter aboard an air or sea carrier participating in the Visa Waiver Program (lists of participating air or sea carriers are available from most travel agents or the carriers themselves).
If entering the USA by land from Canada or Mexico, hold a completed form I-94W* issued by Immigration at the port of entry and a US$6 fee (only payable in US Dollars).
Note*: (a) Passengers must have the full address and ZIP code of where they are staying in the USA to be able to fully complete the I-94W form. (b) Members of Visa Waiver Program countries who want to work, study or remain more than 90 days in the USA must apply for a visa before traveling, as should those who have been previously refused a visa, have a criminal record, or are in any way ineligible for an unrestricted visa. (c) 3. Holders of UK passports with the endorsement British Subject, British Dependent Territories Citizen, British Protected Person, British Overseas Citizen or British National (Overseas) Citizen do not qualify for the Visa Waiver Program. Persons unsure about visa requirements (including those defined in 'Restricted Entry' above) should contact the US Consulate General or the Visa Department of the US Embassy (see Passport/Visa Information).
Types of visa and cost
Tourist, Business, Transit and Student. Other types of visa are also available, contact the US Embassy (website: uk.usembassy.gov) for further details. The visa application fee is $100 (currently equivalent to US$108 ), regardless of whether the visa is issued or denied and regardless of the duration of the visa or entries required. The Embassy will provide a paying-in slip, which is attached to the application form DS-156. The fee must be paid in cash at a bank prior to submitting a visa application to the US Embassy, and the bank will issue a receipt of payment, which must be attached to the application form. The fee receipt, once paid, is valid for one year. Some nationals may also have to pay a reciprocal visa issuance fee ? details are available from the State Department (website: www.travel.state.gov).
Validity
Visas may be used for travel to the USA until the date it expires, or if marked 'valid indefinitely' for up to 10 years. Some visas are valid for multiple entries. The length of stay in the USA is determined by US immigration officials at the time of entry but is generally six months; there is, however, no set time.
Note
(a) The Embassy no longer issues visas valid indefinitely. Any new B-1/B-2 visa issued will be valid for a maximum of 10 years. (b) A visa does not expire with the expiry of the holder's passport. An unexpired, endorsed visa in an expired passport may be presented for entry into the USA, as long as the visa itself has not been cancelled, is undamaged, is less than 10 years old and is presented with a valid non-expired passport, provided that both passports are for the same nationality.
Application to
Visa branches at Consulates General. Those residing in England, Scotland or Wales should apply to the Embassy in London (see Passport/Visa Information).
Application requirements
(a) Completed visa application form DS-156 and form DS-157, if required. (b) Valid passport (validity dependant upon nationality) and with at least one blank page. (c) One recent passport-size photo. (d) Embassy copy of the fee receipt endorsed by the bank. (e) Evidence of sufficient funds to cover all expenses while in the USA. (f) Documentation of intent to return to country of residence. (g) Supporting documents (such as purpose of visit) and/or issuance fees, where relevant. (h) Stamped self-addressed, special delivery envelope, for return by post. Business: (a)-(h) and, (i) Evidence of intended business activities in the USA, such as a letter from their employer.
Important Note: All applicants aged 14 to 79 are required to schedule an appointment for an interview (tel: (09055) 444 546; Mon-Fri 0900-1600). Applicants under the age of 14 and those 80 and over may be eligible to apply for a visa by mail. Also note Restricted Entry.
Note
Additional processing requirements and information are required for: (a) males aged 16-45; (b) nationals of Cuba, Iran, Korea (Dem Rep), Libya, Sudan and the Syrian Arab Republic. (c) nationals of China (PR), Northen Cyprus, the Russian Federation, Somalia and Vietnam. Please note that requirements are subject to change at short notice and any applicant should check with the US Embassy (website: uk.usembassy.gov).
Working days required
Varies with each embassy; interview appointment waiting time is usually 25 to 30 days (27 days for London Embassy), and visa processing time is usually five to seven working days (three days for London Embassy). It is important to allow sufficient time for processing the visa, and final travel plans should not be made until a visa has been issued. Applications lodged during the peak travel season may take longer.
Temporary residence
The law in the USA is complex for those wishing to take up residence. More information may be obtained from the Embassy (see Passport/Visa Information).
HIV entry requirements
No Test Required
Departure tax
None
Embassies
Embassy of the United States of America in the UK
24 Grosvenor Square, London W1A 1AE, UK
Tel: (020) 7499 9000.
Website: uk.usembassy.gov
Opening hours: Mon-Fri 0830-1730.
Consulates in: Belfast and Edinburgh.
American Embassy in the UK - Visa Services
Tel: (09068) 200 290 (24-hour visa information line; calls cost 60p per minute, UK only; identical information is available on the embassy website at no cost) or (09055) 444 546 (operator-assisted visa information)

Most visits to the USA are trouble-free but visitors should be aware of the global risk of indiscriminate international terrorist attacks, which could be against civilian targets, including places frequented by foreigners.
The US Government remains concerned about continued threats. Since the terrorist attacks on 11 September 2001, the US Government has issued a number of warnings of potential further terrorist attacks in the US. The US domestic threat level stands at "elevated" (yellow).
Visitors should expect stringent security checks at airports and public buildings.
Visitors should be alert to the dangers of car and street crime in cities.
Hurricane Rita made landfall on the east Texas/west Louisiana coast on the morning of Saturday 24 September. After landfall, Rita caused significant damage, flooding, power outages and road closures in areas hit hardest.
Hurricane Katrina caused widespread damage in the States of Louisiana, Mississippi and Alabama in August 2005.
This advice is based on information provided by the Foreign, Commonwealth & Development Office in the UK. It is correct at time of publishing. As the situation can change rapidly, visitors are advised to contact the following organizations for the latest travel advice:
British Foreign, Commonwealth & Development Office
Tel: (0845) 850 2829.
Website: www.gov.uk/foreign-travel-advice
US Department of State
Website: www.state.gov
Currency
US Dollar (US$) = 100 cents. Notes are in denominations of US$100, 50, 20, 10, 5, 2 and 1. Coins are in denominations of US$1, and 50, 25, 10, 5 and 1 cents.
Currency restrictions
There are no limits on the import or export of either foreign or local currency. However, amounts in excess of US$10,000 or the equivalent (including foreign currency, traveller's cheques, money orders and ?bearer bonds?) must be registered with US Customs on Form 4790. Failure to do so may result in civil and criminal prosecution, including seizure of the money. There is an embargo on transactions of US currency with Cuba, Iran, Iraq, Libya and Korea (Democratic People's Republic of).
Banking hours
Variable, but generally Mon-Fri 0900-1500.
Currency exchange
Hotels do not, as a rule, exchange currency and only a few major banks will exchange foreign currency, so it is advisable to arrive with US Dollars.
Credit cards
Most major credit cards are accepted throughout the USA, including American Express, Diners Club, MasterCard and Visa. Check with your credit or debit card company for details of merchant acceptability and other services that may be available. Visitors are advised to carry at least one major credit card, as it is common to request prepayment or a credit card imprint for hotel rooms and car hire, even when final payment is not by credit card.
Travellers cheques
Widely accepted in hotels, stores and restaurants, provided they are US Dollar cheques; Sterling traveller's cheques are not acceptable and few banks will change these. Change is issued in US Dollars. It should be noted that many banks do not have the facility to cash traveller's cheques (the US banking system differs greatly from that of the UK) and those that do are likely to charge a high commission. One or (in some cases) two items of identification (passport, credit card, driving license) may also be required. To avoid additional exchange rate charges, travelers are advised to take traveller's cheques in US Dollars.
hidden
| City/Region | City/Area code | Followed by |
| --- | --- | --- |
| Alabama | (1+)334 | + 7 digit subscriber nr |
| Alaska | (1+)907 | + 7 digit subscriber nr |
| Arizona | (1+)928 | + 7 digit subscriber nr |
| Arkansas | (1+)870 | + 7 digit subscriber nr |
| California | (1+)951 | + 7 digit subscriber nr |
| Colorado | (1+)970 | + 7 digit subscriber nr |
| Connecticut | (1+)860 | + 7 digit subscriber nr |
| Delaware | (1+)302 | + 7 digit subscriber nr |
| District Of Columbia | (1+)202 | + 7 digit subscriber nr |
| Florida | (1+)954 | + 7 digit subscriber nr |
| Georgia | (1+)912 | + 7 digit subscriber nr |
| Hawaii | (1+)808 | + 7 digit subscriber nr |
| Idaho | (1+)208 | + 7 digit subscriber nr |
| Illinois | (1+)847 | + 7 digit subscriber nr |
| Indiana | (1+)812 | + 7 digit subscriber nr |
| Iowa | (1+)712 | + 7 digit subscriber nr |
| Kansas | (1+)913 | + 7 digit subscriber nr |
| Kentucky | (1+)859 | + 7 digit subscriber nr |
| Louisiana | (1+)985 | + 7 digit subscriber nr |
| Maine | (1+)207 | + 7 digit subscriber nr |
| Maryland | (1+)443 | + 7 digit subscriber nr |
| Massachusetts | (1+)978 | + 7 digit subscriber nr |
| Michigan | (1+)989 | + 7 digit subscriber nr |
| Minnesota | (1+)952 | + 7 digit subscriber nr |
| Mississippi | (1+)662 | + 7 digit subscriber nr |
| Missouri | (1+)816 | + 7 digit subscriber nr |
| Montana | (1+)406 | + 7 digit subscriber nr |
| Nebraska | (1+)402 | + 7 digit subscriber nr |
| Nevada | (1+)775 | + 7 digit subscriber nr |
| New Hampshire | (1+)603 | + 7 digit subscriber nr |
| New Jersey | (1+)973 | + 7 digit subscriber nr |
| New Mexico | (1+)505 | + 7 digit subscriber nr |
| New York | (1+)917 | + 7 digit subscriber nr |
| North Carolina | (1+)980 | + 7 digit subscriber nr |
| North Dakota | (1+)701 | + 7 digit subscriber nr |
| Ohio | (1+)937 | + 7 digit subscriber nr |
| Oklahoma | (1+)918 | + 7 digit subscriber nr |
| Oregon | (1+)971 | + 7 digit subscriber nr |
| Pennsylvania | (1+)878 | + 7 digit subscriber nr |
| Rhode Island | (1+)401 | + 7 digit subscriber nr |
| South Carolina | (1+)864 | + 7 digit subscriber nr |
| South Dakota | (1+)605 | + 7 digit subscriber nr |
| Tennessee | (1+)931 | + 7 digit subscriber nr |
| Texas | (1+)979 | + 7 digit subscriber nr |
| Utah | (1+)801 | + 7 digit subscriber nr |
| Vermont | (1+)802 | + 7 digit subscriber nr |
| Virginia | (1+)804 | + 7 digit subscriber nr |
| Washington | (1+)509 | + 7 digit subscriber nr |
| West Virginia | (1+)304 | + 7 digit subscriber nr |
| Wisconsin | (1+)920 | + 7 digit subscriber nr |
| Wyoming | (1+)307 | + 7 digit subscriber nr |