Quick Facts
Region: South America
Full Name: Uruguay
Capital City: Montevideo
Language Spoken: Spanish, Portunol, or Brazilero (Portuguese-Spanish mix on the Brazilian frontier)
Uruguay Travel Insurance
Get travel insurance to Uruguay from Direct Travel Insurance. We offer low cost and high quality travel insurance to Uruguay and most of the world.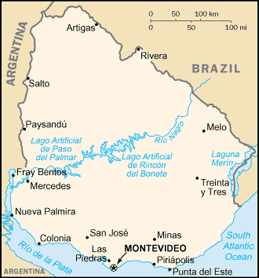 Geographic data
33 00 S, 56 00 W
Elevation Extremes
lowest point: Atlantic Ocean 0 m highest point: Cerro Catedral 514 m
Land boundaries
total: 1,648 km border countries: Argentina 580 km, Brazil 1,068 km
Natural hazards
seasonally high winds (the pampero is a chilly and occasional violent wind that blows north from the Argentine pampas), droughts, floods; because of the absence of mountains, which act as weather barriers, all locations are particularly vulnerable to rapid changes from weather fronts
Natural resources
arable land, hydropower, minor minerals, fisheries
Land use
arable land: 7.77% permanent crops: 0.24% other: 91.99% (2005)
Environmental current issues
water pollution from meat packing/tannery industry; inadequate solid/hazardous waste disposal
Climate
Uruguay has an exceptionally fine temperate climate, with mild summers and winters. Summer is from December to March and is the most pleasant time; the climate during other seasons offers bright, sunny days and cool nights. Required clothing Mediumweight clothing for winter; lightweight clothing and raincoat required.
Time difference
time difference: UTC-3 daylight saving time: +1hr, begins second Sunday in October; ends second Sunday in March
Population
3,431,932 (July 2006 est.)
Age structure
0-14 years: 22.9% (male 399,409/female 386,136) 15-64 years: 63.9% (male 1,087,180/female 1,104,465) 65 years and over: 13.3% (male 185,251/female 269,491) (2006 est.)
Median age
total: 32.7 years male: 31.3 years female: 34.2 years (2006 est.)
Population growth rate
0.46% (2006 est.)
Birth rate
13.91 births/1,000 population (2006 est.)
Death rate
9.05 deaths/1,000 population (2006 est.)
Net migration rate
-0.25 migrant(s)/1,000 population (2006 est.)
Sex ratio
at birth: 1.04 male(s)/female under 15 years: 1.03 male(s)/female 15-64 years: 0.98 male(s)/female 65 years and over: 0.69 male(s)/female total population: 0.95 male(s)/female (2006 est.)
Life expectancy at birth
total population: 76.33 years male: 73.12 years female: 79.65 years (2006 est.)
Total fertility rate
1.89 children born/woman (2006 est.)
Business Practices
Businessmen should wear conservative suits and ties. As far as communication is concerned, some knowledge of Spanish will prove invaluable, although English may be spoken by many in business and tourist circles. Appointments are necessary and punctuality is expected. Business cards are essential and it would be an advantage to have the reverse printed in Spanish. Office hours are 0830-1200 and 1430-1830 Monday to Friday.
Crime
Street crime has become a serious problem in the capital, Montevideo. Pickpockets, purse snatchers and armed thieves are known to roam the Old City (Ciudad Vieja) and the neighborhoods surrounding the port zone; do not walk in these areas, or the city's suburbs. Exercise caution in the downtown area, especially near hotels and commercial areas, on buses, and when walking on the street or in markets. Walking alone or in small groups in the downtown area after dark, or even during the day in well-traveled areas on the weekends, is not recommended. Avoid any displays of affluence, and do not carry anything you are not willing to lose. If confronted by criminals, do not offer resistance, as they do not hesitate to use violence. Do not leave any valuables in sight in cars (either parked or in motion). Lock all airline-checked baggage and transport any valuables in carry-on luggage. Be especially vigilant when leaving money-changing offices and ticket kiosks. Copy all important documents (including airline tickets) and keep originals in the hotel safe. Taxicabs are considered to be a reliable means of transportation. The lack of standard police tools, poor training and equipment and lack of transportation limit the police in Montevideo. Due to low salaries, police officers often "moonlight" in the private sector and this situation has created an invitation to corruption. As a result, police are only partially effective at deterring crime and may be involved in criminal activities. Their ability to respond to calls for assistance is often too slow to disrupt burglaries or invasive crimes-in-progress. Police have had only limited success in apprehending suspects after the fact.
Hotels
There are numerous first-class hotels in Montevideo and along Uruguay's coastal resorts, where rates are usually a little more expensive. These include several five-star hotels in Montevideo that have been recently opened. It is essential to book during the summer and during carnival week in Montevideo.
Communications
Telephone IDD is available to Uruguay, but callers from Uruguay may experience difficulty, though direct dialing is possible. The country code is 598 and the outgoing international code is 00. The local telephone service, which is operated by the Government, is generally adequate but long-distance calls may take a considerable time to be put through. Some hotels have fax facilities. Telex services are available from Antel and at major hotels. Telegrams can be sent worldwide through ITT Comunicaciones, Mundiales SA, Italcable and Western Telegraph Co Ltd. Post offices are open 0800-1800 (main post office in the old city, Montevideo: 0800-2200). Airmail to Europe takes three to five days.
Electricity
220 volts AC, 50Hz. Continental flat three-pin or round two-pin plugs.
Plug Types
C,F,I,L
Food And Dining
The majority of Uruguayan restaurants are parrilladas (grill-rooms). Table service is usual in restaurants. Cafes or bars have either table and/or counter service.
National specialties:
Bife de chorrizo (rump steak).
Cazuela (stew), usually served with mondongo (tripe).
Morcilla dulce (sweet black sausage made from blood, orange peel and walnuts) and morcilla salada (salty sausage).
Dulce de leche (milk sweets).
Chaja (ball-shaped sponge cake filled with cream and jam).
National drinks:
Uruguayan wines are of good quality. A popular drink is medio-medio (half dry white wine and half champagne).
Beers are very good.
Local spirits are ca?a, grappa and locally distilled whisky and gin.
There are no set licensing hours.
Tipping:
10 per cent when no service charge is added.
Nightlife:
Theater, ballet and symphonic concerts are staged in Montevideo from March to January. Tango is nearly as popular as in Argentina. There are discos in the Carrasco area. There are several dinner-dance places in Montevideo. Large Montevideo hotels have good bars. When there is music for dancing, the price of drinks increases quite considerably. There are also several casinos.
Entry departure requirements
* Please see visa section Visa immigration information
Passports
Valid passport required by all except:(a) nationals of Uruguay who arrive from Argentina, Brazil, Chile or Paraguay with a national identity card; (b) nationals of Argentina, Bolivia, Brazil, Chile, Colombia, Costa Rica, Dominican Republic, Ecuador, Guatemala, Honduras and Paraguay with a national identity card for stays of up to 90 days.
Visas
Required by all except the following:
(a) nationals of countries referred to in the chart above, except 1. nationals of Estonia who do need a visa (please note that nationals of Canada, Ireland, Malta and the USA are only permitted visa-free stays of up to three months);
(b) nationals of Andorra, Argentina, The Bahamas, Barbados, Belize, Bolivia, Brazil, Bulgaria, Chile, Colombia, Costa Rica, Croatia, Ecuador, El Salvador, Guatemala, Honduras, Hong Kong (SAR), Iceland, Israel, Jamaica, Mexico, New Zealand, Nicaragua, Norway, Panama, Paraguay, Peru, Romania, South Africa, Switzerland, Trinidad & Tobago and Venezuela;
(c) nationals of Dominican Republic, Liechtenstein and Turkey for stays of up to three months;
(d) nationals of Korea (Rep) and Malaysia for up to 30 days;
(e) holders of a re-entry permit issued by Uruguayan officials.
Types of visa and cost
Tourist: US$46 Business and Tourist: Enquire at Consulate (or Consular section at Embassy) for cost as it may vary with the exchange rate.
Validity
Visas are usually for stays of up to three months, but check with the Consulate, as this is dependent on nationality. Extensions for a further three months are possible; apply at the Immigration Office in Uruguay.
Application to
Consulate (or Consular section at Embassy); see Passport/Visa Information.
Application requirements
(a) Valid passport. (b) One passport-size photo. (c) Completed application form. (d) References in Uruguay (name, address and phone number) or hotel booking confirmation. (e) Return ticket and travel documentation (including the flight number and the dates of arrival and departure). (f) Postal applications should be accompanied by a stamped, self-addressed envelope. (g) For business visits, a letter from the company in the country of origin.
Working days required
21.
Temporary residence
Enquire at Embassy.
HIV entry requirements
No Test Required
Departure tax
US$26 is levied on international departures (US$14 to Buenos Aires), if departing from Carrasco International Airport. US$22 is levied on international and domestic departures from Laguna del Sauce Airport (Punta del Este). There is no departure tax on other domestic flights.
Embassies
Embassy of Uruguay in the UK
2nd Floor, 140 Brompton Road, London SW3 1HY, UK
Tel: (020) 7589 8835 or 7589 8735 (visa section).
Opening hours: Mon-Fri 1000-1700.
Visa section: Mon-Fri 1000-1230 (appointment only).
Embassy of Uruguay in the USA
1913 Eye Street, NW, Washington, DC 20006, USA
Tel: (202) 331 1313 or 331 4219 (consular section).
Website: http://www.mrree.gub.uy/frontend/

Most visits to Uruguay are trouble-free but you should be aware of the global risk of indiscriminate international terrorist attacks, which could be against civilian targets, including places frequented by foreigners.
The risk of crime is generally low throughout Uruguay, but travelers should show greater awareness in and around Montevideo.
This advice is based on information provided by the Foreign, Commonwealth & Development Office in the UK. It is correct at time of publishing. As the situation can change rapidly, visitors are advised to contact the following organizations for the latest travel advice:
British Foreign, Commonwealth & Development Office
Tel: (0845) 850 2829.
Website: www.gov.uk/foreign-travel-advice
US Department of State
Website: http://travel.state.gov/travel
Currency
Peso Uruguayo (UYU) = 100 cent?cimos. Notes are in the denominations of UYU2000, 1000, 500, 200, 100, 50, 20, 10 and 5. Coins are in denominations of UYU10, 5, 2 and 1 and 50 cent?cimos.
Currency restrictions
There are no restrictions on the import or export of either local or foreign currency.
Banking hours
Mon-Fri 1300-1700.
Currency exchange
Visitors are advised to buy local currency at banks and exchange shops, as hotels tend to give unfavorable rates. Inflation in Uruguay, though less severe than in other Latin American countries, leads to frequent fluctuations in the exchange rate.
Credit cards
American Express, Diners Club, MasterCard and Visa are the most commonly used. Check with your credit or debit card company for details of merchant acceptability and other services which may be available. ATMs may reject European or US credit cards.
Travellers cheques
Sterling traveller's cheques can only be changed at The Bank of London & South America; visitors are therefore advised to carry US Dollar traveller's cheques (US$50 and US$100 denominations only).
| City/Region | City/Area code | Followed by |
| --- | --- | --- |
| Aigui | (0)446 | + 2/8 digit subscriber nr |
| Araminda | (0)37 | + 3/9 digit subscriber nr |
| Artigas | (0)772 | + 2/8 digit subscriber nr |
| Balneario Las Flores | (0)43 | + 3/9 digit subscriber nr |
| Baltasar Brum | (0)776 | + 2/8 digit subscriber nr |
| Barra del Chuy | (0)474 | + 2/8 digit subscriber nr |
| Barrio Escavino | (0)349 | + 2/8 digit subscriber nr |
| Bel?n | (0)766 | + 2/8 digit subscriber nr |
| Bella Uni?n | (0)779 | + 2/8 digit subscriber nr |
| Boca del Rosario | (0)557 | + 2/8 digit subscriber nr |
| Caballada | (0)52 | + 3/9 digit subscriber nr |
| Canel?n Chico | (0)33 | + 3/9 digit subscriber nr |
| Capurro | (0)338 | + 2/8 digit subscriber nr |
| Cardal | (0)339 | + 2/8 digit subscriber nr |
| Cardona | (0)536 | + 2/8 digit subscriber nr |
| Carlos Reyles | (0)368 | + 2/8 digit subscriber nr |
| Carmelo | (0)542 | + 2/8 digit subscriber nr |
| Carmen | (0)365 | + 2/8 digit subscriber nr |
| Caserko Murialdo | (0)313 | + 2/8 digit subscriber nr |
| Castillos | (0)475 | + 2/8 digit subscriber nr |
| Casupi | (0)311 | + 2/8 digit subscriber nr |
| Cebollatk | (0)459 | + 2/8 digit subscriber nr |
| Cerro Chato | (0)466 | + 2/8 digit subscriber nr |
| Cerro Colorado | (0)318 | + 2/8 digit subscriber nr |
| Chamizo | (0)319 | + 2/8 digit subscriber nr |
| Colonia Cosmopolita | (0)556 | + 2/8 digit subscriber nr |
| Colonia Miguelete | (0)575 | + 2/8 digit subscriber nr |
| Colonia Piamontesa | (0)552 | + 2/8 digit subscriber nr |
| Colonia Rapettti | (0)346 | + 2/8 digit subscriber nr |
| Colonia Tomis Berretta | (0)562 | + 2/8 digit subscriber nr |
| Colonia Valdense | (0)55 | + 3/9 digit subscriber nr |
| Conchillas | (0)577 | + 2/8 digit subscriber nr |
| Constituci?n | (0)764 | + 2/8 digit subscriber nr |
| Costa Azul (Rocha) | (0)479 | + 2/8 digit subscriber nr |
| Dayman | (0)73 | + 3/9 digit subscriber nr |
| Dolores | (0)534 | + 2/8 digit subscriber nr |
| Durazno | (0)36 | + 3/9 digit subscriber nr |
| Estaci?n Andreoni | (0)317 | + 2/8 digit subscriber nr |
| Estaci?n Sosa Dkaz | (0)390 | + 2/8 digit subscriber nr |
| Faro Jos? Ignacio | (0)486 | + 2/8 digit subscriber nr |
| Florida | (0)352 | + 2/8 digit subscriber nr |
| Fraile Muerto | (0)688 | + 2/8 digit subscriber nr |
| Guich?n | (0)742 | + 2/8 digit subscriber nr |
| Ismael Cortinas | (0)539 | + 2/8 digit subscriber nr |
| Izcua | (0)412 | + 2/8 digit subscriber nr |
| J.P.Varela | (0)455 | + 2/8 digit subscriber nr |
| Jos? Batlle y Ordonez | (0)469 | + 2/8 digit subscriber nr |
| Jos? Enrique Rod? | (0)538 | + 2/8 digit subscriber nr |
| Juan Lacaze | (0)586 | + 2/8 digit subscriber nr |
| La Barra (Maldonado) | (0)42 | + 3/9 digit subscriber nr |
| La Coronilla | (0)476 | + 2/8 digit subscriber nr |
| Lagomar | (0)38 | + 3/9 digit subscriber nr |
| Laguna Merkn | (0)679 | + 2/8 digit subscriber nr |
| Las Canas | (0)413 | + 2/8 digit subscriber nr |
| Lascano | (0)456 | + 2/8 digit subscriber nr |
| Libertad | (0)345 | + 2/8 digit subscriber nr |
| Mariscala | (0)449 | + 2/8 digit subscriber nr |
| Melo | (0)64 | + 3/9 digit subscriber nr |
| Mercedes | (0)53 | + 3/9 digit subscriber nr |
| Minas | (0)44 | + 3/9 digit subscriber nr |
| Minas de Corrales | (0)658 | + 2/8 digit subscriber nr |
| Mones Quintela | (0)778 | + 2/8 digit subscriber nr |
| Montevideo | (0)2 | + 3/8 digit subscriber nr |
| Nueva Carrara | (0)415 | + 2/8 digit subscriber nr |
| Nueva Palmira | (0)544 | + 2/8 digit subscriber nr |
| Nuevo Berlkn | (0)568 | + 2/8 digit subscriber nr |
| Ombses de Lavalle | (0)576 | + 2/8 digit subscriber nr |
| Palmitas | (0)537 | + 2/8 digit subscriber nr |
| Paso de los Toros | (0)664 | + 2/8 digit subscriber nr |
| Paysands | (0)72 | + 3/9 digit subscriber nr |
| Piedras Coloradas | (0)747 | + 2/8 digit subscriber nr |
| Pintado | (0)354 | + 2/8 digit subscriber nr |
| Piraraji | (0)448 | + 2/8 digit subscriber nr |
| Playa Fomento | (0)587 | + 2/8 digit subscriber nr |
| Punta del Diablo | (0)477 | + 2/8 digit subscriber nr |
| Quebracho | (0)754 | + 2/8 digit subscriber nr |
| Rivera | (0)62 | + 3/9 digit subscriber nr |
| Rko Branco | (0)675 | + 2/8 digit subscriber nr |
| Rocha | (0)47 | + 3/9 digit subscriber nr |
| Rodrkguez | (0)348 | + 2/8 digit subscriber nr |
| San Gregorio de Polanco | (0)369 | + 2/8 digit subscriber nr |
| San Jacinto | (0)399 | + 2/8 digit subscriber nr |
| San Javier | (0)569 | + 2/8 digit subscriber nr |
| San Jos? | (0)34 | + 3/9 digit subscriber nr |
| San Ram?n | (0)312 | + 2/8 digit subscriber nr |
| Santa Ana | (0)588 | + 2/8 digit subscriber nr |
| Santa Clara de Olimar | (0)464 | + 2/8 digit subscriber nr |
| Sarandk del Yk | (0)367 | + 2/8 digit subscriber nr |
| Solks de Mataojo | (0)379 | + 2/8 digit subscriber nr |
| Tacuaremb? | (0)63 | + 3/9 digit subscriber nr |
| Tala | (0)315 | + 2/8 digit subscriber nr |
| Tarariras | (0)574 | + 2/8 digit subscriber nr |
| Termas del Arapey | (0)645 | + 2/8 digit subscriber nr |
| Tomis Gomensoro | (0)777 | + 2/8 digit subscriber nr |
| Tranqueras | (0)656 | + 2/8 digit subscriber nr |
| Treinta y Tres | (0)45 | + 3/9 digit subscriber nr |
| Trinidad | (0)364 | + 2/8 digit subscriber nr |
| Velizquez | (0)457 | + 2/8 digit subscriber nr |
| Vergara | (0)458 | + 2/8 digit subscriber nr |
| Vichadero | (0)654 | + 2/8 digit subscriber nr |
| Young | (0)567 | + 2/8 digit subscriber nr |
| Zapicin | (0)463 | + 2/8 digit subscriber nr |