Quick Facts
Region: Europe
Full Name: Republic of Lithuania
Capital City: Vilnius
Language Spoken: Lithuanian (official) 82%, Russian 8%, Polish 5.6%, other and unspecified 4.4% (2001 census)
Lithuania Travel Insurance
Get travel insurance to Lithuania from Direct Travel Insurance. We offer low cost and high quality travel insurance to Lithuania and most of the world.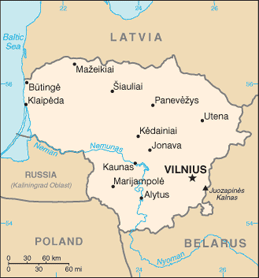 Geographic data
56 00 N, 24 00 E
Elevation Extremes
lowest point: Baltic Sea 0 m highest point: Juozapines Kalnas 293.6 m
Land boundaries
total: 1,613 km border countries: Belarus 653.5 km, Latvia 588 km, Poland 103.7 km, Russia (Kaliningrad) 267.8 km
Natural hazards
NA
Natural resources
peat, arable land, amber
Land use
arable land: 44.81% permanent crops: 0.9% other: 54.29% (2005)
Environmental current issues
contamination of soil and groundwater with petroleum products and chemicals at military bases
Climate
Temperate climate, but with considerable temperature variations. Summer is warm with relatively mild weather in spring and autumn. Winter, which lasts from November to mid-March, can be very cold. Rainfall is distributed throughout the year with the heaviest rainfall in August. Heavy snowfalls are common in the winter months.
Time difference
time difference: UTC+2 daylight saving time: +1hr, begins last Sunday in March; ends last Sunday in October
Population
3,585,906 (July 2006 est.)
Age structure
0-14 years: 15.5% (male 284,888/female 270,458) 15-64 years: 69.1% (male 1,210,557/female 1,265,542) 65 years and over: 15.5% (male 190,496/female 363,965) (2006 est.)
Median age
total: 38.2 years male: 35.7 years female: 40.8 years (2006 est.)
Population growth rate
-0.3% (2006 est.)
Birth rate
8.75 births/1,000 population (2006 est.)
Death rate
10.98 deaths/1,000 population (2006 est.)
Net migration rate
-0.71 migrant(s)/1,000 population (2006 est.)
Sex ratio
at birth: 1.06 male(s)/female under 15 years: 1.05 male(s)/female 15-64 years: 0.96 male(s)/female 65 years and over: 0.52 male(s)/female total population: 0.89 male(s)/female (2006 est.)
Life expectancy at birth
total population: 74.2 years male: 69.2 years female: 79.49 years (2006 est.)
Total fertility rate
1.2 children born/woman (2006 est.)
Business Practices
Business is conducted in a fairly formal manner and suit and tie are generally required. Handshaking is customary and business cards are beaming more commonplace. Appointments should be made in advance. English is used for international commerce. Knowledge of German, Russian or Polish may also be useful. Most of the industrial companies are concentrated in Marijampole, Vilkaviskis, Kazlu Ruda, and Kybartai. Office hours are 0900-1300 and 1400-1800 Monday to Friday.
Crime
There was a national increase in reported crime of five percent last year. The crime rate is relatively low compared with rates in major capitals. However, precautions appropriate to any major urban area are prudent. During the summer months the parks tend to be full of groups of drinking youths that can be intimidating if not actually threatening. Robberies have occurred on trains, in train stations and in hotel rooms. Large amounts of cash and expensive jewelry should be secured in a hotel safe or left at home. Crimes against foreigners, while usually non-violent, are becoming more common. Pickpocketing and thefts are problems; so personal belongings should be well protected at all times. Theft from cars, carjacking, and car thefts occur regularly. Drivers should be wary of persons indicating they should pull over or that something is wrong with their car. Often, a second car or person is following, and when the driver of the targeted car gets out to see if there is a problem the person who has been following will either steal the driver's belongings from the vehicle or get in and drive off with the car. Drivers should never get out of the car to check for damage without first turning off the ignition and taking the keys. Valuables also should not be left in plain sight in parked vehicles, as there have been increasing reports of car windows smashed and items stolen. Burglary of foreigners' homes is also on the rise; home alarm systems should be used whenever possible. Avoid walking alone or in small groups in the dark. ATMs should be avoided after dark. There have been cases of foreigners being drugged in bars and then taken elsewhere to be robbed. In any public area, one should always be alert to being surrounded by two or more people at once. Racially-motivated verbal, and sometimes physical, harassment of non-Caucasians has been reported in major cities. Incidents of racially-motivated attacks against foreigners have been reported in Klaipeda. Police are generally professional and reasonably well trained but may have resource or manpower limitations that inhibit their deterrence or response effectiveness. Foot patrols are on duty in the old town area of Vilnius. Emergency numbers in Vilnius are 001 (fire), 002 (police) and 003 (first aid). Local police are not likely to speak English. Organized crime in Lithuanian cities has become a significant problem for Lithuanian police forces and local businessmen. Organized crime syndicates regularly use violence, including bombings to settle rivalries and in the operation of "protection" rackets.
Hotels
Since independence, Western style hotels and motels are being built in Lithuania in cooperation with foreign firms. Modernization and renovation programs are generally concentrated in the capital. All major hotels are located in the center of town. Other major cities and centers in the country enjoy and range of good accommodation as well. Hotels include the Lietuva Hotel, in Vilnius, the Zaliakalnio Viesbutis Hotel, in Kaunas and the Best Western Santakos Hotel in Kaunas.
Communications
Telephone IDD service is available in the country. The country code is 370 and the outgoing international code is 810. Fax services are available in Vilnius at the Telegraph Center, the Hotel Lietuva, and at the Comliet Office. Post office hours are usually 0900-1800.
Electricity
220 volts AC, 50Hz. European two-pin plugs are in use.
Plug Types
C,E
Food And Dining
Waiter service is the norm in restaurants and cafes, but self-service restaurants, bistros and snack bars are numerous.

National specialties:
? Skilandis (smoked meat).
? Salti barsciai (cold soup).
? Cepelinai (made from grated potatoes with a minced meat filling).
? Vedarai (potato sausage) and bulviniai blynai (potato pancakes).
? Smoked eel is a famous Baltic delicacy.
? It is highly recommended to try the mild white curd cheese, best served with honey. National drinks:
? Local brands of beer and imported drinks are popular.
? A famous Lithuanian spirit is midus, a mild alcoholic beverage made from honey.

Tipping:
Taxi fares and restaurant bills include a tip. Otherwise, tips are discretionary.

Nightlife
Cinemas can be found in all towns. Lithuanian theaters, most of which are concentrated in the capital, are also renowned. The Jaunimo teatras (website: www.jaunimoteatras.lt) in Vilnius are famous throughout the country. Opera and ballet are staged in the city at the Vilnius Opera Theater and Kaunas has a Musical Theater. Puppet shows are staged for children in Vilnius and Kaunas. There are restaurants with live music as well as numerous discos and nightclubs with variety shows in the larger towns.
Entry departure requirements
* Please see passport section below
Visa immigration information
Passports
Passport valid for at least three months beyond length of stay required by all except:
(a) 1. EU/EEA nationals (EU + Iceland, Liechtenstein, Norway) and Swiss nationals holding a valid national ID card.
Note: EU and EEA nationals are only required to produce evidence of their EU/EEA nationality and identity in order to be admitted to any EU/EEA Member State. This evidence can take the form of a valid national passport or national identity card. Either is acceptable. Possession of a return ticket, any length of validity on their document, sufficient funds for the length of their proposed visit should not be imposed.
Note
There is now a new application form that those seeking visas must fill out, consistent with the visa forms of other European Union member states, which Lithuania joined on May 1 2004. At present, the Lithuanian visa will only be valid for traveling to Lithuania but will become valid for traveling to other Schengen countries once Lithuania joins the Schengen area.
Visas
Required by all except the following:
(a) nationals listed in the chart above for tourist stays of up to 90 days;
(b) nationals of Andorra, Argentina, Bolivia, Brazil, Brunei, Bulgaria, Chile, Costa Rica, Croatia, El Salvador, Guatemala, Honduras, Hong Kong (SAR), Iceland, Israel, Korea (Rep), Liechtenstein, Macau (SAR), Malaysia, Mexico, Monaco, New Zealand, Nicaragua, Norway, Panama, Paraguay, Romania, San Marino, Singapore, Switzerland, Uruguay, Vatican City and Venezuela for tourist stays of up to 90 days.
Note
(a) Nationals of South Africa holding valid Estonian or Latvian visas do not need a separate visa for Lithuania. (b) Nationals of the following countries may apply for a Lithuanian visa without first obtaining an invitation endorsed by the Lithuanian Migration Authorities: Belarus (maximum of 30 days), Bermuda, Ecuador, Kazakhstan (maximum of 30 days), Moldova, Russian Federation (maximum of 30 days), South Africa, Taiwan (maximum of 30 days) and Ukraine (maximum of 30 days). Nationals of Belarus, Kazakhstan, Taiwan, the Russian Federation and Ukraine are required to present proof of sufficient funds (minimum ?40 or ?27 per day), via traveller's cheques, credit cards and bank statements. Enquire at the Consulate/Embassy for details.
Types of visa and cost
Short-stay, Airport-transit and Transit: US$41 ; Long-stay (single-entry) and Special-entry (for employment or studies): US$71 ; Group single-entry (five to 30 members with appointed guide and on the condition that group have same purpose of visit, follow same travel itinerary with same arrivals, departures and locations): US$41 plus US$1 per person. Consular fees are waived in certain circumstances; consult Embassy/Consulate for details. There is no Consular fee for members for certain charity missions, official delegations, those aged under 16 years, and Lithuanians traveling with foreign passports.
Validity
Single- and Multiple-entry: Three months. In some cases, a multiple-entry visa may be issued for up to one or even five years. Documents must be submitted that prove the need for a multiple-entry visa and warrant amount of validity allocated. Transit: No more than five days each stay. Airport Transit: 48 hours.
Application to
Consulate (or Consular section at Embassy); Passport/Visa Information.
Application requirements
(a) Passport valid for at least three months after expiry of visa. (b) One passport-size photo. (c) Completed application form. (d) Letter of invitation endorsed by the Lithuanian Migration Authorities (not required by certain nationals ? see note above). (e) Fee. (f) Other documents, such as hotel reservations, tickets, right to return country form/right to travel to onward country, documents certifying payment of consular fee, and bank statements may be required. (g) Valid health and travel insurance. Transit and Airport Transit: (a)-(g) and, (h) Visa and/or other documents granting right to enter country of destination.
Working days required
Five. Visas can be obtained within 24 or 72 hours for an additional charge; consult nearest Embassy/Consulate for further details. This service is not available to all nationalities/passport holders.
HIV entry requirements
Test required for anyone applying for a residency permit
Departure tax
Lt60.
Embassies
Embassy of the Republic of Lithuania in the UK
84 Gloucester Place, London W1U 6AU, UK
Tel: (020) 7486 6401 or 6404 (visa section).
Website: https://uk.mfa.lt/uk/en/
Opening hours: Mon-Fri 0900-1300 (Consular section); Mon, Wed & Fri 1500-1600 (visa section; appointments not necessary).
Embassy of the Republic of Lithuania in the USA
2622 16th Street, NW, Washington, DC 20009, USA
Tel: (202) 234 5860 (ext. 127 for visa section).
Website: https://usa.mfa.lt/usa/en/
Travel Advice
Most visits to Lithuania are trouble-free but you should be aware of the global risk of indiscriminate international terrorist attacks, which could be against civilian targets, including places frequented by foreigners.
This advice is based on information provided by the Foreign & Commonwealth Office in the UK. It is correct at time of publishing. As the situation can change rapidly, visitors are advised to contact the following organizations for the latest travel advice:
British Foreign, Commonwealth & Development Office
Tel: (0845) 850 2829.
Website: www.gov.uk/foreign-travel-advice
US Department of State
Currency
Lithuanian Litas (LTL) = 100 centas. Notes are in denominations of LTL500, 200, 100, 50, 20, 10, 5, 2 and 1. Coins are in denominations of LTL5, 2 and 1, and 50, 20, 10, 5, 2 and 1 centas. The Litas is pegged to the Euro.
Currency restrictions
The import of local and foreign currency is unlimited. The export of local currency is limited to LTL5000. The export of foreign currency is unlimited. Any amount exceeding LTL40,000 or equivalent must be declared.
Banking hours
Mon-Fri 0900-1700. Some banks also open Sat 0900-1300.
Currency exchange
Currency can be exchanged at banks and bureaux de change. ATMs are available in most cities. There are 24-hour exchange bureaux at Gelezinkelio 6, near the main railway station and at Lietuvos Taupomasis Bankas, Savanoriu 15A in Vilnius.
Credit cards
Major credit cards are accepted in the main hotels, restaurants, shops and in some petrol stations. Check with your credit and debit card company for details of merchant acceptability and other services which may be available.
Travellers cheques
These are not accepted by retailers and can only be exchanged at a few outlets. To avoid additional exchange rate charges, travelers are advised to take traveller's cheques in US Dollars.
| City/Region | City/Area code | Followed by |
| --- | --- | --- |
| ?akiai | (0)345 | + 5 digits |
| Akmene | (0)425 | + 5 digits |
| ?alcininkai | (0)380 | + 5 digits |
| Alytus | (0)315 | + 5 digits |
| Anyk?ciai | (0)381 | + 5 digits |
| Bir?ai | (0)450 | + 5 digits |
| Bir?tonas | (0)319 | + 5 digits |
| Druskininkai | (0)313 | + 5 digits |
| Elektrenai | (0)528 | + 5 digits |
| Garg?dai | (0)40 | + 6 digits |
| ?iauliai | (0)421 | + 5 digits |
| Ignalina | (0)386 | + 5 digits |
| ?ilale | (0)449 | + 5 digits |
| ?ilute | (0)441 | + 5 digits |
| ?irvintos | (0)382 | + 5 digits |
| Jonava | (0)349 | + 5 digits |
| Joni?kis | (0)426 | + 5 digits |
| Jurbarkas | (0)447 | + 5 digits |
| Kai?iadorys | (0)346 | + 5 digits |
| Kaunas | (0)37 | + 6 digits |
| Kedainiai | (0)347 | + 5 digits |
| Kelme | (0)427 | + 5 digits |
| Klaipeda | (0)446 | + 5 digits |
| Kretinga | (0)445 | + 5 digits |
| Kupi?kis | (0)459 | + 5 digits |
| Lazdijai | (0)318 | + 5 digits |
| Ma?eikiai | (0)443 | + 5 digits |
| Marijampole | (0)343 | + 5 digits |
| Moletai | (0)383 | + 5 digits |
| Neringa | (0)469 | + 5 digits |
| Palanga | (0)460 | + 5 digits |
| Pasvalys | (0)451 | + 5 digits |
| Plunge | (0)448 | + 5 digits |
| Radvili?kis | (0)422 | + 5 digits |
| Raseiniai | (0)428 | + 5 digits |
| Roki?kis | (0)458 | + 5 digits |
| Skuodas | (0)440 | + 5 digits |
| Tel?iai | (0)444 | + 5 digits |
| Ukmerge | (0)340 | + 5 digits |
| Utena | (0)389 | + 5 digits |
| Varena | (0)310 | + 5 digits |
| ?vencionys | (0)387 | + 5 digits |
| Vilki?kis | (0)342 | + 5 digits |
| Vilnius | (0)5 | + 7 digits |
| Zarasai | (0)385 | + 5 digits |