Quick Facts
Region: Africa
Full Name: Great Socialist People's Libyan Arab Jamahiriya
Capital City: Tripoli
Language Spoken: Arabic, Italian, English, all are widely understood in the major cities
Libya Travel Insurance
Get travel insurance to Libya from Direct Travel Insurance. We offer low cost and high quality travel insurance to Libya and most of the world.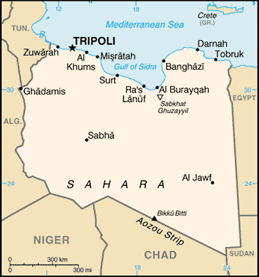 Geographic data
25 00 N, 17 00 E
Elevation Extremes
lowest point: Sabkhat Ghuzayyil -47 m highest point: Bikku Bitti 2,267 m
Land boundaries
total: 4,348 km border countries: Algeria 982 km, Chad 1,055 km, Egypt 1,115 km, Niger 354 km, Sudan 383 km, Tunisia 459 km
Natural hazards
hot, dry, dust-laden ghibli is a southern wind lasting one to four days in spring and fall; dust storms, sandstorms
Natural resources
petroleum, natural gas, gypsum
Land use
arable land: 1.03% permanent crops: 0.19% other: 98.78% (2005)
Environmental current issues
desertification; very limited natural fresh water resources; the Great Manmade River Project, the largest water development scheme in the world, is being built to bring water from large aquifers under the Sahara to coastal cities
Climate
Summers are very hot and dry: winters are mild with cooler evenings. The desert has hot days and cold nights.
Time difference
time difference: UTC+2
Population
5,900,754 note: includes 166,510 non-nationals (July 2006 est.)
Age structure
0-14 years: 33.6% (male 1,012,748/female 969,978) 15-64 years: 62.2% (male 1,891,643/female 1,778,621) 65 years and over: 4.2% (male 121,566/female 126,198) (2006 est.)
Median age
total: 23 years male: 23.1 years female: 22.9 years (2006 est.)
Population growth rate
2.3% (2006 est.)
Birth rate
26.49 births/1,000 population (2006 est.)
Death rate
3.48 deaths/1,000 population (2006 est.)
Net migration rate
0 migrant(s)/1,000 population (2006 est.)
Sex ratio
at birth: 1.05 male(s)/female under 15 years: 1.04 male(s)/female 15-64 years: 1.06 male(s)/female 65 years and over: 0.96 male(s)/female total population: 1.05 male(s)/female (2006 est.)
Life expectancy at birth
total population: 76.69 years male: 74.46 years female: 79.02 years (2006 est.)
Total fertility rate
3.28 children born/woman (2006 est.)
Business Practices
Shirtsleeves are acceptable business wear in hot weather. Suits and ties are worn for more formal occasions. Appointments are necessary and business cards are useful (printed in English and Arabic), though not widely used. Most business dealings take place with state organizations and English is often understood. It is, however, government policy for official documents to be in Arabic (or translated into Arabic) and for official business to be conducted in Arabic. Business visitors need to be fully prepared for this. Office hours are generally 0700-1400, but these vary greatly.
Crime
Crime is a growing problem in Libya. The most common types of crime are auto theft and theft of items left in vehicles. Libya's beaches are the frequent sites of muggings and purse snatching. Security personnel may at times place foreign visitors under surveillance. Hotel rooms, telephones and fax machines may be monitored, and personal possessions in hotel rooms may be searched. Taking photographs of anything that could be perceived as being of military or security interest may result in problems with the authorities. Libya is a cash society and credit card use is extremely limited. Travelers' checks are not accepted and no automatic teller machines (ATMs) are available.
Hotels
Tripoli and Benghazi have comfortable modern hotels, such as the Grand, Kasr Libya, Libya Palace and Marhaba in Tripoli, and the Kasr al Jazeera and Omar Khayam in Benghazi. There are hotels in Al Bayda, Cyrene (Shahat), Ghadam?s, Homs, Sabha, Tobruk and Derna.
Communications
Telephone IDD service is available and the country code is 218. Outgoing international code: 00. Mobile telephones are on the GSM 900 and 1800 networks. Network providers include General Post and Telecommunications Company, El Madar and Orbit. Internet ISPs include Libya Telecom and Technology (website: www.lttnet.com). There are Internet cafes in Tripoli and some other towns.
Electricity
is 150/220 volts AC, 50Hz. All services may be intermittently disrupted by power cuts. Electricity 220 volts AC, 40Hz. All services may be intermittently disrupted by power cuts.
Plug Types
D,F
Food And Dining
Since alcohol was banned by the Government in 1969, many restaurants have closed, and those remaining are very expensive. Hotel restaurants, although not particularly good, are therefore often the only eating places. Traditional dishes include couscous, a dish based on savoury semolina that can be combined with chicken, lamb or vegetables and is a staple dish in many northern African countries; and ruuz, a rice dish with a variety of spices, meat and vegetables. Most restaurants have table service, and although food is traditionally eaten with the right hand only, knives and forks will generally be available.

Tipping:
A tip of 10 to 20 per cent is usually included in hotel and restaurant bills.

Nightlife
All nightclubs and bars have been closed. There are several cinemas in major towns, some showing foreign films. There are no theaters or concert halls.
Entry departure requirements
Restricted entry (a) Holders of Israeli passports, or holders of passports containing a valid or expired visa for Israel will be refused entry or transit. (b) Children of nationals of Arab League countries will be refused entry if they are traveling alone, unless they are met at the airport by their husband/father or unless they are holding a 'No Objection Certificate', issued by the Libyan Immigration Department, and are met at the airport by the resident relative who made the application.
Visa immigration information
Passports
Passport valid for a minimum of six months required by all except Algeria, Bahrain, Egypt, Kuwait, Mauritania, Morocco, Oman, Qatar, Saudi Arabia, Tunisia and United Arab Emirates holding valid ID cards.
Visas
Required by all except the following:
(a) nationals of Algeria, Bahrain, Egypt, Kuwait, Mauritania, Morocco, Oman, Qatar, Saudi Arabia, Sudan, Tunisia and United Arab Emirates ;
(b) nationals of Jordan and the Syrian Arab Republic, provided arriving from their country of origin;
(c) transit passengers continuing their journey by the same or first connecting aircraft within 24 hours provided holding valid onward or return documentation and not leaving the airport.
The Libyan authorities have advised that from 1 July 2008 British citizens, with the exception of children under five years old will be required to provide biometric data in order to obtain a visa to travel to Libya. On 11 November 2007, the Libyan authorities reimposed a requirement for all travellers entering (and including those re-entering) the country to have an Arabic transcript of their passport's details page. If you travel without this transcript, you may not be able to enter the country.
Types of visa and cost
Tourist/Business: US$34
Validity
45 days.
Application to
Any of Libya's diplomatic representatives in the relevant country or abroad (such as the Libyan People's Bureau in London; see Passport/Visa Information). Nationals of Germany must obtain their visas in Bonn/Berlin. Nationals of Canada must obtain their visas in Brussels, Belgium.
Application requirements
(a) One completed visa application form. (b) Four recent passport-size photos. (c) Valid passport. (d) Visa authorization telex/invitation with reference number from Libya or travel agent. Business: (a)-(d) and, (e) Proof that they are sponsored by a Libyan company which will organize the issue of the visa.
Working days required
Two to three.
HIV entry requirements
Test required for anyone applying for a residency permit
Departure tax
LYD3; children under two years of age and transit passengers, provided not leaving the airport and departing within 24 hours, are exempt.
Embassies
Embassy of the Socialist People's Libyan Arab Jamahirya in France
2 Rue Charles-Lamoureux, Paris 75116, France
Tel: (1) 4704 7160. Fax: (1) 4755 9625.
Libyan People's Bureau in the UK
61-62 Ennismore Gardens, London SW7 1NH, UK
Tel: (020) 7589 6120. Fax: (020) 7589 6087 or 9137 (consular section).
Opening hours: Mon-Wed 1000-1100 (visa application); Thurs 1400-1500 (visa collection).
Permanent Mission of the Great Socialist People's Libyan Arab Jamahiriya to the United Nations
309-315 East 48th Street, New York, NY 10017, USA
Tel: (212) 752 5775.
Website: http://culturalaffairs.libyanembassy.org/En/
Also deals with enquiries from Canada.

Travelers are advised against all but essential travel to areas bordering Chad and Sudan, because of instability in the region.
Libya shares with the rest of the North Africa region a threat from terrorism. Attacks could be indiscriminate and against civilian targets, including places frequented by foreigners.
Travelers should avoid desert areas where oil extraction is in operation.
This advice is based on information provided by the Foreign, Commonwealth & Development Office in the UK. It is correct at time of publishing. As the situation can change rapidly, visitors are advised to contact the following organizations for the latest travel advice:
British Foreign, Commonwealth & Development Office
Website: www.gov.uk/foreign-travel-advice
US Department of State
Currency
Libyan Dinar (LYD) = 1000 dirhams. Notes are in denominations of LYD10, 5 and 1, and 500 and 250 dirhams. Coins are in denominations of 100, 50, 20, 10, 5 and 1 dirhams. Visitors must possess the foreign currency equivalent of at least LYD500 on arrival. ATMS in Tripoli are unreliable.
Currency restrictions
Free import of foreign currency, subject to declaration. Export of foreign currency is limited to the amount declared on arrival. The import and export of local currency is prohibited.
Banking hours
Sat-Wed 0800-1200 (winter); Sat-Thurs 0800-1200 and Sat-Wed 1600-1700 (summer).
Currency exchange
Credit cards
Cash is almost always used. Some credit cards are accepted in major hotels and banks. Check with your credit or debit card company for details of merchant acceptability and other services which may be available.
Travellers cheques
Traveller's cheques are generally not accepted, owing to US government sanctions.
| City/Region | City/Area code | Followed by |
| --- | --- | --- |
| Abengawad | (0)553 | + 5 digit subscriber nr |
| Abu Issa | (0)274 | + 5 digit subscriber nr |
| Abuhadi | (0)551 | + 5 digit subscriber nr |
| Ajailat | (0)282 | + 5 digit subscriber nr |
| Al Josh | (0)454 | + 5 digit subscriber nr |
| Azizia | (0)272 | + 5 digit subscriber nr |
| Bani Walid | (0)322 | + 5 digit subscriber nr |
| Ben Gashir | (0)22 | + 6 digit subscriber nr |
| Benghazi | (0)61 | + 6 digit subscriber nr |
| Benina | (0)63 | + 6 digit subscriber nr |
| Bergen | (0)732 | + 5 digit subscriber nr |
| Bisher | (0)655 | + 5 digit subscriber nr |
| Brak | (0)721 | + 5 digit subscriber nr |
| Bugrain | (0)529 | + 5 digit subscriber nr |
| Buzayan | (0)425 | + 5 digit subscriber nr |
| Dafnia | (0)523 | + 5 digit subscriber nr |
| Deriana | (0)625 | + 5 digit subscriber nr |
| Derna | (0)81 | + 6 digit subscriber nr |
| Edry | (0)723 | + 5 digit subscriber nr |
| El Beida | (0)84 | + 6 digit subscriber nr |
| Elbayada | (0)684 | + 5 digit subscriber nr |
| Elkuwaifia | (0)624 | + 5 digit subscriber nr |
| Elmagrun | (0)629 | + 5 digit subscriber nr |
| Elmareg | (0)67 | + 6 digit subscriber nr |
| Elmaya | (0)279 | + 5 digit subscriber nr |
| Ezzaonia | (0)23 | + 6 digit subscriber nr |
| Garda | (0)733 | + 5 digit subscriber nr |
| Garian | (0)41 | + 6 digit subscriber nr |
| Ghadames | (0)484 | + 5 digit subscriber nr |
| Ghat | (0)724 | + 5 digit subscriber nr |
| Ghrefa | (0)729 | + 5 digit subscriber nr |
| Gmines | (0)623 | + 5 digit subscriber nr |
| Guassem | (0)423 | + 5 digit subscriber nr |
| Gubba | (0)821 | + 5 digit subscriber nr |
| Haraua | (0)82 | + 6 digit subscriber nr |
| Hashan | (0)271 | + 5 digit subscriber nr |
| Hugialin | (0)284 | + 5 digit subscriber nr |
| Hun | (0)57 | + 6 digit subscriber nr |
| Jaghbub | (0)884 | + 5 digit subscriber nr |
| Jalo | (0)657 | + 5 digit subscriber nr |
| Jardas | (0)682 | + 5 digit subscriber nr |
| Jerdina | (0)627 | + 5 digit subscriber nr |
| Jmail | (0)281 | + 5 digit subscriber nr |
| Kaalifa | (0)626 | + 5 digit subscriber nr |
| Kabaw | (0)481 | + 5 digit subscriber nr |
| Kasarahmad | (0)524 | + 5 digit subscriber nr |
| Khums | (0)31 | + 6 digit subscriber nr |
| Kikla | (0)427 | + 5 digit subscriber nr |
| Kofra | (0)652 | + 5 digit subscriber nr |
| Kussabat | (0)326 | + 5 digit subscriber nr |
| Mamura | (0)277 | + 5 digit subscriber nr |
| Massa | (0)852 | + 5 digit subscriber nr |
| Matred | (0)275 | + 5 digit subscriber nr |
| Misratah | (0)51 | + 6 digit subscriber nr |
| Mizda | (0)422 | + 5 digit subscriber nr |
| Murzuk | (0)725 | + 5 digit subscriber nr |
| Nalut | (0)47 | + 6 digit subscriber nr |
| Noflia | (0)555 | + 5 digit subscriber nr |
| Ojla | (0)653 | + 5 digit subscriber nr |
| Reyana | (0)453 | + 5 digit subscriber nr |
| Rujban | (0)452 | + 5 digit subscriber nr |
| Sabratha | (0)24 | + 6 digit subscriber nr |
| Sebha | (0)71 | + 6 digit subscriber nr |
| Seluk | (0)628 | + 5 digit subscriber nr |
| Shahat | (0)851 | + 5 digit subscriber nr |
| Sidi Sultan | (0)654 | + 5 digit subscriber nr |
| Sidiessaiah | (0)205 | + 5 digit subscriber nr |
| Sirt | (0)54 | + 6 digit subscriber nr |
| Slenta | (0)854 | + 5 digit subscriber nr |
| Sokna | (0)582 | + 5 digit subscriber nr |
| Soussa | (0)583 | + 5 digit subscriber nr |
| Suk Elkhamis | (0)206 | + 5 digit subscriber nr |
| Swajni | (0)224 | + 5 digit subscriber nr |
| Taigura | (0)26 | + 6 digit subscriber nr |
| Taknes | (0)683 | + 5 digit subscriber nr |
| Tarhuna | (0)325 | + 5 digit subscriber nr |
| Tawergha | (0)522 | + 5 digit subscriber nr |
| Tigi | (0)482 | + 5 digit subscriber nr |
| Tolmitha | (0)681 | + 5 digit subscriber nr |
| Tomina | (0)685 | + 5 digit subscriber nr |
| Traghen | (0)734 | + 5 digit subscriber nr |
| Tripoli | (0)21 | + 7 digit subscriber nr |
| Ubary | (0)73 | + 6 digit subscriber nr |
| Um Laranib | (0)726 | + 5 digit subscriber nr |
| Wadi Atba | (0)731 | + 5 digit subscriber nr |
| Wadi Jeref | (0)554 | + 5 digit subscriber nr |
| Wadi Keam | (0)323 | + 5 digit subscriber nr |
| Wodan | (0)581 | + 5 digit subscriber nr |
| Yefren | (0)421 | + 5 digit subscriber nr |
| Zahra | (0)252 | + 5 digit subscriber nr |
| Zawaya | (0)727 | + 5 digit subscriber nr |
| Zawyat Elmahjub | (0)526 | + 5 digit subscriber nr |
| Zella | (0)584 | + 5 digit subscriber nr |
| Zliten | (0)521 | + 5 digit subscriber nr |
| Zuara | (0)25 | + 6 digit subscriber nr |