Quick Facts
Region: Asia & Oceania
Full Name: Lao People's Democratic Republic
Capital City: Vientiane
Language Spoken: Lao (official), French, English, and various ethnic languages
Laos Travel Insurance
Get travel insurance to Laos from Direct Travel Insurance. We offer low cost and high quality travel insurance to Laos and most of the world.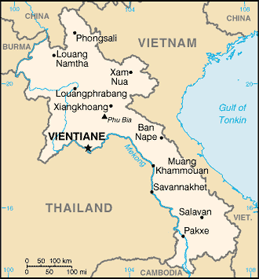 Geographic data
18 00 N, 105 00 E
Elevation Extremes
lowest point: Mekong River 70 m highest point: Phou Bia 2,817 m
Land boundaries
total: 5,083 km border countries: Burma 235 km, Cambodia 541 km, China 423 km, Thailand 1,754 km, Vietnam 2,130 km
Natural hazards
floods, droughts
Natural resources
timber, hydropower, gypsum, tin, gold, gemstones
Land use
arable land: 4.01% permanent crops: 0.34% other: 95.65% (2005)
Environmental current issues
unexploded ordnance; deforestation; soil erosion; most of the population does not have access to potable water
Climate
Throughout most of the country, the climate is hot and tropical, with the rainy season between May and October when temperatures are at their highest. The dry season runs from November to April. Required clothing Lightweights and rainwear, with a sweater for winter and upland areas.
Time difference
time difference: UTC+7
Population
6,368,481 (July 2006 est.)
Age structure
0-14 years: 41.4% (male 1,324,207/female 1,313,454) 15-64 years: 55.4% (male 1,744,206/female 1,786,139) 65 years and over: 3.1% (male 89,451/female 111,024) (2006 est.)
Median age
total: 18.9 years male: 18.6 years female: 19.2 years (2006 est.)
Population growth rate
2.39% (2006 est.)
Birth rate
35.49 births/1,000 population (2006 est.)
Death rate
11.55 deaths/1,000 population (2006 est.)
Net migration rate
0 migrant(s)/1,000 population (2006 est.)
Sex ratio
at birth: 1.04 male(s)/female under 15 years: 1.01 male(s)/female 15-64 years: 0.98 male(s)/female 65 years and over: 0.81 male(s)/female total population: 0.98 male(s)/female (2006 est.)
Life expectancy at birth
total population: 55.49 years male: 53.45 years female: 57.61 years (2006 est.)
Total fertility rate
4.68 children born/woman (2006 est.)
Business Practices
Lightweight suits and ties are generally worn for business meetings. Punctuality is important to businessmen in Laos. French is the most frequently used language for business transactions involving foreigners, though some officials speak English. Business cards should have a Laotian translation on the reverse. Handshaking is not common and people greet each other with their palms together and a slight bowing of the head. Avoid discussing politics and related subjects in conversation to avoid possibly offending your listener. Office hours are 0800-1200 and 1330-1730 Monday to Friday.
Crime
Vientiane is a relatively safe city in comparison to most western cities. Most crime directed at foreigners is non-confrontational in nature and primarily consists of purse snatching, pickpocketing, or residential burglary. Physical assaults are relatively rare. The political situation in Vientiane, and in most of the country is stable with no noticeable anti-foreigner sentiment. There are remote areas in sections of northern Laos to which overland travel is discouraged due to bandit and insurgent activity. Persons planning to travel to infrequently visited parts of Laos should contact their embassy for advice. Frequently visited tourist locations are generally safe. Police service: police tend to be non-responsive and are infrequently seen in the city. Although individual officers are polite, few speak English and most will not react without formal authorization from their superior officer. Expatriates requiring police help may wish to contact their embassy for assistance.
Hotels
There are hotels in Vientiane, but facilities are sparse elsewhere. Local village hostels are available, but with few amenities.
Communications
Telephone IDD service is restricted, but available. The country code is 856 and the outgoing international code is 00. Telephone links exist with Bangkok.
Electricity
is a 220 volts AC, 50Hz. Electricity 230 volts AC, 50Hz.
Plug Types
A,B,C,E,F
Food And Dining
Rice, especially sticky rice, is the staple food and dishes will be Indo-Chinese in flavor and presentation. Lao food can be found on the stalls in the markets. There are several fairly good French restaurants in Vientiane, catering mainly for the diplomatic community. Baguettes and croissants are normally eaten for breakfast. Rice whisky, lao lao, is popular and there are two brands available. The beer is also good.

Tipping:
Practised modestly in hotels and restaurants.

Nightlife
There are several discos in Vientiane that tend to have live Lao bands. Most large hotels will have their own nightclubs.
Entry departure requirements
Visa immigration information
Passports
Passport with at least six months remaining validity required by all.
Visas
Required by all.
Types of visa and cost
Tourist, Business: US$59 (including service and document fees). Families may only be charged US$59 per family if all living at the same address, and same surname is indicated on passports.
Validity
Validity starts from day of entry into Laos. Tourist/Business: 30 days (can be extended twice in Vientiane for 30 days ). Visas must be used within three months of being issued.
Application to
Consulate (or Consular section at Embassy) or an officially recognized tour operator. A visa valid for Laos can also be obtained from travel agencies in Bangkok (Thailand) or on arrival (see above). Visas are issued on arrival at 14 international checkpoints throughout Laos, including Luang Prabang Airport, Pakse Airport and (Wattay) Vientiane International Airport for stays of 15 days and costs US$30. For further details, contact the nearest Embassy.
Application requirements
(a) One passport-size photo. (b) One signed and completed application form. (c) Valid passport. (d) Fee payable by cash or cheque. (e) Postal applications should include an additional ?5 (inside France) or ?10 (international), to cover postage. Business: (a)-(e) and, (f) Letter from sponsor in Laos.
Working days required
Three.
Temporary residence
Enquire at nearest Embassy or Consulate. For extension of visa, consult the Immigration Office (tel: (21) 512 012); neglecting to do so will result in a fine of US$10 per day until leaving the country.
HIV entry requirements
No Test Required
Departure tax
US$10; children under two years of age and transit passengers are exempt
Embassies
Embassy of Laos in the UK
49 Porchester Terrace, London W2 3TS
Embassy of the Lao People?s Democratic Republic in France
74 Avenue Raymond Poincar?, 75116 Paris, France
Tel: (1) 4553 0298.
Embassy of the Lao People?s Democratic Republic in the USA
2222 S Street, NW, Washington, DC 20008, USA
Tel: (202) 332 6416.
Website: www.laoembassy.com
Also deals with enquiries from Canada and Mexico.

Most visits to Laos are trouble-free but you should be aware of the global risk of indiscriminate international terrorist attacks, which could be against civilian targets, including places frequented by foreigners.
In 2004, there were explosions in the capital Vientiane and attacks on buses, resulting in injury and death.
Penalties for illegal drug importation and use are severe and can include the death penalty. Banditry has also been reported in rural areas and unexploded ordnance is an ongoing danger.
This advice is based on information provided by the Foreign, Commonwealth & Development Office in the UK. It is correct at time of publishing. As the situation can change rapidly, visitors are advised to contact the following organizations for the latest travel advice:
British Foreign, Commonwealth & Development Office
Tel: (0845) 850 2829.
Website: www.gov.uk/foreign-travel-advice
US Department of State
Currency
Lao Kip (LAK) = 100 cents. Notes are in denominations of LAK5000, 2000, 1000, 500 and 100.
Currency restrictions
The import and export of local currency is prohibited. There are no restrictions on the import or export of foreign currency, but amounts greater than US$2000 must be declared.
Banking hours
Mon-Fri 0800-1200 and 1330-1730.
Currency exchange
Thai Baht and US Dollars are the easiest currencies to exchange. They are also widely accepted in shops, markets and hotels in Vientiane and Luang Prabang.
Credit cards
Major credit cards are accepted in the more upmarket hotels and restaurants. Check with your credit or debit Card Company for details of merchant acceptability and other services which may be available.
Travellers cheques
Limited acceptance. To avoid additional exchange rate charges, travellers are advised to take travellers cheques in US Dollars or Thai Baht.
| City/Region | City/Area code | Followed by |
| --- | --- | --- |
| Loungprabang | (0)71 | + 6 digit subscriber nr |
| Pakse | (0)31 | + 6 digit subscriber nr |
| Pakxan | (0)54 | + 6 digit subscriber nr |
| Svannakhet | (0)41 | + 6 digit subscriber nr |
| Thakhek | (0)51 | + 6 digit subscriber nr |
| Vientiane | (0)21 | + 6 digit subscriber nr |