Quick Facts
Region: Europe
Full Name: Latvia
Capital City: Riga
Language Spoken: Latvian (official) 58.2%, Russian 37.5%, Lithuanian and other 4.3% (2000 census)
Latvia Travel Insurance
Get travel insurance to Latvia from Direct Travel Insurance. We offer low cost and high quality travel insurance to Latvia and most of the world.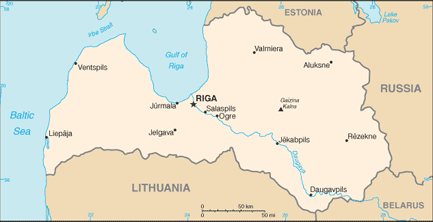 Geographic data
57 00 N, 25 00 E
Elevation Extremes
lowest point: Baltic Sea 0 m highest point: Gaizinkalns 312 m
Land boundaries
total: 1,368 km border countries: Belarus 167 km, Estonia 343 km, Lithuania 576 km, Russia 282 km
Natural hazards
NA
Natural resources
peat, limestone, dolomite, amber, hydropower, wood, arable land
Land use
arable land: 28.19% permanent crops: 0.45% other: 71.36% (2005)
Environmental current issues
Latvia's environment has benefited from a shift to service industries after the country regained independence; the main environmental priorities are improvement of drinking water quality and sewage system, household, and hazardous waste management, as well as reduction of air pollution; in 2001, Latvia closed the EU accession negotiation chapter on environment committing to full enforcement of EU environmental directives by 2010
Climate
Temperate climate, but with considerable temperature variations. Summer is warm with relatively mild weather in spring and autumn. Winter, which lasts from November to mid-March, can be very cold. Rainfall is distributed throughout the year with the heaviest rainfall in August. Snowfall is common in the winter months. Required clothing Light- to mediumweights are worn during summer months. Medium- to heavyweights are needed during winter. Rainwear is advisable all year.
Time difference
time difference: UTC+2 daylight saving time: +1hr, begins last Sunday in March; ends last Sunday in October
Population
2,274,735 (July 2006 est.)
Age structure
0-14 years: 14% (male 162,562/female 155,091) 15-64 years: 69.6% (male 769,004/female 815,042) 65 years and over: 16.4% (male 121,646/female 251,390) (2006 est.)
Median age
total: 39.4 years male: 36.3 years female: 42.4 years (2006 est.)
Population growth rate
-0.67% (2006 est.)
Birth rate
9.24 births/1,000 population (2006 est.)
Death rate
13.66 deaths/1,000 population (2006 est.)
Net migration rate
-2.26 migrant(s)/1,000 population (2006 est.)
Sex ratio
at birth: 1.05 male(s)/female under 15 years: 1.05 male(s)/female 15-64 years: 0.94 male(s)/female 65 years and over: 0.48 male(s)/female total population: 0.86 male(s)/female (2006 est.)
Life expectancy at birth
total population: 71.33 years male: 66.08 years female: 76.85 years (2006 est.)
Total fertility rate
1.27 children born/woman (2006 est.)
Business Practices
Business meetings are formal and suit and tie should be worn. Business cards are exchanged. Appointments should be arranged in advance. Latvian is the official language; most Latvians speak Russian (grudgingly). English is widely used in government and business and is the most popular West European language. German is also encountered, particularly in establishments catering to the tourist trade. Office hours are 0830-1730 Monday to Friday.
Crime
Petty street crime is high, particularly for affluent tourists. In addition to the threat from pickpockets in all public areas (grocery stores, restaurants, department stores, bars, busses and on the streets), there have been cases of tourists and residents being drugged in bars, then taken to another location and robbed. In any public area one should always be alert to being surrounded by two or more people at once; the intent is for one person to distract while the other picks a pocket or purse. In some parts of the city, children work literally in swarms begging and picking pockets or purses. In addition, Riga has an extremely high incidence of car theft; the cost of car insurance is highly prohibitive because of the car theft rate. To prevent one's car from being stolen, a car alarm and a device to lock the steering wheel (e.g., the club) are useful; one should park in guarded lots whenever possible. To avoid being robbed, one should not carry valuable items in easily accessible areas like back pockets, backpacks, purses worn more to the rear, coat pockets and the like. Thinner purses/bags/packs are frequently sliced open from behind; heavier fabrics are a bit of a deterrent. One should avoid keeping one's passport where it will be easily picked and should keep a copy of the photo and first page in case it is stolen. . Alcoholism is a serious problem in Riga and many start drinking early in the day. It is not uncommon to encounter several drunks on the street en route to work in the morning hours. They should be avoided, as they can become surly or abusive.
Hotels
Several of the main hotels in Riga have been renovated in joint ventures with Western firms. New or renovated hotels in Riga include the Hotel de Rome, the Radisson and the Metropole have recently opened and others are underway. Outside Riga, Latvia enjoys a good range of modest accommodation, left over from the pre-independence days, including large hotels and smaller establishments.
Communications
Telephone IDD service is available. The country code is 371 and the outgoing international code is 810. For directory inquiries, dial 09. Cable and Wireless, in conjunction with Lattelekom, are currently updating the telephone system. Some local companies offer computer Internet access. Many hotels in Riga allow their guests to use the fax machine to receive and send messages. Facsimile transmissions may also be made from several post offices in downtown Riga. . The Main Post Office is at Brivibas bulvaris 21. Tel: 722 4155. Fax: 733 1920.
Electricity
is 220 volts AC, 50Hz. European-style 2-pin plugs are in use. Electricity 220 volts AC, 50Hz. European-style two-pin plugs are in use.
Plug Types
C,F
Food And Dining
Hors d'oeuvres are very good and often the best part of the meal. Overall, cuisine can be heavy but almost always tasty and nourishing.

National specialties:
? Kotletes (meat patties).
? Skabu kapostu zupa (cabbage soup).
? Alexander Torte (raspberry- or cranberry-filled pastry strips).
? Smoked fish (including salmon or trout).
? Sweetbread soup with dried fruit.
? Piragi (pastry filled with bacon and onions).
? Sorrel soup with boiled pork, onions, potatoes and barley.
? Potatoes feature regularly on the menu, prepared in a variety of ways.
? There is a large selection of excellent dairy products on offer, such as skabs krejums (sour cream). National drinks:
? Riga's Black Balsam is a thick, black alcoholic liquid which has been produced since 1700. The exact recipe is a closely guarded secret, but some of the ingredients include ginger, oak bark, bitter orange peel and cognac. It is drunk either with coffee or mixed with vodka.
? There are several good local beers, including the dark beer Bauskas Tumsais and the pale Gaisais.
? Kvass is a refreshing summer drink.
? Sparkling wine is popular.

Tipping:
Taxi fares and restaurant bills usually include a tip. It is customary to give a little extra for good service.

Nightlife
Riga has a good range of excellent restaurants, bars and cafes.
Entry departure requirements
* Please see passport section below
Visa immigration information
Passports
Passport valid for at least three months beyond length of stay required by all except:
(a) 1. EU/EEA nationals (EU + Iceland, Liechtenstein, Norway) and Swiss nationals holding a valid national ID card.
Note: EU and EEA nationals are only required to produce evidence of their EU/EEA nationality and identity in order to be admitted to any EU/EEA Member State. This evidence can take the form of a valid national passport or national identity card. Either is acceptable. Possession of a return ticket, any length of validity on their document, sufficient funds for the length of their proposed visit should not be imposed.
Visas
Required by all except the following for a stay of up to 90 days within any six-month period:
(a) nationals of countries mentioned in the table and under passport exemptions above;
(b) nationals of Andorra, Argentina, Bolivia, Brazil, Brunei, Bulgaria, Chile, Costa Rica, Croatia, El Salvador, Guatemala, Honduras, Hong Kong (SAR), Israel, Korea (Rep), Macau (SAR), Malaysia, Mexico, Monaco, New Zealand, Nicaragua, Panama, Paraguay, Romania, San Marino, Singapore, Switzerland, Uruguay, Vatican City and Venezuela;
(c) transit passengers continuing their journey by the same or first connecting aircraft, provided holding onward or return documentation and not leaving the airport, except citizens of: Afghanistan, Bangladesh, Congo (Dem Rep), Eritrea, Ethiopia, Ghana, Iran, Iraq, Nigeria, Pakistan, Somalia and Sri Lanka who must obtain an airport transit visa issued prior to arrival.
Note
Nationals of countries who require an airport transit visa can cross the transit zone without one provided that they: (a) hold a valid residence permit, entry visa or transit visa for Latvia; (b) hold a valid entry visa or residence permit issued by a member of the EU or Schengen Agreement; (c) hold a valid residence permit issued by Andorra, Canada, Japan, Liechtenstein, Monaco, San Marino, Switzerland, USA and the Vatican City, guaranteeing the right to return; (d) the national is a crew member of an airplane or citizen of a country which is a member of the December 7th 1944 International Civil Aviation Convention.
Types of visa and cost
Short-term: US$40 (single- and double-entry); US$69 (multiple-entry). Visas for children under 16 are free of charge.
Note
There is no separate category for a 'Business' visa. If traveling to Latvia for business purposes, please consult the requirements and cost of a tourist visa.
Validity
Short-term: from one day to 12 months. Transit: Three days (foreign sailors may be issued with a transit visa entitling them to remain in the country for five days).
Application to
Consulate (or Consular section at Embassy); see Passport/Visa Information.
Application requirements
(a) Passport valid for at least three months beyond expiry of visa, with at least two blank pages. (b) One completed application form. (c) One passport-size photo. (d) Valid travel health insurance policy guaranteeing coverage of costs associated with health care (except for nationals of Estonia, Finland, Sweden and Ukraine). (e) Fee, cash only. Short-term: (a)-(e) and, (f) An invitation to visit Latvia, approved by the Office of Citizenship and Migration Affairs at the Ministry of Interior in Riga (see below for address). Transit and Airport Transit: (a)-(e) and, (f) Valid visa for the country to be entered after Latvia, if required.
Note
(a) Additional documents, such as return or onward tickets, confirmed hotel reservation and proof of sufficient funds, may also be requested. (b) All invitations must be registered by the Office of Citizenship and Migration Affairs, Alun?na Str. 1, Riga LV-1050 (tel: 721 9656; website: www.pmlp.gov.lv).
Working days required
Usually seven, however in some cases processing may take longer.
HIV entry requirements
Test required for anyone applying for a residency permit
Departure tax
None
Embassies
Embassy of Latvia in the UK
45 Nottingham Place, London W1U 5LY, UK
Tel: (020) 7312 0040.
Website: http://www.mfa.gov.lv/en/london
Opening hours: Mon-Fri 0830-1700; 1000-1300 (consular section).
Embassy of Latvia in the USA
2306 Massachusetts Avenue, NW, Washington, DC 20008, USA
Tel: (202) 328 2840.
Website: www.latvia-usa.org
Opening hours: Mon 1400-1600 and Tues-Thur 1000-12000.

Most visits to Latvia are trouble-free but you should be aware of the global risk of indiscriminate international terrorist attacks, which could be against civilian targets, including places frequented by foreigners.
This advice is based on information provided by the Foreign, Commonwealth & Development Office in the UK. It is correct at time of publishing. As the situation can change rapidly, visitors are advised to contact the following organizations for the latest travel advice:
This advice is based on information provided by the Foreign, Commonwealth & Development Office in the UK. It is correct at time of publishing. As the situation can change rapidly, visitors are advised to contact the following organizations for the latest travel advice:
British Foreign, Commonwealth & Development Office
Website: www.gov.uk/foreign-travel-advice
US Department of State
Currency
Latvian Lat (LVL) = 100 santims. Notes are in denominations of LVL500, 100, 50, 20, 10 and 5. Coins are in denominations of LVL2 and 1, and 50, 20, 10, 5, 2 and 1 santims.
Currency restrictions
There are no restrictions on the import and export of either local or foreign currency.
Banking hours
Mon-Fri 0900-1700. Some banks are open Sat 0900-1300.
Currency exchange
Bureaux de change are found all over main towns, including inside shops, hotels, post offices and train stations. These tend to close at 1900. Currency may also be obtained at ATMs in towns and cities. The most convenient currencies to exchange are the Euro and the US Dollar.
Credit cards
American Express, Diners Club, Eurocard, JCB, MasterCard and Visa are accepted by most hotels, restaurants and supermarkets. Some shops in Riga also accept credit cards. Check with your credit or debit card company for details of merchant acceptability and other services which may be available.
Travellers cheques
To avoid additional exchange rate charges, travelers are advised to take traveller's cheques in US Dollars or Pounds Sterling.
| City/Region | City/Area code | Followed by |
| --- | --- | --- |
| Aizkraukle | (8)51 | + 5 digits |
| Aluksne | (8)43 | + 5 digits |
| Balvi | (8)45 | + 5 digits |
| Bauska | (8)39 | + 5 digits |
| Cesis | (8)41 | + 5 digits |
| Daugavpils | (8)54 | + 5 digits |
| Dobele | (8)37 | + 5 digits |
| Gulbene | (8)44 | + 5 digits |
| Jekabpils | (8)52 | + 5 digits |
| Jelgava | (8)30 | + 5 digits |
| Kraslava | (8)56 | + 5 digits |
| Kuldiga | (8)33 | + 5 digits |
| Liepaja | (8)34 | + 5 digits |
| Limbazi | (8)40 | + 5 digits |
| Ludza | (8)57 | + 5 digits |
| Madona | (8)48 | + 5 digits |
| Ogre | (8)50 | + 5 digits |
| Preili | (8)53 | + 5 digits |
| Rezekne | (8)46 | + 5 digits |
| Riga | (8)7 | + 6 digits |
| Saldus | (8)38 | + 5 digits |
| Talsi | (8)32 | + 5 digits |
| Tukums | (8)31 | + 5 digits |
| Valka | (8)47 | + 5 digits |
| Valmiera | (8)42 | + 5 digits |
| Ventspils | (8)36 | + 5 digits |