Quick Facts
Region: Africa
Full Name: Kingdom of Lesotho
Capital City: Maseru
Language Spoken: Sesotho (southern Sotho), English (official), Zulu, Xhosa
Lesotho Travel Insurance
Get travel insurance to Lesotho from Direct Travel Insurance. We offer low cost and high quality travel insurance to Lesotho and most of the world.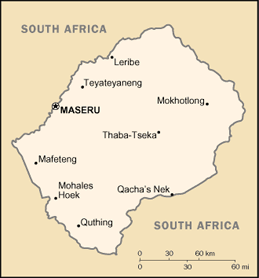 Geographic data
29 30 S, 28 30 E
Elevation Extremes
lowest point: junction of the Orange and Makhaleng Rivers 1,400 m highest point: Thabana Ntlenyana 3,482 m
Land boundaries
total: 909 km border countries: South Africa 909 km
Natural hazards
periodic droughts
Natural resources
water, agricultural and grazing land, diamonds, sand, clay, building stone
Land use
arable land: 10.87% permanent crops: 0.13% other: 89% (2005)
Environmental current issues
population pressure forcing settlement in marginal areas results in overgrazing, severe soil erosion, and soil exhaustion; desertification; Highlands Water Project controls, stores, and redirects water to South Africa
Climate
Time difference
time difference: UTC+2
Population
2,022,331 note: estimates for this country explicitly take into account the effects of excess mortality due to AIDS; this can result in lower life expectancy, higher infant mortality and death rates, lower population and growth rates, and changes in the distribution of population by age and sex than would otherwise be expected (July 2006 est.)
Age structure
0-14 years: 36.8% (male 374,102/female 369,527) 15-64 years: 58.3% (male 572,957/female 606,846) 65 years and over: 4.9% (male 39,461/female 59,438) (2006 est.)
Median age
total: 20.3 years male: 19.7 years female: 21 years (2006 est.)
Population growth rate
-0.46% (2006 est.)
Birth rate
24.75 births/1,000 population (2006 est.)
Death rate
28.71 deaths/1,000 population (2006 est.)
Net migration rate
-0.68 migrant(s)/1,000 population (2006 est.)
Sex ratio
at birth: 1.03 male(s)/female under 15 years: 1.01 male(s)/female 15-64 years: 0.94 male(s)/female 65 years and over: 0.66 male(s)/female total population: 0.95 male(s)/female (2006 est.)
Life expectancy at birth
total population: 34.4 years male: 35.55 years female: 33.21 years (2006 est.)
Total fertility rate
3.28 children born/woman (2006 est.)
Business Practices
Lightweight suit, shirt and tie should be worn for business meetings. . Usual business formalities should be observed, but expect a casual atmosphere and pace. Most business people speak English. Office hours are 0800-1245 and 1400-1630 Monday to Friday and 0800-1300 Saturday. Government office hours are 0800-1245 and 1400-1630 Monday to Friday.
Crime
Deteriorating economic conditions in the country aggravated by the return of large numbers of unemployed miners from South Africa have caused an increase in armed robberies, break-ins and auto thefts. This occurs primarily in the capital city of Maseru but can occur elsewhere as well. Victims have included foreign diplomats and members of foreign aid missions. Traveling alone or at night is particularly dangerous.
Hotels
Visitors to Maseru will find several modern, well-equipped hotels with full telephone telex and fax facilities. There are hotels of varying quality in the main towns and mountain lodges giving access to the wilder regions.
Communications
Telephone IDD service is available to some cities. The country code is 266 (no area codes). The outgoing international code is 00. There is a limited internal telephone network. Limited telex/telegram facilities exist in main post offices and hotels. For charges contact the High Commission or Embassy. Post offices are generally open 0800-1300 and 1400-1630 Monday to Friday, 0800-1200 Saturday.
Electricity
is 220 volts AC, 50Hz. Electricity
Plug Types
M
Food And Dining
Entry departure requirements
Visa immigration information
HIV entry requirements
No Test Required
Departure tax
Embassies
The British High Commission in Lesotho has now closed. The British High Commission in Pretoria has overall responsibility for Lesotho.
British High Commission
255 Hill Street,Arcadia 0002, Pretoria
Consular Section: 256 Glyn Street, Hatfield 0083, Pretoria
Telephone: (27) (12) 421 7500 Switchboard
(27) (12) 421 7733 General Enquiries
(27) (12) 421 7800 Consular Enquiries
(27) (12) 421 7801 Passport Enquiries
(27) (12) 421 7802 Visa Enquiries
Facsimile: (27) (12) 421 7555 Switchboard
(27) (12) 421 7599 General Enquiries
(27) (12) 421 7877 Passport Enquiries
(27) (12) 421 7888 Visa Enquiries
Email: media.pretoria@FCDO.gov.uk General Enquiries
pta.passportenquiries@FCDO.gov.uk Passport Enquiries
pta.visaenquiries@FCDO.gov.uk Visa Enquiries
satrade@FCDO.gov.uk Trade & Investment Enquiries
Office Hours: GMT:
Mon-Thurs: 0600-1500
Fri: 0600-1030
Local Time:
Mon-Thurs: 0800-1700
Fri: 0800-1230
Out of hours, High Commission provides contact number.
High Commission Website: http://www.lesotholondon.org.uk/
Address: 7 Chesham Place, Belgravia, London SW1X 8HN
| City/Region | City/Area code | Followed by |
| --- | --- | --- |
| Lesotho | 22 | + 6 digits |