Quick Facts
Region: Asia & Oceania
Full Name: Kyrgyz Republic
Capital City: Bishkek
Language Spoken: Kyrgyz (official), Russian (official)
Kyrgyzstan Travel Insurance
Get travel insurance to Kyrgyzstan from Direct Travel Insurance. We offer low cost and high quality travel insurance to Kyrgyzstan and most of the world.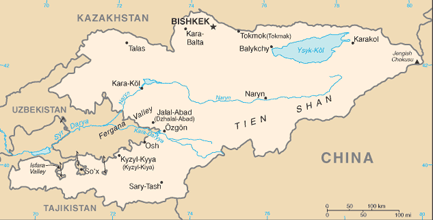 Geographic data
41 00 N, 75 00 E
Elevation Extremes
lowest point: Kara-Daryya (Karadar'ya) 132 m highest point: Jengish Chokusu (Pik Pobedy) 7,439 m
Land boundaries
total: 3,878 km border countries: China 858 km, Kazakhstan 1,051 km, Tajikistan 870 km, Uzbekistan 1,099 km
Natural hazards
NA
Natural resources
abundant hydropower; significant deposits of gold and rare earth metals; locally exploitable coal, oil, and natural gas; other deposits of nepheline, mercury, bismuth, lead, and zinc
Land use
arable land: 6.55% permanent crops: 0.28% other: 93.17% note: Kyrgyzstan has the world's largest natural growth walnut forest (2005)
Environmental current issues
water pollution; many people get their water directly from contaminated streams and wells; as a result, water-borne diseases are prevalent; increasing soil salinity from faulty irrigation practices
Climate
Kyrgyzstan has a continental climate with relatively little rainfall. It averages 247 sunny days a year. In the summer, in the mountains, the mornings are generally fine and the afternoons hazy with occasional rain. In the lowlands, the temperature ranges between -4? and -6?C (21-24?F) in January to 16 and 24?C (61-75?F) in July. In the highlands, the temperatures range from -14? and -20?C (6.8? and -4?F in January to 8-12?C (46-54?F) in July. There are heavy snowfalls during winter.
Time difference
time difference: UTC+6
Population
5,213,898 (July 2006 est.)
Age structure
0-14 years: 30.9% (male 821,976/female 789,687) 15-64 years: 62.9% (male 1,607,396/female 1,669,612) 65 years and over: 6.2% (male 126,847/female 198,380) (2006 est.)
Median age
total: 23.6 years male: 22.8 years female: 24.5 years (2006 est.)
Population growth rate
1.32% (2006 est.)
Birth rate
22.8 births/1,000 population (2006 est.)
Death rate
7.08 deaths/1,000 population (2006 est.)
Net migration rate
-2.5 migrant(s)/1,000 population (2006 est.)
Sex ratio
at birth: 1.05 male(s)/female under 15 years: 1.04 male(s)/female 15-64 years: 0.96 male(s)/female 65 years and over: 0.64 male(s)/female total population: 0.96 male(s)/female (2006 est.)
Life expectancy at birth
total population: 68.49 years male: 64.48 years female: 72.7 years (2006 est.)
Total fertility rate
2.69 children born/woman (2006 est.)
Business Practices
Business meetings are generally formal. Business cards are becoming more common. Office hours are 0900-1800 Monday to Friday and 0900-1300 Saturday (Mar-Oct). Government office hours are 0900-1700 Monday to Friday and 0900-1300 Saturday (Nov-Feb).
Crime
Violent crime is high and foreigners have been targeted. According to Kyrgyz law enforcement officials, the situation has worsened since the change of government in March 2005. Organized gangs are common. Robbery, mugging, and pickpocketing occur frequently near major hotels, bars, and parks, and on public transportation. Remain vigilant, and ensure personal belongings and documents are secure. Do not show signs of affluence and avoid carrying large sums of money. Keep a legally certified copy of your visa and registration with you at all times and keep your passport and visa in safe-keeping facilities. The police can arrest visitors who do not carry identification. Some robberies have been committed by men in police uniforms. If approached, ask to see police credentials. Do not walk or travel alone, especially at night. Use only officially marked taxis, pre-negotiate fares, and do not share a ride with strangers. Men posing as "meet and greet" airport facilitators lure unsuspecting foreigners into cars and demand money. Make prior arrangements with their contacts and ask for identification upon arrival ? even if the person in question knows your name. Do not leave with anyone who does not show pre-arranged identification. Police assistance, in most criminal cases, is minimal. The government is taking steps to reduce the crime level, and has initiated walking militia patrols throughout the city.
Hotels
Accommodation is limited outside the capital and visitors should not expect Western standards of comfort (although hotels are generally clean). Hotels charge considerably higher prices for individual tourists from non CIS countries.
Communications
The country code is 7 (3312 for Bishkek). International calls should be made from a telephone office which will usually be found attached to a post office; they can also be made from some hotels by asking at reception. All international calls from Kyrgyzstan have to go through the operator. Local calls (within the city) are free of charge if made from private telephones; hotels sometimes levy a small charge. To obtain direct-dial calls within the former USSR, dial 8 and wait for another dial tone and then dial the city code followed by the number. Fax services are available in main hotels for residents only. Post office hours: 0900-1800 Monday to Friday.
Electricity
is 220 volts AC, 50Hz. Round 2-pin continental plugs are standard. Electricity 220 volts AC, 50Hz. Round two-pin continental plugs are standard.
Plug Types
C,F
Food And Dining
Kyrgyz food shows the effect of its location and history; befitting a nation descended from nomadic herdspeople, mutton is the staple meat, enlivened with Chinese influences. Shashlyk (skewered chunks of mutton barbecued over charcoal) and lipioshka (round unleavened bread) are often sold on street corners. Plov, rice fried with shredded turnip and scraps of mutton, served with bread, is a Central Asian staple. Laghman is a noodle soup with mutton and vegetables that was originally imported from Chinese Turkestan. Beshbarmak is noodles with shredded, boiled meat in bouillon. Around Lake Issyk-Kul, the noodles are sometimes served with jellied potato starch rather than meat. Shorpur is a meat soup with potatoes and other vegetables. Manty (steamed noodle sacks of meat and vegetables), samsa (samosas) and chiburekki (deep-fried dough cakes) are all popular as snacks. The Kyrgyz and the Kazakhs are almost alone among Central Asian people in eating horse meat; only young mares are used and they are fed on the Alpine grasses, which are thought to impart a particularly good flavor. Restaurants in the capital tend to stop serving at 2200. Black or green tea is the most popular drink. Koumys (fermented mares? milk) is mildly alcoholic and can still be found in the countryside; refusing an offer of koumys may cause offence. Other local specialties include dzarma (fermented barley flour) and boso (fermented millet, resembling beer). During the summer, chai khanas (open-air tea houses) are popular. Beer, vodka and local brandy are all widely available in restaurants. Tipping : This is becoming more customary, especially in international hotels.
Nightlife
There are performances of both Russian and European operas and ballets in the State Opera House in Bishkek. Local music and theater has enjoyed a strong revival since independence and excerpts from the Manas, the Kyrgyz national epic about the eponymous warrior that runs to some 500,000 lines, play to packed houses. The Manas was originally handed down orally, but was written down in the early part of the 19th century.
Entry departure requirements
Visa immigration information
Passports
Passport required by all.
Visas
Required by all except the following:
(a) nationals of CIS countries (except Turkmenistan and Uzbekistan who do require a visa), provided residing in country of nationality;
(b) nationals of Malaysia and Turkey for stays of up to 30 days;
(c) 1. nationals of Albania, Bosnia & Herzegovina, Bulgaria, Croatia, Cuba, Czech Republic, Japan, Korea (Dem Rep), Macedonia, Mongolia, Poland, Romania, Serbia & Montenegro, Slovak Republic, Slovenia and Vietnam traveling as tourists (provided they are permanent residents of their country);
(d) transit passengers continuing their journey by the same or first connecting aircraft within 48 hours, provided holding onward or return documentation and not leaving the airport
Note
Nationals of the following countries may apply for a visa valid for one month or less without providing a letter of support from Kyrgyzstan: nationals of countries referred to in the chart above (except countries who do not require a visa, as listed above, and nationals of Estonia, Hungary, Latvia and Lithuania, who do need to provide an invitation letter), and nationals of Iceland, Israel, Korea (Rep), Liechtenstein, Monaco, New Zealand and Norway.
Types of visa and cost
Business, Private Trip, Tourist and Transit. Single-entry: US$69 (one month). Multiple-entry: US$172 (six months); US$215 (one year). Transit: US$34 (one week). Express: double the price. Multiple-entry visas can only be issued with authorization from the Ministry of Foreign Affairs of the Kyrgyz Republic.
Validity
Up to three months from date of issue. Multiple-entry visas are valid for six months.
Application to
Consulate (or Consular section at Embassy); see General Info section. Those resident in the UK can also obtain visas from Russia House (for address, see Russia section).
Application requirements
(a) Completed application form. (b) One passport-size photo. (c) Valid passport (must be an original, not a photocopy) with one blank page to affix visa. (d) Stamped self-addressed, registered envelope. (e) Fee, payable by cash, cheque or bank transfer. (f) Letter of support from Kyrgyzstan, authorized by the Ministry of Foreign Affairs (not required by certain nationals - see note above).
Working days required
Five; one for Express visa applications.
Temporary residence
Enquire at Embassy for details (see General Info section).
HIV entry requirements
Test required for anyone staying longer than 1 month
Departure tax
US$10.
Embassies
Embassy of the Kyrgyz Republic in the UK
Ascot House, 119 Crawford Street, London W1U 6BJ, UK
Tel: (020) 7935 1462.
Website: www.kyrgyz-embassy.org.uk
Opening hours: Mon-Fri 0900-1800; 0930-1230 (visa section).
Embassy of the Kyrgyz Republic in the USA
1732 Wisconsin Avenue, NW, Washington, DC 20007, USA
Tel: (202) 338 5141.
Also deals with enquiries from Canada.
In October 2005, demonstrations occurred in front of the Parliament and in Ala-Too Square in Bishkek, following the death of an MP during a prison riot. Demonstrations also occurred in January 2006 in Osh and Jalalabad in support of local Governors. Visitors should check the current situation before traveling and avoid any political demonstrations or large crowds while in Kyrgyzstan.
Visitors should be aware of the continuing threat from terrorism, which Kyrgyzstan shares with other countries in Central Asia.
Tensions also exist over recognition of the Kyrgyz-Uzbek borders and all visitors choosing to travel there should ensure that they only use officially recognized border crossings. These tensions remain heightened following the events May in Andijan, Uzbekistan in May 2005. There is a risk that uncontrolled border areas may be land-mined.
Most visits to Kyrgyzstan are trouble-free.
On 28 September 2005, an outbreak of anthrax near Kara-Su in the south was reported. Some villages have been quarantined and on 13 October 2005, Uzbekistan closed its border at Kara-Su as a a result.
This advice is based on information provided by the Foreign, Commonwealth & Development Office in the UK. It is correct at time of publishing. As the situation can change rapidly, visitors are advised to contact the following organizations for the latest travel advice:
British Foreign, Commonwealth & Development Office
Website: www.gov.uk/foreign-travel-advice
US Department of State
Currency
Kyrgyz Som (KGS) = 100 tyin. Notes are in denominations of KGS1000, 500, 200, 100, 50, 20, 10, 5 and 1, and 50, 10 and 1 tyin.
Currency restrictions
There are no restrictions on the import or export of foreign currency, provided declared on arrival. The import and export of local currency is unlimited for Kyrgyz residents only.
Banking hours
Usually Mon-Fri 0930-1730.
Currency exchange
Foreign currencies can be exchanged at commercial banks and at authorized bureaux de change. The US Dollar is the easiest currency to exchange.
Credit cards
Credit cards are accepted in some of the larger hotels in Bishkek and can also be used at banks to withdraw cash from the counter. Check with your credit or debit card company for merchant acceptability and other services which may be available.
Travellers cheques
There is limited acceptance of these, but some banks in Bishkek accept traveller's cheques, with US Dollars probably the best option; commission charges are high. Cash is recommended.
| City/Region | City/Area code | Followed by |
| --- | --- | --- |
| Ala-Buka (Ala-Buka district) | (0)3741 | + 5 digit subscriber nr |
| Ananevo | (0)3942 | + 5 digit subscriber nr |
| Aravan (Aravan district) | (0)3231 | + 5 digit subscriber nr |
| At-Bashy (At-Bashy district) | (0)3534 | + 5 digit subscriber nr |
| Baetovo (Ak-Tala district) | (0)3537 | + 5 digit subscriber nr |
| Bakai-Ata (Bakai-Ata district) | (0)3457 | + 5 digit subscriber nr |
| Balykchy (City) | (0)3944 | + 5 digit subscriber nr |
| Batken | (0)3622 | + 5 digit subscriber nr |
| Bazar-Korgon (Bazar-Korgon district) | (0)3736 | + 5 digit subscriber nr |
| Belovodskoe (Moskovsky district) | (0)3131 | + 5 digit subscriber nr |
| Bishkek | (0)312 | + 6 digit subscriber nr |
| Bokonbaevo (Ton district) | (0)3947 | + 5 digit subscriber nr |
| Chaek (Jumgal district) | (0)3536 | + 5 digit subscriber nr |
| Cholpon-Ata (Issyk-Kul district) | (0)3943 | + 5 digit subscriber nr |
| Chuy-Tokmok (Chuy-Tokmok district) | (0)3138 | + 5 digit subscriber nr |
| Daroot-Korgon (Chon-Alai district) | (0)3237 | + 5 digit subscriber nr |
| Eski-Nookat (Nookat district) | (0)3230 | + 5 digit subscriber nr |
| Gulcha (Alai district) | (0)3234 | + 5 digit subscriber nr |
| Isphana (Laylak district) | (0)3656 | + 5 digit subscriber nr |
| Jalal-Abad | (0)3722 | + 5 digit subscriber nr |
| Kadjy-Sai (Ton district) | (0)3941 | + 5 digit subscriber nr |
| Kaindy (Panfilov district) | (0)3137 | + 5 digit subscriber nr |
| Kant (Issyk-Ata district) | (0)3132 | + 5 digit subscriber nr |
| Kanysh-Kya (Chatkal district) | (0)3759 | + 5 digit subscriber nr |
| Kara-Balta (Jayl district) | (0)3133 | + 5 digit subscriber nr |
| Karakol | (0)3922 | + 5 digit subscriber nr |
| Kara-Kul (City) | (0)3746 | + 5 digit subscriber nr |
| Kara-Kulja (Kara-Kulja district) | (0)3239 | + 5 digit subscriber nr |
| Kara-Suu (Kara-Suu district) | (0)3232 | + 5 digit subscriber nr |
| Kazarman (Toguz-Toro district) | (0)3738 | + 5 digit subscriber nr |
| Kemin (Kemin district) | (0)3135 | + 5 digit subscriber nr |
| Kerben (Aksy district) | (0)3742 | + 5 digit subscriber nr |
| Kochkorka (Kochkor district) | (0)3535 | + 5 digit subscriber nr |
| Kok-Gangak (City) | (0)3743 | + 5 digit subscriber nr |
| Kok-Oi (Talas district) | (0)3458 | + 5 digit subscriber nr |
| Kyzyl-Adyr (Kyzyl-Adyr district) | (0)3456 | + 5 digit subscriber nr |
| Kyzyl-Kya (City) | (0)3657 | + 5 digit subscriber nr |
| Kyzyl-Suu (Jety-Oguz district) | (0)3946 | + 5 digit subscriber nr |
| Lebedinovka (Alamudun district) | (0)3147 | + 5 digit subscriber nr |
| Mailuu-Suu (City) | (0)3744 | + 5 digit subscriber nr |
| Massy (Nooken district) | (0)3734 | + 5 digit subscriber nr |
| Naryn | (0)3522 | + 5 digit subscriber nr |
| Osh | (0)3222 | + 5 digit subscriber nr |
| Pokrovka (Manas district) | (0)3459 | + 5 digit subscriber nr |
| Pulgon (Kadamjay district) | (0)3655 | + 5 digit subscriber nr |
| Sokuluk (Sokuluk district) | (0)3134 | + 5 digit subscriber nr |
| Sulukta (City) | (0)3653 | + 5 digit subscriber nr |
| Suzak (Suzak district) | (0)3748 | + 5 digit subscriber nr |
| Talas | (0)3422 | + 5 digit subscriber nr |
| Tash-Kumyr (City) | (0)3745 | + 5 digit subscriber nr |
| Toktogul (Toktogul district) | (0)3747 | + 5 digit subscriber nr |
| Tup (Tup district) | (0)3945 | + 5 digit subscriber nr |
| Uzgen (Uzgen district) | (0)3233 | + 5 digit subscriber nr |