Quick Facts
Region: Africa
Full Name: Republic of Kenya
Capital City: Nairobi
Language Spoken: English (official), Kiswahili (official), numerous indigenous languages
Kenya Travel Insurance
Get travel insurance to Kenya from Direct Travel Insurance. We offer low cost and high quality travel insurance to Kenya and most of the world.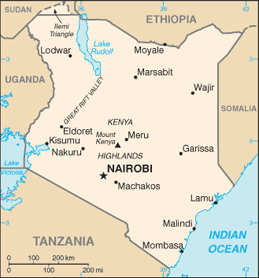 Geographic data
1 00 N, 38 00 E
Elevation Extremes
lowest point: Indian Ocean 0 m highest point: Mount Kenya 5,199 m
Land boundaries
total: 3,477 km border countries: Ethiopia 861 km, Somalia 682 km, Sudan 232 km, Tanzania 769 km, Uganda 933 km
Natural hazards
recurring drought; flooding during rainy seasons
Natural resources
limestone, soda ash, salt, gemstones, fluorspar, zinc, diatomite, gypsum, wildlife, hydropower
Land use
arable land: 8.01% permanent crops: 0.97% other: 91.02% (2005)
Environmental current issues
water pollution from urban and industrial wastes; degradation of water quality from increased use of pesticides and fertilizers; water hyacinth infestation in Lake Victoria; deforestation; soil erosion; desertification; poaching
Climate
The coastal areas are tropical, but tempered by monsoon winds. The lowlands are hot but mainly dry, while the highlands are more temperate with four seasons. Nairobi has a very pleasant climate throughout the year due to its altitude. Near Lake Victoria, the temperatures are much higher and rainfall can be heavy. Required clothing Lightweight cottons and linens with rainwear are advised for the coast and lakeside. Warmer clothing is needed in June and July and for the cooler mornings on the coast. Lightweights are needed for much of the year in the highlands. Rainwear is advisable between March and June and October and December.
Time difference
time difference: UTC+3
Population
34,707,817 note: estimates for this country explicitly take into account the effects of excess mortality due to AIDS; this can result in lower life expectancy, higher infant mortality and death rates, lower population and growth rates, and changes in the distribution of population by age and sex than would otherwise be expected (July 2006 est.)
Age structure
0-14 years: 42.6% (male 7,454,765/female 7,322,130) 15-64 years: 55.1% (male 9,631,488/female 9,508,068) 65 years and over: 2.3% (male 359,354/female 432,012) (2006 est.)
Median age
total: 18.2 years male: 18.1 years female: 18.3 years (2006 est.)
Population growth rate
2.57% (2006 est.)
Birth rate
39.72 births/1,000 population (2006 est.)
Death rate
14.02 deaths/1,000 population (2006 est.)
Net migration rate
0 migrant(s)/1,000 population note: according to the UNHCR, by the end of 2005 Kenya was host to 233,778 refugees from neighboring countries, including Somalia 153,627, Sudan 67,556, Ethiopia 12,595 (2006 est.)
Sex ratio
at birth: 1.02 male(s)/female under 15 years: 1.02 male(s)/female 15-64 years: 1.01 male(s)/female 65 years and over: 0.83 male(s)/female total population: 1.01 male(s)/female (2006 est.)
Life expectancy at birth
total population: 48.93 years male: 49.78 years female: 48.07 years (2006 est.)
Total fertility rate
4.91 children born/woman (2006 est.)
Business Practices
Lightweight suits are recommended for all occasions. Prior appointments are necessary. Although Swahili is the national language, English is the official language and is widely spoken. In general, Kenya business executives are relatively informal and open. The use of first names at an early stage of a business relationship is acceptable. Friendship and mutual trust are highly valued, and once trust has been earned, a productive working relationship can usually be expected. Local distributors/representatives should serve as a good source of local market requirement information and as appraisers of product market acceptance. In most instances, mail, fax or telephone communications is sufficient, but the understanding developed through periodic personal visits is the best way to keep distributors appraised of new developments and to resolve problems quickly. Prompt acknowledgment of correspondence by airmail or fax is recommended. Office hours are 0800-1300 and 1400-1700 Monday to Friday. Banking hours are from 9:00 am to 3:00 PM. In Mombasa, offices usually open and close half an hour earlier.
Crime
There is a high rate of street crime in downtown Nairobi, Mombasa and at coastal beach resorts. Reports of attacks against tourists by groups of two or more armed assailants continue. Pickpockets and thieves also carry out "snatch and run" crimes near crowds. Visitors have found it safer not to carry valuables, but rather to store them in hotel safety deposit boxes or safe rooms. Thieves routinely snatch jewelry and other objects from open vehicle windows while motorists are either stopped at traffic lights or in heavy traffic. Armed vehicle hijackings are common in Nairobi, but can occur anywhere in the country. Armed robbers in the capital steal some four or five vehicles every day. Although these attacks are often violent, victims are generally injured only if they resist. There is also a high incidence of residential break-ins. Thieves and con artists have been known to impersonate hotel employees, police officers or government officials. Thieves on buses and trains may steal valuables from inattentive passengers. Passengers on intercity buses should not accept food or drink from a new acquaintance, even a child, as such food or drink may contain narcotics used to incapacitate a victim and facilitate a robbery. Highway banditry is common in much of North Eastern Province, significant portions of Eastern Province, the northern part of Coast Province, and the northern part of the Rift Valley Province--areas that are remote and sparsely populated. Incidents also occur occasionally on Kenya's main highways, particularly after dark. Air travel is the safest means of transportation when visiting any of the coastal resorts north of Malindi. Walking alone or at night in public parks, along footpaths or beaches and in poorly lit areas can be dangerous. There have been recent attacks on ships in the vicinity of Kenyan waters, in particular near the Kenya-Somalia border. Mariners should be vigilant. The Kenyan mail system can be unreliable, and monetary instruments (credit cards, checks, etc.) are frequently stolen. International couriers have proven to be the safest means of shipping envelopes and packages. Scams against unsuspecting tourists and foreign-looking residents on foot, are prevalent in and around the city of Nairobi. Many of these involve persons impersonating police officers and using fake police ID badges and other credentials. In one of the latest scams, a tourist was stopped by someone who appeared to be a beggar telling a "sob story." The tourist agreed to purchase a cup of coffee for the beggar. The tourist was then approached by "police officers" who told him that he was seen talking with a drug dealer/counterfeit suspect and demand money from the victim. Con artists may park their cars on the side of a road, pretending that they broke down, and rob persons who stop to offer assistance.
Hotels
Many of Nairobi's hotels are up to top international standards, and some of them are very much in the colonial style. Cheaper hotels are also available. Hotel bills must be paid in foreign currency, or in Kenyan Shillings drawn from an external, shipping or an airline account. Accommodation in Kenya is divided into groups by Kenya Association of Hotel Keepers & Caterers: town hotels, vacation hotels, lodges and country hotels. Within each group, grading is according to amenities and variety of facilities. The rating is subject to the fulfilment of strict requirements concerning technical equipment, comfort, services, sanitation and security.
Communications
Telephone: IDD service is available to the main cities. The country code is 254 (followed by 2 for Nairobi, 11 for Mombassa and 37 for Nakuru). The outgoing international code is 000. Fax services are available to the public at the Main Post Office and the Kenyatta International Conference Center in Nairobi, and at some major hotels in Nairobi and Mombassa. Post offices are open 0800-1700 Monday to Friday and 0800-1300 Saturday.
Electricity
: 220/240 volts AC, 50Hz. Plugs are UK-type round 2-pin or flat 3-pin. Bayonet-type light sockets exist in Kenya. Electricity 220/240 volts AC, 50Hz. Plugs are UK-type square three-pin. Bayonet-type light sockets exist in Kenya.
Plug Types
G
Food And Dining
Kenya's national dishes appear on most hotel menus. The country's beef, chicken, lamb and pork are outstandingly good, as is the wide variety of tropical fruits. Local trout, Nile perch and lobster, shrimps and Mombasa oysters are included on menus in season. Indian and Middle Eastern food is available in most areas. There is a wide range of restaurants in Nairobi and Mombasa, otherwise hotels in smaller towns offer restaurant service.
National specialties:
? Some game-park lodges serve game, including buffalo steaks marinated in local liqueurs and berries, often garnished with wild honey and cream.
? Nyma Choma literally means roasted meat, and is one of Kenya's best known specialties.
? Most Kenyans eat maize, beans and maize meal.
? At the small 'hotelis', chai (tea boiled with milk and sugar) and mandazi (doughnuts) are popular. National drinks:
? Locally brewed beer (Tusker and White Cap) and bottled sodas may be found throughout the country.
? Kenya Cane (spirit distilled from sugar cane).
? Kenya Gold (a coffee liqueur).
? Traditional beer made with honey (uki).
? Locally made spirit distilled from maize (changaa) may sometimes be found.
Tipping:
This is not required. Most hotels include a 10 per cent service charge to the bill. If the service charge has not been included, a KES20 tip is usual, although the amount is entirely at the visitor's discretion.
Nightlife
Most of the major hotels in Nairobi and the tourist resorts have dancing with live bands or discos each evening. There are also a few nightclubs. There is a large selection of cinemas in Nairobi which show mainly British, European and US films. Theater is popular in Nairobi. There is a National Theater and several small groups of dramatic companies, probably the best known are the Phoenix Players.
Entry departure requirements
Visa immigration information
Passports
Passport valid for three months from date of entry required by all.
Visas
Required by all except nationals of the following:
(a) nationals of Commonwealth countries for stays of up to three months except those nationals listed in the chart above, and nationals of Bangladesh, Cameroon, Dominica, Guyana, India, Mozambique, New Zealand, Nigeria, Pakistan, South Africa, Sri Lanka and St Kitts & Nevis who do require a visa;
(b) nationals of Ethiopia, San Marino, Turkey, Uruguay and Zimbabwe;
(c) nationals of Malaysia if staying less than 30 days;
(d) all holders of a re-entry pass to Kenya;
(e) transit passengers continuing their journey by the same or first connecting aircraft provided holding valid onward or return documentation and not leaving the airport.
Types of visa and cost
Entry: US$52 (single-entry); US$103 (multiple-entry). Transit: US$17
Note: If the application is referred to Immigration in Nairobi, an additional US$12 will be payable. Nationals of Rwanda will receive visas gratis.
Validity
Single-entry: up to three months from date of issue; Multiple-entry: up to 12 months from date of issue. Renewals (up to six months) or extensions can be made at Immigration in Nyayo House, Uhuru Highway, Nairobi or at Kisumu and Mombasa. The period of stay in Kenya can be given at the port of entry (maximum three months).
Note
Multiple-entry visas may only be issued to nationals of the United Kingdom.
Application to
Consulate (or Consular section at Embassy or High Commission); see Passport/Visa Information.
Application requirements
(a) Valid passport with at least one blank page. (b) Completed application form. (c) One recent passport-size photo. (d) Fee, payable by postal order or bank cheque if applying by post, or cash if applying in person. (e) Holiday itinerary or business letter. (f) For postal applications, include a self-addressed stamped, registered envelope for return of passport and daytime telephone number.
Working days required
Three (applying in person) or one week from date of receipt (postal applications). If the visa has to be referred to Nairobi it will take at least eight weeks.
Note
The following nationals will automatically be referred to the Principal Immigration Officer in Nairobi before a visa can be granted: nationals of Afghanistan, Armenia, Azerbaijan, Cameroon, Iraq, Jordan, Korea (Dem Rep), Lebanon, Mali, Nigeria, Senegal, Somalia, the Syrian Arab Republic and Tadjkistan.
Temporary residence
Apply to Principal Immigration Officer, PO Box 30191, Nairobi.
HIV entry requirements
No Test Required
Departure tax
None
Embassies
Kenya High Commission in the UK
45 Portland Place, London W1B 1AS, UK
Tel: (020) 7636 2371/5.
Website: http://kenyahighcom.org.uk/
Opening hours: Mon-Fri: applications 0930-1400, collections 1400-1530.
Kenya Embassy in the USA
2249 R Street, NW, Washington, DC 20008, USA
Tel: (202) 387 6101.
Website: www.kenyaembassy.com
Kenya shares with neighboring countries a high threat from terrorism. Previous attacks have been against civilian or visibly Western targets where foreigners have been present. These have included bomb attacks on a hotel and a western Embassy, both of which resulted in significant loss of life, and an unsuccessful attempt to bring down a civilian airliner in Mombasa.
Recently there have been skirmishes and inter-clan fighting in the North Eastern Province, along the Somalia border. People have been killed. Travel in the northeast should only be undertaken with care and after consulting the police.
There have been a number of violent attacks and murders of non-indigenous residents in recent years. Muggings and armed attacks are also prevalent, particularly in Nairobi and Mombasa.
This advice is based on information provided by the Foreign & Commonwealth Office in the UK. It is correct at time of publishing. As the situation can change rapidly, visitors are advised to contact the following organizations for the latest travel advice:
British Foreign, Commonwealth & Development Office
Website: www.gov.uk/foreign-travel-advice
US Department of State
Website: https://travel.state.gov/content/travel.html
Currency
Kenyan Shilling (KES) = 100 cents. Notes are in denominations of KES1000, 500, 200, 100 and 50. Coins are in denominations of KES20, 10 and 5.
Currency restrictions
There is no restriction on the import and export of local or foreign currency. However, authorization from the Central Bank is required for amounts of 500,000 KES and above.
Banking hours
Mon-Fri 0900-1500; 0900-1100 on the first and last Saturday of each month. National and international banks have branches in Mombasa, Nairobi, Kisumu, Thika, Eldoret, Kericho, Nyeri and in most other major towns. Banks in Mombasa and the coastal areas open and close half an hour earlier. Many of the banks and bureaux de change at the international airports open 24 hours every day.
Currency exchange
Currency can be exchanged at the major banks, bureaux de change or authorized hotels. The bank at Jomo Kenyatta International Airport and Moi International Airport have 24 hour exchange services. The easiest currencies to exchange are US Dollars, Pounds Sterling and Euros. There are over 140 ATMs.
Credit cards
American Express, Diners Club, MasterCard and Visa are all widely accepted. Major hotels now also accept payment by credit card, as do major safari companies, travel agencies and restaurants. Check with your credit or debit card company for details of merchant acceptability and other services which may be available.
Travellers cheques
These can be changed at banks, and are widely accepted. To avoid additional exchange rate charges, travelers are advised to take traveller's cheques in US Dollars or Pounds Sterling.
| City/Region | City/Area code | Followed by |
| --- | --- | --- |
| Bungoma | (0)55 | + 5 digit subscriber nr |
| Eldoret | (0)53 | + 5/6 digit subscriber nr |
| Embu | (0)68 | + 5 digit subscriber nr |
| Garissa | (0)46 | + 4/6 digit subscriber nr |
| Homa Bay | (0)59 | + 5 digit subscriber nr |
| Kajiado | (0)45 | + 5/6 digit subscriber nr |
| Kakamega | (0)56 | + 5/6 digit subscriber nr |
| Karuri | (0)66 | + 5 digit subscriber nr |
| Kericho | (0)52 | + 5/6 digit subscriber nr |
| Kisii | (0)58 | + 5/6 digit subscriber nr |
| Kisumu | (0)57 | + 5/6 digit subscriber nr |
| Kitale | (0)54 | + 5 digit subscriber nr |
| Kwale | (0)40 | + 4/7 digit subscriber nr |
| Machakos | (0)44 | + 5/6 digit subscriber nr |
| Malindi | (0)42 | + 5/6 digit subscriber nr |
| Marsabit | (0)69 | + 4/5 digit subscriber nr |
| Meru | (0)64 | + 5/7 digit subscriber nr |
| Mombasa | (0)125 | + 5 digit subscriber nr |
| Murang'A | (0)60 | + 5/6 digit subscriber nr |
| Nairobi | (0)2 | + 6/8 digit subscriber nr |
| Naivasha | (0)50 | + 4/5 digit subscriber nr |
| Nakuru | (0)51 | + 5/6 digit subscriber nr |
| Nanyuki | (0)62 | + 5 digit subscriber nr |
| Nyahururu | (0)65 | + 5 digit subscriber nr |
| Nyeri | (0)61 | + 4/5 digit subscriber nr |
| Thika | (0)67 | + 5/7 digit subscriber nr |
| Voi | (0)43 | + 4/7 digit subscriber nr |