Quick Facts
Region: Asia & Oceania
Full Name: Republic of Kazakhstan
Capital City: Astana
Language Spoken: Kazakh (Qazaq, state language) 64.4%, Russian (official, used in everyday business, designated the "language of interethnic communication") 95% (2001 est.)
Kazakhstan Travel Insurance
Get travel insurance to Kazakhstan from Direct Travel Insurance. We offer low cost and high quality travel insurance to Kazakhstan and most of the world.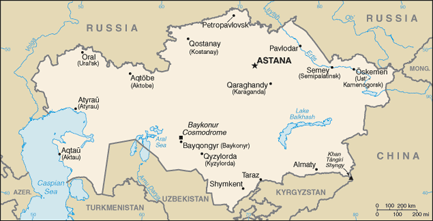 Geographic data
48 00 N, 68 00 E
Elevation Extremes
lowest point: Vpadina Kaundy -132 m highest point: Khan Tangiri Shyngy (Pik Khan-Tengri) 6,995 m
Land boundaries
total: 12,012 km border countries: China 1,533 km, Kyrgyzstan 1,051 km, Russia 6,846 km, Turkmenistan 379 km, Uzbekistan 2,203 km
Natural hazards
earthquakes in the south, mudslides around Almaty
Natural resources
major deposits of petroleum, natural gas, coal, iron ore, manganese, chrome ore, nickel, cobalt, copper, molybdenum, lead, zinc, bauxite, gold, uranium
Land use
arable land: 8.28% permanent crops: 0.05% other: 91.67% (2005)
Environmental current issues
radioactive or toxic chemical sites associated with former defense industries and test ranges scattered throughout the country pose health risks for humans and animals; industrial pollution is severe in some cities; because the two main rivers which flowed into the Aral Sea have been diverted for irrigation, it is drying up and leaving behind a harmful layer of chemical pesticides and natural salts; these substances are then picked up by the wind and blown into noxious dust storms; pollution in the Caspian Sea; soil pollution from overuse of agricultural chemicals and salination from poor infrastructure and wasteful irrigation practices
Climate
Continental climate with cold winters and hot summers. Although Kazakhstan has some of the highest peaks in the CIS, the climate is fairly dry. The hottest month is July (August in mountain regions).
Time difference
time difference: UTC+6 note: Kazakhstan is divided into three time zones
Population
15,233,244 (July 2006 est.)
Age structure
0-14 years: 23% (male 1,792,685/female 1,717,294) 15-64 years: 68.8% (male 5,122,027/female 5,357,819) 65 years and over: 8.2% (male 438,541/female 804,878) (2006 est.)
Median age
total: 28.8 years male: 27.2 years female: 30.5 years (2006 est.)
Population growth rate
0.33% (2006 est.)
Birth rate
16 births/1,000 population (2006 est.)
Death rate
9.42 deaths/1,000 population (2006 est.)
Net migration rate
-3.33 migrant(s)/1,000 population (2006 est.)
Sex ratio
at birth: 1.06 male(s)/female under 15 years: 1.04 male(s)/female 15-64 years: 0.96 male(s)/female 65 years and over: 0.55 male(s)/female total population: 0.93 male(s)/female (2006 est.)
Life expectancy at birth
total population: 66.89 years male: 61.56 years female: 72.52 years (2006 est.)
Total fertility rate
1.89 children born/woman (2006 est.)
Business Practices
Formal dress is often required for business meetings, however Kazakhs are very hospitable. When greeting a guest the host gives him both hands. When addressing a guest or elder, a Kazakh may address him with a shortened form of the guest's or elder's name and the suffix 'ke'. Office hours are generally 0900-1800 Monday to Friday
Crime
Travelers in Kazakhstan should exercise the same precautions concerning personal safety and protection of valuables as they would in any major city. The most common crimes foreign travelers encounter are purse snatching, pickpocketing, assaults, and robberies. Pickpocketing or robberies occur most frequently in the vicinity of Western hotels, transportation sites, and at open-air markets, including the central open-air market in Almaty (known locally as the "green market"). Avoid carrying large sums of money on the street. There have also been multiple reports of burglaries in Almaty residences occupied by expatriates. Though incidents of violent crime against foreigners are not frequent, over the past year there have been reports by expatriates and visitors of violent, late-night muggings. After dark, travel in groups or pairs to avoid such opportunistic attacks. Stay in well-lit, populated areas, and leave restaurants or bars if fights break out. The "lost wallet" scam continues to be common in Kazakhstan. One version of this swindle involves the discovery of a lost wallet in your presence. A first person will discover the wallet and offer to divide its contents with you. A second person will then appear, claim to be the owner of the wallet, and demand compensation for the missing money. A second version involves a person looking for a lost wallet who will ask you if you have seen it. The person asks you to reveal the contents of your pockets, wallet, or bag to prove that you do not have the missing wallet. The wallet seeker will then surreptitiously remove your valuables. When initially approached by the finder or seeker of the lost wallet, simply walk away. Never hand over your wallet or belongings to someone who approaches you on the street. The perpetrators will eventually go looking for another target. Another swindle has occurred at the Almaty International Airport. Men posing as "meet and greet" airport facilitators lure foreigners into cars purportedly to take them to their hotels. However, the driver takes the passengers to a secluded destination and then demands about $100 for gas to take the foreigner back to the city. Make prior arrangements with their contacts in Almaty for concrete identification upon arrival at the airport. Do not leave with anyone who does not show pre-arranged identification, even if the person is holding a sign with the your name.
Hotels
There are 13 tourist hotels in Kazakhstan. Most towns in Kazakhstan have a limited supply of reasonable accommodation. All Intourist hotels demand hard currency from foreigners, and guarantee a basic level of comfort, although Western standards should not be expected.
Communications
The country code is 7. The area code for Almaty is 327. International calls can be made at a reduced rate from 2000-0800 local time. International calls should be made from a telephone office; these are usually attached to post offices. Hotel Dostyk in Almaty has IDD by satellite for residents only. Post office hours: 0900-1800 Monday to Friday. Visitors can also use post offices located within major Intourist hotels.
Electricity
is 220 volts AC, 50Hz. Round 2-pin continental plugs are standard. Electricity 220 volts AC, 50Hz. Round two-pin continental plugs are standard.
Plug Types
C,F
Food And Dining
Kazakh dishes include kazi, chuzhuk, suret and besbarmak (made from horse meat or mutton). Shashlyk (skewered chunks of mutton barbecued over charcoal) and lepeshka (round unleavened bread) are often sold on street corners and make an appetizing meal. Plov is made up of scraps of mutton, shredded yellow turnip and rice, and is a staple dish in all the Central Asian republics. Other mutton dishes such as laghman and beshbermak include long thick noodles garnished with a spicy meat sauce. Manty (boiled noodle sacks of meat and vegetables), samsa (samosas) and chiburekki (deep-fried dough cakes) are all popular as snacks. Almaty is renowned for its apples ? indeed the city was named after them. Kazakh tea or chai is very popular and there are national cafes called Chai-Khana (tea-rooms) where visitors may sip this Kazakh specialty. It is drunk very strong with cream. Beer, vodka, brandy and sparkling wines are available in many restaurants. The national specialty is kumis, fermented mare?s milk. Cafes where this can be ordered are called Kumis-Khana. Refusing it when offered may cause offence. In the steppe and desert regions where camels are bred, the camel?s milk, called shubat, is offered to guests.
Tipping:
This is not customary at restaurants and cafes, but is increasingly common in international hotels. A service charge is included in hotel and restaurant bills. There is also a fixed charge in taxi and railway transport.
Nightlife
There are a number of nightclubs and casinos in Almaty and several other cities. Many restaurants play music after 2000. Kazakhstan?s most reknowned concert halls and theaters are all located in Almaty.
Entry departure requirements
Visa immigration information
Passports
Passport valid for at least six months required by all.
Visas
Required by all except the following:
(a) nationals of CIS holding passports, and holders of valid passports issued by the former Soviet Union and registered in the CIS (nationals of Ukraine do not require a visa for stays of up to three months; nationals of Turkmenistan always require a visa);
(b) nationals of Turkey for stays of up to one month.
Note
Nationals of the following countries may apply for a single-entry tourist visa without obtaining an invitation letter validated by the Kazakhstan Ministry of Interior: nationals of countries referred to in the chart above (except nationals of Cyprus, Czech Republic, Estonia, Hungary, Latvia, Lithuania, Malta, Poland, Slovak Republic and Slovenia) and nationals of Iceland, Korea (rep), Liechtenstein, Malaysia, Monaco, New Zealand, Norway, Singapore, and Switzerland, who must instead provide a letter of introduction explaining the purpose of the visit.
Types of visa and cost
Tourist: US$40 (single-entry); US$57 (double-entry). Business and Private: US$57 (single-entry); US$74 (double-entry); US$125 (triple-entry); US$228 (multiple-entry, up to one year); US$452 (multiple-entry, up to two years). Transit: US$22
Validity
Tourist: one month (single-entry); two months (double-entry). Business and Private: three months (single-, double- and triple-entry); one or two years (multiple-entry). Transit: five days
Application to
The Consulate (or Consular section at Embassy), see General Info section.
Application requirements
(a) Completed application form. (b) Valid passport with one blank page to affix visa. (c) One recent passport-size photo. (d) Letter of invitation with reference number, validated by the Kazakhstan Ministry of Interior (not required by certain nationals - see note above). (e) Fee, payable by personal cheque or postal order (not cash). (f) Self-addressed, stamped registered envelope, if applying by post. Business: (a)-(f) and, (g) Letter of invitation from host organization in Kazakhstan with registration number approved by the Ministry of Foreign Affairs in Kazakhstan. (h) Letter from own business company with details of the purpose of the visit and name and address of partner organization. Transit: (a)-(f) and, (g) Valid visa for country of final destination. (h) Air or railway ticket to third country.
Note
(a) All nationals staying longer than five days must register with an OVIR office and pay a registration charge. Failure to do so will result in penalties on departure.
Working days required
One day.
Temporary Residence
Enquire at Embassy.
HIV entry requirements
An HIV test certificate must be presented for anyone staying for more than 1 month, within 10 days of arrival
Departure tax
None
Embassies
Embassy of the Republic of Kazakhstan in the UK
125 Pall Mall, London Sw1Y 5EA
(Previously 33 Thurloe Square, London SW7 2SD, UK)
Tel: (020) 7581 4646 (ext 207/8 for visa section) or (09065) 508 978 (recorded visa information; calls cost ?1 per minute).
Website: http://www.kazembassy.org.uk/en
Opening hours: Mon-Fri 0830-1830; Mon-Fri 0900-1200 (consular section, closed Wednesdays except for nationals of Kazakhstan).
Embassy of the Republic of Kazakhstan in the USA
1401 16th Street, NW, Washington, DC 20036, USA
Tel: (202) 232 5488.
Website: www.kazakhembus.com
Most visits to Kazakhstan are trouble-free but you should be aware of the global risk of indiscriminate international terrorist attacks, which could be against civilian targets, including places frequented by foreigners.
This advice is based on information provided by the Foreign, Commonwealth & Development Office in the UK. It is correct at time of publishing. As the situation can change rapidly, visitors are advised to contact the following organizations for the latest travel advice:
British Foreign, Commonwealth & Development Office
Website: www.gov.uk/foreign-travel-advice
US Department of State
Currency
Kazakh Tenge (KZT) = 100 tiyn. Notes are in denominations of KZT10,000, 5000, 2000, 1000, 500, 200, 100, 50, 20, 10, 5, 3 and 1. Coins are in denominations of KZT100, 50, 20, 10, 5, 2 and 1, and 50, 20, 10, 5, 2 and 1 tiyn.
Currency restrictions
The import and export of local currency and import of foreign currency is unlimited provided declared on arrival. The export of foreign currency is limited to the amount imported. Special bank permission is required for all amounts exceeding this.
Banking hours
Mon-Fri 0900-1800. Banks close for lunch 1300-1400. All banks are closed Sat-Sun.
Currency exchange
The national currency, the Tenge, may only be obtained within Kazakhstan. Conversion of the Tenge back into hard currency may prove difficult. Foreign currency should only be exchanged at official bureaux and all transactions must be recorded on the currency declaration form that is issued on arrival. It is wise to retain all exchange receipts, although they are seldom inspected. Unless traveling with a licensed tourist company (in which case, accommodation, transport and meals are paid before departure), money should be brought in US Dollars cash and exchanged when necessary.
Credit cards
Major European and international credit cards, including Diners Club and Visa, are accepted in the larger hotels in Almaty and in major shops and restaurants. Facilities exist for credit card cash withdrawals in Kazakhstan.
Travellers cheques
To avoid additional exchange rate charges, travelers are advised to take traveller's cheques in US Dollars.
| City/Region | City/Area code | Followed by |
| --- | --- | --- |
| Akmola region | (8)316 | + 7 digit subscriber nr |
| Aktubinsk region | (8)313 | + 7 digit subscriber nr |
| Almaty region | (8)328 | + 7 digit subscriber nr |
| Arkalyk | (8)330 | + 7 digit subscriber nr |
| Astana city | (8)317 | + 7 digit subscriber nr |
| Atyrau region | (8)312 | + 7 digit subscriber nr |
| Baykonur | (8)336 | + 7 digit subscriber nr |
| Karagandy region | (8)321 | + 7 digit subscriber nr |
| Kostanay region | (8)314 | + 7 digit subscriber nr |
| Kyzylorda region | (8)324 | + 7 digit subscriber nr |
| Mangistau region | (8)329 | + 7 digit subscriber nr |
| Pavlodar region | (8)318 | + 7 digit subscriber nr |
| Petropavlovsk | (8)315 | + 7 digit subscriber nr |
| Shymkent | (8)325 | + 7 digit subscriber nr |
| Taraz | (8)326 | + 7 digit subscriber nr |
| Uralsk | (8)311 | + 7 digit subscriber nr |
| Ust-Kamenogorsk | (8)323 | + 7 digit subscriber nr |