Quick Facts
Region: Asia & Oceania
Full Name: Republic of Kiribati
Capital City: Tarawa
Language Spoken: I-Kiribati, English (official)
Kiribati Travel Insurance
Get travel insurance to Kiribati from Direct Travel Insurance. We offer low cost and high quality travel insurance to Kiribati and most of the world.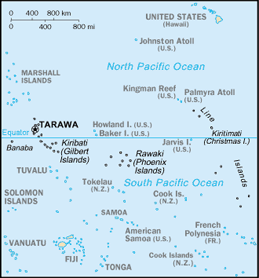 Geographic data
1 25 N, 173 00 E
Elevation Extremes
lowest point: Pacific Ocean 0 m highest point: unnamed location on Banaba 81 m
Land boundaries
0 km
Natural hazards
typhoons can occur any time, but usually November to March; occasional tornadoes; low level of some of the islands make them very sensitive to changes in sea level
Natural resources
phosphate (production discontinued in 1979)
Land use
arable land: 2.74% permanent crops: 47.95% other: 49.31% (2005)
Environmental current issues
heavy pollution in lagoon of south Tarawa atoll due to heavy migration mixed with traditional practices such as lagoon latrines and open-pit dumping; ground water at risk
Climate
Maritime equatorial in the central islands of the group. The islands to the north and south are more tropical. The trade winds blow between March and October, making this the most pleasant time of the year, while the highest rainfall (December to May) is concentrated on the northern islands. November to February is more wet and humid than the rest of the year.
Time difference
time difference: UTC+12
Population
105,432 (July 2006 est.)
Age structure
0-14 years: 38.6% (male 20,608/female 20,060) 15-64 years: 58.1% (male 30,216/female 31,004) 65 years and over: 3.4% (male 1,517/female 2,027) (2006 est.)
Median age
total: 20.2 years male: 19.8 years female: 20.8 years (2006 est.)
Population growth rate
2.24% (2006 est.)
Birth rate
30.65 births/1,000 population (2006 est.)
Death rate
8.26 deaths/1,000 population (2006 est.)
Net migration rate
0 migrant(s)/1,000 population (2006 est.)
Sex ratio
at birth: 1.05 male(s)/female under 15 years: 1.03 male(s)/female 15-64 years: 0.98 male(s)/female 65 years and over: 0.75 male(s)/female total population: 0.99 male(s)/female (2006 est.)
Life expectancy at birth
total population: 62.08 years male: 59.06 years female: 65.24 years (2006 est.)
Total fertility rate
4.16 children born/woman (2006 est.)
Business Practices
Most business meetings are informal. Suits and ties are generally reserved for formal occasions. People are very friendly and hospitable and retain much of their traditional culture and lifestyle. In this casual atmosphere, European customs still prevail alongside local traditions. Although in official correspondence the Western convention of signing names with initials is adopted, it is more polite (and customary) to address people by their first name. Office hours are 0800-1230 and 1330-1615 Monday to Friday.
Crime
Kiribati has a very low crime rate and around 250 police officers patrol the islands. On some outer islands, the island councils occasionally order strokes with palm fronds to be administered for public drunkenness and other minor offenses such as petty thievery. Criminals do not generally single out travelers.
Hotels
There are four hotels in Kiribati, on Tarawa, Christmas Island and Abemama. Accommodation is good but not luxurious.
Communications
Telephone: IDD is available throughout urban Tarawa. Country code: 686. Radiotelephone calls can be arranged to most outer islands. All international calls from Kiribati have to go through the operator. Fax: This is available at the local Telecoms Office. There is a weekly postal service for overseas mail. Post office hours: 0800-1230 and 1330-1615 Monday to Friday.
Electricity
is 240 volts AC, 50Hz. Electricity 240 volts AC, 50Hz.
Plug Types
I
Food And Dining
Restaurants are few in number and are situated mainly in the larger towns. Local specialties in the southern islands include the boiled fruit of pandanus (screwpine), sliced thinly and spread with coconut cream. A Kiribati delicacy is palu sami, which is coconut cream with sliced onion and curry powder, wrapped in taro leaves and pressure cooked in an earth-oven packed with seaweed. It can be eaten on its own or served with roast pork or chicken. As in many of the islands of the South Pacific, there is a tendency amongst local people to regard imported canned products as luxuries. Tipping : Not expected.
Nightlife
There are ?Island Nights? which feature traditional Polynesian music and dancing, film shows and feasts in maneabas (local meeting houses), which can be found throughout the islands.
Entry departure requirements
* Please see visa section
Visa immigration information
Passports
Passport valid for six months required by all.
Visas
Required by all except the following:
(a) 1. nationals of Spain, Sweden and the UK (irrespective of endorsement in passport regarding national status) for stays of up to 28 days; all other EU nationals do require a visa;
(b) 2. nationals of Canada for stays of up to 28 days;
(c) nationals of Antigua & Barbuda, The Bahamas, Barbados, Botswana, Cyprus, Fiji, Grenada, Guyana, Hong Kong (SAR), Iceland, India, Jamaica, Kenya, Lesotho, Liechtenstein, Malaysia, Malta, New Zealand, Norway, St Kitts & Nevis, St Lucia, Samoa, San Marino, Seychelles, Sierra Leone, Singapore, Solomon Islands, Switzerland, Tonga, Trinidad & Tobago, Tunisia, Tuvalu, Uruguay, Vanuatu and Zimbabwe for up to 28 days;
(d) nationals of Korea (Rep) and Nauru for up to 30 days;
(e) nationals of the The Philippines for up to 21 days;
(f) nationals of American Samoa, Ecuador, Guam, Marshall Islands, Pacific Islands of Micronesia and Palau for up to 20 days;
(g) transit passengers continuing their journey by the same or first connecting aircraft, provided holding onward or return documentation and not leaving the airport (some nationalities always require a transit visa; enquire at the Consulate).
Note
(a) Nationals of the following countries require permission to enter the country from the Principal Immigration Officer: Albania, Algeria, Bahrain, Bosnia & Herzegovina, Bulgaria, Cambodia, China (PR), CIS (except nationals of Belarus), Croatia, Cuba, Czech Republic, Egypt, Hungary, Iraq, Jordan, Korea (Dem Rep), Kuwait, Laos, Lebanon, Libya, Macedonia (Former Yugoslav Republic of), Mongolia, Morocco, Poland, Saudi Arabia, Serbia & Montenegro, Slovak Republic, Slovenia, South Africa, Sudan, Syrian Arab Republic, United Arab Emirates, Vietnam and Yemen. Visa application will take an additional two weeks. The nationals of some countries require references along with their visas; check details with the Consulate (or the Consular section at the Embassy or High Commission). (b) On arrival, visitors may apply for a Visitor?s Permit to stay for a maximum of four months; a visa, return or onward travel tickets and sufficient funds for the duration of stay are required.
Types of visa and cost
Tourist and Business: A$50 (single- and multiple-entry).
Validity
From 20 days to four months depending on nationality. Enquire at nearest Consulate (or Consular section at Embassy or High Commission).
Application to
The Honorary Consulate or Consular section at the Embassy (see Passport/Visa Information).
Application requirements
(a) Completed application form. (b) Passport. (c) Travel itinerary. (d) Stamped and self-addressed envelope. (e) Appropriate letters from company/sponsors if on business. (f) Fee.
Working days required
Allow three weeks for postal applications. An additional two weeks is required when permission needs to be obtained from the Principal Immigration Officer in Tarawa.
HIV entry requirements
No Test Required
Departure tax
A$20; children under two years of age and transit passengers are exempt.
Embassies
South Pacific Tourism Organization
Street address: Level 3 FNPF Place, 343-359 Victoria Parade, Suva, Fiji
Postal address: PO Box 13119, Suva, Fiji
Tel: 330 4177.
Honorary Consulate of Kiribati in the UK
The Great House, Llanddewi Rhydderch, Monmouthshire NP7 9UY, UK
Tel/Fax: (01873) 840 375.
E-mail: michael.walsh@sema.co.uk
Visas issued by appointment only.
There is some petty theft and you should take care with personal possessions.
Women traveling on their own should exercise caution, particularly at night.
Most visits to Kiribati are trouble-free but you should be aware of the global risk of indiscriminate international terrorist attacks, which could be against civilian targets, including places frequented by foreigners.
This advice is based on information provided by the Foreign, Commonwealth & Development Office in the UK. It is correct at time of publishing. As the situation can change rapidly, visitors are advised to contact the following organizations for the latest travel advice:
British Foreign, Commonwealth & Development Office
Tel: (0845) 850 2829.
Website: www.gov.uk/foreign-travel-advice
US Department of State
Currency
Australian Dollar (AUD; symbol A$) = 100 cents. Notes are in denominations of A$100, 50, 20, 10 and 5. Coins are in denominations of A$2 and 1, and 50, 20, 10 and 5 cents.
Currency restrictions
There are no restrictions on the import or export of either local or foreign currency.
Banking hours
Mon-Fri 0930-1500. The Bikenibeu branch is open 0900-1400.
Currency exchange
Currency may be exchanged at the Bank of Kiribati Ltd or local hotels. There are ATMs at branches of the Bank of Kiribati/ANZ in Betio, Bairiki and Bikenibeu (all on Tarawa atoll).
Credit cards
MasterCard and Visa have very limited acceptance. Check with your credit or debit Card Company for details of services which may be available.
Travellers cheques
Accepted in hotels, some shops and at the Bank of Kiribati Ltd. To avoid additional exchange rate charges, travellers are advised to take travellers cheques in Australian Dollars.
| City/Region | City/Area code | Followed by |
| --- | --- | --- |
| Abaiang | 33 | + 3 digits |
| Abaokoro, Tarawa | 32 | + 3 digits |
| Abemama | 41 | + 3 digits |
| Aranuka | 40 | + 3 digits |
| Arorae | 49 | + 3 digits |
| Bairiki, Tarawa | 24 | + 3 digits |
| Banaba | 37 | + 3 digits |
| Beru | 46 | + 3 digits |
| Betio, Tarawa | 26 | + 3 digits |
| Bikenibeu, Tarawa | 29 | + 3 digits |
| Butaritari | 35 | + 3 digits |
| Fanning (Tabuaeran) | 83 | + 3 digits |
| Kanton | 85 | + 3 digits |
| Kiritimati | 82 | + 3 digits |
| Kuria | 39 | + 3 digits |
| Maiana | 38 | + 3 digits |
| Makin | 36 | + 3 digits |
| Marakei | 34 | + 3 digits |
| Nikunau | 47 | + 3 digits |
| Nonouti | 42 | + 3 digits |
| Onotoa | 45 | + 3 digits |
| Tabiteuea North | 43 | + 3 digits |
| Tabiteuea South | 44 | + 3 digits |
| Tamana | 48 | + 3 digits |
| Washington (Teraina) | 84 | + 3 digits |