Quick Facts
Region: Middle East
Full Name: State of Kuwait
Capital City: Kuwait
Language Spoken: Arabic (official), English widely spoken
Kuwait Travel Insurance
Get travel insurance to Kuwait from Direct Travel Insurance. We offer low cost and high quality travel insurance to Kuwait and most of the world.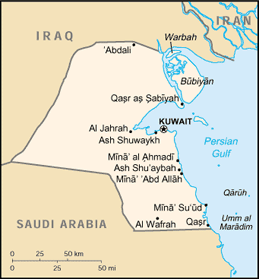 Geographic data
29 30 N, 45 45 E
Elevation Extremes
lowest point: Persian Gulf 0 m highest point: unnamed location 306 m
Land boundaries
total: 462 km border countries: Iraq 240 km, Saudi Arabia 222 km
Natural hazards
sudden cloudbursts are common from October to April and bring heavy rain, which can damage roads and houses; sandstorms and dust storms occur throughout the year, but are most common between March and August
Natural resources
petroleum, fish, shrimp, natural gas
Land use
arable land: 0.84% permanent crops: 0.17% other: 98.99% (2005)
Environmental current issues
limited natural fresh water resources; some of world's largest and most sophisticated desalination facilities provide much of the water; air and water pollution; desertification
Climate
Kuwait shares European weather patterns but is hotter and drier. Summers (April to October) are hot and humid with very little rain. Winters (November to March) are cool with limited rain. Springs are cool and pleasant.
Time difference
time difference: UTC+3
Population
2,418,393 note: includes 1,291,354 non-nationals (July 2006 est.)
Age structure
0-14 years: 26.9% (male 331,768/female 319,895) 15-64 years: 70.3% (male 1,085,721/female 613,746) 65 years and over: 2.8% (male 42,460/female 24,803) (2006 est.)
Median age
total: 25.9 years male: 28 years female: 22.3 years (2006 est.)
Population growth rate
3.52% note: this rate reflects a return to pre-Gulf crisis immigration of expatriates (2006 est.)
Birth rate
21.94 births/1,000 population (2006 est.)
Death rate
2.41 deaths/1,000 population (2006 est.)
Net migration rate
15.66 migrant(s)/1,000 population (2006 est.)
Sex ratio
at birth: 1.04 male(s)/female under 15 years: 1.04 male(s)/female 15-64 years: 1.77 male(s)/female 65 years and over: 1.71 male(s)/female total population: 1.52 male(s)/female (2006 est.)
Life expectancy at birth
total population: 77.2 years male: 76.13 years female: 78.31 years (2006 est.)
Total fertility rate
2.91 children born/woman (2006 est.)
Business Practices
Men are expected to wear suits and ties for business and formal social occasions. English is widely spoken in business circles although a few words or phrases of Arabic are always well received. Visiting cards are widely used. Some of the bigger hotels have translation and bilingual secretarial services. During summer, Kuwaiti managers prefer to meet with foreign visitors after 6:00 p.m. Appointments with managers often take place after 9:00 p.m. Business during the very hot summer season, especially July and August, is very slow as most managers leave the country for vacations with their families. Kuwaitis are very hospitable and it is customary for them to invite their foreign guests to their diwaniyas in the evenings, or even to their chalets (beach/vacation cottages) on weekends. Kuwait is a Moslem country, however, nationals of over 120 countries live and work in Kuwait. Private companies work six days a week (Saturday through Thursday). Some companies work from 8:00 a.m to 5:00 p.m; others work from 8:00 p.m. to 12:30 p.m. and from 4:30 p.m. to 8:30 p.m. On Thursdays, companies work from 8:00 a.m. to 1:00 p.m. Government offices close on Thursdays and Fridays. Banks and insurance companies close on Fridays and Saturdays.
Crime
The crime rate in Kuwait is low. Most crime is directed towards (and by) the members of the labor community from South Asia, Egypt and the Philippines. Crime directed towards western expatriates is very infrequent. Residential theft by domestic employees, and verbal harassment of women, are the most frequent types of crime that an foriegners could expect. Police in Kuwait are generally well-trained, professional and responsive to calls for assistance. Police, fire and ambulance can be reached by calling 777.
Hotels
Hotels range from deluxe to first and second class. Better hotels include the Sheraton Kuwait Hotel, Holiday Inn Crowne Plaza Kuwait Hotel, Safir International Hotel, Le Meridien Kuwait Hotel or Radisson SAS Kuwait Hotel. Prices are generally high.
Communications
Full telephone IDD service is available. The country code is 965 and the outgoing international code is 00. Kuwait has a good communications network. It is possible to make calls from Kuwait to any part of the world from apartments (for residents), from offices, and from any hotel. Faxes may be sent from the business centers of leading local hotels, such as the Sheraton Kuwait Hotel, Holiday Inn Crowne Plaza Kuwait Hotel, Safir International Hotel, Le Meridien Kuwait Hotel or Radisson SAS Kuwait Hotel. Post office hours are 0700-1400 Saturday to Wednesday; 0700-1200 Thursday.
Electricity
is 240 volts AC, 50Hz; single phase. UK-type flat 3-pin plugs are used. Electricity 240 volts AC, 50Hz; single phase. UK-type flat three-pin plugs are used.
Plug Types
C,G
Food And Dining
There is a good choice of restaurants serving a wide choice of international and Arab cuisine, prices are reasonable. Typical middle-eastern food includes hummus, falafel and foul. Everything is eaten with aish (Arabic flat bread). Alcohol is totally prohibited in Kuwait. Tipping : A service charge of 15 per cent is usually added to bills in hotels, restaurants and clubs. Otherwise 10 per cent is acceptable.
Nightlife
Several cinemas in Kuwait City show recent films. Two theaters often put on very good amateur productions.
Entry departure requirements
Visa immigration information
Passports
Passport valid for at least six months required by all.
Note
Married women and children (except nationals of Iran and Iraq) may travel on the passport of their husband or father.
Visas
Required by all except nationals of Bahrain, Oman, Qatar, Saudi Arabia and the United Arab Emirates for an unlimited period.
Types of visa and cost
Business, Visitor and Transit. Transit visas are not required provided passengers hold onward tickets and do not leave the airport. The fee for a visa depends on the applicant?s nationality. For UK nationals the fees are as follows: Single-entry: US$52 (for three months); US$82 (for six months). Multiple-entry: US$113 (for six months); US$129 (for one year); US$165 (for two years); US$232 (for five years).
Validity
Depends on nationality and purpose of visit. Validity of the visa is usually three months from date of issue. Enquire at Consulate (or Consular section at Embassy) for further details.
Application to
Consulate (or Consular section at Embassy); see General Info section for details.
Note
Nationals of Andorra, Australia, Brunei, Canada, China (PR), nationals of the EU (except nationals of Cyprus, Czech Republic, Estonia, Hungary, Ireland, Latvia, Lithuania, Malta, Poland, Slovak Republic and Slovenia), Hong Kong (SAR), Iceland, Japan, Korea (Rep), Liechtenstein, Malaysia, Monaco, New Zealand, Norway, San Marino, Singapore, Switzerland, USA and the Vatican City can now obtain visas for entry into Kuwait upon arrival at the port of entry.
Application requirements
(a) Valid passport. (b) One completed application form. (c) One passport-size photo. (d) Fax or other confirmation of invitation from sponsor/contact in Kuwait. This should be faxed directly to the Embassy; see General Info section for fax numbers (not required for visa on arrival - see above). (e) Covering letter from employer in home country detailing evidence of position and status within company, purpose of visit, length of stay. (f) Registered, self-addressed envelope if applying by post. (g) Fee.
Working days required
10.
Temporary residence
Enquire at Embassy. Note that UK nationals who wish to take up employment will eventually require a Residence Permit. This must be obtained before arrival in Kuwait as it is not possible to transfer status from ?visitor? to ?temporary resident? without first leaving Kuwait.
HIV entry requirements
Test required for anyone applying for work or residency permit
Departure tax
KD2; transit passengers not leaving the airport transit area and children under 12 are exempt.
Embassies
Embassy of the State of Kuwait in the UK
2 Albert Gate, London SW1X 7JU, UK
Tel: (020) 7590 3400.
Website: www.kuwaitinfo.org.uk
Opening hours: Mon-Fri 0900-1230 and 1400-1600 (visa collection only).
Embassy of the State of Kuwait in the USA
2940 Tilden Street, NW, Washington, DC 20008, USA
Tel: (202) 966 0702. Fax: (202) 966 0517.
Travel Warnings
There is a high threat from terrorism. Al Qaeda continues to issue statements threatening to carry out attacks in the Gulf region. These include references to attacks on Western interests, including residential compounds, military, oil, transport and aviation interests.

In early 2005, Kuwaiti security forces mounted operations against suspected militants and their safe houses, during which several suspected militants were killed or arrested. The security forces discovered bomb-making equipment and material linked with planned kidnaps. It is believed that individuals associated with these incidents are still at large and remain a threat to Western interests.

Travelers should review their security arrangements carefully. They should continue to exercise caution, particularly in public places and maintain a high level of security awareness.
Latest travel advice contacts:
British Foreign, Commonwealth & Development Office
Website: www.gov.uk/foreign-travel-advice
US Department of State
Currency
Kuwait Dinar (KWD) = 1000 fils. Notes are in denominations of KWD20, 10, 5 and 1, and 500 and 250 fils. Coins are in denominations of 100, 50, 20, 10, 5 and 1 fils.
Currency restrictions
The import and export of local and foreign currency is not restricted.
Banking hours
Sun-Thurs 0800-1200.
Currency exchange
Credit cards
American Express, Diners Club, MasterCard and Visa are accepted. Check with your credit or debit card company for details of merchant acceptability and other services which may be available.
Travellers cheques
Widely accepted. To avoid additional exchange rate charges, travelers are advised to take traveller's cheques in US Dollars or Pounds Sterling.
| City/Region | City/Area code | Followed by |
| --- | --- | --- |
| Abdalli | 470 | + 4 digits |
| Ahmadi | 398 | + 4 digits |
| Ahmadi & Umm-Alhaiman | 328 | + 4 digits |
| Ardhiyah | 489 | + 4 digits |
| Fahaheel | 392 | + 4 digits |
| Farwaniah | 476 | + 4 digits |
| Free Trade Zone | 461 | + 4 digits |
| Funtas | 390 | + 4 digits |
| Hawalli | 266 | + 4 digits |
| Jaber Al-Ali | 384 | + 4 digits |
| Jabriyah | 534 | + 4 digits |
| Jahra | 478 | + 4 digits |
| Jahra-B | 458 | + 4 digits |
| Jabriyah | 534 | + 4 digits |
| Jaleeb Al-Shuyoukh | 434 | + 4 digits |
| Manqaf & Shuiba | 376 | + 4 digits |
| Mushrif | 538 | + 4 digits |
| Nuzha | 259 | + 4 digits |
| Qurain | 544 | + 4 digits |
| Ras Salmiyah | 575 | + 4 digits |
| Rekka | 396 | + 4 digits |
| Sabah Salem | 552 | + 4 digits |
| Safat | 249 | + 4 digits |
| Salmiyah | 565 | + 4 digits |
| Shuwaikh | 484 | + 4 digits |
| South Subahiyah | 362 | + 4 digits |
| Sulaibikhat | 487 | + 4 digits |
| Sulaibiyah | 467 | + 4 digits |
| Wafra | 381 | + 4 digits |
| Zoor | 395 | + 4 digits |