Quick Facts
Region: Europe
Full Name: Republic of Estonia
Capital City: Tallinn
Language Spoken: Estonian (official) 67.3%, Russian 29.7%, other 2.3%, unknown 0.7% (2000 census)
Estonia Travel Insurance
Get travel insurance to Estonia from Direct Travel Insurance. We offer low cost and high quality travel insurance to Estonia and most of the world.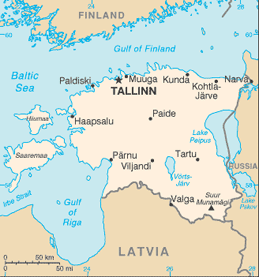 Geographic data
59 00 N, 26 00 E
Elevation Extremes
lowest point: Baltic Sea 0 m highest point: Suur Munamagi 318 m
Land boundaries
total: 633 km border countries: Latvia 339 km, Russia 294 km
Natural hazards
sometimes flooding occurs in the spring
Natural resources
oil shale, peat, phosphorite, clay, limestone, sand, dolomite, arable land, sea mud
Land use
arable land: 12.05% permanent crops: 0.35% other: 87.6% (2005)
Environmental current issues
air polluted with sulfur dioxide from oil-shale burning power plants in northeast; however, the amount of pollutants emitted to the air have fallen steadily, the emissions of 2000 were 80% less than in 1980; the amount of unpurified wastewater discharged to water bodies in 2000 was one twentieth the level of 1980; in connection with the start-up of new water purification plants, the pollution load of wastewater decreased; Estonia has more than 1,400 natural and manmade lakes, the smaller of which in agricultural areas need to be monitored; coastal seawater is polluted in certain locations
Climate
Temperate climate, but with considerable temperature variations. Summer is warm with relatively mild weather in spring and autumn. Winter, which lasts from November to mid-March, can be very cold. Rainfall is distributed throughout the year with the heaviest rainfall in August. Heavy snowfalls are common in the winter months. Required clothing Light- to mediumweights are worn during the summer months. Medium- to heavyweights are needed during winter. Rainwear is advisable all year.
Time difference
time difference: UTC+2 daylight saving time: +1hr, begins last Sunday in March; ends last Sunday in October
Population
1,324,333 (July 2006 est.)
Age structure
0-14 years: 15.2% (male 103,367/female 97,587) 15-64 years: 67.6% (male 427,043/female 468,671) 65 years and over: 17.2% (male 75,347/female 152,318) (2006 est.)
Median age
total: 39.3 years male: 35.8 years female: 42.6 years (2006 est.)
Population growth rate
-0.64% (2006 est.)
Birth rate
10.04 births/1,000 population (2006 est.)
Death rate
13.25 deaths/1,000 population (2006 est.)
Net migration rate
-3.2 migrant(s)/1,000 population (2006 est.)
Sex ratio
at birth: 1.06 male(s)/female under 15 years: 1.06 male(s)/female 15-64 years: 0.91 male(s)/female 65 years and over: 0.5 male(s)/female total population: 0.84 male(s)/female (2006 est.)
Life expectancy at birth
total population: 72.04 years male: 66.58 years female: 77.83 years (2006 est.)
Total fertility rate
1.4 children born/woman (2006 est.)
Business Practices
Business meetings are conducted formally in Estonia. Suits and tie should be worn. Advance appointments are necessary. Estonian businessmen are generally slow to become comfortable with new business acquaintances. Business cards are exchanged after introduction. Office hours are generally: 0830-1830 Monday to Friday.
Crime
Estonia is a relatively safe country, although crime in Tallinn's "Old Town" is an ongoing concern, especially during the summer tourist season. Such incidents in the 2004-2005 tourist season prompted the authorities to set up warning billboards in the most-frequented sites in Tallinn. The trend in youth crime also continues to grow, and, especially during the summer months, caution should be exercised around any groups of youths when there is evidence of alcohol, or drug use, present. Take the same precautions with regard to personal safety and belongings as in any major city. Narva and Tartu also see street crime similar to Tallinn, and the depressed industrial towns of Narva, Sillam?e and Kothla-J?rve are observing similar trends. The most common crimes encountered by foreign tourists are purse snatching, pick-pocketing, and mugging. Tourists are often targeted by individuals and small groups of thieves working together. In public places such as the Town Hall Square ("Raekoja Plats") airport, train stations, and the Central Market, exercise special care in safeguarding valuables against purse-snatchers and pickpockets. Be especially vigilant if visiting the Lasnamae, the industrial zone of Koplie, or waterfront sections of Tallinn. Valuables should never be left unattended in vehicles and car doors should be kept locked at all times. Violent crime, though rarely directed against foreigners, does occur, mainly at night and often in proximity to nightlife areas. Car theft and break-ins also continue to be a problem in Tallinn. Vehicle theft remains high and is the most likely problem to affect the average person. Burglaries of residences are traditionally higher in apartments than in single-family dwellings. Credit-card fraud is an ongoing concern, as is internet-based financial fraud and "internet dating" fraud. Take prudent precautions to safeguard credit cards and report any suspected unauthorized transaction to the credit card company immediately. Racially-motivated verbal and (on occasion) physical harassment of non-Caucasian travelers can occur. Police capabilities in Estonia are improving, but still suffer from lack of equipment, training, personnel and resources. Due to the low pay, the police are apathetic and lax in the prosecution of their work and are suffering a chronic shortage in officers. Police response during the past year has become very sluggish and unpredictable. If a visitor is victimized, it is unlikely that the police will be able to do more than take a report; it is unlikely that there will be any follow-up. While the use of English is growing rapidly in Estonia, the typical police officer may well not understand it.
Hotels
Modern Western hotels catering to both tourists and business travelers, such as satellite television, cocktail lounge and conference facilities have recently been completed in Estonia. Tallinn currently has two 4- and two 3-star hotels. Outside Tallinn, Estonia enjoys an adequate range of acceptable accommodations.
Communications
While the Estonian telephone system has improved considerably since the formation of a joint venture with Finland and Sweden, telephone service is still uneven; telephone service in areas outside the capital is greatly inferior. Telephone IDD service is available and the country code is 372 while the outgoing international code: 810. Fax and telex service is available at most major hotels. Substantial investment has also been made in cellular systems, which are operational throughout Estonia, which have access to the international packet switched digital network via Helsinki.
Electricity
is 220 volts AC, 50Hz with European-style 2-pin plugs are in use. Electricity 220 volts AC, 50Hz. European-style two-pin plugs are in use. Social conventions A hand shake is the customary greeting. Normal courtesies should be observed. The Estonians are proud of their culture and their national heritage, and visitors should take care to respect this.
Plug Types
F
Food And Dining
Hors d'oeuvres are very good and often the best part of the meal.

National specialties:
? S?lt (jellied veal).
? T?idetud vasikarind (roast stuffed shoulder of veal).
? Rosolje (vinaigrette with herring and beets).
? Braised goose stuffed with apples and plums.
? Solid rye bread.
? Estonian wild mushroom soup. National drinks:
? Saare beer (dark and heavy yet tasty).
? Mulled wine. Legal drinking age: The legal drinking age is 21.

Tipping:
Taxi fares and restaurant bills include a tip.

Nightlife
Tallinn is used to entertaining daytrippers from Finland and has a wide range of restaurants, cafes and bars. There is also an opera and ballet theater.
Entry departure requirements * Please see notes 1 & 2 in Visa section Visa immigration information
PASSPORT
Passport valid for at least three months beyond length of stay required by all except:
1. EU/EEA nationals (EU + Iceland, Liechtenstein, Norway) and Swiss nationals holding a valid national ID card.
Note: EU and EEA nationals are only required to produce evidence of their EU/EEA nationality and identity in order to be admitted to any EU/EEA Member State. This evidence can take the form of a valid national passport or national identity card. Either is acceptable. Possession of a return ticket, any length of validity on their document, sufficient funds for the length of their proposed visit should not be imposed.
VISA
Required by all except the following:
(a) nationals of the EU and Iceland, Liechtenstein, Norway and Switzerland with valid passport or personal ID card;
(b) 2. nationals of Andorra, Argentina, Australia, Bolivia, Brazil, Brunei, Bulgaria, Canada, Chile, Costa Rica, Croatia, El Salvador, Guatemala, Honduras, Hong Kong (SAR), Israel, Korea (Rep), Japan, Macau (SAR), Malaysia, Mexico, Monaco, New Zealand, Nicaragua, Panama, Paraguay, Romania, San Marino, Singapore, Uruguay, USA, Vatican City and Venezuela for stays of up to three months in a six month period;
(c) nationals of South Africa when holding a visa for Latvia or Lithuania.
Note
Visitors arriving on cruise ships to Estonian ports from 1 May to 31 October will be able to enter Estonia for a period of 12 hours without a visa. The cruise ship must be stopping at an Estonian harbor for no more than 72 hours and the visitors must have a valid travel document recognized by Estonia. Tourists can disembark only if their name is on a list guaranteed by the ship's Captain and previously presented to the Border Guard.
Types of visa and cost
Short-term: Single-entry: US$24 (up to 30 days); US$41 (up to 90 days); Multiple-entry: US$29 (up to 30 days); US$41 (up to 90 days); US$58 (up to one year). Transit: US$29 Airport transit: US$24 ; Long term visa: US$94 (one year).
Validity
Transit: Up to 48 hours. Single-entry: Up to six months. Multiple-entry: Up to five years. Long term: Up to one year. In the case of South Africans, visas for Estonia are also valid for Latvia and Lithuania and vice versa.
Applications to
Consulate (or Consular section at Embassy); see Passport/Visa Information. Applications must be made in person.
Application requirements
(a) One completed application form. (b) Passport valid for at least three months after expiry of visa, and with at least two blank pages. (c) One color passport-size photo. (d) Fee. (e) Health insurance (with coverage of at least EEK160,000) valid for entire duration of stay. (f) Documents confirming purpose of visit (visa invitation, letter of invitation, travel vouchers, documents confirming employment or similar). (g) Proof of sufficient funds (equal to one-fifth of the minimum monthly wage [currently ?33] for every day of planned stay in Estonia). (h) Documents confirming accommodation. (i) A receipt proving the payment of state fees.
Note: All documents must be original. Children 15 years and over must possess their own travel documents with a recent photo.
Working days required
Up to 30. Postal applications are possible if there is no Estonian Embassy in country of residence. HIV entry requirements Test required for anyone applying for work or residency permits Departure tax None Embassies
Embassy of the Republic of Estonia in the UK
16 Hyde Park Gate, London SW7 5DG, UK
Tel: (020) 7589 3428.
Website: http://london.mfa.ee/en
Opening hours: Mon-Fri 0900-1700 (embassy); Mon and Fri 1000-1300, Tue and Thurs 1300-1600 (consular section).
Embassy of the Republic of Estonia in the USA
2131 Massachusetts Avenue, NW, Washington, DC 20008, USA
Tel: (202) 588 0101.
Website: www.estemb.org
Consulate of the Republic of Estonia in the USA
600 Third Avenue, 26th Floor, New York, NY 10016, USA
Tel: (212) 883 0636.
Website: www.nyc.estemb.org
Travel Advice
Most visits to Estonia are trouble-free but you should be aware of the global risk of indiscriminate international terrorist attacks, which could be against civilian targets, including places frequented by foreigners.
In recent years, there have been several bomb attacks on buildings or vehicles in Estonia. While these were connected with organized crime, and not targeted at foreigners, travelers are advised to remain alert for suspect packages.
This advice is based on information provided by the Foreign, Commonwealth & Development Office in the UK. It is correct at time of publishing. As the situation can change rapidly, visitors are advised to contact the following organizations for the latest travel advice:
British Foreign, Commonwealth & Development Office
Tel: (0845) 850 2829.
Website: www.gov.uk/foreign-travel-advice
US Department of State
Currency
Estonian Kroon (EEK) = 100 senti. Notes are in denominations of EEK500, 100, 50, 25, 10, 5, 2 and 1. Coins are in denominations of EEK1 and 5, and 50, 20, 10 and 5 senti.
Currency restrictions
There are no restrictions on the import or export of either local or foreign currency.
Banking hours
Mon-Fri 0900-1600, Sat 0900-1500; hours may vary. Most banks are usually closed, however currency exchange offices are open on Sat 0900-1500 and some on Sundays. The main banks in Estonia who serve tourists are Hansapank, Sampo Pank and Uhispank.
Currency exchange
All major currencies can be exchanged at banks and bureaux de change. The value of the Kroon has been tied to the Euro. There are ATMs in most towns.
Credit cards
Credit cards are widely accepted. Check with your credit or debit card company for details of merchant acceptability and other services which may be available. Most banks will give cash advances on credit cards with a passport.
Travellers cheques
Traveller's cheques can be changed in banks in most larger towns. To avoid additional exchange rate charges, travelers are advised to take traveller's cheques in US Dollars, Pounds Sterling or Euros. The most widely accepted traveller's cheques are Amex, Thomas Cook and Eurocheque.
| City/Region | City/Area code | Followed by |
| --- | --- | --- |
| Hiiumaa | 46 | + 5 digit subscriber nr |
| Ida-Virumaa | 35 | + 5 digit subscriber nr |
| Ida-Virumaa county | 39 | + 5 digit subscriber nr |
| J?rvamaa | 38 | + 5 digit subscriber nr |
| J?gevamaa | 77 | + 5 digit subscriber nr |
| L??nemaa | 47 | + 5 digit subscriber nr |
| L??ne-Virumaa | 32 | + 5 digit subscriber nr |
| P?rnumaa | 44 | + 5 digit subscriber nr |
| P?lvamaa | 79 | + 5 digit subscriber nr |
| Raplamaa | 48 | + 5 digit subscriber nr |
| Saaremaa | 45 | + 5 digit subscriber nr |
| Tallinn | 71 | + 5 digit subscriber nr |
| Tartumaa | 75 | + 5 digit subscriber nr |
| Valgamaa | 76 | + 5 digit subscriber nr |
| Viljandimaa | 43 | + 5 digit subscriber nr |
| V?rumaa | 78 | + 5 digit subscriber nr |