Quick Facts
Region: North & Central America & the Caribbean
Full Name: Republic of El Salvador
Capital City: San Salvador
Language Spoken: Spanish, Nahua (among some Amerindians)
El Salvador Travel Insurance
Get travel insurance to El Salvador from Direct Travel Insurance. We offer low cost and high quality travel insurance to El Salvador and most of the world.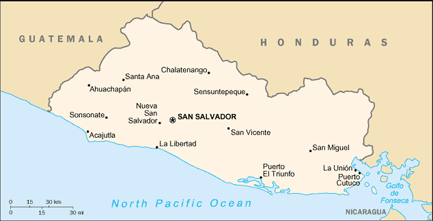 Geographic data
13 50 N, 88 55 W
Elevation Extremes
lowest point: Pacific Ocean 0 m highest point: Cerro El Pital 2,730 m
Land boundaries
total: 545 km border countries: Guatemala 203 km, Honduras 342 km
Natural hazards
known as the Land of Volcanoes; frequent and sometimes destructive earthquakes and volcanic activity; extremely susceptible to hurricanes
Natural resources
hydropower, geothermal power, petroleum, arable land
Land use
arable land: 31.37% permanent crops: 11.88% other: 56.75% (2005)
Environmental current issues
deforestation; soil erosion; water pollution; contamination of soils from disposal of toxic wastes
Climate
Hot, subtropical climate affected by altitude. Dry season or summer runs between November and April. Coastal areas are particularly hot, with a rainy season between May and October. Upland areas have a cooler, more temperate climate. Required clothing Lightweight cottons and rainwear during the wet season in coastal areas. Waterproof clothing is advisable all year round. Warm clothing should be taken for higher altitudes.
Time difference
time difference: UTC-6
Population
6,822,378 (July 2006 est.)
Age structure
0-14 years: 36.3% (male 1,265,080/female 1,212,216) 15-64 years: 58.5% (male 1,900,372/female 2,092,251) 65 years and over: 5.2% (male 156,292/female 196,167) (2006 est.)
Median age
total: 21.8 years male: 20.7 years female: 22.9 years (2006 est.)
Population growth rate
1.72% (2006 est.)
Birth rate
26.61 births/1,000 population (2006 est.)
Death rate
5.78 deaths/1,000 population (2006 est.)
Net migration rate
-3.61 migrant(s)/1,000 population (2006 est.)
Sex ratio
at birth: 1.05 male(s)/female under 15 years: 1.04 male(s)/female 15-64 years: 0.91 male(s)/female 65 years and over: 0.8 male(s)/female total population: 0.95 male(s)/female (2006 est.)
Life expectancy at birth
total population: 71.49 years male: 67.88 years female: 75.28 years (2006 est.)
Total fertility rate
3.12 children born/woman (2006 est.)
Business Practices
Business meetings tend to be formal with light suits and ties usually worn. Overall, Salvadoran business relationships and meetings are, at first, formal. It is expected to use proper titles, shake hands before and after your meeting, and not to use a person's first name until a relationship has been solidified. The official language is Spanish, but English is spoken by many Salvadoran businessmen. Salvadorans commonly use titles such as Licenciado (meaning a college graduate), Ingeniero (engineering graduate), or Doctor (used both for physicians and lawyers). These are followed by the person's last name. El Salvador tends to be very much a business card society and it is important upon first meeting someone to exchange business cards with him or her. It would be a good idea to have a supply of business cards printed in Spanish. More and more business in El Salvador is now being done over meals. Breakfast meetings are common and begin about 7:30 a.m. Lunches and dinners can become lengthy affairs (2-3 hours), so do not plan too tight a schedule around them. Dinners start late by North American standards, frequently at 8:00 or 9:00 p.m. Lunch is usually at 12:30 p.m. Office hours are normally 0800-1230 and 1430-1730 Monday to Friday.
Crime
Since the end of the civil war, the crime rate in El Salvador has risen to crisis proportions. El Salvador is currently considered to be a high-threat location for crime. Armed carjackings, truck hijackings, commercial armed robberies, burglaries, rape, kidnappings, and homicides occur at rates significantly above those of most countries. Foreigners are generally not specifically targeted by criminals, but are not exempt from their activities. Foreigners have been the victims of serious violent crimes both in urban and rural areas. In the capital of San Salvador, armed carjackings, home invasion robberies, rape, auto theft, burglaries and street robberies are the crimes which most foreign visitors or residents should be alert to. Crime in rural areas is also a significant problem for local residents and visitors, as many rural areas are still without an adequate police presence. In addition, many criminals in El Salvador are heavily armed as a consequence of the civil war. It is not unusual for criminals to display military assault rifles, semi-automatic pistols and hand grenades while committing their crimes. Criminals also frequently use gratuitous violence when committing their crimes, appearing to act with relative impunity on many occasions. Another disturbing trend is the continued presence and growth of youth gangs throughout El Salvador. Two Los Angeles, California-based street gangs, the "Mara Salvatrucha" and the "18th Street Gang" have established a presence throughout many cities within the country. The gangs have a number of members who have resided in the US and either returned to El Salvador voluntarily or have been deported by US immigration authorities. The gangs are involved in a variety of crimes, such as auto theft, armed robbery, narcotics trafficking, car-jacking, rape, extortion, and murder. Recent changes to the criminal code establish stiffer penalties for many current criminal violations, and add new crimes to the books. Several of the reforms strengthen the legal protection afforded to children and the handicapped. New provisions of the criminal code mandate a 6-8 year sentence for individuals convicted of sexual aggression against minors or adults incapacitated by mental or physical condition. Another set of reforms toughens the penalties for theft and fraud, and criminalizes the receipt and/or transport of stolen property.
Hotels
Accommodations in El Salvador vary from deluxe hotels to inexpensive guest houses. The main hotels are: Hotel Camino Real Boulevard de Los Heroes y Avenida Sisimiles San Salvador, El Salvador, C.A. Tel. (503) 260-1333; FAX: (503) 260-5660 Hotel El Salvador 89 Avenida Norte y 11 Calle Poniente Colonia Escalon San Salvador, El Salvador, C.A. Tel. (503) 263-0777; FAX: (503) 263-2583 Hotel Presidente El Salvador Avenida La Revolucion Colonia San Benito San Salvador, El Salvador, C.A. Tel. (503) 243-4444; FAX: (503) 243-2020 Hotel Princess, Zona Rosa, Colonia San Benito Tel. (503) 2984545; Fax: (503) 298-4500
Communications
Country code: 503 An inadequate local telecommunications network connects by microwave and satellite to international services. Many businessmen use cellular phones since it is extremely difficult to obtain new phone lines for homes and businesses. International telephone services available in El Salvador include: AT&T, MCI, and SPRINT. There are direct dialing, fax and telex facilities to most countries in the world. The official mail system is inadequate, but there are many private courier services. Post office hours are 0900-1600 Monday to Friday.
Electricity
is 110 volts AC, 60Hz. Electricity 115 volts AC, 60Hz. El Salvador accepts five types of plugs; flat blade plugs, three round pins arranged in a triangle, two parallel flat pins with ground pin, v-shaped flat prongs and two round pins.
Plug Types
A,B,C,D,E,F,G,I,J,L
Food And Dining
There are numerous Chinese, Mexican, Italian, French and local restaurants, plus several fast-food chains.

National specialties:
? Rice, beans, meat and salad is a popular meal.
? Seafood.
? Corn tortillas.
? Iguana.
? Armadillo.
? Pupusa (a fried sandwich made of tortillas and filled with pork, cheese and sausage). National drinks:
? Coffee.
? Frescos (natural fruit drinks).
? Beer (Pilsner and Suprema).
? Tic tac and Torito (alcoholic beverages made from distilled sugar cane).

Tipping:
10 per cent in hotels and restaurants; 15 per cent is appropriate for smaller bills. Taxi drivers do not expect tips, except when the taxi has been hired for the day. Airport porters are usually tipped US$1 per bag.

Nightlife
San Salvador has a few nightclubs and cocktail lounges with dinner and dancing, some of which require membership. There are many cinemas, some showing English-language films with subtitles; there are also some ?jukebox? dance-halls and theaters. The Teatro Cafe in the national theartre building, features a guitarist during the week and a variety of cultural events such as poetry and literature readings. If you like traditional Mexican style Mariachi music, head for the Boulevard de Los Heroes. Mariachi groups gather there nightly waiting for hired parties or other special occasions. Inexpensive restaurants fill this area and several Mariachi groups work the streets.
Entry departure requirements
Visa immigration information
Passports
Passport valid for at least six months after day of departure required by all.
Visas
Required by all except the following for stays of up to 90 days:
(a) nationals of countries mentioned in the table above;
(b) nationals of all British, French and Dutch overseas territories, and nationals of Hong Kong (when the passport is marked 'Nationality: British Citizen' only);
(c) nationals of Andorra, Antigua & Barbuda, Argentina, The Bahamas, Bahrain, Barbados, Belize, Brazil, Brunei, Bulgaria, Chile, Costa Rica, Croatia, El Salvador, Guam, Guatemala, Honduras, Iceland, Israel, Kuwait, Liechtenstein, Macedonia, Madagascar, Malaysia, Marshall Islands, Mexico, Monaco, New Zealand, Nicaragua, Norway, Panama, Paraguay, Qatar, Romania, St Kitts & Nevis, St Lucia, St Vincent & the Grenadines, San Marino, Sao Tom? e Pr?ncipe, Singapore, Solomon Islands, South Africa, Switzerland, Taiwan (China), Trinidad & Tobago, Turkey, Tuvalu, Uruguay, Vanuatu and Vatican City;
(c) transit passengers continuing their journey within 12 hours by the same or first connecting aircraft provided holding valid onward or return documentation and not leaving the airport.
Note
Nationals of Afghanistan, Albania, Algeria, Armenia, Angola, Bangladesh, Bolivia, Bosnia & Herzegovina, Botswana, China (PR), Colombia, Congo, Congo (Rep), Cuba, East Timor, Ecuador, Eritrea, Ethiopia, Ghana, Haiti, India, Indonesia, Iran, Iraq, Jordan, Korea (Dem Rep), Laos, Lebanon, Liberia, Libya, Mali, Mongolia, Mozambique, Nepal, Nigeria, Oman, Pakistan, Palestinian Authority, Peru, Sierra Leone, Somalia, Sri Lanka, Sudan, Syrian Arab Republic, Venezuela, Vietnam and Yemen need authorization from the immigration authorities in El Salvador and their visa processing time can therefore take up to three weeks. Applicants should apply in plenty of time.
Types of visa and cost
Tourist and Business: US$30 (single entry); US$45 (multiple-entry, valid six months); US$60 (multiple-entry, valid 12 months).
Validity
Tourist and Business: single entry, valid up to 30 days; multiple-entry, valid either six or 12 months. Visas can be renewed at the Immigration Office in El Salvador.
Application to
Consulate (or Consular section at Embassy); see Passport/Visa Information.
Application requirements
(a) Completed application form. (b) One passport-size photo. (c) Valid passport. (d) For tourist visas, a photocopy of the return ticket is necessary or, if the tickets have not yet been purchased, an original letter from the travel agency stating that the tickets are being purchased, or a travel itinerary. (e) Fee, payable in cash (US$ only) or by cheque (in US dollars, made payable to 'Direccion General de Tesoreria'). Visa fees are non-refundable. Business: (a)-(e) and, if from a country listed above as requiring authorization from El Salvador, (f) Letter of invitation from the company being visited in El Salvador and a letter from the company the applicant is representing, both translated into Spanish.
Working days required
Tourist and business visas are normally issued within 24 hours. If authorization from the Immigration Department in El Salvador is needed, processing time is approximately 21 days.
Temporary residence
Apply to Ministry of Interior in San Salvador.
HIV entry requirements
Test required for residency permits and those travelling on multi-entry visa
Departure tax
US$27.15 (including a US$2.65 Immigration Tax), payable in US Dollars or Colones. Children under two years are exempt, but do need to pay the Immigration Tax.
Embassies
Embassy of El Salvador in the UK
Mayfair House, 39 Great Portland Street, London W1W 7JZ, UK
Tel: (020) 7436 8282.
Website: http://elsalvador.embassyhomepage.com/
Opening hours: Mon-Fri 0900-1600.
Embassy of El Salvador in the USA
2308 California St, NW, Washington, DC 20008, USA
Tel: (202) 265 9671/2 (ext 248/244 - tourism section).
Website: www.elsalvador.org
Travel Advice
The Santa Ana (Ilamatepec) volcano erupted on 2 October 2005. It continues to emit gases and the local inhabitants have not yet returned to the area. Local authorities have warned that the possibility of another eruption is fairly high. Visitors should follow media reports and keep in touch with the local authorities if intending to visit the area.
El Salvador can be affected by Tropical Storms and Hurricanes. The Hurricane season lasts from May to October.
There are very high crime rates in El Salvador. Travelers should take great care if traveling alone or at night.
The threat from terrorism is low, but you should be aware of the global risk of indiscriminate terrorist attacks, which could be against civilian targets, including places frequented by foreigners.
This advice is based on information provided by the Foreign, Commonwealth & Development Office in the UK. It is correct at time of publishing. As the situation can change rapidly, visitors are advised to contact the following organizations for the latest travel advice:
British Foreign, Commonwealth & Development Office
Tel: (0845) 850 2829.
Website: www.gov.uk/foreign-travel-advice
US Department of State
Currency
Col?n (SVC) = 100 centavos. Notes are in denominations of SVC200, 100, 50, 25, 10 and 5. Coins are in denominations of SVC1, and 50, 25, 10, 5 and 1 centavos. Due to the introduction of the US Dollar into the country, dollars have been accepted as dual currency since January 2001 and are now widely used and will eventually completely replace the Col?n. Note Visitors should reconvert all unspent Col?ns before leaving the country. Note Most banks are closed for balancing the books on 29-30 Jun and 30-31 Dec. These dates may vary for individual banks.
Currency restrictions
No restrictions on import and export of local currency. Import of foreign currency is unlimited, but declaration is advised. Export of foreign currency is unlimited but limited to the amount declared on import for larger amounts.
Banking hours
Generally Mon-Fri 0900-1300 and 1345-1700; Sat 0900-1300 (limited service).
Currency exchange
Visitors are advised to change currency only at banks and official bureaux de change.
Credit cards
American Express, MasterCard and Visa are widely accepted, whilst Diners Club has more limited use. Check with your credit or debit Card Company for details of merchant acceptability and other services which may be available. There are a small number of ATMs around the country.
Travellers cheques
These may be cashed at any bank or hotel on production of a passport.
| City/Region | City/Area code | Followed by |
| --- | --- | --- |
| Central area | 3 | + 6 digits |
| Eastern area | 6 | + 6 digits |
| Metropolitan area | 5 | + 6 digits |
| Western area | 4 | + 6 digits |