Quick Facts
Region: Africa
Full Name: Republic of Equatorial Guinea
Capital City: Malabo
Language Spoken: Spanish (official), French (official),pidgin English, Fang, Bubi, Ibo
Equatorial Guinea Travel Insurance
Get travel insurance to Equatorial Guinea from Direct Travel Insurance. We offer low cost and high quality travel insurance to Equatorial Guinea and most of the world.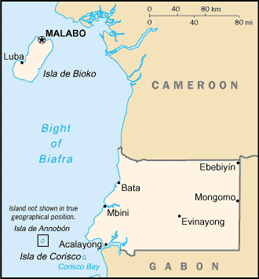 Geographic data
2 00 N, 10 00 E
Elevation Extremes
lowest point: Atlantic Ocean 0 m highest point: Pico Basile 3,008 m
Land boundaries
total: 539 km border countries: Cameroon 189 km, Gabon 350 km
Natural hazards
violent windstorms, flash floods
Natural resources
petroleum, natural gas, timber, gold, bauxite, diamonds, tantalum, sand and gravel, clay
Land use
arable land: 4.63% permanent crops: 3.57% other: 91.8% (2005)
Environmental current issues
tap water is not potable; deforestation
Climate
Tropical climate all year round. Rainfall is heavy for most of the year, decreasing slightly in most areas between December and February. Required clothing Lightweight cottons and linens. Waterproofing is necessary.
Time difference
time difference: UTC+1
Population
540,109 (July 2006 est.)
Age structure
0-14 years: 41.7% (male 113,083/female 111,989) 15-64 years: 54.5% (male 141,914/female 152,645) 65 years and over: 3.8% (male 8,886/female 11,592) (2006 est.)
Median age
total: 18.8 years male: 18.2 years female: 19.4 years (2006 est.)
Population growth rate
2.05% (2006 est.)
Birth rate
35.59 births/1,000 population (2006 est.)
Death rate
15.06 deaths/1,000 population (2006 est.)
Net migration rate
0 migrant(s)/1,000 population (2006 est.)
Sex ratio
at birth: 1.03 male(s)/female under 15 years: 1.01 male(s)/female 15-64 years: 0.93 male(s)/female 65 years and over: 0.77 male(s)/female total population: 0.96 male(s)/female (2006 est.)
Life expectancy at birth
total population: 49.54 years male: 48 years female: 51.13 years (2006 est.)
Total fertility rate
4.55 children born/woman (2006 est.)
Business Practices
Business meetings are somewhat informal. Foreign visitors (especially Europeans) are a comparative rarity in Equatorial Guinea A knowledge of Spanish is useful. Foreign cigarettes are appreciated as gifts. Offices are are generally 0800-1600, however long lunches are usual.
Crime
Violent crime is rare and the overall level of criminal activity is low. In Malabo, this is both due to the isolation of Bioko Island, on which the city stands, and a high security presence in the city. French diplomats reported in late 2004, however, that there has been an increase in armed aggressions, armed robberies, residential break-ins and assaults. These remain relatively uncommon, however, and most street crime is petty theft or scams. Travelers should not wear or carry anything they are not willing to lose, and if confronted by a criminal, should not offer resistance. Do not walk after dark, and be very alert when leaving restaurants or bars. Criminals target Westerners for their relative affluence. Civil disturbances have occurred in the mainland city of Bata.
Hotels
Malabo, Bata and Ebebiyan each offer three hotels of variable standards. There is one hotel in Luba. Security at all hotels is lax by Western standards.
Communications
Telephone IDD is available. Country code: 240. Operator assistance may be required when making international calls from the country.
Electricity
is 220/240 volts AC. Electricity 220/240 volts AC.
Plug Types
C,E
Food And Dining
There are few restaurants in Equatorial Guinea and those that exist are mainly restricted to Malabo and Bata and do not necessarily open every day. Most restaurants serve Spanish or continental cuisine. Beer is usually expensive.

National drinks: Malamba (local sugar cane brew).

Tipping:Unless service charges are added to bills, 10 to 15 per cent.

Nightlife: There is little nightlife except in Malabo and Bata where there are outdoor bars and lively nightclubs.
Entry departure requirements
Visa immigration information
Passports
Passport valid for a minimum of six months required by all.
Note
Carry copies of appropriate documentation at all times.
Visas
Required by all except nationals of the USA.
Types of visas and cost
Tourist, Business and Transit: ?100.
Validity
Enquire at Embassy (or Consular section at Embassy); see Passport/Visa Information.
Application to
Consulate (or Consular section at Embassy); see Passport/Visa Information.
Application requirements
(a) Passport valid for at least six months after return date (and photocopy). (b) One completed application form. (c) Two passport-size color photos. (d) Original copy of return ticket or proof of confirmed airline reservation. (e) Yellow fever vaccination certificate. (f) Fee, payable in cash, money order or company cheque. (g) Self-addressed, stamped envelope for postal applications. Tourist: (a)-(g) and, (h) Proof of hotel booking. Business: (a)-(g) and, (h) Letter of invitation from the company in Equatorial Guinea declaring responsibility for the applicant. Private: (a)-(g) and, (h) Letter of invitation, stamped by the Director General of Security in Marabo. Transit: (a)-(g) and, (h) Valid visa for the destination country.
Working days required
48 hours (shorter if application is urgent; longer in exceptional circumstances or if applying by post).
HIV entry requirements
No Test Required
Departure tax
None
Embassies
Embassy of the Republic of Equatorial Guinea in the UK
13 Park Place, St James's, London SW1A 1LP, UK
Tel: (020) 7499 6867.
Website: http://embassyofequatorialguinea.co.uk/

Embassy of the Republic of Equatorial Guinea in the USA
2020 16th Street, NW, Washington, DC 20009, USA
Tel: (202) 518 5700.
Website: https://www.egembassydc.com/

Travel Advice
Travelers wishing to travel outside Malabo on the island of Bioko, or outside Bata on the mainland, will need to inform the Protocol Division of the Ministry of Foreign Affairs, Cooperation and Francophonie in advance.
The threat from terrorism is low, but you should be aware of the global risk of indiscriminate terrorist attacks, which could be against civilian targets, including places frequented by foreigners.
This advice is based on information provided by the Foreign, Commonwealth & Development Office in the UK. It is correct at time of publishing. As the situation can change rapidly, visitors are advised to contact the following organizations for the latest travel advice:
British Foreign, Commonwealth & Development Office
Tel: (0845) 850 2829.
Website: www.gov.uk/foreign-travel-advice
US Department of State
Currency
CFA (Communaut? Financiaire Africaine) Franc (CFAfr or XAF) = 100 centimes. Notes are in denominations of XAF10,000, 5000, 1000 and 500. Coins are in denominations of XAF500, 100, 50, 25, 10 and 5.
Currency restrictions
The import of local and foreign currency is unrestricted provided declared on arrival. The export of local currency is limited to XAF50,000. The export of foreign currency is limited to the amount declared on arrival. It is worth remembering that CFA Franc notes cannot easily be exchanged outside the CFA Franc area.
Banking hours
Mon-Sat 0800-1200.
Currency exchange
Equatorial Guinea is part of the French Monetary Area. Only currency issued by the Banque des Etats de l'Afrique Centrale (Bank of Central African States) is valid; currency issued by the Banque des Etats de l'Afrique de l'Ouest (Bank of West African States) is not. The CFA Franc is tied to the Euro. Foreign currencies are best exchanged at banks, of which, however, there are few. Receipts for currency exchange should be retained.
Credit cards
Equatorial Guinea has a strictly cash-only economy. Credit cards and cheques are not accepted. ATMs are not available.
Travellers cheques
Most businesses do not accept traveller's cheques.
| City/Region | City/Area code | Followed by |
| --- | --- | --- |
| Bata (Continent) | 08 | + 4 digits |
| Malabo (Bioko Island) | 09 | + 4 digits |
| Malabo (Continent) | 07 | + 4 digits |