Quick Facts
Region: South America
Full Name: Republic of Ecuador
Capital City: Quito
Language Spoken: Spanish (official), Amerindian languages (especially Quechua)
Ecuador Travel Insurance
Get travel insurance to Ecuador from Direct Travel Insurance. We offer low cost and high quality travel insurance to Ecuador and most of the world.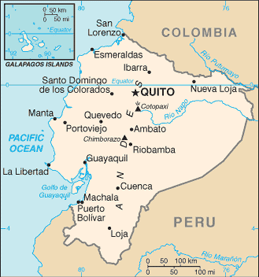 Geographic data
2 00 S, 77 30 W
Elevation Extremes
lowest point: Pacific Ocean 0 m highest point: Chimborazo 6,267 m
Land boundaries
total: 2,010 km border countries: Colombia 590 km, Peru 1,420 km
Natural hazards
frequent earthquakes, landslides, volcanic activity; floods; periodic droughts
Natural resources
petroleum, fish, timber, hydropower
Land use
arable land: 5.71% permanent crops: 4.81% other: 89.48% (2005)
Environmental current issues
deforestation; soil erosion; desertification; water pollution; pollution from oil production wastes in ecologically sensitive areas of the Amazon Basin and Galapagos Islands
Climate
Warm and subtropical. Weather varies within the country due to the Andes mountain range and coastal changes. Andean regions are cooler and it is especially cold at nights in the mountains. Rainfall is high in coastal and jungle areas. In the Galápagos the weather is dry and mild. Required clothing Lightweight cottons and linens, and rainwear in subtropical areas. Warmer clothes are needed in upland areas.
Time difference
time difference: UTC-5
Population
13,547,510 (July 2006 est.)
Age structure
0-14 years: 33% (male 2,281,499/female 2,195,551) 15-64 years: 61.9% (male 4,178,653/female 4,210,766) 65 years and over: 5% (male 319,719/female 361,322) (2006 est.)
Median age
total: 23.6 years male: 23.1 years female: 24 years (2006 est.)
Population growth rate
1.5% (2006 est.)
Birth rate
22.29 births/1,000 population (2006 est.)
Death rate
4.23 deaths/1,000 population (2006 est.)
Net migration rate
-3.11 migrant(s)/1,000 population (2006 est.)
Sex ratio
at birth: 1.05 male(s)/female under 15 years: 1.04 male(s)/female 15-64 years: 0.99 male(s)/female 65 years and over: 0.89 male(s)/female total population: 1 male(s)/female (2006 est.)
Life expectancy at birth
total population: 76.42 years male: 73.55 years female: 79.43 years (2006 est.)
Total fertility rate
2.68 children born/woman (2006 est.)
Business Practices
Business customs in Ecuador are similar to those in other Latin American countries. Ecuadorians are formal when engaged in business relations. Suits and ties are the norm. Business meetings are conducted in offices or restaurants; the latter often used in order to get better acquainted with a potential working partner. Meetings normally start somewhat after the appointed time. Business visitors should be punctual. Small talk usually precedes discussion of business. With regard to social courtesies, Ecuadorians are very polite and well mannered. Superiors are treated in a friendly but respectful way, and the use of a title (such as doctor, economist or engineer) before the name is common. Business is conducted in Spanish. Efforts by foreigners to speak Spanish are appreciated. Foreigners who do not speak Spanish should use interpreters. For invitations to Ecuadorian's homes, a gift such as flowers is appreciated. Normal office hours are 9:00 to 1:00 p.m. and 3:00 to 6:00 p.m.
Crime
Travel to the northern province of Sucumbios can be dangerous. In November 2005, 25 U.S. and European tourists were robbed while traveling to the Cuyabeno Reserve in Sucumbios province. The Amazon area is poorly policed, and such gangs of robbers are well-armed, disciplined and organized. There have been past incidents of kidnapping in this park (without casualties). In addition, park guards, guides and vendors are known for overcharging and extorting tourists. Travelers have noted that after such robberies, police assistance can be lackadaisical. Travelers are also cautioned against visiting the areas of Carchi Province adjacent to the Colombian border. Both areas are dangerous because of the significant incidence of common crime, extortion, and kidnapping. Caution should also be used in other areas bordering on Colombia, as local law enforcement is faced with growing challenges from Colombia-based organized crime, drug traffickers, and armed insurgents. In the past five years, a number of foreign citizens have been kidnapped near the Colombian border, including nine Canadian oil workers kidnapped in September 1999. In the past decade, the cities of Quito and Guayaquil have experienced an increase in crimes such as armed robberies, assaults, and carjackings. Although most crimes are of a non-violent nature, such as pickpocketing, burglary of personal effects, or thefts from vehicles, thieves are often armed with guns and knives. House burglary and carjacking can result in violence. The Ecuadorian government has increased police patrols in tourist areas, but travelers in resort areas along the coast and in Quito and Guayaquil should remain alert to their surroundings and maintain constant control of purses, backpacks, and briefcases. Expensive-appearing jewelry and watches should not be worn. In Quito, extreme caution should be taken in tourist areas and crowded marketplaces, especially on the crowded streets of south Quito, the Panecillo, Old Quito, and all transportation terminals. In early 1998, there were robberies of tourists at the Cotopaxi National Park and Parque Carolina. Travelers should not frequent the city parks (La Carolina, El Ejido, and La Alameda) before dawn and after dark and should not go into the interior of these parks at any time. Other areas identified as dangerous for tourists are El Tejar, Parroquia San Sebastian, Mariscal Sucre, Avenida Cristobal Colon and Gonzalez Suarez. Backpackers are frequently targeted for criminal activity in Quito. In Guayaquil, extra caution should be taken downtown, at the dock (El Malecon), and in the airport area. There have been incidents of luggage theft at the airport, and there have been a number of assaults on who were followed from the airport. There have been numerous armed robberies of restaurants and their patrons, including in "fashionable" areas of Guayaquil.
Hotels
In Quito there are several international and business class hotels. Outside the main towns a more or less standard price is charged per person for one night in a provision residencia, or a hotel. There is, however, a minimum charge per person. A 10% service charge and 5% tax are added to upper- and middle-range hotel bills. Cheaper hotels usually charge 5% at the most. Hotel accommodation is very limited on the Galapagos Islands.
Communications
Telephone service within the country is poor, but international connections are good, although expensive. There are cellular telephone services now available in a large portion of the country. Telephone IDD service is available in Ecuador. The country code is 593 and the outgoing international code is 00. Callers should note that even if the person called is not there, a charge may still be.
Electricity
is at 110/120 volts AC, 60Hz. Electricity 110/120 volts AC, 60Hz.
Plug Types
A,B
Food And Dining
Ecuador has some of the best beer in South America; the most popular brand is Pilsner. Good Chilean wine is available, alongside expensive and international drinks. Restaurants have waiter service and there are cafe-style bars. Things to know: Alcohol cannot be sold after 0200.

National specialties:
? Llapingachos (pancakes stuffed with mashed potato and cheese).
? The best of the jungle fruits include chirimoya, with a delicious custard-like inside; mamey, which has a red, sweet, squash-like meat; and pepinos, a sweet white and purple striped cucumber-like fruit.
? Shrimp or lobster ceviche. This is traditionally accompanied by popcorn and chifles (thinly sliced and fried green bananas).
? Locro (stew of potatoes and cheese).
? Humitas (flavored sweetcorn tamale).
? Roasted guinea pig.
? Patacones (squashed fried green bananas).
? Empanadas (hot crispy meat- or cheese-filled pastries). National drinks:
? Naranjilla (fruit juice with a taste somewhere between citrus and peach).
? Canelazo, made from sugar cane, alcohol, lemon, sugar and cinnamon.
? Pisco, the local brandy.

Tipping:
10 per cent service charge is usually added to the bill in hotels and restaurants. Taxi drivers do not expect tips.

Nightlife
There is little nightlife except in Quito and Guayaquil where there are excellent restaurants and other attractions. In smaller towns, social life takes place in the home and in private clubs. The cinema is the most popular form of entertainment.
Visa immigration information
Passports
Passport valid for at least six months required by all, except holders of nationals identification cards issued by Bolivia, Chile, Colombia and Peru.
Note Passports must be carried at all times.
Visas
Required only by: (a) nationals of Algeria, Bangladesh, China (PR), Costa Rica, Cuba, Guatemala, Honduras, India, Iran, Iraq, Jordan, Korea (Dem Rep), Korea (Rep), Lebanon, Libya, Nigeria, Pakistan, Palestinian Authority Area, Sri Lanka, Sudan, Syrian Arab Republic, Taiwan (China), Tunisia, Vietnam and Yemen; (b) 1. all nationals wishing to remain in Ecuador for more than three months. Note: (a) Nationals listed above also require a visa even when in transit, unless continuing their journey to a third country by the same or first connecting flight or within 48 hours, provided holding confirmed onward tickets and not leaving the airport. As this list may change at short notice, visitors to Ecuador are advised to check with the nearest Consulate before traveling. (b) Those with visas must register with the Ministry of Government and the Director General of Migration in Ecuador within 30 days of their entry.
Types of visa and cost
Visas are issued free of charge to nationals of Colombia, Germany, Spain, Paraguay and the USA. Cultural exchange visas are issued free of charge. Tourist: US$52 Business: US$263
Validity
Tourist, transit and business visas are valid for up to six months; Student and cultural exchange visas are valid for one year (a student visa is renewable).
Application to
Consulate (or Consular section at Embassy); see Passport/Visa Information.
Application requirements
(a) Completed application form. (b) Two passport-size photos. (c) Valid passport. (d) Fee. (e) Return ticket. (f) Proof of economic solvency; for instance, the applicant's last three bank statements. Tourist: (a)-(f) and, (g) Letter of invitation from an Ecuadorian resident or proof of hotel reservation. Business: (a)-(f) and, (g) Letter from applicant's firm and sponsoring company. Student: (a)-(e) and, (f) Certificate of the course registration in Ecuador. (g) Certificate of financial solvency (eg a bank deposit with a letter stating the intention of the bank to pay the student 10 per cent of that amount per month) or a document signed by a relative stating that the student is supported by a family member. Cultural Exchange: (a)-(e), and (f) Application from the Ecuadorian authority sponsoring the student/teacher with a copy of the agreement under which the program is carried out and, for teachers, a signed document stating that they will not receive any Ecuadorian funds for their work.
Note A measles vaccination certificate is required by all nationals traveling from Colombia, Germany, Italy and Venezuela and must be shown on arrival.
Working days required
Applications must be made in person (an appointment is necessary) and a visa is usually issued on the same day.
Temporary residence
Persons wishing to stay longer than six months should apply to the Consulate for details.
HIV entry requirements
No Test Required
Departure tax
US$25.
Embassies
Embassy of the Republic of Ecuador in the UK
Flat 3B, Hans Crescent, London SW1X 0LS, UK
Tel: (020) 7584 2648.
Website: www.ecuador.embassyhomepage.com
Opening hours: Mon-Fri 0930-1300
Embassy of the Republic of Ecuador in the USA
2535 15th Street, NW, Washington, DC 20009, USA
Tel: (202) 234 7200 or 7166 (Consulate).
Website: www.ecuador.org
Travel Advice
Travelers are advised against travel to the northern border area including the provinces of Sucumbios and Orellana. Armed groups are active in these areas and there is a risk of kidnapping and crime.
Travelers should be aware of the risks of crime in all areas and take sensible precautions at all times. Visitors should be particularly vigilant in poorer urban areas, after dark and on public transport. It is recommended not to travel alone.
On 21 March 2006, a State of Emergency was declared in the provinces of Imbabura, Cotopaxi, Chimborazo and Ca?ar, as well as in two northern districts of the province of Pichincha. The States of Emergency were called in response to widespread public protests across Ecuador. Street demonstrations, protests and strikes are commonplace in Ecuador, and sometimes turn violent. Visitors should take care to avoid any area in which large crowds are gathering.
The threat from terrorism is low, but you should be aware of the global risk of indiscriminate terrorist attacks which could be against civilian targets, including places frequented by foreigners.
This advice is based on information provided by the Foreign, Commonwealth & Development Office in the UK. It is correct at time of publishing. As the situation can change rapidly, visitors are advised to contact the following organizations for the latest travel advice:
British Foreign, Commonwealth & Development Office
Website: www.gov.uk/foreign-travel-advice
US Department of State
Currency
US Dollar (USD; symbol US$) = 100 cents. Notes are in denominations of US$100, 50, 20, 10, 5, 2 and 1. Coins are in denominations of US$1 and 50, 25, 10, 5 and 1 cents.
Currency restrictions
There are no restrictions on the import and export of either local or foreign currency.
Banking hours
Mon-Fri 0900-1330 and 1430-1800; Sat 0900-1800.
Currency exchange
Foreign currencies can be exchanged at banks and at exchange houses (casas de cambio), the latter being generally the best option. It may be difficult to exchange money in the Oriente. The rate of commission varies between 1 per cent and 4 per cent, so it is worth shopping around. ATMs are available in large urban areas.
Credit cards
American Express, Diners Club, MasterCard and Visa are accepted in most cities. Check with your credit or debit card company for details of merchant acceptability and other services which may be available.
Travellers cheques
Traveller's cheques are generally accepted in the larger cities and can be exchanged into currency at most banks.
| City/Region | City/Area code | Followed by |
| --- | --- | --- |
| Azuay | (0)7 | + 7 digit subscriber nr |
| Bol?var | (0)3 | + 7 digit subscriber nr |
| Carchi | (0)6 | + 7 digit subscriber nr |
| Guayas (Guayaquil) | (0)4 | + 7 digit subscriber nr |
| Los Rios | (0)5 | + 7 digit subscriber nr |
| Pichincha (Quito) | (0)2 | + 7 digit subscriber nr |