Quick Facts
Region: Asia & Oceania
Full Name: Democratic Republic of Timor-Leste
Capital City: Dili
Language Spoken: Tetum (official),Portuguese (official),Indonesian,English note: there are about 16 indigenous languages; Tetum, Galole, Mambae, and Kemak are spoken by significant numbers of people
East Timor Travel Insurance
Get travel insurance to East Timor from Direct Travel Insurance. We offer low cost and high quality travel insurance to East Timor and most of the world.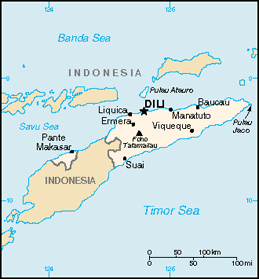 Geographic data
8 50 S, 125 55 E
Elevation Extremes
lowest point: Timor Sea, Savu Sea, and Banda Sea 0 m highest point: Foho Tatamailau 2,963 m
Land boundaries
total: 228 km border countries: Indonesia 228 km
Natural hazards
floods and landslides are common; earthquakes, tsunamis, tropical cyclones
Natural resources
gold, petroleum, natural gas, manganese, marble
Land use
arable land: 8.2% permanent crops: 4.57% other: 87.23% (2005)
Environmental current issues
widespread use of slash and burn agriculture has led to deforestation and soil erosion
Climate
A tropical climate with two seasons: the wet monsoon season (November to March) and the dry monsoon season (April to October). During the wet season there are regular heavy downpours. Average annual rainfall is about 8,305 mm (327 in.). The dry season brings about coarse winds. Temperatures hover around 25?C to 30?C (77?F to 86?F ) year-round.
Time difference
time difference: UTC+9
Population
1,062,777 note: other estimates range as low as 800,000 (July 2006 est.)
Age structure
0-14 years: 36.3% (male 196,293/female 189,956) 15-64 years: 60.6% (male 328,111/female 315,401) 65 years and over: 3.1% (male 16,072/female 16,944) (2006 est.)
Median age
total: 20.8 years male: 20.8 years female: 20.7 years (2006 est.)
Population growth rate
2.08% (2006 est.)
Birth rate
26.99 births/1,000 population (2006 est.)
Death rate
6.24 deaths/1,000 population (2006 est.)
Net migration rate
0 migrant(s)/1,000 population (2006 est.)
Sex ratio
at birth: 1.05 male(s)/female under 15 years: 1.03 male(s)/female 15-64 years: 1.04 male(s)/female 65 years and over: 0.95 male(s)/female total population: 1.04 male(s)/female (2006 est.)
Life expectancy at birth
total population: 66.26 years male: 63.96 years female: 68.67 years (2006 est.)
Total fertility rate
3.53 children born/woman (2006 est.)
Business Practices
Business meetings in East Timor generally have relaxed dress code with short-sleeved shirts/slacks appropriate for most business meetings. Coats/jackets and ties for men are not worn. More formal attire is suggested if visiting senior East Timorese business and political leaders. English is the prevalent language for business discussions although East Timorese business people also commonly speak Tetum (the local language), Portuguese and Bahasa Indonesia. Business hours for government offices are generally between 9am and 5pm. Most enterprises have somewhat ?flexible? hours; so pre-arranged appointments are highly recommended.
Crime
While the security situation has improved, East Timor has continued to experience problems with criminal activity, both violent and non-violent. Most of the crime occurs in Dili, with expatriates sometimes targeted by muggers and burglars. Gang violence occurs on occasion. Do not travel alone, particularly at night, and maintain a high level of personal security awareness at all times. There have been incidents of piracy and armed robbery against ships in neighboring waters. Mariners should be vigilant; reduce opportunities for theft; establish secure areas onboard; and report all incidents to the coastal and flag state authorities. There are reports of banditry in the regions of Bacau and Viqueque.
Hotels
Acceptable accommodations in Dili are limited and expensive. Accommodations outside of Dili are virtually non-existent. The Central Maritime Hotel is a converted ocean-liner that was towed to Dili from Thailand in 2000 to take advantage of the lack of hotel space. With 6 decks, it is one of the better accommodations available in East Timor. The hotel is 15 minutes from the airport, moored in scenic Dili Harbor, and within walking distance to the Government House. At last report the Central Maritime was for sale and its future in Dili harbor is probably questionable as UN personnel gradually leave East Timor. Some other hotels include the Dili Sands Motel, HMA Accommodation Villas, Hotel Audian and Sakura Tower. Other hotels with between 8 and 35 rooms are located around Dili. As UN peacekeepers and other observers begin their withdrawal from East Timor, Hotel availability and pricing may improve.
Communications
International telephone calls are possible into and out of Dili where local lines are operational. East Timor's country code is 670 and the city code for Dili is 390. Mobile telephone services are available in Dili through the Australian Telstra mobile network, but a Telstra SIM card is required to use the service. Mobile telephone coverage is available in some areas outside Dili e.g. Baucau, Balibo, Suai, Los Palos and Oecussi but in most areas communications are possible only by satellite phone.
Electricity
is 220v, 50hz. Both 2 pronged type C and Oblique flat blades with ground (inverted V) plugs are common. Dili suffers constant power outages that are believed to be more related to insufficient funds to buy fuel, rather than reliability of equipment. Few of the rural areas have power supplies restored. Electricity 220V / 50 Hz
Plug Types
C,E,F,I
Food And Dining
Entry departure requirements
Visas are currently not necessary as long as travellers have a valid passport. Upon arrival, an entry permit valid for 30 days will be issued. If the traveller can prove that he/she has valid grounds for staying in East Timor, they can then obtain an extension.
Visa immigration information
From 19 April 2003, East Timor began to charge a fee for visas issued on arrival. They cost US$30 for stays of 30 days and less; extensions cost US$30 for each subsequent period of 30 days. Fines of US$50 apply to each 30-day period if advance payment and extension of visas have not been sought and approved. There is a US$10 fee for airport tax, paid at the airport on the day of departure
HIV entry requirements
Departure tax
Embassies
British Embassy
Pantai Kelapa
Avenida de Portugal
Dili
Mailing address:
PO Box 194
The Post Office
Dili
Democratic Republic of Timor-Leste
Telephone: (00) 670 332 2838
(00) (670) 723 1606 Out of office emergency number
Facsimile: (00) 670 331 2652
Email: britishembassydili@FCDO.gov.uk
Office Hours: GMT:
Mon-Fri: 0030 - 0800
Local Time:
Mon-Fri: 0930 - 1700
Currency
The US Dollar is the official currency. For local transactions, the Indonesian Rupiah may be accepted in border areas, but this should not be relied on.
Currency exchange
Travellers should take plenty of hard currency in cash. Both the Australian ANZ bank and the Portuguese Banco Nacional Ultramarino have branches in Dili. Cirrus/Maestro credit cards can be used to withdraw US Dollars from an ATM.
Currency restrictions
The import of currency is allowed, although amounts of US$5000 and above must be declared.
Banking hours
Currency exchange
Credit cards
These can only currently be used in the very few expensive hotels in East Timor.
Travellers cheques