Quick Facts
Region: Africa
Full Name: Republic of Rwanda
Capital City: Kigali
Language Spoken: Kinyarwanda (official) universal Bantu vernacular, French (official), English (official), Kiswahili (Swahili) used in commercial centers
Rwanda Travel Insurance
Get travel insurance to Rwanda from Direct Travel Insurance. We offer low cost and high quality travel insurance to Rwanda and most of the world.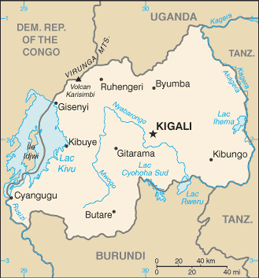 Geographic data
2 00 S, 30 00 E
Elevation Extremes
lowest point: Rusizi River 950 m highest point: Volcan Karisimbi 4,519 m
Land boundaries
total: 893 km border countries: Burundi 290 km, Democratic Republic of the Congo 217 km, Tanzania 217 km, Uganda 169 km
Natural hazards
periodic droughts; the volcanic Virunga mountains are in the northwest along the border with Democratic Republic of the Congo
Natural resources
gold, cassiterite (tin ore), wolframite (tungsten ore), methane, hydropower, arable land
Land use
arable land: 45.56% permanent crops: 10.25% other: 44.19% (2005)
Environmental current issues
deforestation results from uncontrolled cutting of trees for fuel; overgrazing; soil exhaustion; soil erosion; widespread poaching
Climate
Despite its proximity to the Equator, the climate in Rwanda is cooled by the high altitude. It is warm throughout most of the country but cooler in the mountains. There are two rainy seasons: mid-January to April and mid-October to mid-December. Required clothing Lightweights are required for most of the year with warmer clothes for cooler upland evenings. Rainwear is advisable.
Time difference
time difference: UTC+2
Population
8,648,248 note: estimates for this country explicitly take into account the effects of excess mortality due to AIDS; this can result in lower life expectancy, higher infant mortality and death rates, lower population and growth rates, and changes in the distribution of population by age and sex than would otherwise be expected (July 2006 est.)
Age structure
0-14 years: 41.9% (male 1,817,998/female 1,802,134) 15-64 years: 55.6% (male 2,392,778/female 2,417,467) 65 years and over: 2.5% (male 87,325/female 130,546) (2006 est.)
Median age
total: 18.6 years male: 18.4 years female: 18.8 years (2006 est.)
Population growth rate
2.43% (2006 est.)
Birth rate
40.37 births/1,000 population (2006 est.)
Death rate
16.09 deaths/1,000 population (2006 est.)
Net migration rate
0 migrant(s)/1,000 population (2006 est.)
Sex ratio
at birth: 1.03 male(s)/female under 15 years: 1.01 male(s)/female 15-64 years: 0.99 male(s)/female 65 years and over: 0.67 male(s)/female total population: 0.99 male(s)/female (2006 est.)
Life expectancy at birth
total population: 47.3 years male: 46.26 years female: 48.38 years (2006 est.)
Total fertility rate
5.43 children born/woman (2006 est.)
Business Practices
Lightweight suits are advised for business meetings and appointments are usually necessary. Knowledge of French is useful as only a few executives speak English. Office hours are typically 0800-1230 and 1330-1700 Monday to Friday.
Crime
Pick-pocketing in crowded public places is common, as is petty theft from cars and hotel rooms. During daytime hours, Kigali is generally safe, though pick-pocketing, purse-snatchng and thefts from parked cars occur, especially in crowded areas. Armed residential robberies have occurred in the past; and car thefts and carhjackings have happened. Visitors to Kigali are strongly advised to take common sense precautions to prevent pick pocketing, purse-snatching, hotel room thefts and thefts from parked vehicles: be wary in crowds; don't leave valuables in parked vehicles; secure valuables in hotel safes; avoid traveling at night because of poor lighting and road conditions. Travelers should also be aware of a marked increase in prostitution at or near Kigali hotels and nightclubs, and the high incidence of aids in Rwanda.
Hotels
Hotels are found mostly in Kigali and they are expensive. Credit cards are acceptable at only a few hotels in Kigali and travelers should expect to handle most expenses in cash. Missions with dormitory accommodation are recommended, particularly in remote districts and smaller towns. Ruhengeri and Gisenye mission station hotels are excellent.
Communications
The country code is 250. There are no area codes. When the service is operating, outgoing international calls must go through the operator. Telegram facilities are available in Kigali and main hotels. In Kigali post offices open 0800-1200 and 1400-1700 Monday to Friday and 0800-1200 Saturday.
Electricity
is 220 volts AC, 50Hz, but can be unreliable. Electricity 220 volts AC, 50Hz.
Plug Types
C,J
Food And Dining
Hotels generally serve a reasonable choice of European dishes, while there are Chinese, Greek, Indian, Italian and Middle Eastern restaurants. Some restaurants also serve Franco-Belgian cuisine and African dishes. A fairly good selection of beers, spirits and wines is available. Beer is also brewed locally.

Tipping:
10 per cent is normal.

Nightlife
Apart from the many small bars, there is little in the way of nightlife. There are a few cinemas in Kigali. The Rwanda National Ballet is famous for its traditional dancing and singing and can be seen either at national ceremonies or sometimes on request in the villages. There are now several nightclubs, with African, Congolese and Western music; there are also some live music bars with food and dancing available. The French Cultural Center runs a variety of activities.
Entry departure requirements
* please see visa section
Visa immigration information
Passports
Passports valid for at least six months required by all.
Visas
Required by all except transit passengers continuing their journey within 24 hours by the same or first connecting aircraft, provided holding onward or return documentation and not leaving the airport.

Note: (a) 1. nationals of Canada, Congo (Dem Rep), Germany, Kenya, Mauritius, South Africa, Sweden, Tanzania, Uganda, the UK and the USA can receive a visa free of charge upon arrival for stays of up to three months. (b) nationals of Burundi and China (PR) (only if holding a Hong Kong (SAR) passport) receive a visa free of charge for stays up to one month upon arrival.
Types of visa and cost
Single-entry/Multiple-entry: US$86
Validity
Three months.
Application to
Consulate (or Consular section at Embassy); see Passport/Visa Information.
Application requirements
(a) Valid passport. (b) Two passport-size photos. (c) Two completed application forms. (d) Company letters or guarantee for business trips. (e) Fee, payable by company certified cheque, postal order or cash. (f) A stamped, self-addressed registered envelope with all postal applications.
Working days required
24 hours.
Temporary residence
Visas can be extended at the Immigration Office in Kigali.
HIV entry requirements
No Test Required
Departure tax
US$20.
Embassies
Embassy of the Republic of Rwanda in the UK
120-22 Seymour Place, London W1H 1NR, UK
Website: http://rwandahc.org/
Tel: (020) 7224 9832.
Opening hours: Mon-Fri 0930-1730; 0930-1300 (visa section)
Embassy of the Republic of Rwanda in the USA
1714 New Hampshire Avenue, NW, Washington, DC 20009, USA
Tel: (202) 232 2882-4.
Website: www.rwandaembassy.org

Travelers are advised against all but essential travel to rural areas bordering Burundi and the Democratic Republic of the Congo. There remains a risk of indiscriminate attacks on Rwanda from rebel groups operating outside the country in the border regions with Burundi and the Democratic Republic of the Congo.
Travelers should be aware of the global risk of indiscriminate terrorist attacks, which could be against civilian targets, including places frequented by foreigners.
This advice is based on information provided by the Foreign, Commonwealth & Development Office in the UK. It is correct at time of publishing. As the situation can change rapidly, visitors are advised to contact the following organizations for the latest travel advice:
British Foreign, Commonwealth & Development Office
Website: https://www.gov.uk/foreign-travel-advice/rwanda
US Department of State
Website: https://travel.state.gov/content/travel/en/international-travel/International-Travel-Country-Information-Pages/Rwanda.html
Currency
Rwanda Franc (RWF) = 100 centimes. Notes are in denominations of RWF5000, 1000, 500 and 100. Coins are in denominations of RWF50, 20, 10, 5, 2 and 1.
Currency restrictions
The import and export of local currency is limited to RWF5000. The import and export of foreign currency is unlimited, provided declared on arrival.
Banking hours
Mon-Fri 0800-1200 and 1400-1800, Sat 0800-1300.
Currency exchange
Credit cards
Accepted at only a few hotels in Kigali. MasterCard is most widely accepted, with more limited use of Diners Club. Check with your credit or debit card company for details of merchant acceptability and other services that may be available.
Travellers cheques
Generally not recommended although banks accept traveller's cheques by the holder. It may be difficult to change traveller's cheques outside Kigali.