Quick Facts
Region: Europe
Full Name: Russian Federation
Capital City: Moscow
Language Spoken: Russian, many minority languages
Russia Travel Insurance
Get travel insurance to Russia from Direct Travel Insurance. We offer low cost and high quality travel insurance to Russia and most of the world.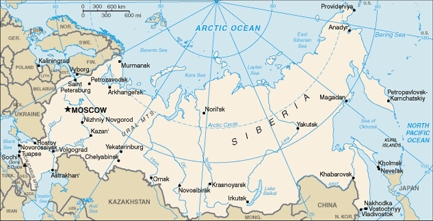 Geographic data
60 00 N, 100 00 E
Elevation Extremes
lowest point: Caspian Sea -28 m highest point: Gora El'brus 5,633 m
Land boundaries
total: 20,096.5 km border countries: Azerbaijan 284 km, Belarus 959 km, China (southeast) 3,605 km, China (south) 40 km, Estonia 294 km, Finland 1,340 km, Georgia 723 km, Kazakhstan 6,846 km, North Korea 19 km, Latvia 217 km, Lithuania (Kaliningrad Oblast) 280.5 km, Mongolia 3,485 km, Norway 196 km, Poland (Kaliningrad Oblast) 232 km, Ukraine 1,576 km
Natural hazards
permafrost over much of Siberia is a major impediment to development; volcanic activity in the Kuril Islands; volcanoes and earthquakes on the Kamchatka Peninsula; spring floods and summer/autumn forest fires throughout Siberia and parts of European Russia
Natural resources
wide natural resource base including major deposits of oil, natural gas, coal, and many strategic minerals, timber note: formidable obstacles of climate, terrain, and distance hinder exploitation of natural resources
Land use
arable land: 7.17% permanent crops: 0.11% other: 92.72% (2005)
Environmental current issues
air pollution from heavy industry, emissions of coal-fired electric plants, and transportation in major cities; industrial, municipal, and agricultural pollution of inland waterways and seacoasts; deforestation; soil erosion; soil contamination from improper application of agricultural chemicals; scattered areas of sometimes intense radioactive contamination; groundwater contamination from toxic waste; urban solid waste management; abandoned stocks of obsolete pesticides
Climate
Northern & Central European Russia: The most varied climate; mildest areas are along the Baltic coast. Summer sunshine may be nine hours a day, but winters can be very cold. Siberia: Very cold winters, but summers can be pleasant, although they tend to be short and wet. There is considerable seasonal temperature variation. Southern European Russia: Winter is shorter than in the north. Steppes (in the southeast) have hot, dry summers and very cold winters. The north and northeastern Black Sea has mild winters, but heavy rainfall all the year round.
Time difference
time difference: UTC+3 daylight saving time: +1hr, begins last Sunday in March; ends last Sunday in October note: Russia is divided into eleven time zones
Population
142,893,540 (July 2006 est.)
Age structure
0-14 years: 14.2% (male 10,441,151/female 9,921,102) 15-64 years: 71.3% (male 49,271,698/female 52,679,463) 65 years and over: 14.4% (male 6,500,814/female 14,079,312) (2006 est.)
Median age
total: 38.4 years male: 35.2 years female: 41.3 years (2006 est.)
Population growth rate
-0.37% (2006 est.)
Birth rate
9.95 births/1,000 population (2006 est.)
Death rate
14.65 deaths/1,000 population (2006 est.)
Net migration rate
1.03 migrant(s)/1,000 population (2006 est.)
Sex ratio
at birth: 1.06 male(s)/female under 15 years: 1.05 male(s)/female 15-64 years: 0.94 male(s)/female 65 years and over: 0.46 male(s)/female total population: 0.86 male(s)/female (2006 est.)
Life expectancy at birth
total population: 67.08 years male: 60.45 years female: 74.1 years (2006 est.)
Total fertility rate
1.28 children born/woman (2006 est.)
Business Practices
Business meetings are typically formal and Russian businessmen largely stick to numerous formalities. For example, to address a Russian by his first name, unless invited to do so, may be considered an insult. If the guest speaks Russian, they should be sure to use the vy (formal) form, not the ty (informal) form. Address Russians with their titles and their last names: "Chairman Mironov", "General Designer Medvedov". Many fledgling Russian entrepreneurs speak at least some English, but if business is outside of Moscow and St. Petersburg, or if you are dealing with large factories or institutes, it may be more difficult to find English speakers. At the end of a formal visit, Russians like to exchange gifts. Usually, a company manager may present a pin or pen with a company logo. The foreign visitor should also bring a small gift -- pens, pins, cups, or plates with company logos are probably the best. Office hours are 0900-1800 Monday to Friday.
Crime
Recent police statistics for Moscow report an overall decline in crime, though drug-related crimes, murders, and kidnappings have increased, and street crime, sometimes violent, remains a continuing problem. Nevertheless, crimes against foreigners is a problem, especially in major cities. Pickpocketings, assaults, and robberies occur frequently and at any time or place. The most vulnerable areas include underground walkways and the subway, overnight trains, train stations, airports, markets, tourist attractions, restaurants, hotel rooms, and residences, even when locked or occupied. Groups of children are known to assault and rob foreigners on city streets or underground walkways. Foreigners who have been drinking alcohol are especially vulnerable to assault and robbery in or around nightclubs or bars, or on their way home. Robberies may occur in taxis shared with strangers. Travelers have found it safer to travel in groups organized by reputable tour agencies. Thieves, known as 'banditry' in Russian also frequently target hotel rooms. The Ukraina hotel is the site of the most frequent reported crimes. The hotel administration has established a consistent pattern of allowing thieves free access and failing to cooperate in investigating complaints. One foreigner awoke on his first night in Moscow to find two thieves letting themselves into his room with a passkey. When they started to carry out his still packed luggage he confronted them and received a three-inch gash across his throat and two slit nostrils for his trouble. Instead of cooperating with the police, the hotel administration slandered the victim, saying he was entertaining prostitutes in his room. There have been sporadic attacks on foreigners by "skinhead" groups in some Russian urban centers. Many of these attacks appear to target university students, particularly those of Asian and African origin. Travelers are urged to exercise caution in areas frequented by "skinhead" groups and wherever large groups have gathered. Demonstrations occur frequently in Moscow and other cities. While these demonstrations have been peaceful and controlled, it is best to avoid such gatherings. Extortion and corruption are common in the business environment. Organized criminal groups target foreign businesses in many cities and have been known to demand protection money under threat of serious violence. Many Western firms hire security services, which have improved their overall security, although this is no guarantee. Small businesses are particularly vulnerable. Since the mid-1990's, several foreign business people have been attacked, kidnapped, and even killed. Extortion attempts should be reported to the Russian authorities and the businessperson's embassy or consulate. Business people who utilize local services for banking, security and medical treatment should limit the information provided to the minimum required, as reports have been received indicating that some individuals working in these sectors have passed confidential credit/financial, banking and medical information to organized crime gangs who use it to make extortion threats against foreigners.
Hotels
While tourist facilities exist in Moscow and some other large cities, they are not developed in most of Russia and many of the goods and services taken for granted in other countries are not yet available. Moscow, St. Petersburg, Novgorod, Samara, Sochi and Vladivostok have western-style hotels, though priced at a premium compared with other major cities of the world. Outside the major cities, traditional Russian hotels often provide fairly modest accommodations, again for surprisingly high prices. It is possible to find remarkably well- appointed hotels in relatively small communities; it is also possible to find yourself temporarily without water or electricity when visiting other regions of Russia. As previously discussed, we recommend against staying at the Ukraina as foreigners staying there have often been victims of hotel theft.
Communications
Telephone IDD is available. Country code: 7. When dialing the Russian Federation from abroad, the 0 of the area code must not be omitted. Outgoing international code: 810. The Russian telecommunications system suffers from a lack of installed lines, outmoded switching equipment, and inadequate revenues to finance investment. The Ministry of Communications is dedicated to bringing the telecommunications infrastructure up to international norms as quickly as possible, and many multinational firms are vying for the opportunity to help in this undertaking. Although telephones, fax machines, and package delivery are available in Russia, they are often unreliable, especially outside the major cities (Moscow, St. Petersburg, etc.) and lengthy delays in service are not uncommon. International calls should be made through the hotel desk. Most international calls made from the cities of Moscow, St Petersburg and Nizhny Novgorod can be dialed directly, but in smaller cities and towns it may be necessary to go through the international operator and these should be booked well in advance. Post office hours: 0900-1900.
Electricity
is 220 volts AC, 50Hz. Electricity 220 volts AC, 50Hz.
Plug Types
C,F
Food And Dining
The kind of food visitors will eat from day to day depends on which city they are visiting and the time of year. Breakfast is often similar to the Scandinavian, with cold meats, boiled eggs and bread served with Russian tea. For the midday and evening meal the food is often more traditional, again depending on the region.

National specialties:
? Kasha (porridge) is a staple breakfast dish, made with milk and oats, buckwheat or semolina.
? Blini (small pancakes filled with caviar, fish, melted butter or sour cream).
? Ponchiki (hot sugared doughnuts).
? Pirozhky (fried rolls with different fillings, usually meat).
? Borshch, a beetroot soup served hot with sour cream.
? Pelmeni (meat dumplings). Things to know: Drinks are ordered by grams or by the bottle. City-center bars close around midnight. National drinks:
? Chai (sweet tea served without milk).
? Vodka (often flavored and colored with herbs and spices such as zubrovka (a kind of grass), ryabinovka (steeped with rowan-tree berries), starka (dark, smooth, aged vodka) and pertsovka (with hot pepper). Posolskaya, Stolichnaya and Rossiskaya are popular brands.
? Krushon (cold 'punch'; champagne, brandy and summer fruit are poured into a hollowed watermelon and chilled for several hours).
? Nalivka (sweet liqueur made with fruit or berries).
? Nastoika is a fortified wine made of herbs, leaves, flowers, fruit and roots of plants with medicinal properties.

Tipping:
Hotels in Moscow and other large cities include a 10 to 15 per cent service charge. Otherwise 10 per cent is customary.

Nightlife
Theater, circus, concert and variety performances are the main evening entertainments. Tickets are available in advance or from ticket booths immediately before performances. Visitors should note that prices for foreigners are usually much higher than those paid by Russian nationals. The repertoire of theaters provides a change of program almost nightly. In the course of one month, 30 different productions may be presented by the Bolshoi Opera and Ballet Company. Details of performances can be obtained on arrival. Visitors should apply to the service bureau of their hotel. All of these establishments are open 0600-2200.
Entry departure requirements
Visa immigration information Passports Valid 10-year passport required by all. Note Whilst in the country, visitors must carry ID at all times. Rather than carry original documents, it is advisable to carry photocopies of passports and visas, which will facilitate replacement should either be stolen. Visas Required by all except the following, provided arriving from their country of origin: (a) nationals of CIS countries (except nationals of Georgia and Turkmenistan who do require visas); (b) nationals of Cuba for stays of up to 30 days; (c) nationals of Mongolia, provided visiting for purposes of business and holding letter of invitation and return tickets, or traveling as tourists and holding prepaid hotel vouchers; (d) transit passengers who are continuing their journey within 24 hours without leaving the transit area. Types of visa and cost Tourist, Business, Private and Transit: US$52 , if visa is processed in minimum eight working days. (Processing within three to five days costs US$103 ; next-day processing US$137 ; same-day processing US$155 ; processing within one hour US$206 ) An additional US$17 is payable for a double-entry visa. Multiple-entry: US$172 , standard six working days' processing (same-day processing costs US$258 ). Express: US$206 All French passport holders younger than 18 years pay half rate. Note (a) Nationals of some countries may have to pay a Consular fee in addition to the visa processing charges listed. Enquire at the Consulate or Consular section of Embassy for a list of nationals and prices. (b) Transit visas are required by all except passengers remaining in the transit zone of Moscow Sheremetievo airport for less than 24 hours. Validity Dependent on purpose of trip. Transit visas are valid for up to three days. Tourist visas are valid for up to one month. Private visas are valid for up to 90 days. Application to Consulate (or Consular section at Embassy); see Passport/Visa Information. Application requirements (a) Completed application form. (b) One recent passport-size photo stapled twice to upper-right corner of application form. (c) Passport valid for at least six months after visa expires, with at least two blank pages. (d) Fee, payable in cash only or postal orders for postal applications. (e) Postal applications must be accompanied by a large, pre-paid special delivery, self-addressed envelope. Tourist: (a)-(e) and, (f) Original tourist voucher (exchange order) issued by an authorized travel company stating their reference number, passenger names, dates of entry and exit, confirmation of payment, full itinerary, places to be visited, means of transportation and confirmation in Russian language. The voucher should be stamped and signed by an authorized person. (g) A standard tourist confirmation of acceptance (in the Russian language) issued by Russian tourist company or hotel accredited by the Ministry of Foreign Affairs in Russia, showing tourist reference number given by Russian Foreign Minister and names of applicants, full itinerary and dates of entry/exit. Private (for visiting relations or friends): (a)-(e) and, (f) Official original letter of invitation from Russian Ministry of Internal Affairs. Business: (a)-(e) and, (f) An official letter of invitation from company or organization in the Russian Federation responsible for visit, certified by the local branch of Russian Ministry of Internal Affairs. (g) An introductory letter from applicant's company stating purpose of visit, itinerary, dates of entry and exit, assuming financial responsibility for the visit and stating the companies to be visited. Transit: (a)-(d) and, (e) Original and copy of confirmed air ticket to and from the Russian Federation. Multiple-entry: (a)-(e) and, (f) Original and a copy of your confirmed air ticket to and from Russia. Note (a) Those who are traveling in groups (standard package tours, coach tours, international competitions and cruises) should submit all documentation to the tour operator making the travel arrangements. For visits to relatives/friends in the CIS, enquire at the Consulate for details of application procedures. (b) All travelers staying in the Russian Federation for longer than three days must register their visas through their hotel or sponsor. Private visitors must register with local police on arrival. For travel to Tajikistan, your invitation should be confirmed by the Ministry of Foreign Affairs of the Republic of Tajikistan. (c) French nationals should also have their previous three months' bank statements, medical insurance and a copy of their tickets. (d) German nationals and all other Schengen country nationals, plus holders of Israeli or Estonian passports, should have travel insurance valid in the Russian Federation. (e) USA passport holders are required to fill out a special visa application form. (f) Since February 2003, every foreign citizen is given a migration card free of charge when they cross the Russian border. They must fill in their personal data, terms, purpose of visit and prospective place of residence and present the card when applying for registration within three days of arrival. The migration cards must be handed back upon departure. Working days required One to 12, depending on type of visa. Postal applications take at least eight to 12 days to process. Applications for visas may not be made earlier than three months before departure. Visas should be submitted 0900-1200; visas submitted 1500-1600 will be charged at the Express Visa fee. Exit visas Exit visas are required by all passengers who want to leave the country and are normally issued together with the entry visa. If the exit permit has not yet been issued by the representative of the Russian Federation which issued the visa, aliens should obtain it two days prior to departure at the latest from the Intourist Service Bureau in their hotel. Temporary residence Enquire at Embassy.
HIV entry requirements
Test required for anyone staying longer than 3 months
Departure tax
None
Embassies
Embassy of the Russian Federation in the UK 13 Kensington Palace Gardens, London W8 4QX, UK
Tel: (020) 7229 2666.
Website: www.great-britain.mid.ru

Consular section:
5 Kensington Palace Gardens, London W8 4QS, UK
Tel: (020) 7229 8027.
Website: https://www.rusemb.org.uk/consular/
Opening hours: Mon-Fri 0900-1200 (visa submission), 1400-1800.
Embassy of the Russian Federation in the USA
2650 Wisconsin Avenue, NW, Washington, DC 20007, USA
Tel: (202) 298 5700.
Website: www.russianembassy.org

Consular section:
2641 Tunlaw Road, NW, Washington, DC 20007, USA
Tel: (202) 939 8907.

Russian National Group in the USA
224 West 30th Street, Suite 701, New York, NY 10001.
Tel: (646) 473 2233 or (877) 221 7120 (toll-free in USA).
Website: www.russia-travel.com

Because of the security situation in the North Caucasus, travelers are advised against all travel to Chechnya, Ingushetia, Dagestan and to the eastern and southern parts of Stavropol Krai that border Chechnya and Dagestan. Travelers are advised against all but essential travel to North Ossetia, Karachai-Cherkessia and Kabardino-Balkaria (including the Elbrus area). There is a high threat from terrorism in Russia, including suicide bombings in public places. Attacks have occurred most frequently in Moscow and in the North Caucasus. Travelers should be vigilant at all times and also watch out for pickpockets and street crime, especially in large cities and in busy areas, eg railway concourses.
This advice is based on information provided by the Foreign, Commonwealth & Development Office in the UK. It is correct at time of publishing. As the situation can change rapidly, visitors are advised to contact the following organisaions for the latest travel advice:

British Foreign, Commonwealth & Development Office
Website: https://www.gov.uk/foreign-travel-advice/russia

US Department of State
Website: https://travel.state.gov/content/travel/en/international-travel/International-Travel-Country-Information-Pages/RussianFederation.html
Currency
Rouble (RUB) = 100 kopeks. Notes are in denominations of RUB1000, 500, 100, 50 and 10. Coins are in denominations of RUB10, 5, 2 and 1, and 50, 10, 5 and 1 kopeks.
Currency restrictions
The import and export of local currency is prohibited. The import of foreign currency is US$10,000 but sums greater than $3000 (or equivalent) must be declared. The export of foreign currency is limited to the amount declared on arrival.
Banking hours
Mon-Fri 0930-1730.
Currency exchange
Foreign currency should only be exchanged at official bureaux and authorized banks, and all transactions must be recorded on the currency declaration form which is issued on arrival. It is wise to retain all exchange receipts. Bureaux de change are numerous and easy to locate. Large shops and hotels offer their own exchange facilities. US Dollars in pristine condition are the easiest currency to exchange. It is illegal to settle accounts in hard currency and to change money unofficially.
Credit cards
Major European and international credit and debit cards, including Visa and Mastercard, are accepted in the larger hotels and at foreign currency shops and restaurants, but cash (in Roubles) is preferred. American Express cards may be turned down, but cash (in Roubles) is preferred. Check with your credit or debit card company for details of merchant acceptability and other services that might be available. ATM machines are widely available.
Travellers cheques
Cash is preferred. To avoid additional exchange rate charges, travelers are advised to take traveller's cheques in US Dollars.
| City/Region | City/Area code | Followed by |
| --- | --- | --- |
| Abakan | (8)39022 | + 5 digit subscriber nr |
| Adigeya | (8)877 | + 7 digit subscriber nr |
| Altayskiy region | (8)385 | + 7 digit subscriber nr |
| Amur region | (8)416 | + 7 digit subscriber nr |
| Anadyr' | (8)4272 | + 6 digit subscriber nr |
| Arkhangelsk | (8)8182 | + 6 digit subscriber nr |
| Arkhangelsk region | (8)818 | + 7 digit subscriber nr |
| Astrakhan | (8)8512 | + 6 digit subscriber nr |
| Astrakhan region | (8)851 | + 7 digit subscriber nr |
| Barnaul | (8)3852 | + 6 digit subscriber nr |
| Bashkirskaya rep. | (8)347 | + 7 digit subscriber nr |
| Belgorod | (8)4722 | + 6 digit subscriber nr |
| Belgorod region | (8)472 | + 7 digit subscriber nr |
| Blagoveshensk | (8)4162 | + 6 digit subscriber nr |
| Bryansk | (8)4832 | + 6 digit subscriber nr |
| Bryansk region | (8)483 | + 7 digit subscriber nr |
| Buryatia region | (8)301 | + 7 digit subscriber nr |
| Cheboksary | (8)8352 | + 6 digit subscriber nr |
| Checheno-Ingushetia | (8)871 | + 7 digit subscriber nr |
| Chekhov | (8)49672 | + 5 digit subscriber nr |
| Chelyabinsk | (8)3512 | + 6 digit subscriber nr |
| Chelyabinsk region | (8)351 | + 7 digit subscriber nr |
| Cherepovets | (8)820 | + 7 digit subscriber nr |
| Chita region | (8)302 | + 7 digit subscriber nr |
| Chukotskyi region | (8)427 | + 7 digit subscriber nr |
| Chuvashija region | (8)835 | + 7 digit subscriber nr |
| Comm. networtk "Kalita" | (8)49630 | + 5 digit subscriber nr |
| Commer commun | (8)49649 | + 5 digit subscriber nr |
| Comy | (8)821 | + 7 digit subscriber nr |
| Dagestan | (8)872 | + 7 digit subscriber nr |
| Dmitrov | (8)49622 | + 5 digit subscriber nr |
| Domodedovo | (8)49679 | + 5 digit subscriber nr |
| Dubna | (8)49621 | + 5 digit subscriber nr |
| Egoryevsk | (8)49640 | + 5 digit subscriber nr |
| Ekaterinburg | (8)3432 | + 6 digit subscriber nr |
| Ekaterinburg region | (8)343 | + 7 digit subscriber nr |
| Elektrostal | (8)49657 | + 5 digit subscriber nr |
| Elista | (8)8472 | + 6 digit subscriber nr |
| Evreyskaya region | (8)426 | + 7 digit subscriber nr |
| Golitsino | (8)49633 | + 5 digit subscriber nr |
| Gorno-Altayskaya region | (8)388 | + 7 digit subscriber nr |
| Guandzha | (8)895 | + 7 digit subscriber nr |
| Ingushetia | (8)873 | + 7 digit subscriber nr |
| Irkutsk | (8)3952 | + 6 digit subscriber nr |
| Irkutsk region | (8)395 | + 7 digit subscriber nr |
| Istra | (8)49631 | + 5 digit subscriber nr |
| Ivanovo | (8)4932 | + 6 digit subscriber nr |
| Ivanovo region | (8)493 | + 7 digit subscriber nr |
| Izhevsk | (8)3412 | + 6 digit subscriber nr |
| Kabardino-Balkaria | (8)866 | + 7 digit subscriber nr |
| Kaliningrad | (8)4012 | + 6 digit subscriber nr |
| Kaliningrad region | (8)401 | + 7 digit subscriber nr |
| Kalmytskija region | (8)847 | + 7 digit subscriber nr |
| Kaluga | (8)4842 | + 6 digit subscriber nr |
| Kaluga region | (8)484 | + 7 digit subscriber nr |
| Kamchatka region | (8)415 | + 7 digit subscriber nr |
| Karachaevo-Cherkessia | (8)878 | + 7 digit subscriber nr |
| Karelskaya region | (8)814 | + 7 digit subscriber nr |
| Kashira | (8)49669 | + 5 digit subscriber nr |
| Kazan | (8)8432 | + 6 digit subscriber nr |
| Kemerovo | (8)3842 | + 6 digit subscriber nr |
| Kemerovo region | (8)384 | + 7 digit subscriber nr |
| Khabarovsk | (8)4212 | + 6 digit subscriber nr |
| Khabarovsk region | (8)421 | + 7 digit subscriber nr |
| Khakasskaya region | (8)390 | + 7 digit subscriber nr |
| Khanty-Mansiysk | (8)34671 | + 5 digit subscriber nr |
| Khanty-Mansiysky region | (8)346 | + 7 digit subscriber nr |
| Kirov | (8)8332 | + 6 digit subscriber nr |
| Kirov region | (8)833 | + 7 digit subscriber nr |
| Klimovsk | (8)49676 | + 5 digit subscriber nr |
| Klin | (8)49624 | + 5 digit subscriber nr |
| Kolomna | (8)49661 | + 5 digit subscriber nr |
| Komsomolsk-na-Amure | (8)42172 | + 5 digit subscriber nr |
| Kostroma | (8)4942 | + 6 digit subscriber nr |
| Kostroma region | (8)494 | + 7 digit subscriber nr |
| Krasnodar | (8)8612 | + 6 digit subscriber nr |
| Krasnodar region | (8)861 | + 7 digit subscriber nr |
| Krasnovodsk region | (8)432 | + 7 digit subscriber nr |
| Krasnoyarsk | (8)3912 | + 6 digit subscriber nr |
| Krasnoyarsk region | (8)391 | + 7 digit subscriber nr |
| Kulyab region | (8)431 | + 7 digit subscriber nr |
| Kurgan region | (8)352 | + 7 digit subscriber nr |
| Kurgan-Tyubinsk region | (8)433 | + 7 digit subscriber nr |
| Kursk | (8)4712 | + 6 digit subscriber nr |
| Kursk region | (8)471 | + 7 digit subscriber nr |
| Leningrad region | (8)813 | + 7 digit subscriber nr |
| Lipetsk | (8)4742 | + 6 digit subscriber nr |
| Lipetsk region | (8)474 | + 7 digit subscriber nr |
| Lotoshino | (8)49628 | + 5 digit subscriber nr |
| Lukhovitsy | (8)49663 | + 5 digit subscriber nr |
| Magadan | (8)4132 | + 6 digit subscriber nr |
| Magadan region | (8)413 | + 7 digit subscriber nr |
| Magnitogorsk | (8)3519 | + 6 digit subscriber nr |
| Makhachkala | (8)8722 | + 6 digit subscriber nr |
| Marriyskaya region | (8)836 | + 7 digit subscriber nr |
| Mary region | (8)370 | + 7 digit subscriber nr |
| MCC | (8)49690 | + 5 digit subscriber nr |
| Mirny (Yakutskiy region) | (8)41136 | + 5 digit subscriber nr |
| Mordovia region | (8)834 | + 7 digit subscriber nr |
| Moscow | (8)495 | + 7 digit subscriber nr |
| Moscow (region) | (8)499 | + 7 digit subscriber nr |
| Moscow (suburban) | (8)498 | + 7 digit subscriber nr |
| Moscow region | (8)496 | + 7 digit subscriber nr |
| Mozhaisk | (8)49638 | + 5 digit subscriber nr |
| Murmansk | (8)8152 | + 6 digit subscriber nr |
| Murmansk region | (8)815 | + 7 digit subscriber nr |
| Naberezhnye Chelny | (8)855 | + 7 digit subscriber nr |
| Nakhichevan | (8)891 | + 7 digit subscriber nr |
| Nakhodka | (8)42366 | + 5 digit subscriber nr |
| Naro-Fominsk | (8)49634 | + 5 digit subscriber nr |
| Navoi region | (8)436 | + 7 digit subscriber nr |
| Nerungi | (8)41147 | + 5 digit subscriber nr |
| Nizhnevartovsk | (8)3466 | + 6 digit subscriber nr |
| Nizhniy Novgorod | (8)8312 | + 6 digit subscriber nr |
| Nizhniy Novgorod region | (8)831 | + 7 digit subscriber nr |
| Nizhniy Tagil | (8)3435 | + 6 digit subscriber nr |
| Noginsk | (8)49651 | + 5 digit subscriber nr |
| Novgorod region | (8)816 | + 7 digit subscriber nr |
| Novgorod Velikiy | (8)8162 | + 6 digit subscriber nr |
| Novocherkassk | (8)86352 | + 5 digit subscriber nr |
| Novokuznetsk | (8)3843 | + 6 digit subscriber nr |
| Novorossiysk | (8)8617 | + 6 digit subscriber nr |
| Novosibirsk | (8)3832 | + 6 digit subscriber nr |
| Novosibirsk region | (8)383 | + 7 digit subscriber nr |
| Omsk | (8)3812 | + 6 digit subscriber nr |
| Omsk region | (8)381 | + 7 digit subscriber nr |
| Orekhovo-Zuevo | (8)49642 | + 5 digit subscriber nr |
| Orel | (8)4862 | + 6 digit subscriber nr |
| Orel region | (8)486 | + 7 digit subscriber nr |
| Orenburg | (8)3532 | + 6 digit subscriber nr |
| Orenburg region | (8)353 | + 7 digit subscriber nr |
| Ozyory | (8)49670 | + 5 digit subscriber nr |
| Pavlovskiy-Posad | (8)49643 | + 5 digit subscriber nr |
| Penza | (8)8412 | + 6 digit subscriber nr |
| Penza region | (8)841 | + 7 digit subscriber nr |
| Perm' | (8)3422 | + 6 digit subscriber nr |
| Perm' region | (8)342 | + 7 digit subscriber nr |
| Petropavlovsk-Kamchatskiy | (8)4152 | + 6 digit subscriber nr |
| Petrozavodsk | (8)8142 | + 6 digit subscriber nr |
| Podolsk | (8)49675 | + 5 digit subscriber nr |
| Primorsky region | (8)423 | + 7 digit subscriber nr |
| Pskov | (8)8112 | + 6 digit subscriber nr |
| Pskov region | (8)811 | + 7 digit subscriber nr |
| Pushkino | (8)49653 | + 5 digit subscriber nr |
| Pyatigorsk | (8)879 | + 7 digit subscriber nr |
| Ramenskoe | (8)49646 | + 5 digit subscriber nr |
| Rostov -on-Don | (8)8632 | + 6 digit subscriber nr |
| Rostov region | (8)863 | + 7 digit subscriber nr |
| Ruza | (8)49627 | + 5 digit subscriber nr |
| Ryazan' | (8)4912 | + 6 digit subscriber nr |
| Ryazan' region | (8)491 | + 7 digit subscriber nr |
| Rybinsk | (8)4855 | + 6 digit subscriber nr |
| Sakhalin region | (8)424 | + 7 digit subscriber nr |
| Samara | (8)8462 | + 6 digit subscriber nr |
| Samara region | (8)846 | + 7 digit subscriber nr |
| Saratov | (8)8452 | + 6 digit subscriber nr |
| Saratov region | (8)845 | + 7 digit subscriber nr |
| Schyolkovo | (8)49656 | + 5 digit subscriber nr |
| Serebryanye Prudy | (8)49667 | + 5 digit subscriber nr |
| Sergiev Posad | (8)49654 | + 5 digit subscriber nr |
| Serpukhov | (8)49677 | + 5 digit subscriber nr |
| Severnaya Osetia | (8)867 | + 7 digit subscriber nr |
| Severodvinsk | (8)81842 | + 5 digit subscriber nr |
| Shakhovsk region | (8)49637 | + 5 digit subscriber nr |
| Shatura | (8)49645 | + 5 digit subscriber nr |
| Smolensk | (8)4812 | + 6 digit subscriber nr |
| Smolensk region | (8)481 | + 7 digit subscriber nr |
| Sochy | (8)862 | + 7 digit subscriber nr |
| Solnechnogorsk | (8)49626 | + 5 digit subscriber nr |
| St Petersburg | (8)812 | + 7 digit subscriber nr |
| Stavropol | (8)8652 | + 6 digit subscriber nr |
| Stavropol region | (8)865 | + 7 digit subscriber nr |
| Stupino | (8)49664 | + 5 digit subscriber nr |
| Surgut | (8)3462 | + 6 digit subscriber nr |
| Syktyvkar | (8)8212 | + 6 digit subscriber nr |
| Taldom | (8)49620 | + 5 digit subscriber nr |
| Tambov | (8)4752 | + 6 digit subscriber nr |
| Tambov region | (8)475 | + 7 digit subscriber nr |
| Tatarstan | (8)843 | + 7 digit subscriber nr |
| Tchernogolovka | (8)49652 | + 5 digit subscriber nr |
| Tolyatty | (8)8482 | + 6 digit subscriber nr |
| Tolyatty region | (8)848 | + 7 digit subscriber nr |
| Tomsk | (8)3822 | + 6 digit subscriber nr |
| Tomsk region | (8)382 | + 7 digit subscriber nr |
| Tula | (8)4872 | + 6 digit subscriber nr |
| Tula region | (8)487 | + 7 digit subscriber nr |
| Tumen | (8)3452 | + 6 digit subscriber nr |
| Tumen region | (8)349 | + 7 digit subscriber nr |
| Tuva region | (8)394 | + 7 digit subscriber nr |
| Tver | (8)4822 | + 6 digit subscriber nr |
| Tver region | (8)482 | + 7 digit subscriber nr |
| Tynda | (8)41656 | + 5 digit subscriber nr |
| Tyumen region | (8)345 | + 7 digit subscriber nr |
| Udmurtija | (8)341 | + 7 digit subscriber nr |
| Ufa | (8)3472 | + 6 digit subscriber nr |
| Ulianovsk | (8)8422 | + 6 digit subscriber nr |
| Ulyanovsk region | (8)842 | + 7 digit subscriber nr |
| Ussuriysk | (8)42341 | + 5 digit subscriber nr |
| Uzhno-Sakhalinsk | (8)4242 | + 6 digit subscriber nr |
| Vladimir | (8)4922 | + 6 digit subscriber nr |
| Vladimir region | (8)492 | + 7 digit subscriber nr |
| Vladivostok | (8)4232 | + 6 digit subscriber nr |
| Volgograd | (8)8442 | + 6 digit subscriber nr |
| Volgograd region | (8)844 | + 7 digit subscriber nr |
| Vologda | (8)8172 | + 6 digit subscriber nr |
| Vologda region | (8)817 | + 7 digit subscriber nr |
| Volokolamsk | (8)49636 | + 5 digit subscriber nr |
| Voronezh | (8)4732 | + 6 digit subscriber nr |
| Voronezh region | (8)473 | + 7 digit subscriber nr |
| Voskresensk | (8)49644 | + 5 digit subscriber nr |
| Yakutsk | (8)4112 | + 6 digit subscriber nr |
| Yakutsk region | (8)411 | + 7 digit subscriber nr |
| Yaroslavl' | (8)4852 | + 6 digit subscriber nr |
| Yaroslavl' region | (8)485 | + 7 digit subscriber nr |
| Yuzhnaya Osetia | (8)884 | + 7 digit subscriber nr |
| Zaraysk | (8)49666 | + 5 digit subscriber nr |
| Zheleznogorsk-Ilimsky | (8)39566 | + 5 digit subscriber nr |
| Zhukovsky | (8)49648 | + 5 digit subscriber nr |
| Zvenigorod | (8)49632 | + 5 digit subscriber nr |