Quick Facts
Region: Africa
Full Name: Department of Reunion
Capital City: Saint-Denis
Language Spoken: N/A
Reunion Travel Insurance
Get travel insurance to Reunion from Direct Travel Insurance. We offer low cost and high quality travel insurance to Reunion and most of the world.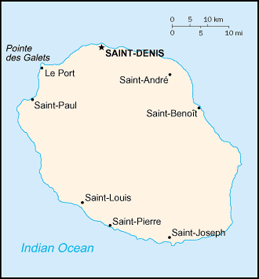 Geographic data
21 06 S, 55 36 E
Elevation Extremes
lowest point: Indian Ocean 0 m highest point: Piton des Neiges 3,069 m
Land boundaries
0 km
Natural hazards
periodic, devastating cyclones (December to April); Piton de la Fournaise on the southeastern coast is an active volcano
Natural resources
fish, arable land, hydropower
Land use
arable land: 13.94% permanent crops: 1.59% other: 84.47% (2005)
Environmental current issues
NA
Climate
tropical, but temperature moderates with elevation; cool and dry (May to November), hot and rainy (November to April)
Time difference
time difference: UTC+4
Population
787,584 (July 2006 est.)
Age structure
Median age
total: 26.9 years male: 25.7 years female: 28.1 years (2006 est.)
Population growth rate
1.34% (2006 est.)
Birth rate
18.9 births/1,000 population (2006 est.)
Death rate
5.49 deaths/1,000 population (2006 est.)
Net migration rate
0 migrant(s)/1,000 population (2006 est.)
Sex ratio
Life expectancy at birth
total population: 74.18 years male: 70.78 years female: 77.75 years (2006 est.)
Total fertility rate
2.45 children born/woman (2006 est.)
Business Practices
The atmosphere is relaxed and friendly; suits will only be required for the most formal of meetings. A sound knowledge of the French language will be useful, since there are no formal interpreter services available. Prices should be quoted in French Francs or Euros, and trade literature in French is generally better recieved. Office hours: Mon-Fri 0800-1200 and 1400-1800. St-Denis shuts down on Sunday, when half the city goes to the beach.
Crime
While violent crimes are rare in Reunion, pickpocketing and other petty crimes do occur. High unemployment, increasing tourism and inequities in the distribution of wealth have created conditions for a steady increase in the crime rate. Police response is generally good.
Hotels
There is a good range of hotels and inns in Reunion. Prices are high (and plumbing somewhat basic), but the food is often excellent. The majority of the lodgings are found on the West coast (St Gilles) and the South (Saint Pierre) with the main being St Denis.
Communications
Telephone international direct dialing (IDD) is available. The country code is 262. There are no area or city codes. The outgoing international code is 19. Mobile telephones are on the GSM 900/1800 network. Network operators include France Telecom (website www.ftm-run.com). Most large hotels have facilities for fax services. Cyber caf?s are located in towns throughout Reunion and provide public access to e-mail and Internet services. Airmail to Western Europe takes up to three weeks.
Electricity
is at 220 volts AC, 50Hz. Electricity
Plug Types
E
Food And Dining
| City/Region | City/Area code | Followed by |
| --- | --- | --- |
| R?union | 262 | + 6 digits |