Quick Facts
Region: Europe
Full Name: Romania
Capital City: Bucharest
Language Spoken: Romanian (official), Hungarian, German
Romania Travel Insurance
Get travel insurance to Romania from Direct Travel Insurance. We offer low cost and high quality travel insurance to Romania and most of the world.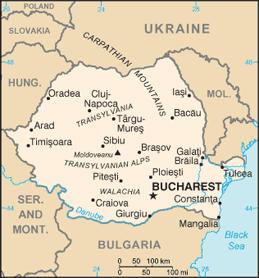 Geographic data
46 00 N, 25 00 E
Elevation Extremes
lowest point: Black Sea 0 m highest point: Moldoveanu 2,544 m
Land boundaries
total: 2,508 km border countries: Bulgaria 608 km, Hungary 443 km, Moldova 450 km, Serbia 476 km, Ukraine (north) 362 km, Ukraine (east) 169 km
Natural hazards
earthquakes, most severe in south and southwest; geologic structure and climate promote landslides
Natural resources
petroleum (reserves declining), timber, natural gas, coal, iron ore, salt, arable land, hydropower
Land use
arable land: 39.49% permanent crops: 1.92% other: 58.59% (2005)
Environmental current issues
soil erosion and degradation; water pollution; air pollution in south from industrial effluents; contamination of Danube delta wetlands
Climate
Summer temperatures are moderated on the coast by sea breezes while inland at sea level it is hot. Winters are coldest in the Carpathian Mountains where there is snow from December through to April. Snow also falls throughout most of the country. Winters are mildest on the coast. Required clothing Lightweights are worn in summer on the coast and in low inland areas. Warmer clothes are needed in winter and throughout the year in the uplands. Rainwear is recommended throughout the year.
Time difference
time difference: UTC+2 daylight saving time: +1hr, begins last Sunday in March; ends last Sunday in October
Population
22,303,552 (July 2006 est.)
Age structure
0-14 years: 15.7% (male 1,799,072/female 1,708,030) 15-64 years: 69.6% (male 7,724,368/female 7,797,065) 65 years and over: 14.7% (male 1,347,392/female 1,927,625) (2006 est.)
Median age
total: 36.6 years male: 35.3 years female: 37.9 years (2006 est.)
Population growth rate
-0.12% (2006 est.)
Birth rate
10.7 births/1,000 population (2006 est.)
Death rate
11.77 deaths/1,000 population (2006 est.)
Net migration rate
-0.13 migrant(s)/1,000 population (2006 est.)
Sex ratio
at birth: 1.06 male(s)/female under 15 years: 1.05 male(s)/female 15-64 years: 0.99 male(s)/female 65 years and over: 0.7 male(s)/female total population: 0.95 male(s)/female (2006 est.)
Life expectancy at birth
total population: 71.63 years male: 68.14 years female: 75.34 years (2006 est.)
Total fertility rate
1.37 children born/woman (2006 est.)
Business Practices
A suit is essential at all business meetings and only on very hot days are shirt-sleeves acceptable. English, German and French are used in business circles. Appointments are necessary and punctuality expected. Shaking hands is the normal form of greeting. It is important to take business cards to meetings and to give a card to each person present. Office hours are 0700-1530 Monday to Friday.
Crime
Maintain at least the same level of personal security awareness as in the UK or the USA. Be alert to the risk of petty theft in large towns, especially in Bucharest, and for pickpockets and bag snatchers in crowded areas, particularly near exchange shops, hotels, on public transport (especially to the airport), main railway stations and inside airport areas. Corruption is widespread. There have been reports of policemen stopping foreign cars and demanding payment of fines in hard currency for spurious offences. Bogus policemen may also approach pedestrians and ask to check their documents as a way of stealing cash. If approached in this way, you should decline to pay any fine or hand over any documents but offer instead to go with them to the nearest police station. There are reports of thefts of valuables, including passports, from hotel rooms. Items of value, including passports and credit cards should be deposited in hotel safes. Carry a photocopy of the information pages of your passport as ID. There are reports of credit or charge cards being "copied" when used in some bars and restaurants, resulting in illegal charges being raised against the user account.
Hotels
Romania offers a wide variety of hotels and long-term living accommodations that can be reserved through international travel agents or by direct contact. Payment for accommodation, meals, and other services can be in lei, convertible currency, travelers' cheques, or by major credit cards. Most foreign currencies (pounds, dollars, marks, etc.) are easily exchanged and very widely accepted as a payment medium. It is advisable to reserve hotel accommodations before arriving in Romania, especially during peak periods.
Communications
Telephone IDD service is available. The country code is 40. Most outgoing calls are made through the operator ? dial 991 for internal collect calls and 971 for international operator assistance. The outgoing international code is 00. Local telephone service is automatic and fairly dependable. International telephone and telegraph connections are generally good, but delays may occur in placing calls, and they are quite expensive, with price per minute rising with the length of the call. Fax facilities are available at most large hotels. Post offices are open daily, including Saturday mornings.
Electricity
is 220 volts AC, 50Hz. Plugs are of the 2-pin type. Electricity 220 volts AC, 50Hz. Plugs are of the two-pin type.
Plug Types
C,F
Food And Dining
The Romanians excel in full-bodied soups, some of the best being cream of mushroom, chicken, beef, vegetable and bean soup. Sour cream or eggs are also added to soups. Breakfasts almost always include eggs, either soft-boiled, hard-boiled, fried or scrambled. Omelettes, filled with either cheese, ham or mushrooms, are also frequently served. Vegetarians may have difficulties, as most local specialties are meat-based. Although there are inexpensive self-service snack bars, table service is the norm.

National specialties:
? Soups: Ciorba de perisoare (soup with meatballs), ciorba t?r?neasc? (vegetable soup with meat and rice balls served with sour cream), giblet soup and a variety of fish soups.
? Moldavian parjoale (flat meat patties, highly spiced and served with garnishes).
? Mamaliga (a staple of mashed cornmeal).
? Nisetru la gratar (grilled Black Sea sturgeon).
? Pasca (a sweet cheesecake). National drinks:
? Tuic? (plum brandy) and Tuic? de Bihor (strong brandy, generally known as palinca).
? Wines: Pinot Noir, Cabernet Sauvignon, Riesling, Pinot Gris and Chardonnay from the Murfatlar vineyards. Grasa and Feteasa from Moldavia's Cotnari vineyards.
? Sparkling wines.
? Gl?hwein (mulled wine). There are no licensing hours, but the legal age for drinking in a bar is 18.

Tipping:
A five to 10 per cent service tip is customary in restaurants. Porters, chambermaids and taxi drivers expect tips.

Nightlife
Bucharest has a growing number of discos and nightclubs with entertainment and live dancing. Restaurants at most major hotels double as nightclubs and there are also several Parisian-style cafes. Two casinos operate in the Calea Victoriei. Opera is performed at the Romanian Opera House and the Romanian Athenaeum has two symphony orchestras. Folk entertainment is performed at the Rapsodia Romana Artistic Ensemble Hall and there are a number of theaters.
Entry departure requirements
* Please see visa section
Visa immigration information
Passports
Passport valid for a minimum of six months after return from Romania required by all with at least one blank page.
Visas
Required by all except the following:
(a) 1. nationals mentioned in the chart above for up to 90 days, except nationals of Czech Republic, Poland and Slovak Republic who can stay for up to 30 days; and all nationals of Australia who do require a visa;
(b) nationals of Andorra, Costa Rica, Iceland, Korea (Rep), Liechtenstein, Malaysia, Monaco, Republic of Moldova, Norway, San Marino, Switzerland and Venezuela for stays of up to 90 days within six months of date of arrival;
(c) nationals of Uruguay for stays of up to 90 days within 12 months of arrival;
(d) nationals of Bulgaria, Croatia and Singapore for stays of up to 30 days;
(e) transit passengers continuing their journey by the same or first connecting aircraft within 24 hours provided holding valid onward or return documentation and not leaving the airport except for nationals of Afghanistan, Bangladesh, Congo (Dem Rep), Eritrea, Ethiopia, Ghana, India, Iran, Iraq, Nigeria, Pakistan, Somalia and Sri Lanka who always require transit visas.
Note: All other nationals require a visa which must be applied for prior to arrival. There are no visas issued on arrival.
Special requirements
Nationals of the following need an official notarized invitation from a company or individual in Romania, which may be faxed by the Embassy to the Romanian Passport General Directorate or any of the Romania County Passport Authorities for approval (allow at least 30 days):
Afghanistan, Albania, Algeria, Angola, Armenia, Azerbaidjan, Bangladesh, Belarus, Benin, Bhutan, Burkina Faso, Burundi, Cambodia, Cameroon, Cape Verde, Central African Republic, China (PR), Chad, CIS (except Moldova, Russian Federation and Ukraine), Comoros, Congo (Dem Rep), Congo (Rep), C?te d'Ivoire, Cuba, Djibouti, Dominican Republic, Egypt, Equatorial Guinea, Eritrea, Ethiopia, Fiji, Gabon, The Gambia, Georgia, Ghana, Guinea, Guinea-Bissau, Guyana, Haiti, India, Iran, Iraq, Jordan, Kazakhstan, Kenya, Kirgizstan, Korea (Dem Rep), Laos, Lebanon, Liberia, Libya, Madagascar, Maldives, Mali, Mauritania, Mauritius, Mongolia, Morocco, Mozambique, Myanmar, Nepal, Niger, Nigeria, Pakistan, Palestine, Papua New Guinea, Peru, The Philippines, Rwanda, S?o Tom? e Pr?ncipe, Senegal, Sierra Leone, Somalia, Sri Lanka, Sudan, Surinam, The Syrian Arab Republic, Tanzania, Togo, Tunisia, Turkmenistan, Uganda, Uzbekistan, Vietnam, Yemen and Zambia (if these nationals are married to Romanian nationals the relevant certificate should be produced).
Note
Nationals of EU member states, Iceland, Liechtenstein, Norway and Switzerland can extend their stay in Romania by submitting an application to the Romanian authorities 30 days before their initial right to stay expires.
Types of visa and cost
Single-entry: US$60 (business, conference and family visits or individual tourist). Transit: US$46 (single-entry); US$60 (double-entry). Multiple-entry: US$103 valid for six months and not renewable. An additional fee of US$12 is charged for each person included in the passport if traveling with the owner.
Note
Multiple-entry visas will not be issued to nationals listed under Special Requirements above, even if the purpose of their visit is for business.
Validity
Single-entry: Six months from date of issue for stays of up to 90 days. Multiple-entry: Six months from date of issue for stays of up to 90 days each visit. Transit: Five days maximum (for both single- and double-entry).
Application to
Consulate (or Consular section at Embassy); see Passport/Visa Information. Applicants for multiple-entry business visas must apply in their own country.
Application requirements
(a) Passport valid for at least six months after visa expires with a blank page to affix visa stamp. (b) One completed application form. (c) Two recent passport-size photos. (d) Fee (paid in cash or by postal order only). (e) Postal applications should be accompanied by a registered, self-addressed envelope. (f) Medical Insurance. (g) Proof of financial means in amount of $100 per day or the equivalent value in convertible currency for the entire period of time. Tourist (a)-(g) and, (h) Letter from travel agent or a hotel booking in Romania. Business: (a)-(g) and, (h) Letter from employer and invitation from company in Romania. Student: (a)-(g) and, (h) Evidence of enrollment on course. Transit: (a)-(g) and, (h) Ticket for onward travel with visa if required.
Note
All nationals are advised to check with the Romanian Consulate prior to departure to obtain current details of any further documentation which might be required.
Working days required
Visas take up to a maximum of 30 days to be issued, depending on type of visa and nationality. Travelers are advised to apply for a visa at least a month in advance.
Temporary residence
Enquire at Embassy.
HIV entry requirements
No Test Required
Departure tax
None
Embassies
Embassy of Romania in the UK
Arundel House, 4 Palace Green, London W8 4QD, UK
Tel: (020) 7937 9666/7.
Opening hours: Mon-Fri 0900-1700; Mon-Thurs 1000-1300 (visa section).
Website: http://londra.mae.ro/en
Embassy of Romania in the USA
1607 23rd Street, NW, Washington, DC 20008, USA
Tel: (202) 332 4846/8.
Website: http://washington.mae.ro/en
Travel Warnings
Most visits to Romania are trouble-free but you should be aware of the global risk of indiscriminate international terrorist attacks, which could be against civilian targets, including places frequented by foreigners.
Beware of pickpockets and other petty thieves in crowded areas.
This advice is based on information provided by the Foreign, Commonwealth & Development Office in the UK. It is correct at time of publishing. As the situation can change rapidly, visitors are advised to contact the following organizations for the latest travel advice.
British Foreign, Commonwealth & Development Office
Website: https://www.gov.uk/foreign-travel-advice/romania
US Department of State
Website: https://travel.state.gov/content/travel/en/international-travel/International-Travel-Country-Information-Pages/Romania.html
Currency
Leu (plural Lei) = 100 bani; Old notes are in denominations of Lei1,000,000, 500,000, 100,000, 50,000 and 10,000. Old coins are in denominations of Lei5000, 1000, 500, 100 and 1. New notes are in denominations of Lei500, 100, 50, 10, 5 and 1. New coins are in denominations of Bani: 50, 10, 5 and 1. Note: As of 1 July 2005, Romania's legal tender, previously coded as ROL, has been redenominated so that ROL 10,000 are exchanged for 1 new Leu (RON). The old Leu will be legal tender until the end of December 2006.
Currency restrictions
The import of local currency is prohibited (unless in possession of a special license); the export of local currency is prohibited. The import of foreign currency is limited to $10,000; the export of foreign currency is limited to the amount imported.
Banking hours
Mon-Fri 0900-1300.
Currency exchange
It is recommended that visitors bring hard currency, particularly US Dollars, as this can be easily and even eagerly exchanged by shops, restaurants and hotels. Sterling can be easily exchanged in most resorts. All hard foreign currencies can be exchanged at banks, larger hotels and airports and at authorized exchange offices (Birou de Schimb Valutar). Rates can vary from one place to another, so visitors are advised to shop around for the best rate of exchange. Exchanges on the black market are made frequently, but visitors are advised to exchange money through proper exchange channels and to receive a currency exchange receipt, as certain services require visitors to show the receipt as proof of having made at least one financial transaction. ATMs (bancomat) accepting MasterCard and Visa can be found in main banks, airports and shopping centers but should not be relied upon as a sole source of cash.
Credit cards
American Express, Diners Club, MasterCard and Visa are accepted by large hotels, car hire firms and some restaurants and shops. Check with your credit or debit card company for details of merchant acceptability and other services which may be available.
Travellers cheques
Like credit and debit cards, these are usually only useful in hotels and for obtaining cash at the bank or selected exchange offices. To avoid additional exchange rate charges, travelers are advised to take traveller's cheques in US Dollars or Euros.
| City/Region | City/Area code | Followed by |
| --- | --- | --- |
| Adjud | (0)337 | + 6 digit subscriber nr |
| Alba | (0)358 | + 6 digit subscriber nr |
| Amara | (0)343 | + 6 digit subscriber nr |
| Arad | (0)357 | + 6 digit subscriber nr |
| Arges | (0)348 | + 6 digit subscriber nr |
| Bacau | (0)334 | + 6 digit subscriber nr |
| Bihor | (0)359 | + 6 digit subscriber nr |
| Bistrita | (0)363 | + 6 digit subscriber nr |
| Botosani | (0)331 | + 6 digit subscriber nr |
| Braila | (0)339 | + 6 digit subscriber nr |
| Brasov | (0)368 | + 6 digit subscriber nr |
| Bucuresti (Bucharest) | (0)31 | + 7 digit subscriber nr |
| Buzau | (0)338 | + 6 digit subscriber nr |
| Calarasi | (0)342 | + 6 digit subscriber nr |
| Caras - Severin | (0)355 | + 6 digit subscriber nr |
| Cluj | (0)364 | + 6 digit subscriber nr |
| Constanta | (0)341 | + 6 digit subscriber nr |
| Covasna | (0)367 | + 6 digit subscriber nr |
| Dambovita | (0)345 | + 6 digit subscriber nr |
| Dolj | (0)351 | + 6 digit subscriber nr |
| Galati | (0)336 | + 6 digit subscriber nr |
| Giurgiu | (0)346 | + 6 digit subscriber nr |
| Gorj | (0)353 | + 6 digit subscriber nr |
| Harghita | (0)366 | + 6 digit subscriber nr |
| Hunedoara | (0)354 | + 6 digit subscriber nr |
| Iasi | (0)332 | + 6 digit subscriber nr |
| Manastirea Neamt | (0)333 | + 6 digit subscriber nr |
| Maramures | (0)362 | + 6 digit subscriber nr |
| Mehedinti | (0)352 | + 6 digit subscriber nr |
| Mures | (0)365 | + 6 digit subscriber nr |
| Olt | (0)349 | + 6 digit subscriber nr |
| Prahova | (0)344 | + 6 digit subscriber nr |
| Salaj | (0)360 | + 6 digit subscriber nr |
| Satu Mare | (0)361 | + 6 digit subscriber nr |
| Sibiu | (0)369 | + 6 digit subscriber nr |
| Suceava | (0)330 | + 6 digit subscriber nr |
| Teleorman | (0)347 | + 6 digit subscriber nr |
| Timis | (0)356 | + 6 digit subscriber nr |
| Tulcea | (0)340 | + 6 digit subscriber nr |
| Valcea | (0)350 | + 6 digit subscriber nr |
| Vaslui | (0)335 | + 6 digit subscriber nr |