Quick Facts
Region: North & Central America & the Caribbean
Full Name: Dominican Republic
Capital City: Santo Domingo
Language Spoken: Spanish
Dominican Republic Travel Insurance
Get travel insurance to Dominican Republic from Direct Travel Insurance. We offer low cost and high quality travel insurance to Dominican Republic and most of the world.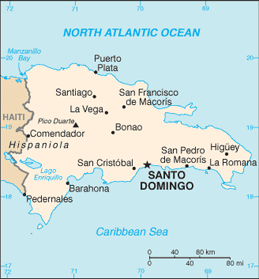 Geographic data
19 00 N, 70 40 W
Elevation Extremes
lowest point: Lago Enriquillo -46 m highest point: Pico Duarte 3,175 m
Land boundaries
total: 360 km border countries: Haiti 360 km
Natural hazards
lies in the middle of the hurricane belt and subject to severe storms from June to October; occasional flooding; periodic droughts
Natural resources
nickel, bauxite, gold, silver
Land use
arable land: 22.49% permanent crops: 10.26% other: 67.25% (2005)
Environmental current issues
water shortages; soil eroding into the sea damages coral reefs; deforestation
Climate
Hot with tropical temperatures all year with coastal areas being warmer than central regions. There are two rainy seasons; the first is from May to August and is the heaviest, whilst the second from November to December is the lightest. Hurricanes may sometimes occur during these periods.
Time difference
time difference: UTC-4
Population
9,183,984 (July 2006 est.)
Age structure
0-14 years: 32.6% (male 1,531,145/female 1,464,076) 15-64 years: 61.9% (male 2,902,098/female 2,782,608) 65 years and over: 5.5% (male 235,016/female 269,041) (2006 est.)
Median age
total: 24.1 years male: 24 years female: 24.3 years (2006 est.)
Population growth rate
1.47% (2006 est.)
Birth rate
23.22 births/1,000 population (2006 est.)
Death rate
5.73 deaths/1,000 population (2006 est.)
Net migration rate
-2.79 migrant(s)/1,000 population (2006 est.)
Sex ratio
at birth: 1.05 male(s)/female under 15 years: 1.05 male(s)/female 15-64 years: 1.04 male(s)/female 65 years and over: 0.87 male(s)/female total population: 1.03 male(s)/female (2006 est.)
Life expectancy at birth
total population: 71.73 years male: 70.21 years female: 73.33 years (2006 est.)
Total fertility rate
2.83 children born/woman (2006 est.)
Business Practices
It is usual for business people to dress smartly and to deal formally with each other at first, although the general atmosphere is informal. . Most Dominican businesspeople speak English, but communication in Spanish is desirable. Business appointments are generally required, but punctuality is not a consistent part of Dominican business practices. Business cards are exchanged. Office hours are 0830-1200 and 1400-1800 Monday to Friday. Government office hours are 0730-1430 Monday to Friday.
Crime
Power outages occur frequently throughout the Dominican Republic, and travelers should remain alert during blackout periods, as opportunistic crime is a concern at these times. Street crime involving tourists does occur, and precautions should be taken to avoid becoming a target. While pickpocketing and mugging are the most common crimes against tourists, reports of violent crime against both foreigners and locals are growing. Criminals are becoming increasingly more dangerous and visitors walking the streets should always be aware of their surroundings. Valuables left unattended in parked automobiles, on beaches and in other public places are vulnerable to theft, and reports of car theft have increased. Cellular telephones should be carried in a pocket rather than on a belt or in a purse. One common method of street robbery is for a person or persons on a moped (often coasting with the engine turned off so as not to draw attention) to approach a pedestrian, grab his or her cell phone, purse or backpack, and then speed away. This type of robbery is particularly dangerous because the motorcyclist reaches the intended victim at 15?20 miles per hour and often knocks the person to the ground. If the thief is attempting to steal a backpack or purse, the straps ? still connected to the victim ? can result in the person being dragged, scraped, bruised or worse. Since early 2004, the U.S. Embassy has received a growing number of reports from U.S. citizens who have been stopped while driving and asked for ?donations? before they would be allowed to continue on their way. Usually, the person(s) stopping the travelers had approached from behind on a motorcycle; several of these motorcyclists pulled up alongside the driver's window and indicated that they were carrying a firearm. In some cases, the perpetrators were dressed in the light green uniform of ?AMET,? the Dominican traffic police; however, they often seemed too young to be police officers or wore ill-fitting uniforms that might have been stolen. While everyone driving in the Dominican Republic should abide by traffic laws and the instructions of legitimate authorities, travelers finding themselves in this sort of scenario should exercise caution. If the Dominican police stop an expatriate driver for a traffic violation, the driver should request a traffic ticket rather than paying an on-the-spot fine. In general, drivers should keep their doors locked and windows closed at all times and leave themselves an escape route when stopping in traffic in the event of an accident or other threat. Avoid ?carros publicos.? These are privately owned vehicles that run along certain routes, can take up to six or more passengers, and are inexpensive. Passengers in ?carros publicos? are frequently the victims of pickpocketing, and passengers have on occasion been robbed by ?carro publico? drivers. There have also been incidents in which the driver of a ?motoconcho? (motorcycle taxi) robbed an expatriate passenger. If possible, use only hotel taxis or taxis operated by services whose cabs are arranged in advance by phone and can subsequently be identified and tracked. Burglaries of private residences have increased, as has violent crime. Home invasions have become more frequent and increasingly violent. There have been at least three cases since June 2003 in which U.S. citizens were kidnapped and held for ransom. In cases of kidnapping and home invasions, however, it appears that the targets were not selected due to their nationality. Credit card fraud is common. Visitors should limit their use of personal credit cards and may wish to consider coordinating their trip with their credit card company so that only specified expenses such as hotel bills may be charged. In order to prevent the card's information from being copied down for illegal use, credit cards should never leave the sight of the cardholder. It is advisable to pay close attention to credit card bills following time spent in the Dominican Republic. Automated Teller Machines (ATM's) are present throughout Santo Domingo and other major cities. However, as with credit cards, the use of ATM's should be minimized as a means of avoiding theft or misuse. One local ATM fraud scheme involves sticking photographic film or pieces of paper in the card feeder of the ATM so that an inserted card becomes jammed. Once the card owner has concluded the card is irretrievable, the thieves extract both the jamming material and the card, which they then use. The overall level of crime tends to rise during the Christmas season, and visitors to the Dominican Republic should take extra precautions when visiting the country between November and January. As with any major city, the use of prudence and common sense will go a long way to keeping you safe while in the Dominican Republic's towns and cities. Useful information to avoid becoming a victim includes: -As in any major city, avoid traveling alone, be observant and alert to your surroundings. -Do not carry large amounts of cash and the cash that you have should be placed at different locations on your person. -Do not carry an excessive number of credit cards, flashy jewelry, especially chains that will draw attention. -Change dollars only in banks or hotels, never on the street or through somebody's friend. -Avoid public transportation such as "Guaguas" (nine-passenger vans) and "Publicos" (six-passenger taxis). -If you are the victim of crime go to the nearest police stations and identify yourself as an expatriate. -Be careful with credit cards, fraud is on the rise here. -Be careful with local or U.S. currency received as change, as counterfeiting is on the rise. -Be careful in confrontations with local citizens, many carry concealed weapons, legally or illegally.
Hotels
In the capital the choice of accommodations runs from clean and cheap to plush, with rates remaining the same all year because of steady business traffic. The southeast coast is noted for its modern hotels and beautiful beaches.
Communications
Full telephone IDD service is available. The country code is 809 and the outgoing international code is 011. There are fax facilities at most locations. Most hotels also offer fax services.
Electricity
is a 110 volts AC, 60Hz. American-style 2-pin plugs are in use. Electricity 110 volts AC, 60Hz. American-style two-pin plugs are in use.
Plug Types
A,B
Food And Dining
Native Dominican cooking combines Spanish influences with local produce. Beef is expensive (Dominicans raise fine cattle, but most is exported) and local favorites are pork and goat meat. Locally produced beer and rums are cheaper than imported alcohol which tends to be expensive. There is plenty of fresh fish and seafood, island-grown tomatoes, lettuce, papaya, mangoes and passion fruit and all citrus fruits are delicious.

National specialties:
? La bandera (meaning ?the flag?, comprising white rice, red beans, stewed meat, salad and fried plaintain).
? Chicharrones (crisp pork rind).
? Chicharrones de pollo (small pieces of fried chicken).
? Casava (fried yucca).
? Moro de habichuelas (rice and beans).
? Sopa criolla dominicana (native soup of meat and vegetables).
? Pastel?n (baked vegetable cake).
? Sancocho (stew with anything up to 18 ingredients). National drinks
? Presidente (Dominican beer) is very good
? Rum drinks such as the local Brugal or Bermudez.
? Rum a?ejo (old, dark rum) with ice makes a good after-dinner drink. Native coffee is excellent and very strong.

Tipping:
Hotel and restaurant bills automatically include a 10 per cent service charge (on top of a 12 per cent charge for tax purposes) but an additional tip may be given as an appreciation of good service. Taxi drivers on the fixed routes do not expect tips.

Nightlife
Choice varies from a Las Vegas-style revue, discos and casinos to a quiet cafe by the sea in Santo Domingo. Hotels offer more traditional shows, including folk music and dancing. Popular dances are the merengue, played very loudly almost everywhere; bachata, which is becoming very popular in tourist hotspots; perico ripiao; and the salsa. The Malec?n, Santo Domingo's seaside boulevard, is known for its nightlife. Concerts and other cultural events are often held at the Casa de Francia and Plaza de la Cultura in Santo Domingo, among other venues.
Entry departure requirements
Visa immigration information
Passports
Passports valid for twice as long as the person will remain in the Dominican Republic required by all.
Note
These nationals will also require Tourist Cards, which may be purchased on arrival.
Tourist Cards
Issued to travelers visiting the Dominican Republic for tourist purposes for stays of up to two weeks. Tourist Cards can be applied for in advance at a cost of ?8, or can be issued on arrival at a cost of US$10, though this can be a lengthy process. Extensions of up to three months are possible by visiting the Immigration Department in Santo Domingo; failure to do so will result in a surcharge at the airport upon departure.
Nationals of the following countries are eligible for a Tourist Card:
(a) 3. nationals of the countries mentioned in the chart above (except nationals of Cyprus, Estonia, Latvia, Malta and Slovak Republic, who do need a visa);
(b) nationals of Andorra, Antigua & Barbuda, Aruba, The Bahamas, Barbados, Bolivia, Brazil, Costa Rica, Croatia, Cura?ao, Dominica, El Salvador, French Guiana, Guadeloupe, Guatemala, Guyana, Honduras, Jamaica, Macedonia (Former Yugoslav Rep), Martinique, Mexico, Monaco, Norway, Paraguay, Puerto Rico, Reunion, St Kitts & Nevis, St Lucia, St Maarten, St Vincent & the Grenadines, San Marino, Serbia & Montenegro, Surinam, Switzerland, Trinidad and Tobago, Turks & Caicos Islands, US Virgin Islands and Venezuela.
(c) Nationals of Ukraine and Russia for a limited time.
Validity
30 days.
Application to
Consulate (or Consular section at Embassy); see Passport/visa information.
Application requirements
(a) Photocopy of the photo page of the passport, containing personal details of the applicant. (b) Fee, payable by postal order or bank draft. Applicant?s name and address must be written on the back. (c) Stamped, self-addressed A5 envelope for postal applications.
Note: Some foreign nationals with permanent legal residency in countries such as the UK need to get a note from the Embassy of the Dominican Republic, and may then be able to travel visa-free.
Working days required
Seven if application made via the post.
Visas
Required by all except:
(a) holders of a Tourist Card;
(b) 4. nationals of Argentina, Chile, Japan, Korea (Rep), Liechtenstein, Peru and Uruguay may enter the Dominican Republic without a visa or Tourist Card.
Note
In addition to a valid visa, nationals of China (PR) require an authorization from the Director of the Migration/Immigration Department.
Types of visa and cost
Tourist (single entry): US$172 Business (single entry): US$292 There is no charge for visas for nationals of Italy, Mexico, Norway, Panama, Spain and the USA. Student: US$103 (US$52 (non-refundable) for each application form and the remainder is payable when the visa is approved.)
Validity
Tourist visas and single-entry business visas are valid for 60 days. Multiple-entry business visas are valid for up to one year.
Application to
Consulate (or Consular section at Embassy); see Passport/Visa information. Multiple entry visas can only be applied for once in the Dominican Republic.
Application requirements
(a) Passport, valid for at least four months from the date of application. (b) Completed application form. (c) Four passport-size photos. (d) Fee (payable by cash or postal order). (e) Three months of bank account statements, plus any other proof of sufficient funds. (f) Stamped, registered self-addressed envelope for postal applications. (g) Employer's or school's reference letter. Tourist: (a)-(g) and, (h) Flight itinerary and reservation. Business: (a)-(g) and, (h) Reference letter or letter of invitation from a company in the Dominican Republic. Student: (a)-(g) and, (h) Letter of request stating applicant's name, nationality and place of residence. (i) Acceptance letter from the university of center of learning. (j) Certificate of good conduct or equivalent, issued no more than 30 days before application. (k) Certificate from the health authority of the applicant's country of residence.
Working days required
Two weeks. Approximately four weeks for visas which have to be referred to the authorities in the Dominican Republic, unless requested by fax (the cost of which must be paid by the applicant). In cases of emergency, documents may be processed in one working day. There is a ?100 fee for this service.
Temporary residence
Consult the Consulate or Consular section at the Embassy; see Passport/Visa Information.
HIV entry requirements
Test required for anyone planning to reside, study or work
Departure tax
US$20 for a stay of up to two weeks and US$25 for more than two weeks. Passengers in direct transit and children under two years of age are exempt. A 'stay tax' is also levied on all passengers staying longer than three months: DOP60.48 (three to nine months); DOP100.80 (nine to 12 months) or DOP160.16 - DOP600.32 (one year or more
Embassies
Embassy of the Dominican Republic in the UK
139 Inverness Terrace, Bayswater, London, W2 6JF, UK
Tel: (020) 7727 6285.
Website: www.dominicanembassy.org.uk
Opening hours: Mon-Fri 1000-1400.
Honorary Consulate of the Dominican Republic in the UK
539 Martin's Building, 4 Water Street, Liverpool, L2 3SX, UK
Tel: (0151) 236 0722.
Opening hours: Tues-Fri 0930-1230.
Embassy and Consulate of the Dominican Republic in the USA
1715 22nd Street, NW, Washington, DC 20008, USA
Tel: (202) 332 6280.
Website: http://drembassyusa.org/

Most visits to the Dominican Republic are trouble-free but there has been an increase in violent crime.
Travelers should also should be aware of the global risk of indiscriminate international terrorist attacks, which could be against civilian targets, including places frequented by foreigners.
This advice is based on information provided by the Foreign, Commonwealth & Development Office in the UK. It is correct at time of publishing. As the situation can change rapidly, visitors are advised to contact the following organizations for the latest travel advice:
British Foreign, Commonwealth & Development Office
Website: www.gov.uk/foreign-travel-advice
US Department of State
Currency
Dominican Republic Peso (DOP) = 100 centavos. Notes are in denominations of peso2000, 1000, 500, 100, 50, 20, 10 and 5. Coins are in denominations of peso1, and 50, 25, 10, 5 and 1 centavos.
Currency restrictions
The import and export of local currency is limited to DOP20,000 in notes and DOP100 in coins; the import of foreign banknotes is allowed provided they are declared on arrival if they are over US$10,000 or the equivalent and reexport is intended. The import and export of traveller's cheques is unlimited.
Banking hours
Mon-Fri 0830-1700.
Currency exchange
The peso is not available outside the Dominican Republic. Currencies of Canada, France, Germany, The Netherlands, Spain, Switzerland, UK and USA may be converted into local currency. On departure, up to 30 per cent of the exchanged currency can be reconverted into US Dollars at any bank, provided original receipts are shown. All exchange must be done through official dealers such as banks and hotels approved by the Central Bank. Some street vendors in tourist areas accept US dollars as legal tender.
Credit cards
American Express, Diners Club, MasterCard and Visa are all accepted. Check with your credit or debit card company for details of merchant acceptability and other services which may be available.
Travellers cheques
Traveller's cheques are accepted by some banks. To avoid additional exchange rate charges, travelers are advised to take traveller's cheques in US Dollars.
| City/Region | City/Area code | Followed by |
| --- | --- | --- |
| Dominican Republic | (1+)829 | + 7 digit subscriber nr |