Quick Facts
Region: Europe
Full Name: Kingdom of Denmark
Capital City: Copenhagen
Language Spoken: Danish, Faroese, Greenlandic (an Inuit dialect), German (small minority) note: English is the predominant second language
Denmark Travel Insurance
Get travel insurance to Denmark from Direct Travel Insurance. We offer low cost and high quality travel insurance to Denmark and most of the world.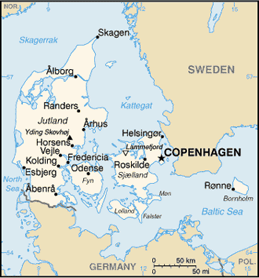 Geographic data
56 00 N, 10 00 E
Elevation Extremes
lowest point: Lammefjord -7 m highest point: Yding Skovhoej 173 m
Land boundaries
total: 68 km border countries: Germany 68 km
Natural hazards
flooding is a threat in some areas of the country (e.g., parts of Jutland, along the southern coast of the island of Lolland) that are protected from the sea by a system of dikes
Natural resources
petroleum, natural gas, fish, salt, limestone, chalk, stone, gravel and sand
Land use
arable land: 52.59% permanent crops: 0.19% other: 47.22% (2005)
Environmental current issues
air pollution, principally from vehicle and power plant emissions; nitrogen and phosphorus pollution of the North Sea; drinking and surface water becoming polluted from animal wastes and pesticides
Climate
Summer extends from June to August. Winter is from December to March, wet with long periods of frost. February is the coldest month. Spring and autumn are generally mild. The Faroe Islands are under the influence of the warm current of the Gulf Stream, and they enjoy a very mild climate for the latitude. Winters are warm, but the islands are cloudy, windy and wet throughout the year. Summers are cool, but with little sunshine. Required clothing Lightweight for summer and heavyweight for winter snows.
Time difference
time difference: UTC+1 daylight saving time: +1hr, begins last Sunday in March; ends last Sunday in October
Population
5,450,661 (July 2006 est.)
Age structure
0-14 years: 18.7% (male 523,257/female 496,697) 15-64 years: 66.1% (male 1,815,240/female 1,787,406) 65 years and over: 15.2% (male 355,656/female 472,405) (2006 est.)
Median age
total: 39.8 years male: 38.9 years female: 40.7 years (2006 est.)
Population growth rate
0.33% (2006 est.)
Birth rate
11.13 births/1,000 population (2006 est.)
Death rate
10.36 deaths/1,000 population (2006 est.)
Net migration rate
2.52 migrant(s)/1,000 population (2006 est.)
Sex ratio
at birth: 1.06 male(s)/female under 15 years: 1.05 male(s)/female 15-64 years: 1.02 male(s)/female 65 years and over: 0.75 male(s)/female total population: 0.98 male(s)/female (2006 est.)
Life expectancy at birth
total population: 77.79 years male: 75.49 years female: 80.22 years (2006 est.)
Total fertility rate
1.74 children born/woman (2006 est.)
Business Practices
Business meetings are formal with suit and tie the norm. Danish business people are likely to get down to business right away and are generally conservative and efficient in their approach to business meetings. Advance appointments are always required and punctuality is a must; it is considered rude to be late. Handshakes are the accepted form of greeting. Danes shake hands both for greetings and good-byes. Men do not stand when a woman enters or leaves a room. Business gifts are not a normal custom in Denmark. Flowers for the hostess are suitable, if invited to someone's home. Business entertaining is usually done at lunch, and more rarely at dinner in a restaurant. English is widely spoken and understood. Danish businessmen and Government employees will communicate, orally and in writing, in English. Interpreters are seldom required. The standard workweek is 37 hours. Mandatory vacation is five weeks per year plus local holidays. At least three weeks are taken during summer, one often around Christmas, and one during the winter. It is not advisable to schedule business meetings or other business activities in Denmark from late June to early August, from December 20 - January 5, or in the week of Easter. Danes treasure their leisure time, most of which is spent with the family. Businesspersons should not expect to meet with their Danish counterparts after 4.00 PM on weekdays. On Fridays, many Danes leave early, generally between 2 - 3 PM. Do not plan meetings for Saturdays, Sundays, or on national holidays
Crime
Denmark has a relatively low crime rate, but travelers to Copenhagen and other major Danish cities can become targets for pickpockets and sophisticated purse-snatchers. Purses and luggage are particular targets for thieves in hotel lobbies and breakfast rooms, fast food outlets, and Copenhagen's main train station. Car and home break-ins are also on the rise. Biker gangs are active in Denmark, but rarely direct illegal activity toward non-members. The emergency telephone number throughout Denmark is 112.
Hotels
There are numerous hotels throughout Denmark, some of which are international or business class. Reservations should be made in advance.
Communications
Telecommunication services are highly developed. Denmark is a central link for satellite communications between the former East Bloc and Western Europe and the United States. Its telephone systems provide first class digital service, and several cellular system providers offer excellent trans-European and worldwide mobile communications. Full telephone IDD service is available. The country code is 45 and the outgoing international code is 00. There are no area codes. Fax service is available from many main post offices and from major hotels. Post offices are open 0900-1730 Monday to Friday, and several are open 0900-1200 Saturday.
Electricity
is a 220 volts AC, 50Hz. Continental 2-pin plugs are standard. Electricity 230 volts AC, 50Hz. Continental two-pin plugs are standard. On many campsites, 110-volt power plugs are also available.
Plug Types
C,F,K
Food And Dining
Danes do not mix the various dishes on their plates but have them in strict order. Given its geographical position, it is not surprising that shellfish also forms an important part of Danish cuisine. Apart from traditional dishes, French or international cuisine is the order of the day. In Copenhagen, superb gourmet restaurants can be found, whilst ?lborg is noted for its number of restaurants. Most towns have fast food outlets, and the sausage stalls on most street corners, selling hot sausages, hamburgers, soft drinks and beer, are popular. There are no licensing hours.

National specialties:
? Sm?rrebr?d is a highly popular traditional Danish dish that is often eaten for lunch. It consists of a slice of dark bread with butter, topped with slices of meat, fish or cheese and generously garnished. It needs to be eaten sitting down with a knife and fork.
? Buffet-style lunch (the koldt bord) is also popular with a variety of fish, meats, hot dishes, cheese and sweets, usually on a self-service basis.
? A normal Danish breakfast, or morgen-complet , consists of an assortment of breads, rolls, jam and cheese, often also sliced meats, boiled eggs and warm Danish pastries. National drinks:
? Danish coffee is delicious.
? Denmark also has many varieties of beer, famous breweries being Carlsberg and Tuborg. Most popular is pilsner (lager) but there are also darker beers.
? Akvavit, popularly known as snaps is meant to be drunk with cold food, preferably with a beer chaser. It is served ice cold.

Tipping:
Hotels and restaurants quote fully inclusive prices and tipping is not necessary. Taxi fares include tips. Railway porters and washroom attendants expect to receive tips. Note The Danish Hotel and Restaurant Association displays signs indicating restaurants where the needs of diabetics are given special attention. It consists of the words 'Diabetes mad ? sund mad for alle' ('Food for Diabetics ? healthy food for everyone') encircling a chef's head.

Nightlife
There is a wide selection of nightlife, particularly in Copenhagen, where the first morning restaurants open to coincide with closing time at 0500. Jazz and dance clubs in the capital city are top quality and world-famous performers appear regularly. There are numerous beer gardens.
Entry departure requirements
Note Denmark is a signatory to the 1995 Schengen Agreement.
Visa immigration information
Passports
Passport valid for at least three months beyond length of stay required by all except:
(a) 1. EU/EEA nationals (EU + Iceland, Liechtenstein, Norway) and Swiss nationals holding a valid national ID card.
Note: EU and EEA nationals are only required to produce evidence of their EU/EEA nationality and identity in order to be admitted to any EU/EEA Member State. This evidence can take the form of a valid national passport or national identity card. Either is acceptable. Possession of a return ticket, any length of validity on their document, sufficient funds for the length of their proposed visit should not be imposed.
(b) 2. holders of a Gibraltar Identity Card issued to British Citizens or British Dependent Citizens for tourist visits of up to three months.
Visas
Required by all except the following for stays of up to three months (no paid or self-employed work allowed):
(a) nationals of countries referred to in the chart above;
(b) nationals of Andorra, Argentina, Bermuda (provided holding a British Dependent Territories passport), BNO (British Nationals Overseas), Bolivia, Brazil, Brunei, Bulgaria, Chile, Costa Rica, Croatia, El Salvador, Guatemala, Honduras, Hong Kong (SAR), Iceland, Israel, Korea (Rep), Liechtenstein, Macau (SAR), Malaysia, Mexico, Monaco, New Zealand, Nicaragua, Norway, Panama, Paraguay, Romania, San Marino, Singapore, Switzerland, Uruguay, Vatican City and Venezuela;
(c) holders of a UN laissez-passer.
Note
3. (a) Holders of the following also do not require a visa: 'British Citizen' passports, including those from the Channel Islands and Isle of Man, with the endorsement 'Holder has the right of re-admission' or 'Holder is entitled to re-admission to the United Kingdom' or 'Holder has the right of abode in the United Kingdom', provided holders of such passports have not stayed outside the UK for more than two years (including the expected stay in Denmark); 'British Dependent Territories Citizens' passports (BDTC) issued to persons with the right of abode in Gibraltar with the endorsement 'Holder is defined as a UK national for Community purposes'; British National Overseas passports (BNO) with permanent residence in Hong Kong are visa exempt for up to three months. (b) Holders of the following do require a visa: 'British Protected Persons' passports endorsed 'Holder is subject to control under the Immigration Act 1971'.
Airport transit
Passengers continuing their journey by the same or first connecting aircraft within the international zone of the Schengen airport, without gaining access to the national territory of the Schengen member state, may not require a transit visa, provided they are holding valid onward or return documentation.
Nationals of the following countries always need a visa to transit through a Danish airport: Afghanistan, Bangladesh, Congo (Dem Rep), Eritrea, Ethiopia, Ghana, India (not required for Indian nationals in possession of a valid visa to an EU or EEA country, USA or Canada), Iran, Iraq, Nigeria, Pakistan, Somalia and Sri Lanka (the above list is subject to changes; please check with the Embassy or Consular section at Embassy). However, if any of these nationals are residents in an EU member state, an EEA country, the USA or Canada, and hold permission to return a minimum of three months after transiting Denmark, a visa is not required.
Types of visa and cost
Tourist, Business, Transit, Airport Transit: US$40 An additional fee of US$19 is payable for applications lodged at Honorary Consulates.
Note
(a) Spouses and children of EU and EEA nationals (providing spouse's passport and the original marriage certificate/proof of joint household are produced), and nationals of some other countries, if related in direct line of ascent or descent to such nationals or their spouses, receive their visas free of charge.
Validity
Validity depends on type of visa, nationality and purpose of visit. For further information, contact the Consulate (or Consular section at Embassy); see Passport/Visa Information.
Application to
Consulate (or Consular section at Embassy); see Passport/Visa Information. Applications should be made in person. Travelers visiting just one Schengen country should apply to the Consulate of that country; travelers visiting more than one Schengen country should apply to the Consulate of the country chosen as the main destination or the country they will enter first (if they have no main destination).
Application requirements
(a) Passport valid for a minimum of three months after expiry of visa, or official travel document valid for at least six months, both with a blank page for the visa sticker. (b) One signed and completed application form, containing parental consent for minors (if applicable). (c) One passport-size color photograph on light background. (d) Fee, payable in cash or cheque with a cheque guarantee card. (e) Proof of purpose of visit and accomodation, eg a letter from relatives or a hotel reservation (e-mails not accepted). (f) Evidence of occupation, eg letter from employer or university or, if unemployed, benefit booklet. (g) Evidence of sufficient funds for duration of stay, eg original, recent bank statement, travelers cheques, credit card statement with credit limit. (h) A prepaid and self-addressed envelope (special delivery) if the visa is to be returned by post. (i) Valid health insurance. (j) Residents of the UK who are returning to the UK after a visit to Denmark are required to hold a residence work permit valid for at least three months beyond the validity of the visa (at least six months for holders of travel documents). Business: (a)-(j) and, (k) The original invitation from the business contact in Denmark.
Note
Some further documents and guarantees might be required for the processing of visas. All applications must initially be made in person at the Embassy/Consulate and by first arranging an appointment through the appointment booking system (for UK, tel: (09065) 540 755).
Working days required
Applications can take several weeks to be processed (applicants may apply up to 12 weeks before the start of their trip).
Temporary residence
Persons wishing to stay in Denmark for more than three months should make their application in their home country well in advance of their intended date of departure.
HIV entry requirements
No Test Required
Departure tax
None
Embassies
Royal Danish Embassy in the UK
55 Sloane Street, London SW1X 9SR, UK
Tel: (020) 7333 0200 (visa section).
Website: www.denmark.org.uk
Opening hours: Mon-Thurs 0900-1630 and Fri 0900-1600; Consular enquiries Mon-Fri 1500-1600 (telephone).
Royal Danish Embassy in the USA
3200 Whitehaven Street, NW, Washington, DC 20008, USA
Tel: (202) 234 4300.
Website: www.denmarkemb.org
Royal Danish Consulate General in the USA
One Dag Hammerskjold Plaza, 885 Second Avenue, 18th Floor, New York, NY 10017-2201 USA
Tel: (212) 223 4545.
Website: http://usa.um.dk/

Most visits to Denmark are trouble-free but you should be aware of the global risk of indiscriminate international terrorist attacks, which could be against civilian targets, including places frequented by foreigners.
This advice is based on information provided by the Foreign, Commonwealth & Development Office in the UK. It is correct at time of publishing. As the situation can change rapidly, visitors are advised to contact the following organizations for the latest travel advice:
British Foreign, Commonwealth & Development Office
Website: www.gov.uk/foreign-travel-advice
US Department of State
Currency
Danish Krone (DKK) = 100 ?re. Notes are in denominations of DKK1000, 500, 200, 100 and 50. Coins are in denominations of DKK20, 10, 5, 2 and 1, and 50 and 25 ?re.
Currency restrictions
No limitations on the import or export of either local or foreign currencies, although declarations should be made for amounts exceeding ?15,000 (approximately DKK112,000). The form (12.021) can be obtained from the tax authorities (ToldSkat) at the border or from the website, www.toldskat.dk. There is no limit on the export of foreign currency, apart from gold coins.
Banking hours
Mon to Wed and Fri 0930-1700; Thurs 0930-1800. Some banks in Copenhagen are open Mon-Fri 0930-1700. Some bureaux de change are open until midnight.
Currency exchange
There are plenty of ATMs. Personal cheques cannot be used by visitors to Denmark. Some banks may refuse to exchange large foreign bank notes.
Credit cards
American Express, Diners Club, MasterCard and Visa are widely accepted, as well as Eurocheque cards. Check with your credit or debit card company for details of merchant acceptability and other services which may be available.
Travellers cheques
Can be cashed by banks and hotels, and can be used at most restaurants and shops. To avoid additional exchange rate charges, travelers are advised to take traveller's cheques in Euros, Pounds Sterling or US Dollars.