Quick Facts
Region: North & Central America & the Caribbean
Full Name: Commonwealth of Dominica
Capital City: Roseau
Language Spoken: English (official), French patois
Dominica Travel Insurance
Get travel insurance to Dominica from Direct Travel Insurance. We offer low cost and high quality travel insurance to Dominica and most of the world.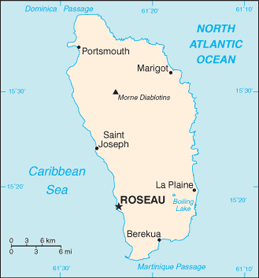 Geographic data
15 25 N, 61 20 W
Elevation Extremes
lowest point: Caribbean Sea 0 m highest point: Morne Diablatins 1,447 m
Land boundaries
0 km
Natural hazards
flash floods are a constant threat; destructive hurricanes can be expected during the late summer months
Natural resources
timber, hydropower, arable land
Land use
arable land: 6.67% permanent crops: 21.33% other: 72% (2005)
Environmental current issues
NA
Climate
Hot, subtropical climate throughout the year. The main rainy season is between June and October, when it is hottest. Required clothing Lightweight cottons and linens. Waterproofing is advisable throughout most of the year.
Time difference
time difference: UTC-4
Population
68,910 (July 2006 est.)
Age structure
0-14 years: 26.1% (male 9,084/female 8,885) 15-64 years: 66% (male 23,419/female 22,079) 65 years and over: 7.9% (male 2,186/female 3,257) (2006 est.)
Median age
total: 30.1 years male: 29.8 years female: 30.4 years (2006 est.)
Population growth rate
-0.08% (2006 est.)
Birth rate
15.27 births/1,000 population (2006 est.)
Death rate
6.73 deaths/1,000 population (2006 est.)
Net migration rate
-9.3 migrant(s)/1,000 population (2006 est.)
Sex ratio
at birth: 1.05 male(s)/female under 15 years: 1.02 male(s)/female 15-64 years: 1.06 male(s)/female 65 years and over: 0.67 male(s)/female total population: 1.01 male(s)/female (2006 est.)
Life expectancy at birth
total population: 74.87 years male: 71.95 years female: 77.93 years (2006 est.)
Total fertility rate
1.94 children born/woman (2006 est.)
Business Practices
Business meetings are somewhat informal. Office hours are generally 0800-1300 and 1400-1700 Monday; 0800-1300 and 1400-1600 Tuesday to Friday.
Crime
Petty street crimes such as pick pocketing and purse-snatching are a problem for visitors and residents of Dominica, as is theft of unattended valuables from public areas (including beaches) and parked vehicles. Deposit valuables in the hotel safe, and avoid carrying large amounts of cash. Be especially vigilant during the local celebration of Carnival (in February) and the Creole music festival (in October). For trips into the mountains, hire a reliable guide. Avoid walking alone at night, or in isolated areas.
Hotels
The number of hotels has expanded in recent years; most are small- to medium-sized, and well equipped; the largest has 98 rooms. There are three hotels at the fringe of an area designated as a National Park.
Communications
Telephone IDD services is available and the country code is 1 809. The outgoing international code is 1 for USA, Canada and most Caribbean islands and 011 for other countries. Fax Services are available through the Cable & Wireless Company. Telex Services are also available through Cable & Wireless.
Electricity
is 220/240 volts AC, 50Hz. Electricity 220/240 volts AC, 50Hz. Three-pin European-style plugs are usual.
Plug Types
D,G
Food And Dining
In general, it is wise to order the specialty of the house or of the day to ensure freshness. Island cooking includes Creole, Continental and American dishes. Food prices on Dominica are usually reasonable. Restaurants close at about midnight weekdays but are open later at weekends. Root vegetables, such as yams and turnips, are often referred to as ?provisions? on a menu. Local spirits, rum especially, are inexpensive. Wines (mainly French and Californian) are expensive. There is a wide choice of beers. There are no licensing hours.

National specialties:
? Tee-tee-ree (tiny freshly spawned fish).
? Lambi (conch).
? Agouti (a rodent).
? Manicou (small opossum).
? Crab backs (seasoned crab meat).
? Bello Hot Pepper Sauce is made locally and served everywhere with almost everything. National drinks:
? Island fruit juices are excellent.
? Rum punches, particularly coconut rum punch (made from fresh coconut milk, sugar, rum, bitters, vanilla and grenadine).
? Sea Moss is a non-alcoholic beverage made from sea moss or seaweed, with a slightly minty taste.

Tipping:
A 10 per cent service charge is added by most hotels and some restaurants. Other less tourist places do not add service to the bill and tipping is discretionary; 10 to 15 per cent of the bill is acceptable. Taxi rates are set by law and therefore taxi drivers do not expect tips.

Nightlife
Some hotel lounges stay open until 2300 and there is music at weekends at several hotels. A favorite haunt in Roseau, La Robe Creole, has dance music nightly with live bands at weekends. Popular local discos include The Warehouse, Scorpio and Doubles International. There are often folklore evenings with authentic costumes and music. Hotel staff will generally be able to advise visitors as to the best places.
Entry departure requirements
Visa immigration information
Passports
Passport valid for at least six months required by all except the following:
(a) 1. nationals of Canada and the USA holding proof of citizenship bearing a photograph and return or onward tickets;
(b) 2. nationals of France holding National Identity Cards (Carte d?Identit?) for stays of up to two weeks.
Visas
Required by all except the following:
(a) 3. nationals of EU countries for stays of up to six months (except Austria, Czech Republic, Estonia, Finland, Hungary, Latvia, Lithuania, Poland, Slovak Republic and Slovenia for stays of up to 21 days);
(b) 4. nationals of Commonwealth countries for stays of up to six months;
(c) 5. nationals of Argentina, China (PR), Costa Rica, Israel, Japan, Korea (Rep), Malta, Mexico, Norway, Surinam, Taiwan (China), USA and Venezuela for stays of up to six months;
(d) nationals of all other countries for tourist stays of up to 21 days, provided they have a return ticket and satisfy the immigration officer that they do not wish to stay for longer. For an extension, visitors should apply to the Immigration Department at the Police Headquarters in Roseau, Dominica.
Types of visa and cost
Single-entry: US$43
Application to
Consular section at High Commission or Embassy (see Passport/Visa Information).
Application requirements
(a) Valid passport. (b) Two passport-size photos. (c) Return ticket or receipt from travel agent. (d) Fee (plus extra ?5 if require return of passport by registered mail). (e) Letter explaining the length of stay required. (f) Suffiicient funds for travelers stay.
Temporary residence
Those applying for temporary residence must obtain a work permit.
HIV entry requirements
HIV testing is not required for standard entry; students, intending immigrants and anyone seeking employment
Departure tax
US$17 for Dominican residents and US$21 for non-residents. Transit passengers continuing their journey on the same day and children under 12 years of age are exempt.
Embassies
Office of the High Commission for the Commonwealth of Dominica in the UK
1 Collingham Gardens, London SW5 0HW, UK
Tel: (020) 7370 5194/5.
Website: http://www.dominicahighcommission.co.uk/
Opening hours: Mon-Fri 0930-1730.
Embassy of the Commonwealth of Dominica in the USA
3216 New Mexico Avenue, NW, Washington, DC 20016, USA
Tel: (202) 364 6781.
Website: http://drembassyusa.org/
Travel Advice
Most visits to Dominica are trouble-free but you should be aware of the global risk of indiscriminate international terrorist attacks, which could be against civilian targets, including places frequented by foreigners.
Cases of robbery and crime do occur.
This advice is based on information provided by the Foreign, Commonwealth & Development Office in the UK. It is correct at time of publishing. As the situation can change rapidly, visitors are advised to contact the following organizations for the latest travel advice:

British Foreign, Commonwealth & Development Office
Tel: (0845) 850 2829.
Website: www.gov.uk/foreign-travel-advice
US Department of State
Currency
East Caribbean Dollar (XCD; symbol EC$) = 100 cents. Notes are in denominations of EC$100, 50, 20, 10 and 5. Coins are in denominations of EC$1, and 50, 25, 10, 5, 2 and 1 cents. US Dollars and Pounds Sterling are also legal tender. Note The Eastern Caribbean Dollar is tied at a fixed rate to the US Dollar.
Currency restrictions
The import of local and foreign currency is unlimited, subject to declaration on arrival. The export of local and foreign currency is limited to the amount declared on arrival. If holding a credit card, export is limited to EC$2500 and any currency in excess of this will require proof of conversion.
Banking hours
Mon-Thurs 0800-1500, Fri 0800-1700.
Currency exchange
Foreign currencies can be exchanged at banks and bureaux de change.
Credit cards
American Express, MasterCard (limited) and Visa are accepted. Check with your credit or debit card company for details of merchant acceptability and other services which may be available. ATMs are located around the island.
Travellers cheques
Accepted by most hotels. To avoid additional exchange rate charges, travelers are advised to take travelers cheques in US Dollars.
| City/Region | City/Area code | Followed by |
| --- | --- | --- |
| Dominica | (1+)767 | + 7 digit subscriber nr |