Quick Facts
Region: Africa
Full Name: Republic of Djibouti
Capital City: Djibouti
Language Spoken: French (official), Arabic (official), Somali, Afar
Djibouti Travel Insurance
Get travel insurance to Djibouti from Direct Travel Insurance. We offer low cost and high quality travel insurance to Djibouti and most of the world.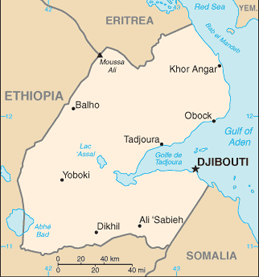 Geographic data
11 30 N, 43 00 E
Elevation Extremes
lowest point: Lac Assal -155 m highest point: Moussa Ali 2,028 m
Land boundaries
total: 516 km border countries: Eritrea 109 km, Ethiopia 349 km, Somalia 58 km
Natural hazards
earthquakes; droughts; occasional cyclonic disturbances from the Indian Ocean bring heavy rains and flash floods
Natural resources
geothermal areas, gold, clay, granite, limestone, marble, salt, diatomite, gypsum, pumice, petroleum
Land use
arable land: 0.04% permanent crops: 0% other: 99.96% (2005)
Environmental current issues
inadequate supplies of potable water; limited arable land; desertification; endangered species
Climate
Extremely hot and particulary arid between June and August when the dusty Khamsin blows from the desert. Between October and April it is slightly cooler with occasional light rain; however, there is generally less than 150mm of rainfall annually.
Time difference
time difference: UTC+3
Population
486,530 (July 2006 est.)
Age structure
0-14 years: 43.3% (male 105,760/female 105,068) 15-64 years: 53.3% (male 135,119/female 124,367) 65 years and over: 3.3% (male 8,183/female 8,033) (2006 est.)
Median age
total: 18.2 years male: 18.7 years female: 17.7 years (2006 est.)
Population growth rate
2.02% (2006 est.)
Birth rate
39.53 births/1,000 population (2006 est.)
Death rate
19.31 deaths/1,000 population (2006 est.)
Net migration rate
0 migrant(s)/1,000 population (2006 est.)
Sex ratio
at birth: 1.03 male(s)/female under 15 years: 1.01 male(s)/female 15-64 years: 1.09 male(s)/female 65 years and over: 1.02 male(s)/female total population: 1.05 male(s)/female (2006 est.)
Life expectancy at birth
total population: 43.17 years male: 41.86 years female: 44.52 years (2006 est.)
Total fertility rate
5.31 children born/woman (2006 est.)
Business Practices
Business meetings are formal and suits should be worn. French and Arabic are the main languages used in business. As there are few reliable interpreter services, knowledge of either of these languages is essential. Business entertainment will often take place in hotels or restaurants. Office hours are 0620-1300 Saturday to Thursday.
Crime
Petty crime occurs occasionally in the capital and elsewhere in the country, but violent crimes in urban areas are rare. Travel outside of urban areas at night should be avoided. Banditry and rebel activity is common near border areas, and these should be avoided.
Hotels
Hotels in Djibouti tend to be expensive and the few cheap hotels are often rundown and lack most amenities. The major hotels are the Sheraton, the Hotel Plein Ciel, the Menelik and the R?sidence de l'Europe. Outside Djibouti, accommodation is limited, although attention is being given to upgrading and adding to the accommodation available in outlying areas.
Communications
Telephone IDD available. The country code is 253 and the outgoing international code is 00. There are currently no Fax facilities for the public. Telexes and telegrams can be sent from the main post office from 0700-2000. Telegram services are also available at the Telegraph office. Letters and parcels to Western Europe can take about a week by airmail or up to three weeks by surface mail.
Electricity
is 220 volts AC, 50Hz. Electricity 220 volts AC, 50Hz.
Plug Types
C,E
Food And Dining
Restaurants serve Arab, Chinese, French and Vietnamese local specialties.

National specialties:
? Lentils, fried meat and unleavened bread are all popular.
? Fish from the Red Sea. National drinks:
? Drinking is not a social activity and alcohol is not widely available.

Tipping:
A 10 per cent service charge is usually added to bills. Tipping is rare and never requested. Not usual for taxi drivers. A tariff is normally set but visitors will be charged at a higher rate.
Entry departure requirements
Visa immigration information
Passports
Passport valid for six months beyond date of departure required by all.
Visas
Required by all except transit passengers not disembarking and continuing their journey by the same aircraft or ship.
Types of visa and cost
Entry (visa de s?jour); Tourist (visa de tourisme); Business (visa d'affaires); Transit (visa de transit). All visas cost US$59
Validity
From one day to three months. An extension may be granted in Djibouti on request to the Headquarters of the Police Nationale.
Application to
The Embassy in Paris (see Passport/Visa Information). 10-day transit visas can be issued at the point of entry to visitors holding confirmed return air tickets. A fee will be charged. This facility is only available to nationals from countries where Djibouti has no diplomatic representation. Contact the Embassy in Paris for further information.
Application requirements
(a) Valid passport. (b) Two application forms completed in French. (c) Two passport-size photos. (d) Fee of ?50 plus ?5 to cover postage within France or ?6 to cover postage from abroad; the amount should be sent in the form of a postal or money order, not a cheque. (e) Return or onward ticket. Business: (a)-(e) and, (f) Letter from the employer or a letter of invitation from the company in Djibouti.
Working days required
Three working days.
HIV entry requirements
No Test Required
Departure tax
$US20 is levied on all passenge
Embassies
Embassy of the Republic of Djibouti in France
26 rue Emile Menier, 75116 Paris, France
Tel: (1) 4727 4922.
Opening hours: Mon-Fri 0900-1600.
Embassy of the Republic of Djibouti in the USA
1156 15th Street, Suite 515, NW, Washington DC 20005, USA
Tel: (202) 331 0270.
Website:
https://dj.usembassy.gov/
Travel Advice
Djibouti shares with the rest of the region a high threat from terrorism. Travelers are at risk from terrorist attacks in areas frequented by Westerners.
Travelers should be aware of the risk of banditry if traveling outside the capital city.
This advice is based on information provided by the Foreign, Commonwealth & Development Office in the UK. It is correct at time of publishing. As the situation can change rapidly, visitors are advised to contact the following organizations for the latest travel advice:
British Foreign, Commonwealth & Development Office
Tel: (0845) 850 2829.
Website: www.gov.uk/foreign-travel-advice
US Department of State
Currency
Djibouti Franc (Djf) = 100 centimes. Notes are in denominations of Djf10,000, 5000, 2000, 1000 and 500. Coins are in denominations of Djf500, 100, 50, 20 and 10.
Currency restrictions
There are no restrictions on the import or export of either foreign or local currency. Currency must be declared on arrival.
Banking hours
Sat-Thurs 0715-1145.
Currency exchange
Currency can be exchanged at major banks and hotels, or at authorized bureaux de change in the capital. The bureaux de change are open all day, while the banks have limited opening hours.
Credit cards
These are only accepted by airlines and some of the larger hotels.
Travellers cheques
To avoid additional exchange rate charges, travellers are advised to take travellers cheques in US Dollars or Euros. Euro and Sterling cheques are not accepted unless marked as 'External Account' or 'Pour Compte Etranger'. The majority of banks are in the place du 27 juin area.