Quick Facts
Region: Asia & Oceania
Full Name: Socialist Republic of Vietnam
Capital City: Hanoi
Language Spoken: Vietnamese (official), English (increasingly favored as a second language), some French, Chinese, and Khmer; mountain area languages (Mon-Khmer and Malayo-Polynesian)
Vietnam Travel Insurance
Get travel insurance to Vietnam from Direct Travel Insurance. We offer low cost and high quality travel insurance to Vietnam and most of the world.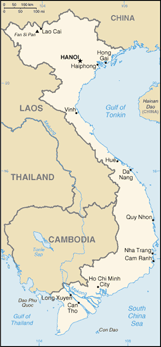 Geographic data
16 00 N, 106 00 E
Elevation Extremes
lowest point: South China Sea 0 m highest point: Fan Si Pan 3,144 m
Land boundaries
total: 4,639 km border countries: Cambodia 1,228 km, China 1,281 km, Laos 2,130 km
Natural hazards
occasional typhoons (May to January) with extensive flooding, especially in the Mekong River delta
Natural resources
phosphates, coal, manganese, bauxite, chromate, offshore oil and gas deposits, forests, hydropower
Land use
arable land: 20.14% permanent crops: 6.93% other: 72.93% (2005)
Environmental current issues
logging and slash-and-burn agricultural practices contribute to deforestation and soil degradation; water pollution and overfishing threaten marine life populations; groundwater contamination limits potable water supply; growing urban industrialization and population migration are rapidly degrading environment in Hanoi and Ho Chi Minh City
Climate
Because of its geography, the climate in Vietnam varies greatly from north to south. Tropical monsoons occur from May to October. It is almost totally dry throughout the rest of the year. Required clothing Tropicals and washable cottons are worn all year. Rainwear is essential during the rainy season.
Time difference
time difference: UTC+7
Population
84,402,966 (July 2006 est.)
Age structure
0-14 years: 27% (male 11,826,457/female 10,983,069) 15-64 years: 67.1% (male 28,055,941/female 28,614,553) 65 years and over: 5.8% (male 1,924,562/female 2,998,384) (2006 est.)
Median age
total: 25.9 years male: 24.8 years female: 27.1 years (2006 est.)
Population growth rate
1.02% (2006 est.)
Birth rate
16.86 births/1,000 population (2006 est.)
Death rate
6.22 deaths/1,000 population (2006 est.)
Net migration rate
-0.42 migrant(s)/1,000 population (2006 est.)
Sex ratio
at birth: 1.07 male(s)/female under 15 years: 1.08 male(s)/female 15-64 years: 0.98 male(s)/female 65 years and over: 0.64 male(s)/female total population: 0.98 male(s)/female (2006 est.)
Life expectancy at birth
total population: 70.85 years male: 68.05 years female: 73.85 years (2006 est.)
Total fertility rate
1.91 children born/woman (2006 est.)
Business Practices
Casual clothing is usually worn to business meetings, however, some formal meetings may require more formal attire such as a suit and tie. All officials do not speak English and knowledge of French is useful. A Handshake and vocal greeting are normal. Business cards should have a Vietnamese translation on the back. Most businesses, government offices and shops are open from 7:30AM to 4:30PM, Monday through Friday and half days on Saturday. Many offices close for an hour or two at lunch. Security personnel may at times place foreign visitors under surveillance. Hotel rooms, telephones and fax machines may be monitored, and personal possessions in hotel rooms may be searched. Therefore, care should be taken when carrying sensitive company proprietary information into Vietnam.
Crime
Crime is a serious problem in Ho Chi Minh City and to a lesser extent, throughout Vietnam. Generally, pickpocketing or snatch-and-grab incidents, and the theft of unattended bags, briefcases and other items characterize crimes against foreigners. There have been several incidents in which foreigners have been injured or even killed when resisting robbers. It is recommended that travelers not resist such theft attempts, but report them to both local authorities and the visitor's embassy. Motorcyclists, mostly carrying passengers, frequently grab bags, cameras, and other valuables from pedestrians, or passengers riding in pedicabs or at the back of rented motorcycles. When bags are stolen, passports, identity documents, and airline tickets are frequently lost. Thieves also congregate in large numbers around hotels frequented by foreign tourists and businessmen. Assaults have been reported in outlying areas. Some pedicab drivers have reportedly kidnapped passengers and extorted money; it therefore may be risky to hire pedicabs not associated with reputable hotels or other establishments such as restaurants. There has been an increase in petty theft in Hanoi and some foreign passports are prized items and should be kept in hotel safes or other secure locations. Travelers to Vietnam are should also avoid or use caution when visiting places where drinking is the main activity. A series of recent incidents otherwise healthy visitors have died following an evening of drinking alcoholic beverages, raising concern that such drinks could be adulterated with toxic or other substances.
Hotels
Tourist facilities have vastly improved in the last few years and most towns have small hotels and guesthouses. In the major towns there is a full range of accommodation to suit all budgets.
Communications
Telephone: IDD is available only to Hanoi and Ho Chi Minh City. Country code: 84. International calls must be made through the operator. Fax: Available in most major offices. The use of internet and email is very easy and accessible in the travelers cafes in the larger cities including Saigon, Hanoi, Nha Trang, Hue, Hoi An.
Electricity
in Vietnam uses both 110v and 220v. However, the current is uneven some devices don?t always run smoothly. Take a surge protector for your laptop computer. Outlets come in a variety of shapes and sizes (almost all are two-pronged) and the voltage is rarely marked. Electricity 220/110 volts AC, 50Hz; plugs are mostly flat pin.
Plug Types
A,C,G
Food And Dining
Vietnamese cooking is varied and usually very good. It is a mixture of Vietnamese, Chinese and French traditions, with a plethora of regional specialties. As in all countries of the region, rice or noodles usually provide the basis of a meal. Not surprisingly, fish is plentiful.

National specialties:
? Breakfast is generally noodle soup locally known as pho (pronounced ?fur?).
? French-style baguettes are available throughout Vietnam.
? Nem (pork mixed with noodles, eggs and mushrooms wrapped in rice paper, fried and served hot).
? Banh chung (glutinous rice, pork and onions wrapped in large leaves and cooked for up to 48 hours, to be eaten cold at any time).
? Vietnamese dishes are not complete without nuoc mam (a fish sauce) or mam tom (a shrimp sauce). National drinks:
? Green tea is refreshing and available everywhere.
? The French culinary legacy embraces rich, fresh, filter coffee, usually brewed on the table in front of the customer.
? Bia Hoi, a local draught beer available at street stalls in Hanoi. It is not only cheap, but free of additives.
? Rice wine is also a favorite throughout the country. It is generally extremely potent.

Tipping:
Tipping is not customary, but is becoming more usual in tourist areas, especially in the south. Upscale restaurants and hotels may add a 5 to 10 per cent service charge to the bill. Taxi drivers do not expect to be tipped.
Entry departure requirements
* Please see visa section
Visa immigration information
Passports
Passport valid for at least one month after expiration of visa required by all.
Visas
Required by all except:
(a) nationals of Bulgaria, China (PR) (AB passport), Cuba, Korea (Dem Rep), Mongolia (AB, AC or AO passport), Romania, Russian Federation and Ukraine (AB passport);
(b) nationals of Indonesia, Laos, Malaysia, Singapore and Thailand for stays of up to 30 days;
(c) nationals of The Philippines for stays of up to 21 days;
(d) 1. nationals of Denmark, Finland, Japan, Korea (Rep), Norway and Sweden for stays of up to 15 days;
(e) transit passengers continuing their journey within 24 hours, provided holding valid return or onward tickets. At present, visas can be issued for either groups or individuals.
Note
For security reasons, it is advisable to carry copies of documents rather than originals when in Vietnam.
Types of visa and cost
Tourist: US$65 (single-entry); US$94 (express service); US$120 (multiple-entry). Single-entry Business: US$69 Multiple-entry Business: US$120 (one month); US$155 (three months); US$241 (six months or more).
Validity
Tourist visas are valid for one month from proposed date of entry. Visas can usually be extended for another month, at extra cost, in the larger towns.
Note
All regulations, including those concerning which counties require visas, cost of visas and validity of visas, are very complex and subject to frequent change. It is therefore advisable to contact the consular section at the Embassy before any travel to Vietnam.
Application to
Consulate (or consular section at Embassy); see Passport/Visa Information.
Application requirements
(a) Completed application form. (b) One recent passport-size photo. (c) Valid passport. (d) Fee (non-refundable), payable by cash, bank draft or postal order. (e) To have your passport returned by post, please add ?5 and include a stamped self-addressed envelope. Business: (a)-(e), and (f) Approval obtained through a Vietnamese sponsor.
Working days required
Two (tourist visa express application); five (tourist visa). Entry visas can be applied for in person up to six months prior to date of travel.
HIV entry requirements
No Test Required
Departure tax
US$14 (Ho Chi Minh City), US$12 (Hanoi) and US$8 (Da Nang), payable in US Dollars or new D?ng.
Embassies
Embassy of the Socialist Republic of Vietnam in the UK
12 Victoria Road, London W8 5RD, UK
Tel: (020) 7937 1912.
Website: www.vietnamembassy.org.uk
Opening hours: Mon-Fri 0900-1700; 0930-1230 (visa section).
Embassy of the Socialist Republic of Vietnam in the USA
1233 20th Street, NW, Suite 400, Washington, DC 20036, USA
Tel: (202) 861 0737 or 2293 (consular section).
Website: www.vietnamembassy-usa.org

There have been renewed outbreaks of avian influenza (bird flu) amongst poultry throughout Vietnam. There have been a number of human fatalities in this latest outbreak. The World Health Organization is still investigating the possibility of human-to-human transmission. Travelers should avoid visiting live animal markets, poultry farms and other places where they may come into close contact with wild or caged birds; and ensure poultry dishes are thoroughly cooked.
Most visits to Vietnam are trouble-free but you should be aware of the global risk of indiscriminate international terrorist attacks, which could be against civilian targets, including places frequented by foreigners.
Serious or violent crimes against foreigners in Vietnam are rare, but travelers should remain vigilant for petty or opportunistic theft.
This advice is based on information provided by the Foreign & Commonwealth Office in the UK. It is correct at time of publishing. As the situation can change rapidly, visitors are advised to contact the following organizations for the latest travel advice:
British Foreign, Commonwealth & Development Office
Website: https://www.gov.uk/foreign-travel-advice/vietnam
US Department of State
Website: https://travel.state.gov/content/travel/en/international-travel/International-Travel-Country-Information-Pages/Vietnam.html
Currency
New D?ng (VND). Notes are in denominations of VND500,000, 100,000, 50,000, 20,000, 10,000, 5000, 2000, 1000, 500, 200 and 100. Coins are in denominations of VND5000, 2000, 1000, 500 and 200.
Currency restrictions
Import and export of local currency is prohibited. Import and export of foreign currency over US$3000 is subject to declaration. Proof of all expenses should be kept.
Banking hours
Mon-Fri 0730/0800-1130 and 1300-1600.
Currency exchange
The US Dollar is the most favored foreign currency. Australian, British, Japanese, Singaporean and Thai currency, as well as the Euro, can usually be changed in the larger cities; great difficulty may be encountered in trying to exchange any other currencies. There is a charge for changing money in banks.
Credit cards
An increasing number of outlets accept MasterCard and Visa. However, outside main centers, it is wise to carry cash. Check with your credit or debit card company for details of merchant acceptability and other services which may be available.
Travellers cheques
These are widely accepted in hotels and banks. To avoid additional exchange rate charges, travelers are advised to take traveller's cheques in US Dollars or Euros.
| City/Region | City/Area code | Followed by |
| --- | --- | --- |
| An Giang | (0)76 | + 6 digit subscriber nr |
| Ba Ria - Vung Tau | (0)64 | + 6 digit subscriber nr |
| Bac Giang | (0)240 | + 6 digit subscriber nr |
| Bac Kan | (0)281 | + 6 digit subscriber nr |
| Bac Lieu | (0)781 | + 6 digit subscriber nr |
| Bac Ninh | (0)241 | + 6 digit subscriber nr |
| Ben Tre | (0)75 | + 6 digit subscriber nr |
| Binh Dinh | (0)56 | + 6 digit subscriber nr |
| Binh Duong | (0)650 | + 6 digit subscriber nr |
| Binh Phuoc | (0)651 | + 6 digit subscriber nr |
| Binh Thuan | (0)62 | + 6 digit subscriber nr |
| Ca Mau | (0)780 | + 6 digit subscriber nr |
| Can Tho | (0)71 | + 6 digit subscriber nr |
| Cao Bang | (0)26 | + 6 digit subscriber nr |
| Da Nang | (0)511 | + 6 digit subscriber nr |
| Dak Lak | (0)50 | + 6 digit subscriber nr |
| Dong Nai | (0)61 | + 6 digit subscriber nr |
| Dong Thap | (0)67 | + 6 digit subscriber nr |
| Gia Lai | (0)59 | + 6 digit subscriber nr |
| Ha Giang | (0)19 | + 6 digit subscriber nr |
| Ha Nam | (0)351 | + 6 digit subscriber nr |
| Ha Tay | (0)34 | + 6 digit subscriber nr |
| Ha Tinh | (0)39 | + 6 digit subscriber nr |
| Hai Duong | (0)320 | + 6 digit subscriber nr |
| Hai Phong | (0)31 | + 6 digit subscriber nr |
| Hanoi | (0)4 | + 7 digit subscriber nr |
| Ho Chi Minh City | (0)8 | + 7 digit subscriber nr |
| Hoa Binh | (0)18 | + 6 digit subscriber nr |
| Home Affairs and Defence Ministry | (0)69 | + 6 digit subscriber nr |
| Hung Yen | (0)321 | + 6 digit subscriber nr |
| Khanh Hoa | (0)58 | + 6 digit subscriber nr |
| Kien giang | (0)77 | + 6 digit subscriber nr |
| Kon Tum | (0)60 | + 6 digit subscriber nr |
| Lai Chau | (0)23 | + 6 digit subscriber nr |
| Lam Dong | (0)63 | + 6 digit subscriber nr |
| Lang Son | (0)25 | + 6 digit subscriber nr |
| Lao cai | (0)20 | + 6 digit subscriber nr |
| Long An | (0)72 | + 6 digit subscriber nr |
| Nam Dinh | (0)350 | + 6 digit subscriber nr |
| Nghe An | (0)38 | + 6 digit subscriber nr |
| Ninh Binh | (0)30 | + 6 digit subscriber nr |
| Ninh Thuan | (0)68 | + 6 digit subscriber nr |
| Phu Tho | (0)210 | + 6 digit subscriber nr |
| Phu Yen | (0)57 | + 6 digit subscriber nr |
| Quang Binh | (0)52 | + 6 digit subscriber nr |
| Quang Nam | (0)510 | + 6 digit subscriber nr |
| Quang Ngai | (0)55 | + 6 digit subscriber nr |
| Quang Ninh | (0)33 | + 6 digit subscriber nr |
| Quang Tri | (0)53 | + 6 digit subscriber nr |
| Soc Trang | (0)79 | + 6 digit subscriber nr |
| Son La | (0)22 | + 6 digit subscriber nr |
| Tay Ninh | (0)66 | + 6 digit subscriber nr |
| Thai Binh | (0)36 | + 6 digit subscriber nr |
| Thai Nguyen | (0)280 | + 6 digit subscriber nr |
| Thanh Hoa | (0)37 | + 6 digit subscriber nr |
| Thua Thien Hue | (0)54 | + 6 digit subscriber nr |
| Tien Giang | (0)73 | + 6 digit subscriber nr |
| Tra Vinh | (0)74 | + 6 digit subscriber nr |
| Tuyen Quang | (0)27 | + 6 digit subscriber nr |
| Vinh Long | (0)70 | + 6 digit subscriber nr |
| Vinh Phuc | (0)211 | + 6 digit subscriber nr |
| Yen Bai | (0)29 | + 6 digit subscriber nr |