Quick Facts
Region: Asia & Oceania
Full Name: Republic of Vanuatu
Capital City: Port-Vila (on Efate)
Language Spoken: local languages (more than 100) 72.6%, pidgin (known as Bislama or Bichelama) 23.1%, English 1.9%, French 1.4%, other 0.3%, unspecified 0.7% (1999 Census)

Vanuatu Travel Insurance
Get travel insurance to Vanuatu from Direct Travel Insurance. We offer low cost and high quality travel insurance to Vanuatu and most of the world.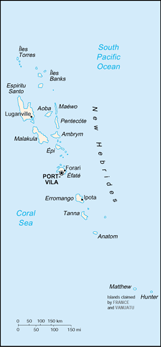 Geographic data
16 00 S, 167 00 E
Elevation Extremes
lowest point: Pacific Ocean 0 m highest point: Tabwemasana 1,877 m
Land boundaries
0 km
Natural hazards
tropical cyclones or typhoons (January to April); volcanic eruption on Aoba (Ambae) island began 27 November 2005, volcanism also causes minor earthquakes; tsunamis
Natural resources
manganese, hardwood forests, fish
Land use
arable land: 1.64% permanent crops: 6.97% other: 91.39% (2005)
Environmental current issues
a majority of the population does not have access to a reliable supply of potable water; deforestation
Climate
Subtropical. Trade winds occur from May to October. Warm, humid and wet between November and April. Rain is moderate. Cyclones are possible between December and April.
Time difference
time difference: UTC+11
Population
208,869 (July 2006 est.)
Age structure
0-14 years: 32.6% (male 34,804/female 33,331) 15-64 years: 63.7% (male 67,919/female 65,138) 65 years and over: 3.7% (male 4,027/female 3,650) (2006 est.)
Median age
total: 23 years male: 23 years female: 23 years (2006 est.)
Population growth rate
1.49% (2006 est.)
Birth rate
22.72 births/1,000 population (2006 est.)
Death rate
7.82 deaths/1,000 population (2006 est.)
Net migration rate
0 migrant(s)/1,000 population (2006 est.)
Sex ratio
at birth: 1.05 male(s)/female under 15 years: 1.04 male(s)/female 15-64 years: 1.04 male(s)/female 65 years and over: 1.1 male(s)/female total population: 1.05 male(s)/female (2006 est.)
Life expectancy at birth
total population: 62.85 years male: 61.34 years female: 64.44 years (2006 est.)
Total fertility rate
2.7 children born/woman (2006 est.)
Business Practices
Business meetings are generally casual. Business is conducted in Pidgin English or French. Office hours are typically 0730-1130 and 1330-1630 Monday to Friday.
Crime
Violent crime remains rare in Vanuatu but the overall economic decline brought on by the Asian financial crisis and Vanuatu's own internal problems have resulted in an increase in petty crimes such as thefts.
Hotels
Vanuatu has three international-standard resorts, The Radisson, Iririki Island Resort and Le Lagon. There are smaller resorts with simpler facilities on Efate, Tanna Island and Espiritu Santo.
Communications
Telephone IDD is available for incoming calls and the country code is 678. There are no area codes. Outgoing international calls must go through the international operator. There are public telephones at airports and post offices. Some hotels have fax facilities. Telex/telegram service is available at the Central Post Office in Port Vila and at main hotels. Post offices are located on the main streets in Port Vila and Luganville, on Espiritu Santo. Post office hours: 0715-1130 and 1330-1600.
Electricity
is 220 volts AC, 50Hz and uses the Australian 3-pin plugs. Electricity 240 volts AC. Australian three-pin plugs are in use.
Plug Types
Food And Dining
There are many restaurants in the main tourist areas. Seafood features strongly on hotel and restaurant menus in Port-Vila and the main towns. The numerous ethnic backgrounds of the inhabitants of Vanuatu are reflected in different styles of cooking. Chinese and French influences are the strongest. Food is generally excellent everywhere. French cheese, p?t?s, bread, cognac and wine are available in Port-Vila?s two major shops. Local fruit is excellent.
National specialties:
? Lap Lap - grated yam, banana or manioc smothered in coconut cream and cooked in an earth oven.
? Coconut crab. National drinks:
? Kava, a soporific drink made from the root of a plant related to the pepper tree. Vanuatu kava is the strongest in the world. It is non-alcoholic but is intoxicating.
Tipping:
Not expected or encouraged, as it goes against local tradition.
Nightlife
Port-Vila has several nightclubs with music and dancing. There is also a cinema. Evening cruises are organized with wine, snacks and island music. Traditional music and dancing take place at various island festivities to which visitors are welcome, and some hotels put on evening entertainment and dancing. Details are available from the Vanuatu National Tourism Office (see Top Things To See & Do).
Entry departure requirements
Visa immigration information
Passports
Passport valid for a minimum of four months beyond date of arrival required by all.
Visas
Required by all except the following, provided they are in possession of confirmed onward travel documents and have proof of sufficient funds for visit, for stays of up to 30 days:
(a) nationals of countries listed in the chart above;
(b) nationals of Commonwealth countries, and dependencies of the United Kingdom;
(c) nationals of Bermuda, Brazil, Chile, China (PR), Cuba, Hong Kong (SAR), Korea (Rep), Kuwait, Marshall Islands, Mexico, Micronesia (Federated States), Morocco, Norway, Palau, Peru, The Philippines, Russian Federation, Switzerland, Taiwan, Thailand, Tunisia, United Arab Emirates, Vatican City and Zimbabwe;
(d) transit passengers continuing their journey by the same or first connecting aircraft, provided holding valid onward or return documentation and not leaving the airport.
Types of visa and cost
Visitor (for tourist and business purposes): VUV2500.
Validity
A maximum of 30 days with the possibility of extensions of up to four months in any period of one year.
Application to
Principal Immigration Officer, Private Bag 9092, Port-Vila, Vanuatu (tel: 22354; fax: 25492).
Application requirements
(a)Passport valid for six months at time of application. (b) Two passport-size photos. (c) Proof of sufficient funds and/or accompanying business letter. (d) Return or onward tickets, and other necessary documents for onward destination.
Working days required
1 to 2.
HIV entry requirements
No Test Required
Departure tax
VUV400. Children under 12 years of age are exempt. The departure tax must be paid in cash and in local currency (Vatu) only. Note: The departure tax is often included in airfares: please check with your travel agent when booking. A separate departure fee has recently been launched which charges visitors and locals VUV200 from any Shefa province domestic airport. This applies to every leg where a passenger departs from the following domestic airports: Bauerfield- Port-Vila, Swio Airport- Emae, Pele Airport- Tongoa, Valesdir Airport- Epi and Laman Bay Airport- Epi.
Embassies
Honorary Consulate of Vanuatu in France
9 Rue Daru, 75008 Paris, France
Tel: (1) 4053 8225.
Visitors are advised not to travel to the island of Ambae, where in November 2005, the Mount Manaro volcano became highly active resulting in 3000 people being evacuated from the center of the island.
Caution is advised when considering travel to the islands of Ambrym and Tanna, which are also currently affected by volcanic activity.
Vanuatu is in an earthquake zone and suffers frequent tremors and shocks. Three earthquakes measuring between 6.2mw and 5.6mw hit Vanuatu on 25 and 26 September 2005. No serious injuries or damage were reported.
Most visits to Vanuatu are trouble-free but you should be aware of the global risk of indiscriminate international terrorist attacks, which could be against civilian targets, including places frequented by foreigners.
Violent crime is increasing and travelers should avoid visiting isolated locations alone.
This advice is based on information provided by the Foreign, Commonwealth & Development Office in the UK. It is correct at time of publishing. As the situation can change rapidly, visitors are advised to contact the following organizations for the latest travel advice:
British Foreign, Commonwealth & Development Office
Tel: (0845) 850 2829.
Website: https://www.gov.uk/foreign-travel-advice/vanuatu
US Department of State
Website: https://travel.state.gov/content/travel/en/international-travel/International-Travel-Country-Information-Pages/Vanuatu.html
Currency
Vatu (VUV) = 100 centimes. Notes are in denominations of VUV5000, 1000, 500 and 200. Coins are in denominations of VUV100, 50, 20, 10, 5, 2 and 1. Australian Dollars are also accepted in some shops and restaurants.
Currency restrictions
There are no restrictions on the import or export of either local or foreign currency.
Banking hours
Generally Mon-Fri 0800-1500, except Westpac Bank: Mon-Fri 0830-1600. Bureaux de change open Mon-Fri 0800-1730/1800, Sat-Sun 0830-1600.
Currency exchange
Exchange facilities are available at the airport and trade banks. It is advisable to exchange foreign currency after arriving in Vanuatu. Australian Dollars are accepted by many shops, restaurants and hotels in Port-Vila, but rarely outside major towns. There are ATMs at the ANZ Bank and supermarket.
Credit cards
MasterCard and Visa are quite widely accepted, American Express and Diners Club less so. Check with your credit or debit card company for details of merchant acceptability and other services which may be available.
Travellers cheques
These are widely accepted.
| City/Region | City/Area code | Followed by |
| --- | --- | --- |
| Banks | 385 | + 2 digits |
| Efate | 23 | + 3 digits |
| Epi | 24 | + 3 digits |
| Luganville | 36 | + 3 digits |
| Maewo | 383 | + 2 digits |
| Malekula | 484 | + 2 digits |
| Port Vila | 22 | + 3 digits |
| Shepherds | 282 | + 2 digits |
| Tanna | 686 | + 2 digits |