Quick Facts
Region: South America
Full Name: Venezuela
Capital City: Caracas
Language Spoken: Spanish (official), numerous indigenous dialects
Venezuela Travel Insurance
Get travel insurance to Venezuela from Direct Travel Insurance. We offer low cost and high quality travel insurance to Venezuela and most of the world.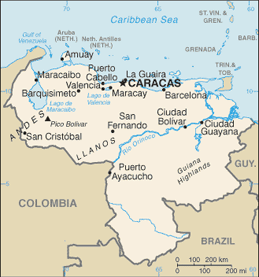 Geographic data
8 00 N, 66 00 W
Elevation Extremes
lowest point: Caribbean Sea 0 m highest point: Pico Bolivar (La Columna) 5,007 m
Land boundaries
total: 4,993 km border countries: Brazil 2,200 km, Colombia 2,050 km, Guyana 743 km
Natural hazards
subject to floods, rockslides, mudslides; periodic droughts
Natural resources
petroleum, natural gas, iron ore, gold, bauxite, other minerals, hydropower, diamonds
Land use
arable land: 2.85% permanent crops: 0.88% other: 96.27% (2005)
Environmental current issues
sewage pollution of Lago de Valencia; oil and urban pollution of Lago de Maracaibo; deforestation; soil degradation; urban and industrial pollution, especially along the Caribbean coast; threat to the rainforest ecosystem from irresponsible mining operations
Climate
The climate varies according to altitude. Lowland areas have a tropical climate. The dry season is from December to April and the rainy season from May to December. During the rainy season, there is the possibility of flooding in certain low-lying areas, such as the Llanos and in some valley of the Andes. Various parts of Venezuela, including Caracas and the eastern part of Sucre, are vulnerable to earthquakes, although there have been no serious earthquakes for many years. The best time to visit is between January and April.
Time difference
time difference: UTC-4
Population
25,730,435 (July 2006 est.)
Age structure
0-14 years: 29.1% (male 3,860,116/female 3,620,440) 15-64 years: 65.7% (male 8,494,944/female 8,410,874) 65 years and over: 5.2% (male 609,101/female 734,960) (2006 est.)
Median age
total: 26 years male: 25.4 years female: 26.6 years (2006 est.)
Population growth rate
1.38% (2006 est.)
Birth rate
18.71 births/1,000 population (2006 est.)
Death rate
4.92 deaths/1,000 population (2006 est.)
Net migration rate
0 migrant(s)/1,000 population (2006 est.)
Sex ratio
at birth: 1.08 male(s)/female under 15 years: 1.07 male(s)/female 15-64 years: 1.01 male(s)/female 65 years and over: 0.83 male(s)/female total population: 1.02 male(s)/female (2006 est.)
Life expectancy at birth
total population: 74.54 years male: 71.49 years female: 77.81 years (2006 est.)
Total fertility rate
2.23 children born/woman (2006 est.)
Business Practices
Business meetings are typically formal, with suit and tie expected of visitors. English is becoming more widely spoken in business circles, particularly at executive level. Nevertheless, Spanish is essential for most business discussions. Appointments are necessary and a business visitor should be punctual. It is common to exchange visiting cards. Office hours are 0800-1800 Monday to Friday with a long midday break.
Crime
Crime is the greatest problem confronting the visitor to Venezuela. Seventy-five percent of the crimes reported in Caracas involve some type of street crime, pickpockets, snatch-and-run or armed robberies. These types of robberies occur at any time of day or night. Visitors to Venezuela are advised to avoid the economically deprived barrios, areas known for extremely high incidents of crime. Visitors in Caracas should limit their exposure on street, particularly at night. If travel is required, the use of a privately-owned vehicle or taxi is recommended. Visitors should maintain a low profile and try to blend in. They should take special precautions to avoid wearing expensive watches, gold chains, or jewelry, or carrying large amounts of cash. The conventional wisdom is to carry only what is absolutely needed in cash, credit cards, and identification when traveling around the country. Experience has shown that persons who carry a camera in plain view are normally relieved of that property in short order. Carry cameras and other hand-carried objects of value, concealed in some type of handbag. If confronted on the street by a would-be thief, it is best to assume that your assailant is armed and working with an accomplice, whether you can immediately identify one or not. Without any hesitation or show of resistance, hand over what you have. Experience has shown that this response usually prevents needless violence. It has been shown that violence normally occurs when a victim fails to cooperate or struggles with the would-be thieves. Most of the crimes committed are economically motivated. However, people should not/not agree to move off the street if told to do so by the assailant. It is best to have the robbery take place on the street and in full public view to minimize chances of any possible gratuitous violence. Most crime is economically motivated. Pickpockets concentrate in and around crowded bus and subway stations, along with the area around "Parque Simon Bolivar" near the "Capitolio" area in downtown Caracas. There have been cases of theft from hotel rooms and safe deposit boxes. The "barrios" (the poor neighborhoods that cover the hills around Caracas) and isolated urban parks, such as "El Calvario" in the "El Silencio" area of Caracas, can be very dangerous. Most criminals are armed with guns or knives, and will use force. Theft of unattended valuables on the beach and from rental cars parked in isolated areas or on city streets is common. A guarded garage is not always a guarantee against theft. Travelers are advised not to leave valuables or belongings in open view, even in locked vehicles. There have been incidents on Margarita Island in which tourists have been targeted for robbery and theft. Armed robberies are common in urban and tourist areas, and travelers should exercise caution in displaying money and valuables. Also, four-wheel drive vehicles have been targeted for carjackings in the past. For expatriates, residential crime is a real and growing problem, with no reason to believe that this escalating problem will be brought under control in the foreseeable future. People who opt to live in single family homes, referred to as "quintas" in the local lexicon, should be aware that police patrols of residential neighborhoods are rare, and that criminals normally prey on those "quintas" that are left unoccupied. While experience shows that maintaining a 24-hour continuous presence in the "quinta" is an excellent preventive measure, the best solution to residential crime is to require all expatriates to live in apartment buildings that offer 24-hour guard service and secured off-street parking for vehicles.
Hotels
There are many excellent hotels in Caracas. Numerous smaller hotels are open throughout the country but it is essential to make reservations at both these and the larger international hotels well in advance. The main hotels are Hotel Caracas Hilton, the Hotel Eurobuilding, the Sheraton and the Hotel Tamanaco Intercontinental.
Communications
Telephone IDD service is available to the country. The country code is 58 and the outgoing international code is 00. Fax facilities are available at larger hotels. Important documents can be sent via international courier (such as DHL or Federal Express, and more recently, UPS). Note however that international courier service should only be used for papers and documents and not include anything else or it will be delayed by Venezuelan customs. Most correspondence is by fax. Electricity is a 110 volts AC, 60Hz. American-type 2-pin plugs are the most commonly used fittings.
Electricity
110 volts AC, 60Hz. US-style two-pin plugs are the most commonly used fittings.
Plug Types
A,B
Food And Dining
Cumin and saffron are used in many dishes but the distinctive and delicate flavor of most of the popular dishes comes from the use of local roots and vegetables. There is no good local wine, although foreign wines are bottled locally. There are several good local beers, mineral waters, gin and excellent rum.
National specialties:
Arepas (the native bread made from primitive ground corn, water and salt).
Pabell?n criollo (hash made with shredded meat and served with fried plantains and black beans on rice).
Hallaca (cornmeal is combined with beef, pork, ham and green peppers, wrapped in individual pieces of banana leaves and cooked in boiling water, traditionally eaten at Christmas and New Year).
Parrilla criolla is beef marinated and cooked over a charcoal grill.
Hervido (soup made with chunks of beef, chicken or fish and native vegetables or roots).
National drinks:
Coffee.
Merengada (fruit pulp, ice, milk and sugar).
Pousse-caf? is an after-dinner liqueur.
Things to know: Bars have either table or counter service. A lisa is a glass of draught beer and a tercio a bottled beer. Most bars are open very late and there are no licensing laws. Table service is the norm and opening hours are 2100-2300.
Tipping:
Tips are discretionary but in the majority of bars and restaurants, 10 per cent is added to the bill and it is customary to leave another 10 per cent on the table. Bellboys and chambermaids should be tipped and, in Caracas, tips are higher than elsewhere.
Nightlife:
There are many nightclubs and discos in the major cities of Venezuela. The National and Municipal Theaters offer a variety of concerts, ballet, plays, operas and operettas. There are other theaters - some of which are open-air - in Caracas, as well as several cinemas.
Entry departure requirements
* Please see visa section Visa immigration information
Passports
Passport valid for at least six months (if entering with a visa) or for the duration of stay (if entering with a Tourist Entry Card) required by all.
Visas
Required by all except the following, who do, however, require a Tourist Entry Card (DEX-2), which is issued free of charge by an authorized air carrier on presentation of valid air tickets (including return or onward ticket) for stays of maximum 90 days (non-extendable):
(a) nationals of countries mentioned in the chart above, except 1. nationals of Cyprus, Estonia, Latvia and Malta who do need a visa;
2. (b) nationals of Andorra, Antigua & Barbuda, Argentina, Barbados, Belize, Brazil, Bulgaria, Chile, Costa Rica, Croatia, Grenada, Guatemala, Hong Kong (SAR), Iceland, Jamaica, Liechtenstein, Malaysia, Mexico, Monaco, Netherlands Antilles, New Zealand, Norway, Panama, Paraguay, Romania, San Marino, St Kitts & Nevis, St Lucia, St Vincent & the Grenadines, South Africa, Switzerland, Taiwan, Trinidad & Tobago and Uruguay.
Types of visa and cost
Tourist Entry Card: Free of charge (single-entry). Tourist: US$38 (multiple-entry). Business: US$75 (multiple-entry). Student: US$75 (multiple entry). Transit: US$38 (single-entry).
Validity
Tourist/Tourist Entry Cards: 90 days (tourist visas are valid for up to one year but only permit entry for 90 days in any one period). Business: 180 days. Transit: up to 72 hours.
Application to
Consulate (or consular section at Embassy); see Passport/Visa Information. Tourist Entry Cards are available at the airport check-in desk prior to departure.
Application requirements
Tourist: (a) Completed and signed application form. (b) Two recent color passport-size photos. (c) Passport with at least six months' validity at time of visa application. (d) Fee (postal order). (e) Self-addressed, recorded delivery envelope for postal applications. (f) A letter of employment from employer, stating date of commencement, position and salary. (g) Latest bank statement. Business: (a)-(e) and, (f) Employer's reference and letter confirming purpose of visit. (g) Reference from company to be contacted in Venezuela. Student: (a)-(e) and, (f) Letter of admission from educational institution. (g) Proof of academic degrees/attestations. Transit: (a) Ticket confirming you will be continuing to a third country. (b) Name of airline carrier. (c) Flight number. (d) Date you will be entering and departing Venezuela. (e) Name of entry and departing Venezuelan port or airport.
Working days required
Three.
Temporary residence
Special authorization is required from the Ministry of Internal Affairs in Caracas.
HIV entry requirements
No Test Required
Departure tax
VEB73,000 on international flights from all international airports. Transit passengers and children under two years are exempt.
Embassies
Embassy of the Republic of Venezuela in the UK
1 Cromwell Road, London SW7 2HR, UK
Tel: (020) 7584 4206/7.
Website: http://reinounido.embajada.gob.ve/index.php?lang=en
Opening hours: Mon-Fri 0900-1600.
Embassy of the Republic of Venezuela (Consular Section) in the UK
56 Grafton Way, London W1P 5LB, UK
Tel: (020) 7387 6727.
Website: http://reinounido.embajada.gob.ve/index.php?lang=en
Opening hours: Mon-Fri 1000-1300.
Embassy of the Bolivarian Republic of Venezuela in the USA
1099 30th Street, NW, Washington, DC 20007, USA
Tel: (202) 342 2214.

The incidence of street crime in Venezuela is high and rising. There have been muggings and kidnappings by bogus taxi operators at Caracas International Airport (Maiquetia).
Political demonstrations may occur at any time in the major cities, possibly leading to localized violence.
Travelers should be aware of the global risk of indiscriminate terrorist attacks, which could be against civilian targets, including places frequented by foreigners.
This advice is based on information provided by the Foreign, Commonwealth & Development Office in the UK. It is correct at time of publishing. As the situation can change rapidly, visitors are advised to contact the following organizations for the latest travel advice:
British Foreign, Commonwealth & Development Office
Tel: (0845) 850 2829.
Website: www.gov.uk/foreign-travel-advice
US Department of State
Website: http://travel.state.gov/travel
Currency
Bol?var (VEB) = 100 c?ntimos. Notes are in denominations of VEB50,000, 20,000, 10,000, 5000, 2000, 1000, 500, 100, 50, 20, 10 and 5. Coins are in denominations of VEB500, 100, 50, 25, 5, 2 and 1, and 50, 20, 10 and 5 c?ntimos.
Currency restrictions
The import and export of local and foreign currency is unlimited.
Banking hours
Mon-Fri 0830-1530.
Currency exchange
Banks will change cheques and cash, and cambios will change cash only; as will hotels, although often at a less favorable rate. Travelers are advised to bring currency in US Dollars.
Credit cards
American Express, MasterCard and Visa are accepted in main cities and tourist centers; Diners Club has more limited acceptance. Check with your credit or debit card company for details of merchant acceptability and for other facilities which may be available.
Travellers cheques
Widely accepted, although one may be asked to produce a receipt of purchase when changing them in Venezuela. Exchange is more difficult in some places than others. Some kinds of traveller's cheques are not accepted; seek advice before traveling. To avoid additional exchange rate charges, travelers are advised to take traveller's cheques in US Dollars.
| City/Region | City/Area code | Followed by |
| --- | --- | --- |
| Amazonas, Apure, Bolkvar | (0)248 | + 7 digit subscriber nr |
| Anzoitegui | (0)283 | + 7 digit subscriber nr |
| Anzoitegui, Bolkvar | (0)285 | + 7 digit subscriber nr |
| Anzoitegui, Bolkvar, Guirico | (0)235 | + 7 digit subscriber nr |
| Anzoitegui, Monagas | (0)292 | + 7 digit subscriber nr |
| Apure, Barinas, Guirico | (0)247 | + 7 digit subscriber nr |
| Apure, Barinas, Tichira | (0)278 | + 7 digit subscriber nr |
| Apure, M?rida, Tichira | (0)277 | + 7 digit subscriber nr |
| Aragua, Carabobo | (0)243 | + 7 digit subscriber nr |
| Aragua, Guirico | (0)246 | + 7 digit subscriber nr |
| Aragua. | (0)244 | + 7 digit subscriber nr |
| Barinas, Cojedes | (0)258 | + 7 digit subscriber nr |
| Barinas, M?rida | (0)273 | + 7 digit subscriber nr |
| Bolkvar | (0)288 | + 7 digit subscriber nr |
| Bolkvar, Monagas | (0)286 | + 7 digit subscriber nr |
| Carabobo | (0)249 | + 7 digit subscriber nr |
| Carabobo, Falc?n | (0)242 | + 7 digit subscriber nr |
| D.F, Miranda, Vargas | (0)212 | + 7 digit subscriber nr |
| Delta Amacuro, Monagas | (0)287 | + 7 digit subscriber nr |
| Dep. Federales | (0)237 | + 7 digit subscriber nr |
| Falc?n | (0)269 | + 7 digit subscriber nr |
| Falc?n, Zulia | (0)266 | + 7 digit subscriber nr |
| Guirico | (0)238 | + 7 digit subscriber nr |
| Lara | (0)252 | + 7 digit subscriber nr |
| Lara, Yaracuy | (0)253 | + 7 digit subscriber nr |
| M?rida | (0)274 | + 7 digit subscriber nr |
| M?rida, Tichira, Zulia | (0)275 | + 7 digit subscriber nr |
| Miranda | (0)239 | + 7 digit subscriber nr |
| Monagas | (0)291 | + 7 digit subscriber nr |
| Nueva Esparta | (0)295 | + 7 digit subscriber nr |
| Portuguesa | (0)257 | + 7 digit subscriber nr |
| Sucre | (0)294 | + 7 digit subscriber nr |
| Tichira | (0)276 | + 7 digit subscriber nr |
| Trujillo | (0)272 | + 7 digit subscriber nr |
| Yaracuy | (0)254 | + 7 digit subscriber nr |
| Zulia | (0)267 | + 7 digit subscriber nr |