Quick Facts
Region: Middle East
Full Name: State of Israel
Capital City: Jerusalem
Language Spoken: Hebrew (official), Arabic used officially for Arab minority, English most commonly used foreign language
Israel Travel Insurance
Get travel insurance to Israel from Direct Travel Insurance. We offer low cost and high quality travel insurance to Israel and most of the world.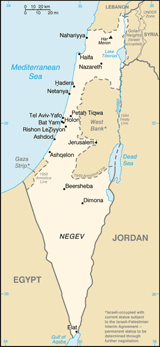 Geographic data
31 30 N, 34 45 E
Elevation Extremes
lowest point: Dead Sea -408 m highest point: Har Meron 1,208 m
Land boundaries
total: 1,017 km border countries: Egypt 266 km, Gaza Strip 51 km, Jordan 238 km, Lebanon 79 km, Syria 76 km, West Bank 307 km
Natural hazards
sandstorms may occur during spring and summer; droughts; periodic earthquakes
Natural resources
timber, potash, copper ore, natural gas, phosphate rock, magnesium bromide, clays, sand
Land use
arable land: 15.45% permanent crops: 3.88% other: 80.67% (2005)
Environmental current issues
limited arable land and natural fresh water resources pose serious constraints; desertification; air pollution from industrial and vehicle emissions; groundwater pollution from industrial and domestic waste, chemical fertilizers, and pesticides
Climate
Mediterranean, with a pleasant spring and autumn. Winters in the north can be cool. Rain in winter is widespread, particularly in Jerusalem. Snow is rare. Summers can be very hot, especially in the south. The Red Sea resort of Eilat has a good climate for beach holidays all the year round. Required clothing Lightweight cottons and linens for warmer months are required. Mediumweights are recommended for winters, although on the Red Sea coast they are unlikely to be necessary during the day.
Time difference
time difference: UTC+2 daylight saving time: +1hr, begins last Friday in March; ends the Sunday between the holidays of Rosh Hashana and Yom Kippur note: Israel proclaimed Jerusalem as its capital in 1950, but the US, like nearly all other countries, maintains its Embassy in Tel Aviv
Population
6,352,117 note: includes about 187,000 Israeli settlers in the West Bank, about 20,000 in the Israeli-occupied Golan Heights, and fewer than 177,000 in East Jerusalem (July 2006 est.)
Age structure
0-14 years: 26.3% (male 855,054/female 815,619) 15-64 years: 63.9% (male 2,044,135/female 2,016,647) 65 years and over: 9.8% (male 266,671/female 353,991) (2006 est.)
Median age
total: 29.6 years male: 28.8 years female: 30.5 years (2006 est.)
Population growth rate
1.18% (2006 est.)
Birth rate
17.97 births/1,000 population (2006 est.)
Death rate
6.18 deaths/1,000 population (2006 est.)
Net migration rate
0 migrant(s)/1,000 population (2006 est.)
Sex ratio
at birth: 1.05 male(s)/female under 15 years: 1.05 male(s)/female 15-64 years: 1.01 male(s)/female 65 years and over: 0.75 male(s)/female total population: 0.99 male(s)/female (2006 est.)
Life expectancy at birth
total population: 79.46 years male: 77.33 years female: 81.7 years (2006 est.)
Total fertility rate
2.41 children born/woman (2006 est.)
Business Practices
Business suits are appropriate for meetings with private sector companies and government officials, but business travelers will find business dress in both private sector and government offices to be much less formal than in Europe or North America, especially during the summer months. Israel has a professional and westernized business environment. Israelis arrive well prepared for meetings, come straight to the point and are very direct. Appointments can be made on fairly short notice, but punctuality is desired. Business cards are recommended. English is widely spoken in the business community and in government offices. Most businesses and government offices work a 40-45 hour, five day-work weeks, from Sunday through Thursday. Common office hours are from 8:00 a.m. till 5:00 p.m. Retail outlets are also open on Fridays, from 9:00 a.m. till 2:00 p.m. Banks are usually open in the mornings, Sunday through Friday. Business hours vary somewhat due to the different religions practiced. Some offices are open half day on Friday.
Crime
Throughout Israel, street crime can be considered low, with theft, burglary and auto theft the main areas of concern. Foreign visitors are not specifically singled out for criminal activity. As with most densely populated areas, the average pickpocket and con?artist threats are always present. However, by utilizing good security practices, most problems can be avoided. Cars and hotel rooms should always be locked. Valuables and excess cash should not be carried and care should be taken to protect cameras, etc. The Israeli national police force is a professional, well?trained law enforcement organization. It is responsive to requests for emergency services and has developed excellent anti?crime programs. An additional point, which may be useful to the traveling public, is that traffic in the large metropolitan areas is heavy and erratic. Caution should be taken when driving, especially during inclement weather. Also, a large number of Israeli citizens are armed and it is not unusual to see soldiers on the highways traveling to and from their duty stations with issued firearms. These sights should not alarm travelers, as it is a common method of travel for those in the military. Israel has strict security measures that may affect visitors. Prolonged questioning and detailed searches may take place at the time of entry and/or departure at all points of entry to Israel or the occupied territories. Foreign citizens with Arab surnames may expect close scrutiny at Ben Gurion airport and the Allenby Bridge from Jordan. For security reasons, delays or obstacles in bringing in or departing with cameras or electronics equipment are not unusual. Items commonly carried by travelers such as toothpaste, shaving cream, and cosmetics may be confiscated or destroyed for security reasons, especially at the Allenby Bridge. Palestinian officials have also begun to shut down portions of Palestinian controlled areas, especially to Israeli vehicles. Foreigners may also be detained or turned around at these checkpoints.
Hotels
Israel has a variety of good business hotels. Most places accept internationally recognized credit cards such as Visa, MasterCard, Eurocard, American Express, and Diners Club.
Communications
Full telephone IDD service is available. The country code is 972 and the outgoing international code is 00. Local telephone directories are in Hebrew, but there is a special English-language version for tourists. Fax services are widely available. Post office hours may vary but are generally: 0800-1230 and 1530-1830 Sunday to Thursday, 0800-1330 Wednesday and 0800-1200 Friday. All post offices are closed on Shabbat (Saturday) and holy days, although central telegraph offices are open throughout the year.
Electricity
is 220 volts AC, 50Hz. 3-pin plugs are standard; if needed, adapters can be purchased in Israel. Electricity 230 volts AC, 50Hz. Three-pin plugs are standard; if needed, adaptors can be purchased in Israel.
Plug Types
H,C
Food And Dining
Israeli cuisine is essentially a combination of Oriental and Western cuisine, plus an additional distinct flavor brought by the many and varied nationalities which make up the Israelis. Some restaurants are expensive, though a high price does not necessarily mean a high standard. Table service is usual. There are many snack bars. Restaurants, bars and cafes catering for tourists usually have menus in two languages (Hebrew plus French or English).
National specialties:
? Falafel, deep fried mashed chickpeas.
? Humus, ground chickpea dip.
? Tahini, sesame seed paste.
? Shishlik, charcoal grilled meet on a skewer.
? Kebabs, meat usually served in a pita bread.
? Gefilte fish, a traditional Jewish white fish dish.
? Chopped liver and chicken soup. National drinks:
? The wines of Israel range from light white to dry red and sweet ros?.
? Gold Star and Maccabee, Israeli beer.
? Arak (an anise drink).
? Hard Nut (a walnut concoction of Eliaz winery)
? Sabra (chocolate and orange liqueur). A center for liqueurs is the monastery at Latrun on the road between Jerusalem and Tel Aviv. Things to know: The Hebrew word kosher means food conforming to Jewish religious dietary laws. Milk, cream or cheese may not be served together with meat in the same meal. Pork and shellfish are officially prohibited, but it is possible to find them on many menus in non-kosher restaurants.
Tipping:
A 15 per cent service charge is added to restaurant, cafe and hotel bills by law.
Nightlife
There are nightclubs and discos in most cities. Israel's club scene, particularly Tel Aviv and Jeruslem draw DJs and club fans from the USA and Europe. Tel Aviv has a wealth of entertainment to divert the visitor and there are rock, jazz, folk and pop music clubs in all the main cities and resorts. Israeli folklore and dance shows can be seen everywhere, especially in the kibbutzim. The Israeli Philharmonic Orchestra can be heard at the ICC Binaynei Ha?uma Hall in Jerusalem during the winter. A summer attraction is the Israel Festival of International Music. The New Israel Opera hosts an annual season at the Tel Aviv Performing Arts center. The season runs from October to July. Cinema is popular in Israel and many cinemas screen three daily shows of international and local films (all Hebrew films are subtitled in English and French). Tickets for all events and even films can be bought in advance from ticket agencies and sometimes from hotels and tourist offices.
Entry departure requirements
* Please see passport section
Visa immigration information
Passports
Passport valid for a minimum of six months beyond intended date of arrival required by all.
Note
(a) Persons wishing to proceed to an Arab country other than Egypt or Jordan after visiting Israel should ensure their passport does not contain an Israeli visa or stamp. However, persons permitted to stay in Israel for a period of three months or more will be required to have an extension stamped in their passport. (b) Former nationals of Israel holding a foreign passport must have written proof of having given up Israeli identity, otherwise, they may be required to obtain a new Israeli passport or renew their original one.
Visas
All nationals require a stamp on arrival. Visas are required by all except the following:
(a) 1. nationals of countries mentioned in the chart above (except nationals of Germany if born before 1 January 1928 who do require a visa);
(b) nationals of Argentina, The Bahamas, Barbados, Bolivia, Brazil, Central African Republic, Chile, Colombia, Costa Rica, Croatia, Dominican Republic, Ecuador, El Salvador, Fiji, Gibraltar, Guatemala, Haiti, Hong Kong (SAR), Iceland, Jamaica, Korea (Rep), Lesotho, Liechtenstein, Malawi, Mauritius, Mexico, Micronesia (Federated States of), Monaco, Mongolia, New Zealand, Norway, Panama, Paraguay, The Philippines, St Kitts & Nevis, San Marino, South Africa, St Lucia, Surinam, Swaziland, Switzerland, Trinidad & Tobago, Uruguay and Vanuatu;
(c) transit passengers continuing their journey within 24 hours by the same or first connecting flight provided holding valid onward or return documentation and not leaving the airport.
Note
It is advisable to check with nearest Consulate (or Consular section at Embassy) for visa requirements before traveling to Israel as requirements may vary for some nationals.
Types of visa
Tourist/Entry: ?11 (cash only, or ?12 postal order). These fees are for UK nationals; prices vary according to nationality. Cruise ship passengers visiting Israel will be issued Landing Cards, allowing them to remain in the country for as long as the ship is in port. No visa applications are required.
Validity
Three months but varies according to nationality. Visas may be extended (for a nominal fee) at offices of the Ministry of the Interior in the following locations: Afula, Akko (Acre), Ashqelon, Be?ersheba, Eilat, Hadera, Haifa, Herzrelia, Holon, Jerusalem, Nazareth, Netanya, Petah Tiqva, Ramat Gan, Ramla, Rehovot, Safed, Tel Aviv and Tiberias.
Application to
Consulate (or Consular section at Embassy); see Passport/Visa Information for details.
Application requirements
(a) Valid passport. (b) Application form. (c) One passport-size photo. (d) Return ticket. (e) A copy of tenancy agreement or mortgage arrangements. (f) Bank statement for last three months. (g) Self-addressed envelope and a day time telephone number. (h) Invitation from company/friends/contact in Israel (i) Letter from travel agent confirming itinerary, reservation of return ticket, hotel and medical insurance. (i) Letter from employer/university specifying period of time you have worked with them and that you will be returning after trip. (j) Fee, payable by postal order or cash.
Note
Different application requirements, and advice on crossing the border, will almost certainly apply to those traveling on to Egypt or Jordan; it is essential that the Embassy/Consulate be consulted beforehand.
Working days required
Depends on nationality. Some visas will require authorization from Israel and so it is advisable to contact the Embassy before booking travel tickets.
Temporary residence
Apply to the Ministry of the Interior in Israel.
Note
As a concession to travelers intending to travel at a later date to countries with entry restrictions for visitors to Israel, entry stamps will, on request, be entered only on the entry form AL-17 and not on the passport. This facility is not available to those required to obtain their Israeli visas in advance.
HIV entry requirements
Test is reqiured for foreign workers. The Ministry of the Interior reserves the right to deny entry to any foreigner claiming to be HIV positive.
Departure tax
None
Embassies
Embassy of Israel in the UK
2 Palace Green, London W8 4QB, UK
Tel: (020) 7957 9500.
Opening hours: Mon-Thurs 0900-1730, Fri 0830-1330.
Consular section: 15a Old Court Palace, London W8 4QB, UK
Tel: (020) 7957 9576/9627/9680.
Website: http://embassies.gov.il/london/Pages/default.aspx
Opening hours: Mon-Thurs 1000-1330, Fri 1000-1230.
Embassy of Israel in the USA
3514 International Drive, NW, Washington, DC 20008, USA
Tel: (202) 364 5500 or 5527 (consular section).
Website: www.israelemb.org
Disengagement of the Gaza strip was completed with an Israeli military withdrawal from Gaza on 12 September 2005. Visitors are advised against all travel to the Gaza strip because of the security situation and continuing threat of kidnap of foreign nationals.
Travelers are also advised against all but essential travel to the West Bank apart from Ramallah, Jericho and Bethlehem.
Travelers are advised against all but essential travel along Israel?s border with Lebanon, and close to the Israeli side of the Israel/Gaza Strip border. Travelers should take care at crossing points between Israel and Jordan. While there has been a reduction in the level of violence in 2005, a high threat from terrorism and military activity in Israel and in the Occupied Territories remains.
Travelers planning to visit Israel or the Occupied Territories should be very careful about their personal security arrangements throughout their visit. Developments in the region could affect the security situation.
This advice is based on information provided by the Foreign & Commonwealth Office in the UK. It is correct at time of publishing. As the situation can change rapidly, visitors are advised to contact the following organizations for the latest travel advice:
British Foreign, Commonwealth & Development Office
Website: www.gov.uk/foreign-travel-advice
US Department of State
Currency
New Shekel (ILS) = 100 agorot (singular, agora). Notes are in denominations of ILS200, 100, 50, and 20. Coins are in denominations of ILS100, 50, 10, 5, 1 and half and 50 and 10, 5 and 1 agorot.
Currency restrictions
There are no restrictions on the import of local or foreign currency. Travelers planning to export local currency should apply to a local bank before departure from Israel. The export of foreign currency is limited to the amount imported.
Banking hours
Sun-Fri 0830-1200 and Sun, Tues, Thurs 1600-1800.
Currency exchange
Foreign currency can only be exchanged at authorized banks, hotels and change shops. Change shops found in most cities, charge no commission and equal the bank exchange rates. It is advisable to leave Israel with the minimum of Israeli currency. Payment in foreign currency exempts tourists from VAT on certain purchases and services, and is sometimes preferred by shop keepers. A maximum of US$500 worth of new shekels can be reconverted to foreign currency by travelers leaving Israel.
Credit cards
All major credit cards are accepted. ATMs are widely available.
Travellers cheques
These are widely accepted. To avoid additional exchange rate charges, travelers are advised to take traveller's cheques in US Dollars.
| City/Region | City/Area code | Followed by |
| --- | --- | --- |
| Haifa | (0)4 | + 7 digit subscriber nr |
| Hasharon | (0)9 | + 7 digit subscriber nr |
| Hashfela | (0)8 | + 7 digit subscriber nr |
| Jerusalem | (0)2 | + 7 digit subscriber nr |
| Tel Aviv | (0)3 | + 7 digit subscriber nr |