Quick Facts
Region: Europe
Full Name: Ireland
Capital City: Dublin
Language Spoken: English (official) is the language generally used, Irish (official) (Gaelic or Gaeilge) spoken mainly in areas located along the western seaboard
Ireland Travel Insurance
Get travel insurance to Ireland from Direct Travel Insurance. We offer low cost and high quality travel insurance to Ireland and most of the world.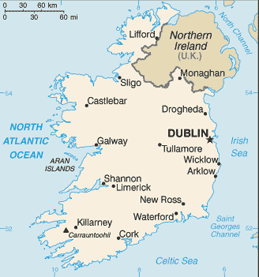 Geographic data
53 00 N, 8 00 W
Elevation Extremes
lowest point: Atlantic Ocean 0 m highest point: Carrauntoohil 1,041 m
Land boundaries
total: 360 km border countries: UK 360 km
Natural hazards
NA
Natural resources
natural gas, peat, copper, lead, zinc, silver, barite, gypsum, limestone, dolomite
Land use
arable land: 16.82% permanent crops: 0.03% other: 83.15% (2005)
Environmental current issues
water pollution, especially of lakes, from agricultural runoff
Climate
The temperate climate is due to mild southwesterly winds and the Gulf Stream. Summers are warm, while temperatures during winter are much cooler. Spring and autumn are very mild. Rain falls all year. Required clothing Lightweights during summer with warmer mediumweights for the winter. Rainwear is advisable throughout the year.
Time difference
time difference: UTC 0 daylight saving time: +1hr, begins last Sunday in March; ends last Sunday in October
Population
4,062,235 (July 2006 est.)
Age structure
0-14 years: 20.9% (male 437,903/female 409,774) 15-64 years: 67.6% (male 1,373,771/female 1,370,452) 65 years and over: 11.6% (male 207,859/female 262,476) (2006 est.)
Median age
total: 34 years male: 33.2 years female: 34.8 years (2006 est.)
Population growth rate
1.15% (2006 est.)
Birth rate
14.45 births/1,000 population (2006 est.)
Death rate
7.82 deaths/1,000 population (2006 est.)
Net migration rate
4.87 migrant(s)/1,000 population (2006 est.)
Sex ratio
at birth: 1.07 male(s)/female under 15 years: 1.07 male(s)/female 15-64 years: 1 male(s)/female 65 years and over: 0.79 male(s)/female total population: 0.99 male(s)/female (2006 est.)
Life expectancy at birth
total population: 77.73 years male: 75.11 years female: 80.52 years (2006 est.)
Total fertility rate
1.86 children born/woman (2006 est.)
Business Practices
Business people should wear formal clothes for meetings but in general, Irish business executives are less formal than their European counterparts and the use of first names at an early stage of a business relationship is acceptable. Friendship and mutual trust are highly valued and once an American has earned this trust, a productive working relationship can usually be expected. However, it is advisable to make prior appointments and to allow enough time to complete business matters. Office hours are generally 0900-1700, Monday-Friday.
Crime
While Ireland has a low rate of violent crime, there is a high incidence of petty crime, mostly theft, burglary, and purse snatching, and tourists are particular targets. Thieves also target rental cars. Do not leave anything in your vehicle, especially in the city but also in remote areas. Anything in plain view is an easy target for criminals. Remove radios from vehicles when parked. If valuables must remain in vehicles, they should be placed in the trunk before the vehicle is parked. Many criminals watch unsuspecting tourists place their valuables in the trunk after they park their vehicle. In the cities, do not carry your wallet in your back pocket. Carry purses, with secured flaps, in front of you and hold it close to your body. In restaurants, do not place your purse on the floor between your feet. Also, do not leave your purse hanging on the back of your chair while you are eating. In hotels, do not leave valuables in your room. Use safe deposit boxes for cash, jewelry, and other valuables provided by most reputable hotels. Travel in groups while in the cities, stay in well-lit areas at night and be familiar with your surroundings.
Hotels
Ireland has a diverse range of accommodations from world class hotels to the more individualized and economical bed and breakfast guesthouses. In view of the large number of visitors going to Ireland, business travelers are advised to make their hotel reservations well in advance, especially during the summer months, in order to assure the needed accommodations.
Communications
Telephone IDD service is available. The country code is 353 followed by the area code, omitting the initial zero. An investment of over $3 billion has provided Ireland with a sophisticated digital telecommunications system which includes a direct dialing telephone service connecting every part of Ireland with over 90 percent of the rest of the world. There are over one million telephone lines on the public network and the current level of digitalization is 70 percent. Telecom Eireann (TE), Ireland's telecommunications utility, offers a wide range of business services including point-to-multipoint data transmission, computer-to-computer file transfer networking, fax, telex, and video communications. U.S. calling cards such as AT&T, and Sprint may be used locally for making international calls. AT&T has a local office which can assist the U.S. visitor. Post offices are open 0900-1730/1800 Monday to Friday and 0900-1300 Saturday. Sub-post offices close at 1300 one day of the week.
Electricity
is 220 volts AC, 50Hz. Electricity 220 volts AC, 50Hz. Three-pin plugs are in use.
Plug Types
G
Food And Dining
Ireland is a farming country noted for its meat, bacon, poultry and dairy produce. The surrounding sea, inland lakes and rivers offer fresh fish including salmon, trout, lobster, mussels and periwinkles. Dublin has a wide selection of restaurants and eating places to suit every pocket, as do the other major towns. Cooking courses: Ireland has recently become a must-visit destination for food lovers, as such, cookery courses are available throughout the country. They vary from formal teaching in schools which offer classes all year round, to smaller, informal courses run by enthusiastic chefs in rural restaurants.
National specialties:
? Dublin Bay prawns.
? Oysters (served with Guinness and wholemeal bread).
? Irish stew (traditionally made with mutton or old sheep, now mostly made with lamb or juicy beef, this dish is usually served with potatoes, stock, onions, carrots and garlic).
? Crubeens (pigs' trotters).
? Colcannon (a mixture of potatoes and cabbage cooked together).
? Soda bread.
? Souffl? made with carrageen (a variety of seaweed). The two most internationally distinctive alcoholic products are whiskey (spelt with an 'e') and stout. Irish whiskey has a uniquely characteristic flavor and is matured in a wooden barrel for a minimum of seven years. Certainly as popular as whiskey is stout which is bottled or served from the tap. National drinks:
? Whiskey: popular brands are: Jamesons, John Powers Gold Label, Hewitts, Midleton, Old Bushmills, Paddy, Reserve and Tullamore Dew.
? Irish coffee is popular (a glass of strong black coffee, brown sugar and whiskey with cream).
? Guinness, one of the most famous, popular and distinctive drinks in the world, is found everywhere.
? One of the most popular lighter ales is Smithwick's or Harp Lager, also available everywhere.
? Liqueurs such as Bailey's and Irish Mist are both made from a base of Irish whiskey. Things to know: Table and self-service are both common. 'Tea' is often almost a full meal with sandwiches and cakes. Pubs, of which Ireland has plenty, are sometimes called 'lounges' or 'bars' and there is often a worded sign outside the premises rather than the traditional painted boards found in Britain. Pubs and bars have counter service. The measure used in Ireland for spirits is larger than that used in Britain, for example an Irish double is equal to a triple in Britain. Licensing hours: Mon-Wed 1030-2330, Thurs-Sat 1030-0030 and Sun 1030-2300. Legal drinking age: 18, although some bars will insist that patrons are over 21 and carry ID. Children under 18 years must leave establishments by 2100.
Tipping:
The customary tip in Ireland is 10 to 12 per cent. Many hotels and restaurants add this in the form of a service charge indicated on the menu or bill. It is not customary to tip in bars unless you have table service when a small tip is advised. Tipping porters, taxi drivers, hairdressers etc is customary but not obligatory. Note Under the 'Retail Export Scheme', it is possible to claim VAT back on goods bought in Ireland on leaving the EU. For further information, contact the VAT Administration Branch, Stamping Building, Dublin Castle, Dublin 2 (tel: (1) 674 8858; website: www.revenue.ie).
Nightlife
Most towns in Ireland have clubs, bars and pubs with live music. It is quite common to find pubs holding seisun, playing traditional Irish music with traditional instruments. The dancehalls and discos of previous eras have now been replaced with clubs similar to those found throughout the UK and Western Europe. Special events and themed nights often take place at special attractions such as the medieval banquet at Bunratty Castle. There is still a good choice of theaters and cinemas.
Entry departure requirements
Visa immigration information
Passports
Passport valid for at least three months beyond length of stay required by all except:
(a) 1. persons born in the UK traveling direct from the UK (applicable to British passport holders only).
Note: Whilst UK citizens do not require a passport or visa to enter Ireland, most carriers by air or sea now require some form of identification with photograph, usually a passport or driving license with photo. Visitors should check what form of ID is required with the individual airline, ferry company or travel agent before traveling.
(b) 2. EU/EEA nationals (EU + Iceland, Liechtenstein, Norway) and Swiss nationals holding a valid national ID card.
Note: EU and EEA nationals are only required to produce evidence of their EU/EEA nationality and identity in order to be admitted to any EU/EEA Member State. This evidence can take the form of a valid national passport or national identity card. Either is acceptable. Possession of a return ticket, any length of validity on their document, sufficient funds for the length of their proposed visit should not be imposed.
Visas
Required by all except the following for stays of up to 90 days:
(a) nationals of countries referred to in the chart above;
(b) nationals of Andorra, Antigua & Barbuda, Argentina, The Bahamas, Barbados, Belize, Bolivia, Botswana, Brazil, British Overseas Territories, Brunei, Chile, Costa Rica, Croatia, Dominica, El Salvador, Fiji, Grenada, Guatemala, Guyana, Honduras, Hong Kong (SAR), Iceland, Israel, Kiribati, Korea (Rep), Lesotho, Liechtenstein, Macau (SAR), Malawi, Malaysia, The Maldives, Mauritius, Mexico, Monaco, Nauru, New Zealand, Nicaragua, Norway, Panama, Paraguay, St Kitts & Nevis, St Lucia, St Vincent & the Grenadines, San Marino, Seychelles, Singapore, Solomon Islands, South Africa, Swaziland, Switzerland, Tonga, Trinidad & Tobago, Tuvalu, Uruguay, Vanuatu, Vatican City, Venezuela and Western Samoa;
(c) transit passengers continuing their journey within 24 hours by the same or first connecting flight provided holding valid onward or return documentation and not leaving the airport. However, the following nationals do always require a transit visa: Afghanistan, Albania, Bulgaria, Cuba, Congo (Dem Rep), Eritrea, Ethiopia, Ghana, Iran, Iraq, Lebanon, Moldova, Nigeria, Romania, Serbia & Montenegro, Somalia, Sri Lanka and Zimbabwe.
Types of visa and cost
Single-entry: US$71 Multiple-entry: US$118 Transit: US$29 Nationals of some countries receive visas free of charge. Enquire at Consulate/Consular Section of Embassy for further details (see Passport/Visa Information).
Application to
Consulate (or Consular section at Embassy); see Passport/Visa Information for details.
Application requirements
(a) Valid passport. (b) One completed application form. (c) Fee. (d) Letters of reference to substantiate purpose of visit or confirmation of hotel booking containing dates of proposed stay. (e) Three passport-size photos. (f) Evidence that applicant is obliged to return to country of residence, eg letter from current employer stating when applicant is due to return to work. (g) Evidence of sufficient funds or letter of reference from resident in Ireland claiming full financial responsibility for applicant, with proof they have sufficient funds to do so (eg bank statement). Student: (a)-(g) and, (h) Letter of acceptance from place of study (must be full-time and at least 15 hours' study time per week). (i) Proof of paid fees and sufficient funds for duration of course. (j) Copies of educational qualifications. Business: (a)-(g) and, (h) Letter of invitation from company in Ireland/conference host.
Working days required
Six to eight weeks.
HIV entry requirements
No Test Required
Departure tax
10 Euro at Knock International Airport only, payable by everyone over 12 years.
Embassies
Embassy of the Republic of Ireland in the UK
17 Grosvenor Place, London SW1X 7HR, UK
Tel: (020) 7235 2171.
Opening hours: Mon-Fri 0930-1300, 1415 - 1700.
Passport and Visa office: Montpelier House, 106 Brompton Road, London SW3 1JJ, UK
Tel: (020) 7225 7700.
Website: https://www.dfa.ie/irish-embassy/great-britain/
Opening hours: Mon-Fri 1000-1200 (visa section); 0930-1630 (passport section).
Embassy of the Republic of Ireland in the USA
2234 Massachusetts Avenue, NW, Washington, DC 20008, USA
Tel: (202) 462 3939.
Website: https://www.dfa.ie/irish-embassy/usa/
Travel Advice
Most visits to Ireland are trouble-free but you should be aware of the global risk of indiscriminate international terrorist attacks, which could be against civilian targets, including places frequented by foreigners.
This advice is based on information provided by the Foreign, Commonwealth & Development Office in the UK. It is correct at time of publishing. As the situation can change rapidly, visitors are advised to contact the following organizations for the latest travel advice.
Latest travel advice contacts:
British Foreign, Commonwealth & Development Office
Tel: (0845) 850 2829.
Website: www.gov.uk/foreign-travel-advice
US Department of State
Currency
The Euro is now the official currency of 12 EU member states (including Ireland). The first Euro coins and notes were introduced in January 2002; the Irish Punt was completely replaced by the Euro on 9 February 2002. Euro (?) = 100 cents. Notes are in denominations of ?500, 200, 100, 50, 20, 10 and 5. Coins are in denominations of ?2 and 1, and 50, 20, 10, 5, 2 and 1 cents.
Currency restrictions
There are no restrictions on the import or export of either local or foreign currency, although declarations of more than ?6350 are advised.
Banking hours
Mon-Fri 0930-1630. In Dublin, banks stay open Thurs until 1700; there are also late opening nights in other parts of the country, but the day will vary.
Currency exchange
Available in banks, airports and in bureaux de change. ATMs are widely available, catering for Cirrus and Maestro symbols.
Credit cards
American Express, MasterCard and Visa are all widely accepted. Check with your credit and debit card company for details of merchant acceptability and other services which may be available.
Travellers cheques
Accepted throughout Ireland. To avoid additional exchange rate charges, travelers are advised to take traveller's cheques in Euros, Pounds Sterling or US Dollars.
Radio:
| City/Region | City/Area code | Followed by |
| --- | --- | --- |
| Arklow | (0)402 | + 5 digit subscriber nr |
| Athlone | (0)90 | + 7 digit subscriber nr |
| Ballina | (0)96 | + 5 digit subscriber nr |
| Bandon | (0)23 | + 5 digit subscriber nr |
| Bantry | (0)27 | + 5 digit subscriber nr |
| Belmullet | (0)97 | + 5 digit subscriber nr |
| Birr | (0)509 | + 5 digit subscriber nr |
| Carlow | (0)59 | + 7 digit subscriber nr |
| Castlerea | (0)94 | + 7 digit subscriber nr |
| Cavan | (0)49 | + 7 digit subscriber nr |
| Clifden | (0)95 | + 5 digit subscriber nr |
| Clonmel | (0)52 | + 5 digit subscriber nr |
| Cork | (0)21 | + 7 digit subscriber nr |
| Drogheda | (0)41 | + 7 digit subscriber nr |
| Dublin Central | (0)1 | + 7 digit subscriber nr |
| Dundalk | (0)42 | + 7 digit subscriber nr |
| Dungarvan | (0)58 | + 5 digit subscriber nr |
| Ennis | (0)65 | + 7 digit subscriber nr |
| Enniscorthy | (0)54 | + 5 digit subscriber nr |
| Fermoy | (0)25 | + 5 digit subscriber nr |
| Galway | (0)91 | + 6 digit subscriber nr |
| Gorey | (0)55 | + 5 digit subscriber nr |
| Kanturk | (0)29 | + 5 digit subscriber nr |
| Kilkenny | (0)56 | + 7 digit subscriber nr |
| Killarney | (0)64 | + 5 digit subscriber nr |
| Kilronan | (0)99 | + 5 digit subscriber nr |
| Letterkenny | (0)74 | + 7 digit subscriber nr |
| Limerick | (0)61 | + 6 digit subscriber nr |
| Listowel | (0)68 | + 5 digit subscriber nr |
| Longford | (0)43 | + 5 digit subscriber nr |
| Macroom | (0)26 | + 5 digit subscriber nr |
| Mallow | (0)22 | + 5 digit subscriber nr |
| Monaghan | (0)47 | + 5 digit subscriber nr |
| Mullingar | (0)44 | + 5 digit subscriber nr |
| Naas | (0)45 | + 6 digit subscriber nr |
| Navan | (0)46 | + 7 digit subscriber nr |
| Nenagh | (0)67 | + 5 digit subscriber nr |
| Newcastle West | (0)69 | + 5 digit subscriber nr |
| Northern Ireland | (0)48 | + 7 digit subscriber nr |
| Portlaoise | (0)502 | + 5 digit subscriber nr |
| Rathluirc | (0)63 | + 5 digit subscriber nr |
| Roscrea | (0)505 | + 5 digit subscriber nr |
| Skibbereen | (0)28 | + 5 digit subscriber nr |
| Sligo | (0)71 | + 7 digit subscriber nr |
| Thurles | (0)504 | + 5 digit subscriber nr |
| Tipperary | (0)62 | + 5 digit subscriber nr |
| Tralee | (0)66 | + 7 digit subscriber nr |
| Tuam | (0)93 | + 5 digit subscriber nr |
| Tullamore | (0)506 | + 5 digit subscriber nr |
| Waterford | (0)51 | + 6 digit subscriber nr |
| Westport | (0)98 | + 5 digit subscriber nr |
| Wexford | (0)53 | + 5 digit subscriber nr |
| Wicklow | (0)404 | + 5 digit subscriber nr |
| Youghal | (0)24 | + 5 digit subscriber nr |