Quick Facts
Region: Europe
Full Name: Republic of Iceland
Capital City: Reykjavik
Language Spoken: Icelandic, English, Nordic languages, German widely spoken
Iceland Travel Insurance
Get travel insurance to Iceland from Direct Travel Insurance. We offer low cost and high quality travel insurance to Iceland and most of the world.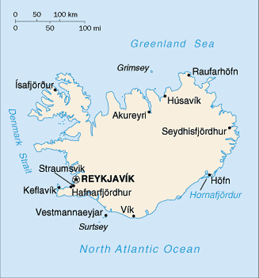 Geographic data
65 00 N, 18 00 W
Elevation Extremes
lowest point: Atlantic Ocean 0 m highest point: Hvannadalshnukur 2,110 m (at Vatnajokull glacier)
Land boundaries
0 km
Natural hazards
earthquakes and volcanic activity
Natural resources
fish, hydropower, geothermal power, diatomite
Land use
arable land: 0.07% permanent crops: 0% other: 99.93% (2005)
Environmental current issues
water pollution from fertilizer runoff; inadequate wastewater treatment
Climate
Iceland's climate is tempered by the Gulf Stream. Summers are mild and winters rather cold. The colorful Aurora Borealis (Northern Lights) appear from the end of August. From the end of May to the beginning of August, there are nearly 24 hours of perpetual daylight in Reykjav?k, while in the northern part of the country the sun barely sets at all. Winds can be strong and gusty at times and there is the occasional dust storm in the interior. Snow is not as common as the name of the country would seem to suggest and, in any case, does not lie for long in Reykjav?k; it is only in northern Iceland that skiing conditions are reasonably certain. However, the weather is very changeable at all times of the year, and in Reykjav?k there may be rain, sunshine, drizzle and snow in the same day. The air is clean and free of pollution.\nRequired clothing\nLightweights in warmer months, with extra woolens for walking and the cooler evenings. Medium- to heavyweights are advised in winter. Waterproofing is recommended throughout the year.
Time difference
time difference: UTC
Population
299,388 (July 2006 est.)
Age structure
0-14 years: 21.7% (male 33,021/female 32,021) 15-64 years: 66.5% (male 100,944/female 98,239) 65 years and over: 11.7% (male 15,876/female 19,287) (2006 est.)
Median age
total: 34.2 years male: 33.8 years female: 34.7 years (2006 est.)
Population growth rate
0.87% (2006 est.)
Birth rate
13.64 births/1,000 population (2006 est.)
Death rate
6.72 deaths/1,000 population (2006 est.)
Net migration rate
1.74 migrant(s)/1,000 population (2006 est.)
Sex ratio
at birth: 1.04 male(s)/female under 15 years: 1.03 male(s)/female 15-64 years: 1.03 male(s)/female 65 years and over: 0.82 male(s)/female total population: 1 male(s)/female (2006 est.)
Life expectancy at birth
total population: 80.31 years male: 78.23 years female: 82.48 years (2006 est.)
Total fertility rate
1.92 children born/woman (2006 est.)
Business Practices
Business people are expected to dress professionally. Local business people are conservative but very friendly and most speak English. Appointments are not generally necessary, but visits between May and September should be planned in advance as many local business people travel abroad at this time. Office hours are generally 0800-1600 (summer) and 0900-1700 (winter) Monday to Friday. Most offices are closed Saturday. Some firms close down completely for an annual 3-week holiday; this is usually in July.
Crime
Iceland's crime rate remains very low, however burglaries and drug use are on the rise, as well as petty street crime such as pickpocketing. Most street crime takes place in the city center of Reykjavik late at night and on weekends. Downtown Reykjavik can also become disorderly on weekend evenings. Visitors should exercise common-sense precautions. Police officers do not carry guns.
Hotels
These are not classified but most have rooms with private bathroom or shower, telephone, radio and TV on request. The more expensive ones also have hairdressers, shops and beauty parlors. Hotel or hostel accommodation is available in most areas.
Communications
Full telephone IDD service is available. The country code is 354 and the outgoing international code is 90. Public fax facilities are available at the main telephone headquarters in Austurvoll Square and in most hotels and offices. Post offices are open 0830-1630 Monday to Friday.
Electricity
is 220 volts AC, 50Hz. Plug fittings are normally the 2-pin type with round section pins 4mm in diameter with centers 2cm apart. Lamp fittings are screw-type. Electricity 220 volts AC, 50Hz. Plug fittings are normally two-pin with round section pins 4mm in diameter with centers 2cm apart. Lamp fittings are screw-type. Power is generated by a mix of geothermal and hydroelectric stations.
Plug Types
C,F
Food And Dining
Icelandic food in general is based on fish and lamb, as well as owing much to Scandinavian and European influences. Fishing is Iceland's most important export, accounting for some 80 per cent of the country's Gross National Product. There is also a heavy emphasis on vegetables grown in greenhouses heated by the natural steam from geysers. There have been some welcome additions to the selection of eating places in Reykjav?k and there is now a small but attractive choice of restaurants to cater for all pockets with new tourist menus. Bars have table and/or counter service, and will serve coffee as well as alcohol. Beer was prohibited in Iceland for 75 years and was finally legalized in March 1989. Alcohol is generally expensive (a small beer costs approximately US$8). In coffee shops you pay for the first cup then help yourself to subsequent cups. There is a wide selection of European spirits and wines.
National specialties:
? The salmon of Iceland is a great delicacy, served in many forms, one of the most popular being gravlax, a form of marinating.
? Hangikjot (smoked lamb).
? Har?fiskur (dried fish).
? Skyr (curds).
? Icelandic sild (herring marinated in various flavors).
? Sl?tur, for the more adventurous, literally means slaughter and is similar to Haggis.
? A delicacy not for the squeamish is rotten shark, cured by burying and washed down with a shot of Black Death Schnapps. National drinks:
? Brennivin (a potent variation of aquavit made from potatoes) is a local drink.
Tipping:
Service charges are included in most bills and extra tips are not expected.
Nightlife
There are plenty of nightclubs, bars, cafes and cinemas in Iceland, most of them in the capital. Reykjav?k is renowned as one of Europe's hottest nightspots where the friendly pubs and nightlife scene lasts through the night. Icelandic nightlife is particularly vibrant from June to August when there is nearly 24 hours of perpetual daylight (Icelanders call this period the 'White Nights'). Leading theaters are the National Theater and the Reykjav?k City Theater, closed in summer, but during the tourist season there is an attractive light entertainment show in English called 'Light Nights' with traditional Icelandic stories and folk songs. The Iceland Symphony Orchestra gives concerts every week. Iceland also has its own opera company, performing in the smallest (400 seat) and most northernmost opera house in the world. Performances run throughout the winter. Iceland has a vibrant music scene that has produced, amongst others, the internationally acclaimed artist Bj?rk and, reportedly, Brad Pitt's favorite band Sigur R?s. This has, in turn, attracted a number of British and American pop stars to Iceland, such as Damon Albarn from the British band Blur, who opened his own cafe, the Kaffibarinn, in Reykjav?k.
Entry departure requirements
Note Iceland is a signatory to the 1995 Schengen Agreement.
Visa immigration information
Passports
Passport valid for at least three months beyond length of stay required by all except:
(a) 1. EU/EEA nationals (EU + Liechtenstein, Norway) and Swiss nationals holding a valid national ID card.
Note: EU and EEA nationals are only required to produce evidence of their EU/EEA nationality and identity in order to be admitted to any EU/EEA Member State. This evidence can take the form of a valid national passport or national identity card. Either is acceptable. Possession of a return ticket, any length of validity on their document, sufficient funds for the length of their proposed visit should not be imposed.
Visas
Required by all except the following for stays of up to three months:
(a) nationals of countries referred to in the chart above;
(b) nationals of Andorra, Argentina, Bolivia, Brazil, British Overseas Territories, Brunei, Bulgaria, Chile, Costa Rica, Croatia, El Salvador, Guatemala, Honduras, Hong Kong (SAR), Israel, Korea (Rep), Liechtenstein, Macau (SAR), Malaysia, Mexico, Monaco, New Zealand, Nicaragua, Norway, Panama, Paraguay, Romania, San Marino, Singapore, Switzerland, Uruguay, Vatican City and Venezuela.
Note
(a) Nationals of the following countries require an airport transit visa (holders of travel documents issued by these countries are also subject to such requirements): Afghanistan, Bangladesh, Congo (Dem Rep), Eritrea, Ethiopia, Ghana, Iran, Iraq, Nigeria, Pakistan, Somalia and Sri Lanka. (b) These nationals do not require an airport transit visa if they hold a valid residence permit for an EU or EEA country, Andorra, Canada, Japan, Monaco, San Marino, Switzerland and the USA. (c) An airport visa is not required by nationals of India in possession of a valid visa to an EU or EEA country, USA or Canada.
Types of visa and cost
Airport transit: US$12 (single-, double- or multiple-entry); Short stay: US$26 (up to 30 days); Short stay (up to 90 days): US$34 plus US$5 for additional entries; Multiple-entry (valid for one year): US$57 ; Multiple-entry (valid for five years): US$57 plus US$34 for each additional year; Group visa for transit or airport transit visa: US$12 plus US$2 per person (five to 50 people); Group short stay (valid for 30 days): US$34 plus US$2 per person; Group short stay (valid for 30 days for additional entries, for five to 50 people): US$34 plus US$3 per person. An additional fee of US$19 is payable for applications lodged at Honorary Consulates.
Note: (a) Visas are issued free of charge to spouses of EU or EEA nationals, or persons related in direct line of ascent or descent to such nationals or their spouses, if they are supported by the national in question and if they have legal residence in the UK. Relevant documentation must be produced in such cases, including an original marriage certificate, the passport of the EU citizen and the EU citizen's residence permit and evidence of an EEA residence permit in the UK, plus proof of joint household. Further documentation may be requested in addition to this.
Validity
Up to three months. For extensions, apply to the Immigration authority in Iceland.
Application to
Royal Danish Embassy; see Denmark section. Applications cannot be made by post. Appointments must be made in advance by calling (09065) 540 755 (automated; 24-hour). Travelers visiting just one Schengen country should apply to the Consulate of that country; travelers visiting more than one Schengen country should apply to the Consulate of the country chosen as the main destination or the country they will enter first (if they have no main destination).
Application requirements
(a) Completed visa application form. (b) One color passport-size photo on a light background. (c) Valid passport or travel document, if applicable, with a blank page to affix the visa. (d) Fee, payable by cash or cheque (non-refundable). (e) Proof of purpose of visit and accommodation such as a letter of invitation from relatives or a hotel reservation. (f) Evidence of sufficient funds to cover the duration of stay, such as bank statements, traveller's cheques or credit card statements (with credit limit). (g) Proof of means of transport. (h) A pre-paid self-addressed envelope for registered post, if you would like your visa to be sent to your home address. (i) Evidence of occupation/student status, eg an original letter from an employer or solicitor; if unemployed, a social benefit booklet; if a student, an original letter from the appropriate school/university. (j) Valid health insurance. Business: (a)-(j) and, (k) Letter of invitation from a business contact in Iceland stating nature and duration of stay, type of visa and accommodation.
Please note, in some cases, further documents and guarantees may be required.
Working days required
Varies according to nationality, may take several weeks.
Temporary residence
Enquire at Embassy of the Republic of Iceland.
HIV entry requirements
No Test Required
Departure tax
There is a security fee of IKR620 for all travellers over 12 years of age (children ages two to 12 pay IKR285), to be paid by all departing from Iceland.
Embassies
Embassy of Iceland in the UK
2A Hans Street, London SW1X 0JE, UK
Tel: (020) 7259 3999 or (0906) 554 0755 (for visa appointments via the Danish embassy).
Website: http://www.iceland.is/iceland-abroad/uk
Opening hours: Mon-Fri 0930-1600.
Embassy of Iceland in the USA
1156 15th Street, NW, Suite 1200, Washington, DC 20005-1704, USA
Tel: (202) 265 6653.
Website: http://www.iceland.is/iceland-abroad/us/wdc
Most visits to Iceland are trouble-free but you should be aware of the global risk of indiscriminate international terrorist attacks, which could be against civilian targets, including places frequented by foreigners.
This advice is based on information provided by the Foreign, Commonwealth & Development Office in the UK. It is correct at time of publishing. As the situation can change rapidly, visitors are advised to contact the following organizations for the latest travel advice:
British Foreign, Commonwealth & Development Office
Website: www.gov.uk/foreign-travel-advice
US Department of State
Currency
Icelandic Krona (ISK) = 100 aurar. Notes are in denominations of ISK5000, 2000, 1000, 500, 100, 50 and 10. Coins are in denominations of ISK100, 50, 10, 5 and 1.
Currency restrictions
The import and export of local currency is unrestricted. When entering Iceland a tourist may bring an unlimited amount of domestic or foreign currency; the same applies when leaving Iceland.
Banking hours
Mon-Fri 0915-1600.
Currency exchange
Foreign currencies can be exchanged in all major banks, some of which (such as the Landesbank? at Reykjav?kairport) are open 24 hours. Most hotels also provide their guests with exchange services. Exchange services are also available from The Change Group, which has offices at Reykjav?kairport, the Tourist Information Center and in central Reykjav?k. ATMs are also available throughout the country, especially Reykjav?k.
Credit cards
American Express, Diners Club, Europay, MasterCard and Visa are widely accepted. Check with your credit or debit card company for details of merchant acceptability and other services which may be available.
Travellers cheques
Widely used. To avoid additional exchange rate charges, travelers are advised to take traveller's cheques in US Dollars.
| City/Region | City/Area code | Followed by |
| --- | --- | --- |
| outside Reykjav?k | 427 | + 4 digits |
| Reykjav?k | 5 | + 6 digits |