Quick Facts
Region: Europe
Full Name: Republic of Hungary
Capital City: Budapest
Language Spoken: Hungarian 93.6%, other or unspecified 6.4% (2001 census)
Hungary Travel Insurance
Get travel insurance to Hungary from Direct Travel Insurance. We offer low cost and high quality travel insurance to Hungary and most of the world.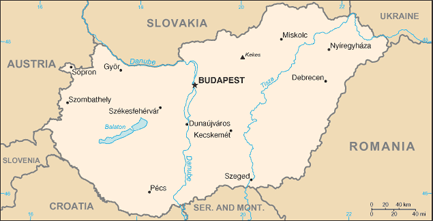 Geographic data
47 00 N, 20 00 E
Elevation Extremes
lowest point: Tisza River 78 m highest point: Kekes 1,014 m
Land boundaries
total: 2,171 km border countries: Austria 366 km, Croatia 329 km, Romania 443 km, Serbia 151 km, Slovakia 677 km, Slovenia 102 km, Ukraine 103 km
Natural hazards
Natural resources
bauxite, coal, natural gas, fertile soils, arable land
Land use
arable land: 49.58% permanent crops: 2.06% other: 48.36% (2005)
Environmental current issues
the upgrading of Hungary's standards in waste management, energy efficiency, and air, soil, and water pollution to meet EU requirements will require large investments
Climate
There are four seasons, with a very warm summer from June to August. Spring and autumn are mild, while winters are very cold. Rainfall is distributed throughout the year with snowfalls in winter.
Time difference
time difference: UTC+1 daylight saving time: +1hr, begins last Sunday in March; ends last Sunday in October
Population
9,981,334 (July 2006 est.)
Age structure
0-14 years: 15.6% (male 799,163/female 755,389) 15-64 years: 69.2% (male 3,403,375/female 3,505,640) 65 years and over: 15.2% (male 550,297/female 967,470) (2006 est.)
Median age
total: 38.7 years male: 36.3 years female: 41.4 years (2006 est.)
Population growth rate
-0.25% (2006 est.)
Birth rate
9.72 births/1,000 population (2006 est.)
Death rate
13.11 deaths/1,000 population (2006 est.)
Net migration rate
0.86 migrant(s)/1,000 population (2006 est.)
Sex ratio
at birth: 1.06 male(s)/female under 15 years: 1.06 male(s)/female 15-64 years: 0.97 male(s)/female 65 years and over: 0.57 male(s)/female total population: 0.91 male(s)/female (2006 est.)
Life expectancy at birth
total population: 72.66 years male: 68.45 years female: 77.14 years (2006 est.)
Total fertility rate
1.32 children born/woman (2006 est.)
Business Practices
Business people are expected to dress professionally. Business customs are similar to those in the North America and Western Europe. Typically, Hungarian business people prefer to develop a relationship on which to base a business connection. Luncheons, receptions and dinners are a familiar mode of doing business. For historical reasons, Hungarians customarily do not clink beer glasses when toasting. Women business visitors should be advised that chivalry is alive and well in Hungary -- the Hungarian greeting by a man to a woman is "I kiss your hand," sometimes accompanied by the act itself. Men and women who are well acquainted kiss each other on both cheeks, right-hand first. Hungarians address each other by their family names first, followed by their given names (e.g., Smith John). Business cards follow this convention unless printed in English. Business cards are widely distributed and visitors are well advised to have a supply available. It is always advantageous to learn basic greetings in Hungarian. Hungarian business partners will appreciate even the most minimal efforts. Interpreter and translation services may be booked through travel agents. Normal business hours are 0900 to 1700 though it is not uncommon for businesses to close in the early afternoon on Fridays.
Crime
Hungary has a low rate of violent crime. However, street crime occasionally involving violence has been reported, especially near major hotels and restaurants and on public transportation. Theft of passports, currency, and credit cards is a frequent problem, especially in train stations and on public transportation. There are also a number of scams targeting travelers, described below. Drivers should be cautions when stopping at gas stations and highway parking lots, or fixing flat tires or other mechanical problems, especially at night. There have been reports of scams perpetrated on unwitting victims while traveling the highways. One reported scam involves someone who attracts the driver's attention by saying that there is something wrong with his/her car (e.g. a smoking hood or flat tire) in order to encourage the driver to pull over to the side of the road. Once pulled over, the people participating in the scam will remove purses, passports, etc., from the car and drive away. Luggage and valuables should not be left unattended inside any vehicle. A common scam involves young women asking foreign men to buy them drinks. When the bill arrives the drinks costs hundreds of dollars each. Americans should avoid bars and restaurants promoted by cab drivers or people on the street. Every bar and restaurant should provide a menu with prices before ordering. The vast majority of clubs and restaurants in Budapest are legitimate businesses that offer good value and service. However, there are clubs and restaurants in Budapest about which travelers have made numerous complaints regarding unethical business practices: excessive billing of customers, physical intimidation to force customers to pay exorbitant bills (including holding a member of a party while others in the group pay the bill at ATMs, 24-hour cash facilities), and assault by club/restaurant employees for non-payment of excessive bills. There have been some rare incidents in which foreign travelers have been surreptitiously drugged. Do not let seemingly helpful taxi drivers or local women lure you to an establishment they recommend, as they may receive a commission for bringing victims to the club/restaurant. Avoid restaurants that do not list prices or provide a menu with prices; always verify the cost prior to purchase. Be aware that if there is a billing dispute, restaurant staff may switch menus, showing you one that lists higher prices and other hidden charges. Establishments where there have been multiple reports of victimization include: V?rosk?zpont (accessible by outside elevator) Budapest V district, V?ci utca 16. La Dolce Vita Budapest V district, Okt?ber 6. utca 8. Nirvana Night Club Budapest V district, Szent Istv?n krt.13. Ti'Amo Bar Budapest IX district, Ferenc k?r?t 19-21. Diamond Club Budapest II district, Bimb? ?t 3. Pigalle Night Club Budapest VIII district, Kiss J?zsef utca 1-3. Most of these places are located in Budapest's fifth district, on or near the main tourist street, the V?ci utca. There have been multiple reports of attacks in the Chain Bridge area on both sides of the Danube, and on the bridge itself. One common scam usually occurs in tourist areas and involves a "money-changer" and two "undercover policemen." In this scam, a tourist is approached by a man who asks if s/he would like to change money. If the tourist says, "No, thank you," the man will leave. A minute or so later, two men (sometimes of intimidating size and demeanor) in plainclothes will approach the tourist. The two men will openly display their false police badges or "police identification cards," and request to see all of the tourist's money - the money the tourist might have changed with the first man. At this point, the money will be handled by the two men and then replaced in the tourist's wallet ? but not all the money is replaced ? only the small bills. By the time the loss is discovered, the team of three men will have escaped. There are variations of this scam and one of them involves questioning by these "undercover policemen" of the tourist about drugs and eventually leads to seeing the tourist's wallet. Hungarian police are generally in uniform and do not deal with tourist money changing issues. Tips on avoiding the above scam are: turn away and head in another direction after being approached by the first man; tell them you'd like to consult with another police officer patrolling the area; or tell them you'd like to call your embassy. Some travelers note that the police appear to be ineffective and unmotivated to deal with tourist scams and similar crimes. The Hungarian Ministry of Economic Affairs has a special, 24-hour telephone number for tourists to use if one becomes a victim of personal crime while in Hungary. This telephone number is: 438-8080. Police personnel with foreign-language capability, including English, are on duty seven days a week. There is also a Tourinform office that provides service in English and in German and is located in one of Budapest's busiest tourist areas: S?t? u. 2., 1052 Budapest, open daily 8-20. Tourist police service is also available during the opening hours. Prime theft areas involve crowds of people, where it is easier to distract the unsuspecting tourist. Train stations, trains, trams and metros are full of people and present many opportunities for the thief. Do not leave purses and luggage unattended at any time. Thieves target cash and passports. There have been numerous theft reports from these areas: on trains to/from Hungary; all train stations - in particular, Keleti Station; metro lines #1 and #3; tram lines #2 and #4; bus line #7; and US fast food places such as McDonald's, Pizza Hut, and Burger King. The most prevalent criminal activity is still property crime, which makes up over 80 percent of all criminal activity in Hungary. Prevalent property crimes include theft, car theft and pickpocketing. Car thefts are on the rise; favored cars are VWs and Audis. It is best not to leave any items in the car and not to let others see you put things in the trunk (do this before you arrive at your next destination). There is a substantial organized crime presence in the country which is involved in almost every aspect of legitimate business, as well as, the traditional areas of illegal activities such as gambling, drugs, car theft, loansharking, prostitution and night clubs. Internal conflicts within the various organized crime elements have resulted in violence (e.g., shootings, low-level bombings), however, these incidents do not usually involve the general public. Police and public official corruption are a handicap in combating this problem.
Hotels
Budapest has five 5-star (Hilton, Marriott, Hyatt, Kempinski, Inter-Continental) and several 4-star hotels located in or near the center of town. Hotel facilities vary in quality outside of Budapest.
Communications
Telephone IDD service is available. The country code is 36 and the outgoing international code is 00. Telephone service is very reliable in Hungary, including long-distance. Budapest is serviced by three cellular phone systems as well as by several paging services. Calling card services such as AT&T, MCI and Sprint, can be accessed from Hungary. Post office hours: 0800-1800 Monday to Friday, 0700-1400 Saturday.
Electricity
is at 230 volts AC, 50Hz. Electricity 220 volts AC, 50Hz. European-style two-pin plugs are used.
Plug Types
C,F
Food And Dining
A good range of restaurants are available. Table service is common, although there are many inexpensive self-service restaurants. A typical menu offers two or three courses at inexpensive rates. Fine dairy and pastry shops (cukr?szda) offer light meals. Eszpressz? coffee bars and Drink bars offer refreshments. Gerbeaud's is probably Budapest's most famous coffee-house. Things to know: There are no licensing hours, but the legal age for drinking in a bar is 18 years. Minors are allowed to go into bars but will not be served alcohol.

National specialties:
? Hal?szl? (fish soups).
? Goulash guly?s soup (Western goulash is called p?rk?lt or tok?ny).
? Stuffed vegetables.
? Sweet cakes.
? Gundel palacsinta (pancake).
? Goose liver.
? Paprik?s csirke (paprika chicken).
? Kolbasz (spicy sausage).
? Saml?i galuska (a sponge, chocolate, rum and cream dessert). National drinks:
? Tokaji (strong dessert wine).
? Bull's Blood (strong red wine).
? P?linka or barack (apricot brandy).

Tipping:
10 to 15 per cent is expected for nearly all services in restaurants, bars, clubs, taxis and so on.

Nightlife
Budapest has many nightclubs, bars, discos and casinos. Cinemas in major towns show many English-language films. During the summer months the popular Lake Balaton resort has a lively nightlife. Western Hungary in particular has a lot of very good wine cellars. Visitors would do well to search out traditional folk music and dancing, as the gypsy music which is so common in restaurants is not considered the 'true' folk tradition of the country. The magnificent Budapest Opera House stages regular performances, and seats are (by Western standards) exceedingly cheap.
Entry departure requirements
* Please see passport section
Visa immigration information
Passports
Passport valid for at least three months beyond length of stay required by all except:
(a)1. EU/EEA nationals (EU + Iceland, Liechtenstein, Norway) and Swiss nationals holding a valid national ID card.
Note: EU and EEA nationals are only required to produce evidence of their EU/EEA nationality and identity in order to be admitted to any EU/EEA Member State. This evidence can take the form of a valid national passport or national identity card. Either is acceptable. Possession of a return ticket, any length of validity on their document, sufficient funds for the length of their proposed visit should not be imposed.
(b) nationals of Andorra and Croatia holding a valid ID card.
Visas
Required by all except the following:
(a) nationals of countries referred to in the chart above for stays of up to 90 days (nationals of the UK and Ireland for stays of up to six months, and nationals of Cyprus, Latvia, Malta and Slovenia for stays up to 30 days).
(b) nationals of Andorra, Argentina, Bolivia, Brazil, Brunei, Bulgaria, Chile, Costa Rica, Croatia, El Salvador, Guatemala, Honduras, Hong Kong (SAR), Iceland, Israel, Korea (Rep), Liechtenstein, Macau (SAR), Malaysia, Mexico, Monaco, New Zealand, Nicaragua, Norway, Panama, Paraguay, Switzerland, Uruguay, Vatican City and Venezuela (tourist visits only) for stays of up to 30 days;
(c) nationals of Bosnia & Herzegovina, Nicaragua, Romania, San Marino and Singapore for stays of up to 30 days;
(d) persons continuing their journey to a third country within 24 hours, provided not leaving the airport and holding valid onward tickets and documentation. However, nationals who are not eligible for visa exemptions and are non-residents of the UK may need to acquire an airport transit visa in all circumstances; contact nearest Embassy/Consulate for further details.
Note
The length of stay which nationals of the exempted countries are allowed is subject to frequent change; contact the embassy for more information.
Types of visa and cost
All visas, regardless of type and duration of stay allocated, cost US$43 However, long-term visas cost US$60 Multiple-entry visas are only valid for business travelers and for those possessing a long-term visa. Visas for children under seven years, or school children (elementary and high school) traveling in a group of five or more persons on a shool trip, cost US$22
Note
(a) Nationals of Serbia & Montenegro and Ukraine, and family members of UK nationals (eg husband/wife and children under 21 years), can obtain visas free-of-charge. (b) If the visa has to be issued on a separate sheet (because there is no free page in the passport), an additional fee is payable of ?17.
Validity
Single-entry (tourist and business): Valid for 90-day stay within six months of the date of issue. Double-entry: Valid for 90-day stay taken twice within six months from date of issue. Multiple-entry: Valid for multiple 90-day stays in Hungary within one year from the date of issue. Validity subject to frequent change according to nationality. Transit: Valid for five days within six months from date of issue. Double-transit: Maximum of five days twice within six months from date of issue.
Application to
Consulate (or Consular section at Embassy; see Passport/Visa Information). Visas are not issued at road border points or at Budapest Airport.
Application requirements
(a) Passport valid for at least six months (with at least one blank page). (b) Completed application form. (c) One passport-size photo. (d) Fee (non reimbursable), payable in cash (personal applications) or postal order only. (e) Return ticket or ticket reservation and travel insurance. (f) For postal applications, a pre-paid special delivery return envelope. (g) Confirmation of accommodation in Hungary, or letter of invitation from friends or relatives living in Hungary (copy of the ID cards of the inviting party must be attached; if traveling on a travel document and not a passport, nationals must seek endorsement from the local Hungarian migration authority). (h) Recent bank statement or payslip. Business (or just for business purposes, eg a trip to attend a conference): (a)-(h) and, (i) Written invitation from host organization or company. Transit: (a)-(h) and, (i) Valid visa for country of destination.
Working days required
Two, or seven for postal applications and if applicant is applying with a travel document and not a passport.
HIV entry requirements
Test required for anyone staying over 1 year and for all intending immigrants. Some employers may require workers to have a test
Departure tax
None
Embassies
Embassy of the Republic of Hungary in the UK
35 Eaton Place, London SW1X 8BY, UK
Tel: (020) 7235 5218.
Consular section: Tel: (020) 7235 2664 or (09065) 508 936 (visa enquiries; calls are charged at the rate of ?1 per minute).
Website: https://london.mfa.gov.hu/eng
Opening hours: Mon-Fri 0930-1200.
Embassy of the Republic of Hungary in the USA
3910 Shoemaker Street, NW, Washington, DC 20008, USA
Tel: (202) 362 6730.
Travel Warnings
Most visits to Hungary are trouble-free but you should be aware of the global risk of indiscriminate international terrorist attacks, which could be against civilian targets, including places frequented by foreigners. This advice is based on information provided by the Foreign & Commonwealth Office in the UK. It is correct at time of publishing. As the situation can change rapidly, visitors are advised to contact the following organizations for the latyest travel advice:

Latest travel advice contacts:
British Foreign, Commonwealth & Development Office
Website: www.gov.uk/foreign-travel-advice
US Department of State
Currency
Hungarian Forint (HUF) = 100 fill?r. Notes are in denominations of HUF20,000, Ft10,000, 5000, 2000, 1000, 500 and 200. Coins are in denominations of HUF100, 50, 20, 10, 5, 2 and 1. A large number of commemorative coins in circulation are legal tender.
Currency restrictions
The import of local currency is limited to Ft200,000, provided the amount is declared on arrival. The export of local currency is limited to Ft200,000 and must be declared. The import of foreign currency is unlimited, provided amounts greater than Ft1,000,000 are declared. The export of foreign currency is limited to the amount declared on import and should be made no longer than three months after import. There is no compulsory money exchange. Hungarian currency can be re-exchanged for up to 50 per cent of the officially exchanged sum (but not more than US$450) at any authorized office or branch of the National Savings Bank.
Banking hours
Mon-Fri 1030-1400 (Hungarian National Bank); Mon-Thurs 0800-1500, Fri 0800-1300 (merchant banks).
Currency exchange
Currency can be exchanged at hotels, banks, bureaux de change, airports, railway stations, travel agencies and some restaurants throughout the country. Automatic exchange machines are available in Budapest and other main tourist centers. Credit and debit cards can be used to withdraw money from ATMs, which operate 24 hours. Visitors should retain all exchange receipts, as it is illegal to change money on the black market.
Credit cards
It is possible to withdraw cash by credit card at more than 3200 post offices. American Express, Cirrus, Diners Club, MasterCard, Visa, Eurocard, JCB and EnRoute are accepted. Check with your credit or debit card company for details of merchant acceptability and other services which may be available.
Travellers cheques
Accepted in some stores and banks, but not all. To avoid additional exchange rate charges, travelers are advised to take traveller's cheques in US Dollars or Pounds Sterling.
| City/Region | City/Area code | Followed by |
| --- | --- | --- |
| Baja | (06)79 | + 6 digits |
| Balassagyarmat | (06)35 | + 6 digits |
| B?k?scsaba | (06)66 | + 6 digits |
| Beretty??jfalu | (06)54 | + 6 digits |
| Biatorb?gy | (06)23 | + 6 digits |
| Budapest | (06)1 | + 7 digits |
| Cegl?d | (06)53 | + 6 digits |
| Debrecen | (06)52 | + 6 digits |
| Duna?jv?ros | (06)25 | + 6 digits |
| Eger | (06)36 | + 6 digits |
| Esztergom | (06)33 | + 6 digits |
| G?d?llo | (06)28 | + 6 digits |
| Gy?ngy?s | (06)37 | + 6 digits |
| Gyor | (06)96 | + 6 digits |
| J?szber?ny | (06)57 | + 6 digits |
| Kaposv?r | (06)82 | + 6 digits |
| Karcag | (06)59 | + 6 digits |
| Kecskem?t | (06)76 | + 6 digits |
| Keszthely | (06)83 | + 6 digits |
| Kiskor?s | (06)78 | + 6 digits |
| Kiskunhalas | (06)77 | + 6 digits |
| Kisv?rda | (06)45 | + 6 digits |
| Marcali | (06)85 | + 6 digits |
| M?t?szalka | (06)44 | + 6 digits |
| Mezok?vesd | (06)49 | + 6 digits |
| Miskolc | (06)46 | + 6 digits |
| Moh?cs | (06)69 | + 6 digits |
| Monor | (06)29 | + 6 digits |
| Nagykanizsa | (06)93 | + 6 digits |
| Ny?regyh?za | (06)42 | + 6 digits |
| Orosh?za | (06)68 | + 6 digits |
| ?zd | (06)48 | + 6 digits |
| Paks | (06)75 | + 6 digits |
| P?pa | (06)89 | + 6 digits |
| P?cs | (06)72 | + 6 digits |
| Salg?tarj?n | (06)32 | + 6 digits |
| S?rv?r | (06)95 | + 6 digits |
| Si?fok | (06)84 | + 6 digits |
| Sopron | (06)99 | + 6 digits |
| Szeged | (06)62 | + 6 digits |
| Sz?kesfeh?rv?r | (06)22 | + 6 digits |
| Szeksz?rd | (06)74 | + 6 digits |
| Szentendre | (06)26 | + 6 digits |
| Szentes | (06)63 | + 6 digits |
| Szerencs | (06)47 | + 6 digits |
| Szigetszentmikl?s | (06)24 | + 6 digits |
| Szigetv?r | (06)73 | + 6 digits |
| Szolnok | (06)56 | + 6 digits |
| Szombathely | (06)94 | + 6 digits |
| Tapolca | (06)87 | + 6 digits |
| Tatab?nya | (06)34 | + 6 digits |
| V?c | (06)27 | + 6 digits |
| Veszpr?m | (06)88 | + 6 digits |
| Zalaegerszeg | (06)92 | + 6 digits |