Quick Facts
Region: North & Central America & the Caribbean
Full Name: Republic of Honduras
Capital City: Tegucigalpa
Language Spoken: Spanish, Amerindian dialects
Honduras Travel Insurance
Get travel insurance to Honduras from Direct Travel Insurance. We offer low cost and high quality travel insurance to Honduras and most of the world.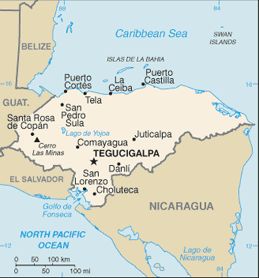 Geographic data
15 00 N, 86 30 W
Elevation Extremes
lowest point: Caribbean Sea 0 m highest point: Cerro Las Minas 2,870 m
Land boundaries
total: 1,520 km border countries: Guatemala 256 km, El Salvador 342 km, Nicaragua 922 km
Natural hazards
frequent, but generally mild, earthquakes; extremely susceptible to damaging hurricanes and floods along the Caribbean coast
Natural resources
timber, gold, silver, copper, lead, zinc, iron ore, antimony, coal, fish, hydropower
Land use
arable land: 9.53% permanent crops: 3.21% other: 87.26% (2005)
Environmental current issues
urban population expanding; deforestation results from logging and the clearing of land for agricultural purposes; further land degradation and soil erosion hastened by uncontrolled development and improper land use practices such as farming of marginal lands; mining activities polluting Lago de Yojoa (the country's largest source of fresh water), as well as several rivers and streams, with heavy metals
Climate
The climate is tropical with cooler, more temperate weather in the mountains. The north coast is very hot with rain throughout the year, and though the offshore breezes temper the climate, the sun is very strong. The dry season is from November to April and the wet season runs from May to October. Required clothing Lightweight cottons and linens; warmer clothes are recommended between November and February and in the mountains. Waterproofs are needed for the wet season.
Time difference
time difference: UTC-6 daylight saving time: +1hr, begins second Sunday in March; ends first Sunday in November; note - these new dates become effective in 2007
Population
7,326,496 note: estimates for this country explicitly take into account the effects of excess mortality due to AIDS; this can result in lower life expectancy, higher infant mortality and death rates, lower population and growth rates, and changes in the distribution of population by age and sex than would otherwise be expected (July 2006 est.)
Age structure
0-14 years: 39.9% (male 1,491,170/female 1,429,816) 15-64 years: 56.7% (male 2,076,727/female 2,077,975) 65 years and over: 3.4% (male 113,747/female 137,061) (2006 est.)
Median age
total: 19.5 years male: 19.1 years female: 19.8 years (2006 est.)
Population growth rate
2.16% (2006 est.)
Birth rate
28.24 births/1,000 population (2006 est.)
Death rate
5.28 deaths/1,000 population (2006 est.)
Net migration rate
-1.39 migrant(s)/1,000 population (2006 est.)
Sex ratio
at birth: 1.05 male(s)/female under 15 years: 1.04 male(s)/female 15-64 years: 1 male(s)/female 65 years and over: 0.83 male(s)/female total population: 1.01 male(s)/female (2006 est.)
Life expectancy at birth
total population: 69.33 years male: 67.75 years female: 70.98 years (2006 est.)
Total fertility rate
3.59 children born/woman (2006 est.)
Business Practices
Business people are generally expected to dress professionally and some dining rooms require men to wear a jacket. It is customary to address a professional person by his or her title, particularly on first meeting or during early acquaintance. Spanish is the official language of Honduras. A large number of Honduran professionals and businessmen speak English and many high government officials and private sector leaders were educated in the United States. There are very few local interpreter or translation services available. Hondurans often view written contracts as formalities that represent a verbal agreement between trusted colleagues. The verbal understanding is therefore sometimes given greater importance than the written contract. Personal relationships are important in creating and maintaining business ties and avoiding disputes. Honduran business people frequently seek to build lifetime relationships and establish close links with clients or customers, which creates a reciprocal feeling of obligation and a mutual desire to be helpful. Hondurans are hospitable and gracious hosts. Generally the consummation of a business deal is closely related to some kind of social activity. When meeting with Honduran counterparts it is often best to wade into business matters gradually. After the formalities of courtesy have been taken care of, meetings generally turn to a more concrete discussion of business. Negotiations tend to be slower and more drawn out in Honduras. Hondurans place more emphasis on completing human transactions than on holding to schedules. Punctuality somewhat lax and waiting is typical. This different approach to scheduling and punctuality should be taken as a cultural difference, not as discourtesy or disinterest. Office hours are typically 0800-1200 and 1400-1700 Monday to Friday and 0800-1100 Saturday. Government offices: 0830-1200 and 1300-1630 Monday to Friday.
Crime
Petty and violent crime, including armed robberies, carjackings, sexual assaults, muggings, and home invasions, is prevalent throughout the country. A large percentage of the population is armed. Kidnappings and carjackings occur. Carjackers target vehicles leaving San Pedro Sula airport. There is typically a rash of armed robberies followed by brief increases in police patrols. Criminals also target travelers at and around hotels, as well as wealthy-looking residents in San Pedro Sula, Tela, Trujillo, Tegucigalpa, Goascor?n, and the Department of Olancho. Criminal activity towards foreign citizens is also rising on the islands of Roat?n and Utila. Travellers should remain vigilant at all times, including in airports, bus terminals, shopping malls and other public places. Do not show signs of affluence and avoid walking or travelling after dark. Ensure personal belongings and travel documents are secure at all times. The emergency number for local police is 199. Police response to criminal incidents may be limited and delayed, and there are doubts about the politicization of the police force (see ?Risk Assessment? above). The Honduran police generally do not speak English or French. There are tourist police in La Ceiba, Copan, Tela and San Pedro Sula. The most dangerous stretches for road travel are from Tegucigalpa to Choluteca (mountain curves); from El Progreso to La Ceiba (animal crossings and the poorly maintained bridges); from Limones to La Union (highway banditry); and from Tegucigalpa to Copan (mountain curves and poor road conditions). Armed gangs operate along the road from La Esperanza to Gracias (CA-11a). There have also been frequent incidents of highway robbery on Route 41 in Olancho around Salam? and northward to Saba. Route 39 between Gualaco and San Esteban is dangerous and should be avoided. Remain alert en route to El Progreso, Tela, Trujillo, La Ceiba, and on the road through Santa Barbara. Armed gangs play out different scenarios to trap motorists. At roadblocks, drivers should establish the identity of the individuals stopping them before rolling down the window or opening the door. Do not stop to attend to a body on the roadside; report it to the next police point instead. Drive with windows closed and doors locked at all times. Campers should always ensure that facilities are patrolled and well lit. Verify the safety of any beach with local police, park rangers, or hotel staff. Backpackers travelling by ferry from La Ceiba to the Bay Islands have been robbed. Although not a primary tourist destination, the northern part of the Department of Olancho is known for lumber and narcotics smuggling and violence. Gang violence is a growing problem in Honduras. Since January 2004 there have been at least 10 cases of gang-related beheadings. Street gangs known as "maras" have left a string of dead bodies in the streets in Honduras in a grisly warning to the government to stop the crackdown on their activities that it launched late on 2003. Earlier in 2004 gunmen attacked a car belonging to the president of the Honduran Congress, who had been targeted by organized crime for his crusade to imprison violent gang leaders. Bodies have also been found in Guatemala with notes telling President Oscar Berger not to move against the "maras." Honduras and El Salvador both introduced legislation last year making it illegal to be a gang member. But the gangs are spreading to neighboring countries and Mexico. Many of the gang members were initiated during stays in the United States. There have been kidnapping attempts and threats against wealthy-appearing Hondurans and foreigners. The body of an American kidnap victim was discovered in 2001 in a shallow river near the town of Tulian on Honduras? Caribbean coast. The victim was pulled from his unfinished beachfront house outside the nearby town of Puerto Cortes two days earlier. In 2003, assailants murdered the Belgian Honorary Consul in San Pedro Sula after kidnapping his wife. The San Pedro Sula area has seen occasional armed robberies against tourist vans, minibuses and cars traveling from the airport to area hotels, infrequently targeting the road to Copan. Robberies in this area may be based on tips from sources at airport arrival areas associated with large amounts of luggage/supplies usually for groups ? not average tourists; please exercise caution in discussing travel plans in public. Copan, the Bay Islands and other tourist destinations have a lower crime rate than other parts of the country, but petty thefts and assaults do occur. Specifically, visitors to Copan and the Bay Islands have experienced some petty thefts and, on Roatan Island, robbers have targeted homes and longer-term leased residences.
Hotels
and pensions are considered safer. Tourists and residents should avoid walking at night in most areas of Honduras, especially in the major cities. Do not resist a robbery attempt. Most criminals have weapons, and most injuries and deaths have resulted when victims have resisted. Two foreign tourists were murdered in July 2002 while resisting an armed robbery on a public bus in which they were traveling. There have been incidents of armed assaults against private sailing vessels by criminals posing as fishermen off the northeast coast of Honduras, particularly in the numerous small islands northeast of the coast of the Department of Gracias a Dios. Sailors should contact the Coast Guard and yacht facility managers in their areas of travel for current information. Hotels Visitors can choose from a wide variety of suitable hotel and bed and breakfast accommodations in major cities and tourist areas of Honduras. Among the most popular hotels in Tegucigalpa are the Honduras Maya, Plaza San Mart n, Portal del Angel, Excelsior, La Ronda, El Prado, and La Alameda. In San Pedro Sula, most business travelers stay at the Camino Real Inter-Continental, Hotel y Club Copantl, Gran Hotel Sula, and Hotel Los Pr ceres. Hotels construction projects in the country include the Crowne Plaza, Camino Real Inter- Continental, Holiday Inn Express, Princess Hotel, and a chain of Hyatt Hotels in Roatan, among others.
Communications
Telephone service is adequate. The country code is 504 and the outgoing international code is 00. Direct-dial, long-distance calling within Honduras and to the U.S. and several other countries is available but expensive. Costs are based on the destination, and rates are available through operator assistance. Night rates are charged from 10 PM to 7 AM daily. Direct-dial calls placed from the continental U.S. to Honduras are considerably cheaper. AT&T credit card holders may also use the less costly "USA-Direct" service. MCI and Sprint have similar services. Multimedia and data transmission services, such as fax, electronic mail, Internet, and cellular telephony, are also available in the country. Post office hours are 0800-1200 and 1400-1800 Monday to Saturday.
Electricity
is at 110/220 volts AC, 60Hz. Electricity 110/120/220 volts AC, 60Hz.
Plug Types
A,B
Food And Dining
There is a wide variety of restaurants and bars in Tegucigalpa and the main cities.

National specialties:
? Curiles (seafood).
? Tortillas.
? Enchiladas.
? Fruits: mangoes, papayas, pineapples, avocados and bananas.

Tipping:
Service is included in most restaurant bills. In hotels, cafes and restaurants, 10 per cent of the bill is customary where service is not included. Porters and cab drivers should be tipped when helping with the luggage (La0.50 to La1). Hotels, travel agencies and tour operators charge an extra 4 per cent for tourism services.

Nightlife
There are cinemas and discos in the main cities. There are also casinos in the major cities, plus many bars, some of which offer happy hours.
Entry departure requirements
Visa immigration information
Passports
Passport valid for three months from date of arrival required by all.
Note
It is advisable to have a return ticket, but not obligatory. However, visitors may be asked to prove how they plan to leave the country.
Visas
Required by all except the following:
(a) nationals of countries referred to in the chart above;
(b) nationals of Andorra, Antigua & Barbuda, Argentina, The Bahamas, Bahrain, Barbados, Belize, Brazil, Brunei, Bulgaria, Chile, Costa Rica, Croatia, El Salvador, Former Yugoslav Republic of Macedonia, Guatemala, Iceland, Israel, Korea (Rep), Kuwait, Liechtenstein, Madagascar, Marshall Islands, Malaysia, Mexico, Monaco, New Zealand, Nicaragua, Norway, Panama, Paraguay, Qatar, Romania, St Kitts & Nevis, St Lucia, St Vincent & the Grenadines, San Marino, S?o Tome and Princip?, Saudi Arabia, Singapore, Soloman Islands, South Africa, Switzerland, Trinidad & Tobago, Turkey, Tuvalu, United Arab Emirates, Uruguay and Vanuatu, Vatican City and Venezuela;
(c) those in transit continuing their journey within 48 hours, except for those nationals who require special authorization.
Note
For certain nationalities, authorization will have to be obtained from Honduras before a visa can be issued.
Types of visa and cost
Tourist and Business: US$17 (single-entry); US$60 (multiple-entry).
Validity
Single-entry: up to 90 days. Multiple-entry: up to one year. A visa extension may be obtained in Honduras at the Immigration Authorities for both tourism and business.
Application to
Consulate (or Consular section at Embassy); see Passport/Visa Information.
Note
Applications must be made in person, postal applications are not accepted.
Application requirements
(a) Two passport-size photos. (b) Valid passport. (c) Completed application form. (d) Fee, payable by cash or cheque but the visa will only be issued after the cheque has cleared. Tourist: (a)-(d) and where possible, (e) Return tickets and travel itinerary. (f) Bank statements. Business: (a)-(d) and, (e) Company letters giving purpose of visit and confirming financial responsibility for the applicant.
Working days required
One to two, unless approval is needed from the Ministry of Foreign Affairs in Honduras, which can take up to 10 days.
HIV entry requirements
No Test Required
Departure tax
US$25 is levied on all passengers aged 12 years of age and over.
Embassies
Embassy of the Republic of Honduras and Consulate General in the UK
115 Gloucester Place, London W1U 6JT, UK
Tel: (020) 7486 4880.
E-mail: hondurasuk@lineone.net
Opening hours: Mon-Fri 1000-1600.
Embassy of the Republic of Honduras in the USA
3007 Tilden Street, NW, Suite 4M, Washington, DC 20008, USA
Tel: (202) 966 7702 or 737 1972 (consular section).
Website: www.hondurasemb.org

Travelers should take precautions against widespread petty and violent crime in Honduras., especially in the Bay Islands.
Honduras is recovering from the effects of Hurricane Beta and Tropical Storm Gamma. Flooding has caused damage in the Caribbean coastal areas of Colon, Atlantida, Yoro and Cortes where disruption to transport can be expected. You are advised to check the latest situation locally, prior to traveling to the affected areas.
The threat from terrorism is low, but you should be aware of the global risk of indiscriminate terrorist attacks, which could be against civilian targets, including places frequented by foreigners.
This advice is based on information provided by the Foreign, Commonwealth & Development Office in the UK. It is correct at time of publishing. As the situation can change rapidly, visitors are advised to contact the following organizations for the latest travel advice:
British Foreign, Commonwealth & Development Office
Website: www.gov.uk/foreign-travel-advice
US Department of State
Currency
Lempira (HNL) = 100 centavos. Notes are in denominations of HNL500, 100, 50, 20, 10, 5, 2 and 1. Coins are in denominations of 50, 20, 10, 5, 2 and 1 centavos. A real is one-eighth of a Lempira, and is used colloquially, though there is no such coin.
Currency restrictions
There are no restrictions on the import and export of local or foreign currency, but it is advisable to declare US Dollars.
Banking hours
Mon-Fri 0900-1600 (some banks open until 1800). Some branches open Sat 0900-1200.
Currency exchange
Sterling cannot normally be exchanged, except at branches of Lloyds Bank; visitors should therefore take US Dollars.
Credit cards
American Express, Diners Club, MasterCard and Visa are accepted. Some banks offer cash withdrawal with Visa or Mastercard. Check with your credit or debit card company for details of merchant acceptability and other services which may be available.
Travellers cheques
To avoid additional exchange rate charges, travelers are advised to take traveller's cheques in US Dollars.
| City/Region | City/Area code | Followed by |
| --- | --- | --- |
| Centro Sur Occidental | 7 | + 6 digits |
| Centro Sur Oriental | 8 | + 6 digits |
| Litoral Atl?ntico | 4 | + 6 digits |
| Regi?n Nor-Occidental | 6 | + 6 digits |
| San Pedro Sula | 5 | + 6 digits |
| Tegucigalpa | 2 | + 6 digits |