26 Mar 2015
Report predicts India tourism growth in 2015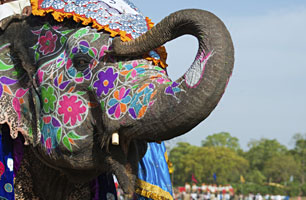 A new study has revealed that India's visa reforms could boost the country's tourism by as much as 7.5 per cent in 2015, according to the Economic Times (ET).
The electronic visas, authorised by the government towards the end of last year, allow for tourists from almost 50 countries to apply for the document online and then collect it upon their arrival to the country. Only those with the intention of tourism can use the visas and travellers can apply for two of the documents every year; they are valid for a period of one month.
Research from the World Travel and Tourism Council (WTTC) has highlighted that the visas will help the country's tourism sector grow at a steady rate, despite other challenges that India faces regarding the economy this year.
WTTC president David Scowsill told ET that more liberalisation of the visa process would be needed on top of greater investment in infrastructure.
"While India is playing catch up with the rest of the world when it comes to its tourism outlook, it must immediately address issues of visa liberalisation and tourist safety as part of its mandate," he added.
Mr Scowsill went on to say that India still has a negative reputation in terms of its safety for female travellers and that more needs to be done to combat this perception and to "offset the impact of India's international reputation."
The report went on to state that while a new government coming into power has given the tourism sector a boost in terms of positive impact, the level of international tourists arriving in the country has remained the same, or thereabouts.
Driving up tourism has been one of prime minister Modi's key objections since coming into power last year and many expect further projects to be announced this year with the potential extension of the visa on arrival scheme being one of them.