Quick Facts
Region: Africa
Full Name: Republic of Zimbabwe
Capital City: Harare
Language Spoken: English (official), Shona, Sindebele (the language of the Ndebele, sometimes called Ndebele), numerous but minor tribal dialects
Zimbabwe Travel Insurance
Get travel insurance to Zimbabwe from Direct Travel Insurance. We offer low cost and high quality travel insurance to Zimbabwe and most of the world.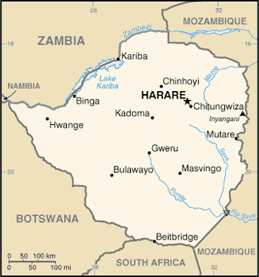 Geographic data
20 00 S, 30 00 E
Elevation Extremes
lowest point: junction of the Runde and Save rivers 162 m highest point: Inyangani 2,592 m
Land boundaries
total: 3,066 km border countries: Botswana 813 km, Mozambique 1,231 km, South Africa 225 km, Zambia 797 km
Natural hazards
recurring droughts; floods and severe storms are rare
Natural resources
coal, chromium ore, asbestos, gold, nickel, copper, iron ore, vanadium, lithium, tin, platinum group metals
Land use
arable land: 8.24% permanent crops: 0.33% other: 91.43% (2005)
Environmental current issues
deforestation; soil erosion; land degradation; air and water pollution; the black rhinoceros herd - once the largest concentration of the species in the world - has been significantly reduced by poaching; poor mining practices have led to toxic waste and heavy metal pollution
Climate
Although located in the tropics, temperate conditions prevail all year, as the climate is moderated by altitude and the inland position of the country. The hot and dry season is from September to October, and the rainy season from November to March. The best months to visit are April to May and August to September. Night-time temperatures can fall below freezing. Required clothing Light- to mediumweights with warmer clothes for evenings and rainwear for the wet season.
Time difference
time difference: UTC+2
Population
12,236,805 note: estimates for this country explicitly take into account the effects of excess mortality due to AIDS; this can result in lower life expectancy, higher infant mortality and death rates, lower population and growth rates, and changes in the distribution of population by age and sex than would otherwise be expected (July 2006 est.)
Age structure
0-14 years: 37.4% (male 2,307,170/female 2,265,298) 15-64 years: 59.1% (male 3,616,528/female 3,621,190) 65 years and over: 3.5% (male 199,468/female 227,151) (2006 est.)
Median age
total: 19.9 years male: 19.7 years female: 20 years (2006 est.)
Population growth rate
0.62% (2006 est.)
Birth rate
28.01 births/1,000 population (2006 est.)
Death rate
21.84 deaths/1,000 population (2006 est.)
Net migration rate
0 migrant(s)/1,000 population note: there is an increasing flow of Zimbabweans into South Africa and Botswana in search of better economic opportunities (2006 est.)
Sex ratio
at birth: 1.03 male(s)/female under 15 years: 1.02 male(s)/female 15-64 years: 1 male(s)/female 65 years and over: 0.88 male(s)/female total population: 1 male(s)/female (2006 est.)
Life expectancy at birth
total population: 39.29 years male: 40.39 years female: 38.16 years (2006 est.)
Total fertility rate
3.13 children born/woman (2006 est.)
Business Practices
Suit and tie should be worn for business meetings, however the atmosphere will generally be less formal than in many European countries. Most businessmen speak English and business cards are usually exchanged. Office hours are 0800-1630 Monday to Friday.
Crime
Muggings, rape, purse snatching, car thefts, and credit card fraud are on the increase and as foreigners are perceived as being wealthy, these groups are frequently being targeted. Thieves often operate in the vicinity of hotels, restaurants, shopping malls and tourist areas. It may be prudent to take the preventive measure of leaving all valuables such as passport, money, jewelry and credit cards in the hotel safe when not being used. Do not carry large sums of money or multiple credit cards while shopping. Make and carry a photocopy of the biographic page of the passport for purposes of identification. Thieves have stolen possessions from automobiles and public transport vehicles stopped in traffic. Car doors should be locked and windows rolled up at all times. Visitors should always be aware of activity around them. A typical mugging in Harare involves a group of young males who surround and overwhelm their victim in a public area. An alert person can often see this developing and take evasive action. Purse snatchers will often work in teams of two with one acting as a diversion. One may engage you in conversation or bump you on the street while the other grabs your valuables. Do not display or carry unnecessary valuables. Keep money in your pockets. Avoid wearing "fanny packs" and money belts. Thieves specifically look or feel for these items when robbing you. There are regular reports of incidents of robberies and car jackings of vehicles using the Harare Airport road. Particular care should be taken at Harare International Airport where there has been an increase in such thefts. You should carry photocopies of your passport, although banks will not accept photocopies for monetary transactions. Take care with baggage in public places, and at reception desks when checking in or out of hotels.
Hotels
Most visiting business people stay at the Monomatapa, Meikles, Sheraton or Holiday Inn hotels in downtown Harare-all are centrally located and provide acceptable internal security. Most business people in terms of comfort and location prefer the Meikles. Non-residents must pay hotel bills in hard currency. Local currency is not acceptable even on presentation of exchange certificates.
Communications
Full telephone IDD service is available. The country code is 263 and the outgoing international code is 110. Fax services are widely available. Zimbabwe's telecommunications system is being upgraded, but is still plagued by problems and does not offer many services (i.e., cellular, paging, packet switching, etc.) common in many countries.
Electricity
is a 220/240 volts AC, 50Hz. Electricity 220/230 volts AC, 50Hz.
Plug Types
D,G
Food And Dining
Zimbabwe is a cosmopolitan society and enjoys both local and international cuisine. Eating out is popular and comparatively cheap. Beer is the most widely consumed alcoholic beverage. Imported wines, spirits and liqueurs are available in hotels.
National specialties:
? Sadza (a stiff maize meal) eaten with meat and/or gravy and a relish.
? Nhedzi soup (wild mushroom).
? Game meat, including ostrich, warthog and crocodile tail. National drinks:
? Whawha (traditional maize beer). Things to know: Table service is the norm in restaurants. Public bars are almost always part of a hotel. Licensing hours in Zimbabwe are 1030-1500 and 1630-2300. Major hotels have 24-hour bars and room service.
Tipping:
A 10 to 15 per cent tip is usual.
Nightlife
Rather limited outside the cities with emphasis on eating and discos, but larger cities have nightclubs, cinemas and repertory theaters. The three main tourist areas have casinos.
Entry departure requirements
* Please see visa section
Visa immigration information
Passports
Passport valid for at least six months beyond date of departure required by all.
Visas
Required by all except the following:
(a)1. nationals of Cyprus, Ireland and Malta;
(b) nationals of Antigua and Barbuda, Aruba, The Bahamas, Barbados, Belize, Bermuda, Botswana, Cayman Islands, Congo (DRC), Fiji, Grenada, Hong Kong (SAR), Jamaica, Kenya, Kiribati, Leeward Islands, Lesotho, Malawi, Malaysia, Maldives, Mauritius, Montserrat, Namibia, Nauru, New Zealand, St Kitts & Nevis, St Lucia, St Vincent & the Grenadines, Singapore, Solomon Islands, Swaziland, Tanzania, Tonga, Trinidad & Tobago, Turks & Caicos Islands, Tuvalu, Uganda, Vanuatu, Western Samoa and Zambia;
(c) passengers continuing their journey to a third country within 6 hours by the same or connecting flight, provided holding tickets with reserved seats and documents for onward travel and not leaving the transit area.
Note
2. Nationals of the following countries may obtain visas valid for up to 90 days on arrival in Zimbabwe, provided holding tickets and documents for return or onward travel and sufficient funds for their stay: Argentina, Australia, Austria, Belgium, Brazil, Brunei, Canada, Cook Islands, Denmark, Dominican Republic, Egypt, Finland, France, Germany, Ghana (gratis visa; free-of-charge), Greece, Iceland, Indonesia, Israel, Italy, Japan, Korea (Rep), Kuwait, Liechtenstein, Luxembourg, Monaco, The Netherlands, New Zealand, Norway, Palau, Palestinian Authority Region (State Of), Papua New Guinea, Poland, Portugal, Puerto Rico (USA), Seychelles, South Africa (gratis visa; free-of-charge), Spain, Sweden, Switzerland, United Arab Emirates, United Kingdom, Uruguay, USA, US Virgin Islands and Vatican City.
Types of visa and cost
Visa at port of entry: cost dependent on nationality, British nationals US$62 ; contact consular section at Embassy or High Commission for further details. Cost of visa from Embassy: single-entry US$69 ; double-entry US$86 Multiple-entry visas only issued when in Zimbabwe.
Validity
Six months from date of issue.
Application to
Consular section at Embassy or High Commission; see Passport/Visa Information. For Multiple-entry visas, travelers must apply direct to the Chief Immigration Officer in Harare, Zimbabwe.
Application requirements
(a) Completed application form. (b) Passport valid for at least six months beyond date of departure. (c) Fee, payable by cash or banker's draft (cheques are not accepted). (d) Two passport photographs. (e) Letter of invitation or an itinerary. (f) Return ticket and proof of sufficient funds (this requirement applies to all visitors, including those who may enter visa-free).
Note
All visitors to Zimbabwe must be in possession of return tickets (or funds in lieu) and sufficient funds to support themselves. The granting of a visa is not a guarantee of entry.
Working days required
Usually seven; minimum of 48 hours from receipt of application.
Temporary residence
Apply to Chief Immigration Officer, Private Bag 77717, Causeway, Harare.
HIV entry requirements
No Test Required
Departure tax
US$20 (non-residents); US$20 or Z$1100 (residents). Children under two years and transit passengers are exempt.
Embassies
Embassy of the Republic of Zimbabwe in the UK
Zimbabwe House, 429 Strand, London WC2R 0JR, UK
Tel: (020) 7836 7755.
Website: www.zimlondon.gov.zw
Opening hours: Mon-Fri 0900-1700; 0900-1230 (visa section).
Embassy of Zimbabwe in the USA
1608 New Hampshire Avenue, NW, Washington, DC 20009, USA
Tel: (202) 332 7100.
Website: www.zimembassydc.gov.zw
Openign hours: Mon-Fri 0900-1200 (consular section).
There has been an increase in tension in urban areas and a general increase in the level of violent crime. There is a continuing risk of violence at political demonstrations, but main tourist areas have been largely unaffected by political and social unrest.
Most visits to Zimbabwe are trouble free. Travel with organized tour operators to well-established destinations is recommended. Independent travel, particularly backpacking, is strongly advised against.
Travel to the high-density suburbs is advised against; the Government of Zimbabwe's 'clean up' campaign has increased tension in these areas. Travelers should avoid engaging in overtly partisan political activity, or in activities that could be construed as such.
This advice is based on information provided by the Foreign, Commonwealth & Development Office in the UK. It is correct at time of publishing. As the situation can change rapidly, visitors are advised to contact the following organizations for the latest travel advice:
British Foreign, Commonwealth & Development Office
Website: www.gov.uk/foreign-travel-advice
US Department of State
Website: https://travel.state.gov/content/travel/en/international-travel/International-Travel-Country-Information-Pages/Zimbabwe.html
Currency
Zimbabwe Dollar (ZWD; symbol Z$ ) = 100 cents. Notes are in denominations of Z$100, 50, 20, 10, 5 and 2. Coins are in denominations of Z$5, 2 and 1, and 50, 20, 10, 5 and 1 cents.
Currency restrictions
The import and export of local currency is limited to Z$15,000. The import of foreign currency is unlimited. The export of foreign currency is unlimited as long as supported by the visitor's currency declaration form.
Banking hours
Mon-Tues and Thurs-Fri 0800-1500, Wed 0800-1300 and Sat 0800-1130.
Currency exchange
Major foreign currencies can be exchanged at bureaux de change, banks and major hotels at the official exchange rate.
Credit cards
American Express, Diners Club and Visa are widely accepted, whilst MasterCard has more limited use. Some ATMs accept credit cards. Check with your credit or debit card company for details of merchant acceptability and other services which may be available.
Travellers cheques
Banks and major hotels will exchange these. To avoid additional exchange rate charges, travelers are advised to take traveller's cheques in US Dollars or Pounds Sterling.
| City/Region | City/Area code | Followed by |
| --- | --- | --- |
| Arcturus | (0)74 | + 3/6 digit subscriber nr |
| Banket | (0)66 | + 4/6 digit subscriber nr |
| Beatrice | (0)65 | + 3/6 digit subscriber nr |
| Beitbridge | (0)86 | + 3/6 digit subscriber nr |
| Bindura | (0)71 | + 4/6 digit subscriber nr |
| Binga | (0)15 | + 3/6 digit subscriber nr |
| Birchenough | (0)248 | + 3/6 digit subscriber nr |
| Bulawayo | (0)9 | + 5/8 digit subscriber nr |
| Centenary | (0)57 | + 3/6 digit subscriber nr |
| Chakari | (0)688 | + 3/6 digit subscriber nr |
| Chatsworth | (0)308 | + 3/6 digit subscriber nr |
| Checheche | (0)317 | + 3/6 digit subscriber nr |
| Chegutu | (0)53 | + 4/6 digit subscriber nr |
| Chimanimani | (0)26 | + 3/6 digit subscriber nr |
| Chinhoyi | (0)67 | + 4/6 digit subscriber nr |
| Chipangayi | (0)24 | + 3/6 digit subscriber nr |
| Chipinge | (0)27 | + 4/6 digit subscriber nr |
| Chiredzi | (0)31 | + 3/6 digit subscriber nr |
| Chirundu | (0)637 | + 3/6 digit subscriber nr |
| Chitungwiza | (0)70 | + 5/6 digit subscriber nr |
| Chivhu | (0)56 | + 4/6 digit subscriber nr |
| Colleen Bawn | (0)848 | + 3/6 digit subscriber nr |
| Concession | (0)756 | + 3/6 digit subscriber nr |
| Darwendale | (0)69 | + 3/6 digit subscriber nr |
| Dete | (0)18 | + 3/6 digit subscriber nr |
| Esigodini | (0)88 | + 3/6 digit subscriber nr |
| Figtree | (0)83 | + 3/6 digit subscriber nr |
| Filabusi | (0)17 | + 3/6 digit subscriber nr |
| Glendale | (0)758 | + 3/6 digit subscriber nr |
| Gokwe | (0)59 | + 3/6 digit subscriber nr |
| Guruve | (0)58 | + 3/6 digit subscriber nr |
| Gutu | (0)30 | + 3/6 digit subscriber nr |
| Gwanda | (0)84 | + 3/6 digit subscriber nr |
| Gweru | (0)54 | + 4/6 digit subscriber nr |
| Harare | (0)4 | + 5/8 digit subscriber nr |
| Hauna | (0)28 | + 3/6 digit subscriber nr |
| Headlands | (0)2582 | + 3/6 digit subscriber nr |
| Hwange (Wankie) | (0)81 | + 3/6 digit subscriber nr |
| Jerera | (0)34 | + 3/6 digit subscriber nr |
| Jotsholo | (0)89 | + 3/6 digit subscriber nr |
| Juliasdale | (0)29 | + 3/6 digit subscriber nr |
| Kadoma (Gatooma) | (0)68 | + 4/6 digit subscriber nr |
| Kariba | (0)61 | + 4/6 digit subscriber nr |
| Karoi | (0)64 | + 3/6 digit subscriber nr |
| Kezi | (0)82 | + 4/6 digit subscriber nr |
| Kwekwe | (0)55 | + 3/6 digit subscriber nr |
| Lalapanzi | (0)5483 | + 3/6 digit subscriber nr |
| Macheke | (0)798 | + 3/6 digit subscriber nr |
| Makuti | (0)63 | + 3/6 digit subscriber nr |
| Marondera | (0)79 | + 4/6 digit subscriber nr |
| Mashava | (0)35 | + 3/6 digit subscriber nr |
| Masvingo (Ft. Victoria) | (0)39 | + 4/6 digit subscriber nr |
| Mataga | (0)517 | + 3/6 digit subscriber nr |
| Matopos | (0)838 | + 3/6 digit subscriber nr |
| Mazowe (Mazoe) | (0)75 | + 4/6 digit subscriber nr |
| Mberengwa | (0)518 | + 3/6 digit subscriber nr |
| Mhangura | (0)60 | + 3/6 digit subscriber nr |
| Mount Darwin | (0)76 | + 3/6 digit subscriber nr |
| Munyati | (0)557 | + 3/6 digit subscriber nr |
| Murambinda | (0)21 | + 3/6 digit subscriber nr |
| Murewa | (0)78 | + 4/6 digit subscriber nr |
| Mutare (Umtali) | (0)20 | + 5/6 digit subscriber nr |
| Mutoku | (0)72 | + 3/6 digit subscriber nr |
| Mutorashanga | (0)668 | + 3/6 digit subscriber nr |
| Mvuma | (0)32 | + 3/6 digit subscriber nr |
| Mvurwi | (0)77 | + 4/6 digit subscriber nr |
| Mwenezi | (0)147 | + 3/6 digit subscriber nr |
| Ngundu | (0)36 | + 3/6 digit subscriber nr |
| Nkayi | (0)558 | + 3/6 digit subscriber nr |
| Norton | (0)62 | + 4/6 digit subscriber nr |
| Nyamandhlovu | (0)87 | + 3/6 digit subscriber nr |
| Nyanga | (0)298 | + 3/6 digit subscriber nr |
| Nyazura | (0)2583 | + 3/6 digit subscriber nr |
| Nyika | (0)38 | + 3/6 digit subscriber nr |
| Odzi | (0)204 | + 3/6 digit subscriber nr |
| Penhalonga | (0)205 | + 3/6 digit subscriber nr |
| Plumtree | (0)19 | + 3/6 digit subscriber nr |
| Raffingora | (0)667 | + 3/6 digit subscriber nr |
| Rusape | (0)25 | + 4/6 digit subscriber nr |
| Rutenga | (0)14 | + 3/6 digit subscriber nr |
| Ruwa | (0)73 | + 4/6 digit subscriber nr |
| Sanyati | (0)687 | + 3/6 digit subscriber nr |
| Selous | (0)628 | + 3/6 digit subscriber nr |
| Shamva | (0)718 | + 3/6 digit subscriber nr |
| Shangani | (0)50 | + 3/6 digit subscriber nr |
| Shurugwi | (0)52 | + 4/6 digit subscriber nr |
| Trelawney | (0)698 | + 3/6 digit subscriber nr |
| Triangle | (0)33 | + 4/6 digit subscriber nr |
| Tsholotsho | (0)878 | + 3/6 digit subscriber nr |
| Turk Mine | (0)85 | + 4/6 digit subscriber nr |
| Victoria Falls | (0)13 | + 3/6 digit subscriber nr |
| Wedza | (0)22 | + 3/6 digit subscriber nr |
| West Nicholson | (0)16 | + 3/6 digit subscriber nr |
| Zvishavane | (0)51 | + 4/6 digit subscriber nr |