Quick Facts
Region: Africa
Full Name: Republic of Zambia
Capital City: Lusaka
Language Spoken: English (official), major vernaculars - Bemba, Kaonda, Lozi, Lunda, Luvale, Nyanja, Tonga, and about 70 other indigenous languages
Zambia Travel Insurance
Get travel insurance to Zambia from Direct Travel Insurance. We offer low cost and high quality travel insurance to Zambia and most of the world.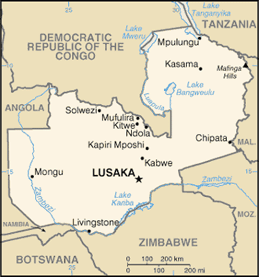 Geographic data
15 00 S, 30 00 E
Elevation Extremes
lowest point: Zambezi river 329 m highest point: unnamed location in Mafinga Hills 2,301 m
Land boundaries
total: 5,664 km border countries: Angola 1,110 km, Democratic Republic of the Congo 1,930 km, Malawi 837 km, Mozambique 419 km, Namibia 233 km, Tanzania 338 km, Zimbabwe 797 km
Natural hazards
periodic drought, tropical storms (November to April)
Natural resources
copper, cobalt, zinc, lead, coal, emeralds, gold, silver, uranium, hydropower
Land use
arable land: 6.99% permanent crops: 0.04% other: 92.97% (2005)
Environmental current issues
air pollution and resulting acid rain in the mineral extraction and refining region; chemical runoff into watersheds; poaching seriously threatens rhinoceros, elephant, antelope, and large cat populations; deforestation; soil erosion; desertification; lack of adequate water treatment presents human health risks
Climate
Although Zambia lies in the tropics, the height of the plateau ensures that the climate is seldom unpleasantly hot, except in the valleys. There are three seasons: the cool, dry winter season from May to September; the hot, dry season in October and November; and the rainy season, which is even hotter, from December to April. Required clothing Lightweights or tropical with rainwear.
Time difference
time difference: UTC+2
Population
11,502,010 note: estimates for this country explicitly take into account the effects of excess mortality due to AIDS; this can result in lower life expectancy, higher infant mortality and death rates, lower population and growth rates, and changes in the distribution of population by age and sex than would otherwise be expected (July 2006 est.)
Age structure
0-14 years: 46.3% (male 2,673,891/female 2,656,268) 15-64 years: 51.3% (male 2,925,910/female 2,969,324) 65 years and over: 2.4% (male 117,877/female 158,740) (2006 est.)
Median age
total: 16.5 years male: 16.3 years female: 16.7 years (2006 est.)
Population growth rate
2.11% (2006 est.)
Birth rate
41 births/1,000 population (2006 est.)
Death rate
19.93 deaths/1,000 population (2006 est.)
Net migration rate
0 migrant(s)/1,000 population (2006 est.)
Sex ratio
at birth: 1.03 male(s)/female under 15 years: 1.01 male(s)/female 15-64 years: 0.99 male(s)/female 65 years and over: 0.74 male(s)/female total population: 0.99 male(s)/female (2006 est.)
Life expectancy at birth
total population: 40.03 years male: 39.76 years female: 40.31 years (2006 est.)
Total fertility rate
5.39 children born/woman (2006 est.)
Business Practices
Suit and tie are preferred for business meetings. English is widely used in business circles. Business cards are usually exchanged. Office hours are 0800-1300 and 1400-1700 Monday to Friday.
Crime
Crime is prevalent in Zambia. Armed carjackings, muggings and petty theft are commonplace in Lusaka and other major cities, especially in downtown commercial districts and housing compounds. Car thieves may be targeting American citizens driving 4x4 vehicles. Thieves have stolen possessions from automobiles and public transport vehicles stopped in traffic. Car doors should be locked and windows rolled up at all times. Travel at night is particularly risky, both in Lusaka and on roads outside of the city. Tourist destinations, including South Luangwa National Park and Victoria Falls, are visited by large numbers of tourists without incident. Visitors to the Kafue National Park should be aware that a series of attacks were perpetrated in early 1998 by armed gunmen on cars traveling the Lusaka-Mongu road in the immediate vicinity of the park. Visitors should also be aware of occasional attacks by armed gunmen on cars near the northern border with the Democratic Republic of the Congo (former Zaire) and near the western border with Angola. Landmines in the Gwembe valley near Sinazongwe (along the southwest end of Lake Kariba on the Livingstone to Siavonga Road) make travel to that area potentially hazardous. Visitors should not travel on this road, or to drive off established roads in this area.
Hotels
Hotels are concentrated around Lusaka, Livingstone and the Copperbelt region. Others are widely dispersed around the country along principal roads or near towns.
Communications
Telephone IDD service is available to Zambia. The country code is 260 and the outgoing international code is 00. There are public telephones and most calls are made through a post office. There are public fax facilities at the Central Post Office in Lusaka and at principal hotels. Telecommunications are generally adequate but can be unreliable, especially during the rainy season. Cellular service is currently offered in Lusaka, Copperbelt towns, and some towns along the line of rail. International telephone calls are expensive, about 8 U.S. dollars per 3 minute to the U.S., including tax. AT&T s USA Direct service is available, as well as similar services to Britain, Sweden and some other European countries. A number of callback service companies are operating, although the parastatal telephone company, ZAMTEL, disputes their legality and operations. Fax machines are widely used in Zambia. The Internet is also becoming a popular communications tool.
Electricity
is 220/240 volts AC, 50Hz. Electricity 230 volts AC, 50Hz.
Plug Types
C,D,G
Food And Dining
Owing to the liberalization of the economy, there is now plenty of food in the shops. Local and imported beers, spirits and assorted soft drinks are available.
National specialties:
? Freshwater fish: bream from the Kafue, Luapula and Zambezi rivers, Nile perch and lake salmon. National drinks:
? Mosi and Rhino lager.
Tipping:
A 10 per cent sales tax is added to all bills. Tipping in hotels has been abolished by law but a 10 per cent tip may be expected or included in bills elsewhere.
Nightlife
Lusaka has dancing and floorshows in the main hotels, cinemas and theaters. The Copperbelt and Livingstone areas offer a variety of entertainments including casinos and nightclubs. Very popular among travelers are boat trips on the river with a few drinks (also called 'booze' cruises).
Entry departure requirements
* Please see visa section
Visa immigration information
Passports
Passport valid for six months from the date of entry required by all.
Visas
Required by all except the following for stays of up to 30 days:
(a) 1. nationals of Ireland (all other EU nationals do require a visa);
(b) nationals of Romania and Serbia & Montenegro;
(c) nationals of Commonwealth countries (except nationals of Australia, Bangladesh, Canada, The Gambia, Ghana, India, Mozambique, New Zealand, Nigeria, Pakistan, Papua New Guinea, Sierra Leone, Sri Lanka and the UK who do require a visa);
(d) transit passengers continuing their journey by the same or first connecting aircraft within 24 hours provided holding valid onward or return documentation and not leaving the airport.
Note
A Bonafide Tourist, who is traveling on a pre-arranged package tour with a foreign tour operator, or in conjunction with a local tour operator in Zambia, will be issued a fee-waived visa for a stay of no longer than 14 days. The fee-waived visa will be issued at any port of entry to Zambia. The Bonafide Tourist will also be exempt from submitting a letter of invitation, photocopy of flight details and proof of funds.
Types of visa and cost
Tourist, Business, Private and Transit. The cost depends on nationality. For UK citizens: US$57 (single-entry); US$77 (double- and multiple-entry). Payable in cash in person or by postal order payable to the Zambia High Commission.
Validity
Six months from date of issue for a stay of maximum 30 days; transit visa valid for seven days. Daytripper visas are valid for tourists entering Zambia for no more than 24 hours.
Application to
Consulate (or consular section at High Commission or Embassy); see Passport/Visa Information.
Application requirements
(a) One completed application form. (b) Two recent passport-size photos. (c) Valid passport. (d) Fee (payable in cash or by postal order). (e) Self-addressed stamped envelope for postal applications. (f) Letter of invitation confirming purpose of visit from host in Zambia, for all trips. (g) Proof of the Zambian host's immigration status. (h) Proof of return journey to home country. (i) Proof of sufficient funds during length of stay in Zambia.
Working days required
Three.
Temporary residence
For stays in excess of 90 days, apply to the Chief Immigration Officer (CIO), Kent Building, PO Box 50300, Lusaka (tel: (1) 252 622 or 252 629; tel/fax: (1) 252 008).
HIV entry requirements
No Test Required
Departure tax
US$20 (payable in cash). Transit passengers and children under two years are exempt.
Embassies
High Commission for the Republic of Zambia in the UK
2 Palace Gate, Kensington, London W8 5NG, UK
Tel: (020) 7589 6655.
Opening hours: Mon-Fri 0930-1300 and 1400-1700; Mon-Fri 1000-1300 (visa section).
Embassy of the Republic of Zambia in the USA
2419 Massachusetts Avenue, NW, Washington, DC 20008, USA
Tel: (202) 265 9717.
Website: www.zambiaembassy.org
Opening hours: Mon-Thur 0930-1230 (consular section).
Travelers are advised against all but essential travel to areas of Zambia bordering the Democratic Republic of Congo, where there have been reports of cross-border raids. There are also landmines in this area, and on the borders with Angola and Mozambique.
Most visits to Zambia are trouble free. The threat from terrorism is low, but you should be aware of the global risk of indiscriminate terrorist attacks which could be against civilian targets, including places frequented by foreigners.
Armed robbery and car hijacking are on the increase.
This advice is based on information provided by the Foreign, Commonwealth & Development Office in the UK. It is correct at time of publishing. As the situation can change rapidly, visitors are advised to contact the following organizations for the latest travel advice:
British Foreign, Commonwealth & Development Office
Website: www.gov.uk/foreign-travel-advice
US Department of State
Website: https://travel.state.gov/content/travel/en/international-travel/International-Travel-Country-Information-Pages/Zambia.html
Currency
Kwacha (ZMK) = 100 ngwee. Notes are in denominations of ZMK50,000, 20,000, 10,000, 5000, 1000, 500, 100 and 50. Coins are in denominations of ZMK1, and 50, 20, 10, 5, 2 and 1 ngwee.
Currency restrictions
The import and export of local currency is limited to ZMK100. Free import of foreign currency subject to declaration on arrival. The export of foreign currency is limited to the amount declared on import. All passengers entering or departing from Zambia must declare all currency notes exceeding US$5000 or equivalent. Note: Currency declaration forms and exchange receipts must be shown if purchasing airline tickets in Zambia.
Banking hours
Vary from bank to bank, but most are open Mon-Fri 0815-1430. Some banks are open 0815-1030 on the first and last Saturday of the month.
Currency exchange
Exchange of foreign currency is carried out at authorized banks and bureaux de change. ATMs are available within Lusaka and some of the major towns in Zambia.
Credit cards
Most hotels, restaurants, travel agents and bigger shops accept credit cards. Standard Chartered and Barclays Bank have ATMs which accept Visa.
Travellers cheques
Widely accepted. To avoid additional exchange rate charges, travelers are advised to take traveller's cheques in US Dollars, Euros or Pounds Sterling.
| City/Region | City/Area code | Followed by |
| --- | --- | --- |
| Chipata | (0)6 | + 6 digit subscriber nr |
| Choma | (0)3 | + 6 digit subscriber nr |
| Kabwe | (0)5 | + 6 digit subscriber nr |
| Kasama | (0)4 | + 6 digit subscriber nr |
| Kitwe | (0)2 | + 6 digit subscriber nr |
| Lusaka | (0)1 | + 6 digit subscriber nr |
| Mongu | (0)7 | + 6 digit subscriber nr |
| Solwezi | (0)8 | + 6 digit subscriber nr |