Quick Facts
Region: Middle East
Full Name: Hashemite Kingdom of Jordan
Capital City: Amman
Language Spoken: Arabic (official), English widely understood among upper and middle classes
Jordan Travel Insurance
Get travel insurance to Jordan from Direct Travel Insurance. We offer low cost and high quality travel insurance to Jordan and most of the world.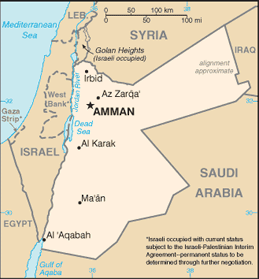 Geographic data
31 00 N, 36 00 E
Elevation Extremes
lowest point: Dead Sea -408 m highest point: Jabal Ram 1,734 m
Land boundaries
total: 1,635 km border countries: Iraq 181 km, Israel 238 km, Saudi Arabia 744 km, Syria 375 km, West Bank 97 km
Natural hazards
droughts; periodic earthquakes
Natural resources
phosphates, potash, shale oil
Land use
arable land: 3.32% permanent crops: 1.18% other: 95.5% (2005)
Environmental current issues
limited natural fresh water resources; deforestation; overgrazing; soil erosion; desertification
Climate
Hot and dry summers with cool evenings. The Jordan Valley below sea level is warm during winter and extremely hot in summer. Rain falls between November and March, while colder weather conditions occur in December/January. Required clothing Lightweight cottons and linens are advised between May and September. Warmer clothes are necessary for winter and cool summer evenings. Rainwear is needed from November to April.
Time difference
time difference: UTC+2 daylight saving time: +1hr, begins last Thursday in March; ends last Friday in September
Population
5,906,760 (July 2006 est.)
Age structure
0-14 years: 33.8% (male 1,018,070/female 976,442) 15-64 years: 62.4% (male 1,966,794/female 1,716,255) 65 years and over: 3.9% (male 111,636/female 117,563) (2006 est.)
Median age
total: 23 years male: 23.7 years female: 22.4 years (2006 est.)
Population growth rate
2.49% (2006 est.)
Birth rate
21.25 births/1,000 population (2006 est.)
Death rate
2.65 deaths/1,000 population (2006 est.)
Net migration rate
6.26 migrant(s)/1,000 population (2006 est.)
Sex ratio
at birth: 1.06 male(s)/female under 15 years: 1.04 male(s)/female 15-64 years: 1.15 male(s)/female 65 years and over: 0.95 male(s)/female total population: 1.1 male(s)/female (2006 est.)
Life expectancy at birth
total population: 78.4 years male: 75.9 years female: 81.05 years (2006 est.)
Total fertility rate
2.63 children born/woman (2006 est.)
Business Practices
Crime
Crime is generally not a serious problem for travelers in Jordan, but petty crime is prevalent in the downtown Amman Hashimiyah Square area and near the Roman Theater. In the narrow streets of the Old City, crowded conditions invite pickpockets and other petty criminals. It is safer to travel in groups when visiting the center of Amman. Additional caution and sensitivity should be exercised at religious sites on holy days and Friday Sabbath. Modest attire should be worn at all holy sites. Incidents of sexual harassment assault and unwelcome advances of a sexual nature against Western visitors and residents are on the increase in Jordan, especially in cities and commonly traveled tourist sites. These incidents, while troubling, are not pervasive. However, women are advised to use common sense and to take reasonable precautions: dress conservatively and do not travel alone.
Hotels
There are several high-standard hotels in Amman and Aqaba where alcoholic drinks can be served at all times. Hotels are fully booked during business periods so reservations are advised.
Communications
Telephone IDD service is available within cities, with direct dialing to most countries. Country code: 962 (followed by 6 for Amman). Outgoing international code: 00. There are now telephone and facsimile connections to Israel from Jordan. The use of fax is increasing. Most good hotels have facilities. Post office hours are 0800-1800 Saturday to Thursday, closed Friday (except for the downtown post office on Prince Mohammed Street in Amman which is open Friday).
Electricity
is 220 volts AC, 50Hz. Lamp sockets are screw-type, and there is a wide range of wall sockets. Electricity 220 volts AC, 50Hz. Round two-pin plugs are used. Lamp sockets are screw-type, and there is a wide range of wall sockets.
Plug Types
C,D,F,G,J
Food And Dining
The cuisine varies, although most restaurants have a mixed menu which includes both Arabic and European dishes.

National specialties:
? Meze (small starters such as fool, humus, kube and tabouleh).
? Kebabs.
? Mahshi Waraq ?inab (vine leaves stuffed with rice, minced meat and spices).
? Musakhan (chicken in olive oil and onion sauce roasted on Arab bread).
? Mensaf (stewed lamb in a yogurt sauce served on a bed of rice), a dish which is normally eaten with the hand.
? Baklava (pastry filled with nuts or honey).
? Kanafa (pastry filled with nuts or goats cheese).
? Ataif (small fried pancakes filled with nuts or cheese and traditionally eaten during Ramadan).
? Mohallabiya (milk-based pudding perfumed with rose water or orange). National drinks:
? Drinking Arabic coffee is a ritual. Coffee tends to be very strong and is served in small cups (with plenty of coffee grounds at the bottom).
? Local beer, wine and other types of alcohol are served in most restaurants and bars, except during the fasting month of Ramadan (non-Arabic nationals can drink alcohol only in hotels during Ramadan).
? Araq is a local liquor similar to Greek Ouzo, usually mixed with water and ice. Tipping : 10 to 12 per cent service charge is generally added in hotels and restaurants, and extra tips are discretionary. Porters? and drivers? tips are about 8 per cent.

Nightlife
There are nightclubs, theaters and cinemas in Amman, while some other major towns have cinemas. Often clubs will only admit couples or mixed groups. Many of the 4- and 5-star hotels have popular clubs and bars.
Entry departure requirements
* Please see visa section
Visa immigration information
Passports
Passport valid for six months required by all.
Visas
Required by all except the following:
(a) nationals of Bahrain, Egypt, Iraq, Kuwait, Oman, Qatar, Saudi Arabia, Syrian Arab Republic, United Arab Emirates and Yemen for maximum stays of one month (extensions may be obtained at the nearest police station);
(b) transit passengers continuing their journey to another country by the same or first connecting aircraft within 24 hours provided holding valid onward or return documentation and not leaving the airport. Transit visas can only be issued at Jordanian airports/airlines and not at embassies or consulates.
Note
1. (a) Nationals of certain countries ? including all European Union countries, Australia, Canada, Japan, New Zealand and the USA ? can obtain visas on arrival at the airport in Jordan. Multiple-entry visas can only be obtained at the nearest Embassy/Consulate. (b) For information about land border crossings, see the Travel - International section or contact the Embassy.
Types of visa and cost
Tourist, Transit and Business: US$19 (single-entry); US$36 (multiple-entry).
Validity
Validity varies according to nationality. For Australian, Canadian, UK and US nationals, visas are valid as follows: Tourist: Three months for single-entry if obtained from the embassy or two weeks if obtained at the airport, these can be extended at any Jordanian police station; Multiple-entry are valid for six months; Business: Three months. After the first two weeks of stay, all visitors holding a visa must report to the nearest police station.
Application to
Consulate (or Consular section at Embassy); see Passport/Visa Information.
Application requirements
(a) Completed application form. (b) Passport valid for at least six months with at least one blank page. (c) One recent passport-size photo. (d) Stamped, self-addressed, recorded or registered envelope if applying by post. (e) Fee (only cash or postal orders are accepted). Business (a)-(e) and, (f) Company letter supporting application.
Working days required
Two if applying in person; two weeks by post once application has been received.
Note
Nationals of Afghanistan, Albania, Angola, Bangladesh, Belize, Benin, Bosnia & Herzegovina, Botswana, Burkina Faso, Burundi, Cambodia, Cameroon, Central African Republic, Chad, China, Congo (Dem Rep), Congo (Rep), Colombia, C?te d?Ivoire, Cuba, Djibouti, Eritrea, Ethiopia, Gabon, Gambia, Ghana, Guinea, Guinea-Bissau, Guyana, India, Iran, Laos, Lebanon, Liberia, Kenya, Macedonia (Former Yugoslav Republic of), Madagascar, Maldives, Mali, Mauritania, Mongolia, Mozambique, Namibia, Niger, Nigeria, Pakistan, Papua New Guinea, The Philippines, Senegal, Sierra Leone, Somalia, Sri Lanka, Sudan, Tanzania, Thailand, Togo, Uganda, Vietnam Zaire and Zambia are required to seek approval from the Ministry of Interior in order to obtain a visa and therefore should allow six to eight weeks for their applications to be processed. Contact the Embassy for further information (see Passport/Visa Information).
Temporary residence
Apply to Embassy; see Passport/Visa Information.
HIV entry requirements
Test required for anyone staying longer than 6 months
Departure tax
JD5 for individual tourists which is included in the airline ticket, JD25 for Jordanian nationals on international departures. Transit passengers are exempt.
Embassies
Embassy of the Hashemite Kingdom of Jordan in the UK
The Embassy of the Hashemite Kingdom of Jordan, 76-80 Southwark Street, London SE1 0PN
(Previously 6 Upper Phillimore Gardens, London W8 7HA, UK)
Tel: (020) 7937 3685.
Website: www.jordanembassyuk.org
Opening hours: Mon-Fri 0900-1200 (consulate enquiries); 1400-1500 (visa collection).
Embassy of the Hashemite Kingdom of Jordan in the USA
3504 International Drive, NW, Washington, DC 20008, USA
Tel: (202) 966 2664 or 966 2861 (consular section).
Website: www.jordanembassyus.org

Most visits to Jordan are trouble-free. However, there is a high threat from terrorism.
Travelers planning to travel to Jordan should take sensible precautions for their personal security arrangements throughout their visit.
Developments in the region could affect the security situation.
Travelers should take extra care at the borders with Israel and Iraq. Travelers should take particular care when using Jordanian service taxis to cross into neighboring countries.
This advice is based on information provided by the Foreign & Commonwealth Office in the UK. It is correct at time of publishing. As the situation can change rapidly, visitors are advised to contact the following organizations for the latest travel advice:
British Foreign, Commonwealth & Development Office
Website: www.gov.uk/foreign-travel-advice
US Department of State
Website: https://travel.state.gov/content/travel.html
Currency
Dinar (JOD) = 100 piaters or 1000 fils. Notes are in denominations of JOD50, 20, 10, 5 and 1, and 500 fils. Coins are in denominations of 1JOD, 500, 250, 100, 50, 25, 10 and 5 fils.
Currency restrictions
The import and export of local or foreign currency is unrestricted.
Banking hours
Sat-Thurs 0830-1500. Hours during Ramadan are 0830-1000, although some banks open in the afternoon.
Currency exchange
Foreign currencies can be exchanged easily in banks and bureaux de change. Most hotels also provide exchange facilities. The daily exchange rates are published in local newspapers.
Credit cards
American Express, Visa, Diners Club and MasterCard are accepted in hotels restaurants and larger shops. Check with your credit and debit card company for details of merchant acceptability and other services which may be available. There are some ATMs but only some accept foreign cards.
Travellers cheques
Those issued by UK banks are accepted by licensed banks and bureaux de change. To avoid additional exchange rate charges, travelers are advised to take traveller's cheques in US Dollars.
| City/Region | City/Area code | Followed by |
| --- | --- | --- |
| Central Jordan | (0)5 | + 7 digit subscriber nr |
| Greater Amman | (0)6 | + 7 digit subscriber nr |
| Northern Jordan | (0)2 | + 7 digit subscriber nr |
| Southern Jordan | (0)3 | + 7 digit subscriber nr |