Quick Facts
Region: North & Central America & the Caribbean
Full Name: Jamaica
Capital City: Kingston
Language Spoken: English, patois English
Jamaica Travel Insurance
Get travel insurance to Jamaica from Direct Travel Insurance. We offer low cost and high quality travel insurance to Jamaica and most of the world.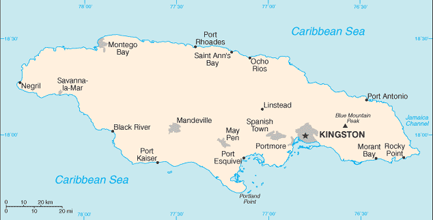 Geographic data
18 15 N, 77 30 W
Elevation Extremes
lowest point: Caribbean Sea 0 m highest point: Blue Mountain Peak 2,256 m
Land boundaries
0 km
Natural hazards
hurricanes (especially July to November)
Natural resources
bauxite, gypsum, limestone
Land use
arable land: 15.83% permanent crops: 10.01% other: 74.16% (2005)
Environmental current issues
heavy rates of deforestation; coastal waters polluted by industrial waste, sewage, and oil spills; damage to coral reefs; air pollution in Kingston results from vehicle emissions
Climate
Tropical all year. Temperate in mountain areas. The rainy months are May and October, but showers may occur at any time. Hurricanes are prone during the rainy season, between June and November. Jamaica also lies within the earthquake zone. Cooler evenings. Required clothing Lightweight cottons and linens; light woollens are advised for evenings. Avoid synthetics. Waterproofing is necessary all year round.
Time difference
time difference: UTC-5
Population
2,758,124 (July 2006 est.)
Age structure
0-14 years: 33.1% (male 464,297/female 449,181) 15-64 years: 59.6% (male 808,718/female 835,394) 65 years and over: 7.3% (male 90,100/female 110,434) (2006 est.)
Median age
total: 23 years male: 22.4 years female: 23.5 years (2006 est.)
Population growth rate
0.8% (2006 est.)
Birth rate
20.82 births/1,000 population (2006 est.)
Death rate
6.52 deaths/1,000 population (2006 est.)
Net migration rate
-6.27 migrant(s)/1,000 population (2006 est.)
Sex ratio
at birth: 1.05 male(s)/female under 15 years: 1.03 male(s)/female 15-64 years: 0.97 male(s)/female 65 years and over: 0.82 male(s)/female total population: 0.98 male(s)/female (2006 est.)
Life expectancy at birth
total population: 73.24 years male: 71.54 years female: 75.03 years (2006 est.)
Total fertility rate
2.41 children born/woman (2006 est.)
Business Practices
Business people should wear a suit or 'shirtjac' (jacket without a tie), also known locally as a kareba. Usual formalities are required and appointments and business cards are normal. Jamaicans are a little more formal than North Americans. " Generally, Jamaican business acquaintances, after a courteous and friendly first greeting, will respond quickly to informality. Office hours are 0830-1630 Monday to Friday.
Crime
Gang violence and shootings occur regularly in the Kingston metropolitan area. Some inner-city neighborhoods are occasionally subject to curfews and police searches. Impromptu demonstrations sometimes occur, during which demonstrators often construct roadblocks. These events usually do not affect tourist areas As a general precaution, tourists should pay attention when traveling, particularly when traveling abroad. There is always the possibility for petty theft and criminal activity, including violent crime. Crime is a serious problem in Jamaica, particularly in Kingston. In several cases, robberies of foreigners have turned violent after the victim resisted handing over valuables. Caution should be exercised when traveling to and from Kingston?s Norman Manley Airport via Mountain View and Windward Road, especially after dark, because of the crime threat in the neighborhoods that they traverse. Buses, which are often overcrowded and have proven to be a frequent venue for crime, should be avoided. Visitors should exercise care walking outside after dark and should avoid neighborhoods known for high crime rates. The Government of Jamaica has taken a number of steps, including assignment of special police foot and bicycle patrols, to enhance security in the principal resort areas. Particular care is called for at isolated villas and smaller establishments that may have fewer security arrangements. Travelers should be more cautious in unfamiliar surroundings than they are at home. In particular, valuables should not be left unattended anywhere, including at the beach.
Hotels
Hotels are plentiful in Jamaica and a number of business class hotels are available. Hotels are government-controlled in four categories: A, B, C and D. The categories are based on rates charged.
Communications
Full telephone IDD service is available. The country code is 1 809 and there are no area codes. The outgoing international code is 011. Fax services are available from 0700-1000 daily at the Jamintel office in Kingston. Fax services are also widely available in most hotels and offices. Post office hours: 0830-1630 Monday to Friday.
Electricity
is a 110 volts AC, 50Hz, single phase. American 2-pin plugs are standard, but many hotels offer, in addition, 220 volts AC, 50Hz, single phase, from 3-pin sockets. Electricity 110 volts AC, 60Hz, single phase. American two-pin plugs are standard, but many hotels offer, in addition, 220 volts AC, 50Hz, single phase, from three-pin sockets.
Plug Types
A,B
Food And Dining
Jamaican food is full of fire, taking advantage of pungent spices and peppers.

National specialties:
? ?Rice and peas?, a tasty dish with no peas at all but with kidney beans, white rice, coconut milk, scallions (spring onions) and coconut oil.
? Salt fish (dried cod) and ackee (the cooked fruit of the ackee tree).
? Jamaican pepperpot soup (salt pork, salt beef, okra and Indian kale known as callaloo).
? Chicken fricass?e Jamaican-style (a rich chicken stew with carrots, scallions, yams, onions, tomatoes and peppers prepared in unrefined coconut oil).
? Roast suckling pig (a three-month-old piglet which is boned and stuffed with rice, peppers, diced yam and thyme mixed with shredded coconut and corn meal). National drinks:
? Jamaican rum is world famous, especially Gold Label and Appleton.
? Rum Punch.
? Rumona is a delicious rum cordial.
? Red Stripe beer.
? Tia Maria (a Blue Mountain coffee and chocolate liqueur).
? Blue Mountain coffee. Things to know: Bars have table and/or counter service. The legal drinking age is 18. There are no licensing hours and alcohol can be bought all day. Tipping : Most Jamaican hotels and restaurants add a service charge of 10 per cent; otherwise 10 to 15 per cent is expected. Chambermaids, waiters, hotel bellboys and airport porters all expect tips. Taxi drivers receive 10 per cent of the fare.

Nightlife
There is no shortage of night-time entertainment on the island that is the home of reggae music. Every town or village has some sort of nightlife, and there are regular street dances. Folkloric shows at larger resort hotels are held and steel bands often play. At least once a week, there is a torchlit, steel band show with limbo dancing and fire-eating demonstrations. Nightclubs feature jazz, soca, reggae and other music. For details of events, visitors should consult local newspapers. The Jamaica Tourist Board arranges ?Meet the People? evenings in various scenic locations throughout the island. Contact the Tourist Board in Kingston, Montego Bay, Ocho Rios or Port Antonio.
Entry departure requirements
Restricted entry Jamaica does not recognize passports issued by the Palestinian Government.
Visa immigration information
Passports
Passport valid for at least six months required by all except the following:
(a) 1. nationals of the USA holding a certified copy of a birth certificate and photo identification (eg driver?s license or student ID).
Visas
Required by all except the following:
(a) nationals of countries referred to in the chart above, except 2. nationals of Czech Republic, Estonia, Hungary, Latvia, Lithuania, Poland, Slovak Republic and Slovenia who can obtain their visas on arrival;
(b) nationals of Commonwealth countries, except nationals of Cameroon, Mozambique, Nigeria, Pakistan and Sri Lanka who do need visas prior to arrival;
(c) nationals of Argentina, Brazil, Chile, Costa Rica, Ecuador, Iceland, Israel, Korea (Rep), Liechtenstein, Mexico, Norway, San Marino, Surinam, Switzerland, Turkey, Uruguay, Venezuela and Zimbabwe for stays not exceeding 90 days.
Note
(a) All of the above must have evidence of sufficient funds and a return or onward-bound ticket for their next destination. (b) Except for persons in certain categories, a Work Permit is required for a business visit. The Consulate (or Consular section at Embassy or High Commission) can advise. (c) Nationals of the following countries can obtain a visa on arrival, provided holding valid onward or return tickets and evidence of sufficient funds: Albania, Andorra, Bosnia & Herzegovina, Bulgaria, CIS, Croatia, Macedonia (Former Yugoslav Republic of), Monaco, Romania, Serbia & Montenegro, Turkmenistan, Taiwan. These visas cost US$20.
Types of visa and cost
Entry and Transit: US$43
Application to
Consulate (or Consular section at Embassy or High Commission); see Top Things To Do.
Application requirements
(a) One passport-size photo. (b) Valid passport. (c) Completed application form. (d) Fee, payable in cash or postal orders only. (e) For postal applications, ?5 for return postage. (f) Travel itinerary. Business: (a)-(f), (g) Letter from company and, (h) Work permit.
Working days required
48 hours, but up to three weeks in cases where applications are referred to Immigration Authorities in Kingston.
Temporary residence
Enquire at High Commission.
HIV entry requirements
No test Required
Departure tax
J$1000.
Embassies
Jamaica High Commission in the UK
1-2 Prince Consort Road, London SW7 2BZ, UK
Tel: (020) 7823 9911.
Opening hours: Mon-Thurs 0900-1700, Fri 0900-1600 (High Commission); Mon-Fri 1000-1530 (Consulate).
Jamaican Embassy in the USA
1520 New Hampshire Avenue, NW, Washington, DC 20036, USA
Tel: (202) 452 0660-9.
Website: www.emjamusa.org
Jamaican Consulate General in the USA
767 Third Avenue, 2nd Floor, New York, NY 10017, USA
Tel: (212) 935 9000.
Website: www.congenjamaica-ny.org
Travel Advice
Travelers should be aware that there are high levels of crime and violence, particularly in the Kingston area and tourists should avoid certain routes.
The threat from terrorism is low. Most visits to Jamaica are trouble-free but you should be aware of the global risk of indiscriminate international terrorist attacks, which could be against civilian targets, including places frequented by foreigners.
This advice is based on information provided by the Foreign, Commonwealth & Development Office in the UK. It is correct at time of publishing. As the situation can change rapidly, visitors are advised to contact the following organisaions for the latest travel advice.
British Foreign, Commonwealth & Development Office
Tel: (0845) 850 2829.
Website: www.gov.uk/foreign-travel-advice
US Department of State
Currency
Jamaican Dollar (JMD; symbol J$) = 100 cents. Notes are in denominations of J$1000, 500, 100 and 50. Coins are in denominations of J$20, 10, 5 and 1, and 25, 10 and 1 cents.
Currency restrictions
The import and export of local currency is prohibited; that of foreign currency is unrestricted, subject to declaration.
Banking hours
Mon-Thurs 0900-1400, Fri 0900-1200 and 1430-1700.
Currency exchange
Money can be exchanged at the airport as well as at banks, hotels and bureaux de change. Receipts must be retained, as changing money on the black market is illegal. Many Jamaican ATMs accept international bank cards.
Credit cards
American Express, Diners Club, MasterCard and Visa are all widely accepted as well as other cards with the Cirus or Plus logo. Banks give credit card advances. Check with your credit or debit card company for details of merchant acceptability and other services which may be available.
Travellers cheques
To avoid additional exchange rate charges, travelers are advised to take traveller's cheques in US Dollars.
| City/Region | City/Area code | Followed by |
| --- | --- | --- |
| Jamaica | (1+)876 | + 7 digit subscriber nr |