Travelling with E-Cigarettes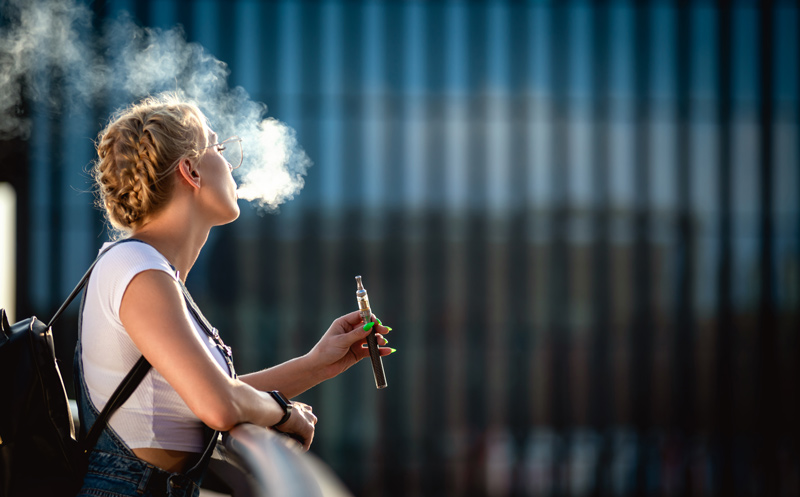 Since 2009, in an effort to improve their health, many British people have stubbed out their last cigarette in favour of e-cigarettes.
In streets all over the country, clouds of strawberry, blueberry or even rainbow sherbet flavoured smoke waft through the air in place of nicotine scented mist associated with traditional smoking, and while e-cigarettes have been proven to be a healthier alternative to cigarettes, the World Health Organisation has deemed them a risk to health, as have many other countries.
If you're a vaper, and you're thinking of travelling abroad, you must check that you're able to carry your e-cig through the airport, the flight and even if you're allowed to use it in foreign countries - if you don't the consequences can be severe with fines and even prison a very real possibility in some countries!
As the use of e-cigarettes is a relatively new concept, the law is subject to frequent change, so be sure to check with the Foreign, Commonwealth & Development Office or your travel operator before you travel.
Here are some countries to watch out for:
In Singapore the sale or use of any item seen to be imitating cigarettes or tobacco products, this includes e-cigarettes, toys and confectionery is banned. If you're found to be in possession of one of these banned items, you could face a fine of up to SD $5,000, approx. £2,780.
Indian and Thai authorities have banned the use of any e-cigarettes and vaping equipment and have been known to issue heavy fines and enforce prison sentences.
If you're travelling to Taiwan, be aware that you face imprisonment if you carry e-cigarettes through the border, as they're classed as a controlled drug.
In Hong Kong the use of nicotine in e-cigarettes in banned, as the liquid is classed as a category 1 poison, and the use of it can carry a fine of HK$100,000 approx. £9,700 and imprisonment of up to two years.
Look into upgrade costs, if available. For some the comfort of extra leg room, reclining seats and complimentary refreshments is worth the price. If you're saving your money for the trip itself, you could invest a little extra in an allocated seat. This should keep you away from the seats next to the loo…
Airport Travel:
The use of e-cigarettes has been banned in all mainland UK Airports. According to Gatwick Airport Guide most Airports class e-cigarettes as a tobacco product and therefore, they can only be used in designated areas outside of the main terminal buildings.
When travelling through security, any e-cigarettes and cartridges must be stored in your carry-on luggage, as they are strictly prohibited from being carried in the hold of the aircraft.
The issue with e-cigarettes is that many rules and laws are yet to catch up with their use, so specific guidelines are often hard to find so do your research before you book or at the very least, travel.
It's important to note that missed flights, holidays or costs as a result of being detained for carrying banned or restricted substance, will not be covered by your travel insurance. If in doubt, contact your tour operator, airport or the Foreign, Commonwealth & Development Office before you travel to check that you're following the rules.
Direct Travel offer travel insurance for a range of holiday types and activities from winter sports, cruise cover and even backpacker insurance! We have an option for almost any holiday and traveller, so get a quote today.
If you have any questions about your travel insurance needs, or your existing policy with us, please let us know by calling our friendly team on 0330 880 3600. We're here Open Monday to Friday 8:30am to 6pm, Saturday 8:30am to 4pm and closed Sundays. .