30 Apr 2014
The strangest items holidaymakers pack in their suitcases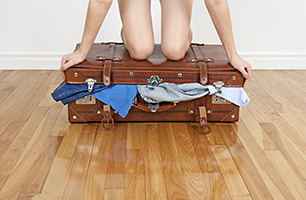 Packing for a holiday is always a little tricky, with baggage restrictions forcing us to choose only those items deemed necessary for our trip, even though we could probably think of 101 things that we'd like to take with us on our getaway if we had more room.
Indeed, according to a recent study of more than 2,000 British tourists, some 44 per cent said they would like to take more clothes with them on holiday, but simply don't have enough space in their suitcases.
Furthermore, the survey - which was conducted by sendmybag.com - has revealed that some holidaymakers have some very strange packing habits indeed, with respondents claiming to carry a range of somewhat unbelievable items with them when they head off on a getaway.
For example, one lady from Sheffield replied to the survey by saying she likes to takes framed pictures of her dead cats on holiday with her, as she considers them to be family members and likes to decorate her hotel room with them, the Daily Mail reports.
Another woman from Lanarkshire said that she always takes her late husband's ashes - in an urn, of course - with her when she goes away, in order to remain close to him at all times, while a fitness fanatic from Leeds claimed to take a set of dumbbells with him each time he goes on holiday - something that is sure to eat up much of his baggage weight allowance.
Other unusual responses included a bundle of around 15 lucky rabbit's feet, which one nervous flyer from Liverpool admitted to carrying whenever he travels by air, just to make sure he arrives safely at his destination.
A woman from Leicestershire, meanwhile, said she likes to travel with a bag of sheered sheep's wool, simply because she finds the texture comforting.
Posted by Robin Western