Quick Facts
Region: Middle East
Full Name: State of Qatar
Capital City: Doha
Language Spoken: Arabic (official), English commonly used as a second language
Qatar Travel Insurance
Get travel insurance to Qatar from Direct Travel Insurance. We offer low cost and high quality travel insurance to Qatar and most of the world.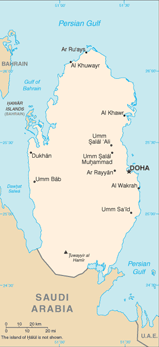 Geographic data
25 30 N, 51 15 E
Elevation Extremes
lowest point: Persian Gulf 0 m highest point: Qurayn Abu al Bawl 103 m
Land boundaries
total: 60 km border countries: Saudi Arabia 60 km
Natural hazards
haze, dust storms, sandstorms common
Natural resources
petroleum, natural gas, fish
Land use
arable land: 1.64% permanent crops: 0.27% other: 98.09% (2005)
Environmental current issues
limited natural fresh water resources are increasing dependence on large-scale desalination facilities
Climate
Summer (June to September) is very hot with low rainfall. Winter is cooler with occasional rainfall. Spring and autumn are warm and pleasant. Required clothing Lightweight cottons and linens are worn during summer months, with warm clothes for cooler evenings and during the winter. Rainwear is advisable during winter.
Time difference
time difference: UTC+3
Population
885,359 (July 2006 est.)
Age structure
0-14 years: 23.4% (male 105,546/female 101,371) 15-64 years: 73% (male 446,779/female 199,133) 65 years and over: 3.7% (male 24,059/female 8,471) (2006 est.)
Median age
total: 31.7 years male: 37.1 years female: 22.7 years (2006 est.)
Population growth rate
2.5% (2006 est.)
Birth rate
15.56 births/1,000 population (2006 est.)
Death rate
4.72 deaths/1,000 population (2006 est.)
Net migration rate
14.12 migrant(s)/1,000 population (2006 est.)
Sex ratio
at birth: 1.05 male(s)/female under 15 years: 1.04 male(s)/female 15-64 years: 2.24 male(s)/female 65 years and over: 2.84 male(s)/female total population: 1.87 male(s)/female (2006 est.)
Life expectancy at birth
total population: 73.9 years male: 71.37 years female: 76.57 years (2006 est.)
Total fertility rate
2.81 children born/woman (2006 est.)
Business Practices
Meetings are typically formal with visiting businessmen expected to wear lightweight suit and tie. Politeness and patience in business dealings are needed. Arabic is the official language of Qatar, but English is widely spoken and is generally acceptable in private and public sectors. Office hours are 0730-1230 and 1430-1800 Saturday to Thursday. Government office hours are 0600-1300 Saturday to Thursday
Crime
Crimes against the expatriate community are currently confined to burglary and petty theft. Assaults against foreigners are rare but they do occur. Violent crimes such as rape, murder, aggravated assaults are confined to the poorer minority ethnic community and "guest workers" from South Asia. Street crime is rare in most sections of Doha but does take place in the poorer areas of the city. With the increasing flow of foreign workers into Doha, there is an increasing number of prostitutes and the crimes they bring with them. Recently several foreign nationals have been assaulted while in the company of a prostitute.
Hotels
There are also a number of business class hotels offering reasonable accommodation. Advanced booking is strongly advised.
Communications
Telephone IDD service is available. The country code is 974. There are no area codes. The outgoing international code is 0. Qatar enjoys excellent local and international telecommunications facilities. A second earth satellite station was completed in 1988 and mobile telephone services (using the GSM system) were inaugurated in February 1994. Automatic telephone and fax dialing is available to more than 150 countries worldwide.
Electricity
is 240/415 volts AC, 50Hz. Electricity 220-240 volts AC, ord=adDateTimeStamp;url=adCountryStamp;document.write('); 50Hz.
Plug Types
D,G
Food And Dining
While the best food is generally found in hotels, Chinese, Indian, Persian, Thai, US and Western cuisine is also available. All the major hotels have good public restaurants and most offer outside catering of high quality; waiters, crockery and cutlery will be provided on request. There are a reasonable number of places to eat in Doha, including snack bars serving fast foods, as well as the traditional Levantine shawarma and Egyptian foul and taamiyeh. Restaurants are scarce outside the capital. Alcohol is prohibited and should not be consumed in public, though some international hotels may serve alcohol.

Tipping:
Taxi drivers do not expect a tip. A service charge is often added to bills in hotels and most restaurants, otherwise 10 per cent is appropriate.

Nightlife
Public entertainment is rather limited. Doha has a cinema showing English-language films, and there is also the National Theater. Live entertainment is infrequent, but some international artists do perform in Qatar.
Entry departure requirements
Restricted entry The Government refuses entry and transit to holders of passports issued by Israel.
Visa immigration information
Passports
Passport valid for at least six months required by all.
Visas
Required by all except the following:
(a) nationals of Bahrain, Kuwait, Oman, Saudi Arabia and United Arab Emirates;
(b) transit passengers whose tickets show they intend to continue their journey from the airport within eight hours.
Note
(a) All visitors require onward or return tickets and sufficient funds for the period of stay. Visa requirements are subject to change, and travelers are strongly advised to contact an Embassy or Consulate of Qatar for up-to-date information.
(b) Nationals of Andorra, Australia, Brunei, Canada, EU countries, Hong Kong (SAR), Japan, Korea (Rep), Liechtenstein, Malaysia, New Zealand, San Marino, Singapore, Switzerland and USA can obtain business and tourist visas upon arrival at the airport in Doha for 50 Qatari (?10-12).
Types of visa and cost
Prices vary according to nationality. The following prices are for British nationals: single-entry: US$62 ; multiple-entry: US$86 (six months), US$122 (two years), US$223 (five years) (depending on validity).
Note
All children included in the same passport of applicant traveling to Qatar must pay the same fees.
Validity
Single-entry visas permit stays of up to three months. Multiple-entry visas permits stays of up to six months, two years and five years.
Application to
Consulate (or Consular section at Embassy); see Passport/Visa Information for details. Nationals of countries where Qatar has no diplomatic representation should apply for visas through their hotel in Qatar, which will arrange for the visa to be collected on arrival at the airport. Those wishing to visit friends or relatives in Qatar should ask them to apply to the immigration authorities in Qatar on their behalf for a visa. For longer-period visas apply to the Immigration Department, Ministry of the Interior, PO Box 115, Doha (tel: 465 7802). There is now a facility to book all visas online through the Ministry of Interior's website.
Application requirements
(a) Completed application form. (b) Valid passport. (c) Two passport-size photos. (d) Fee (postal order or company cheque only). (e) Name and address of sponsor in Qatar and for American nationals and EU passport holders except nationals from Ireland and the UK. Business visas need to be accompanied by an invitation letter from company and confirmation of hotel booking. (f) Stamped, self-addressed envelope for postal applications.
Working days required
One although it could take as long as three weeks depending on nationality. Applications should be made well in advance of the intended departure date.
HIV entry requirements
Test required for anyone applying for a residency permit and for visitors staying longer than I month
Departure tax
None
Embassies
Embassy of the State of Qatar in the UK
1 South Audley Street, London W1K 1NB, UK
Tel: (020) 7493 2200.
Opening hours: Mon-Fri 0930-1600 (1000-1400 during Ramadan); 0930-1230 (visa section).
Website: https://london.embassy.qa/en
Embassy of the State of Qatar in the USA
4200 Wisconsin Avenue, NW, Suite 200, Washington, DC 20016, USA
Tel: (202) 274 1600/3.
Website: washington.embassy.qa/en
Also deals with enquiries from Canada.

There is a high threat from terrorism in Qatar. Al Qaeda continues to issue statements threatening to carry out attacks in the Gulf region. These include references to attacks on Western interests, including residential compounds, military, oil, transport and aviation interests.
Travelers should review their security arrangements carefully. They should remain vigilant, particularly in public places.
This advice is based on information provided by the Foreign, Commonwealth & Development Office in the UK. It is correct at time of publishing. As the situation can change rapidly, visitors are advised to contact the following organizations for the latest travel advice:
British Foreign, Commonwealth & Development Office
Website: https://www.gov.uk/foreign-travel-advice/qatar
US Department of State
Website: https://travel.state.gov/content/travel/en/international-travel/International-Travel-Country-Information-Pages/Qatar.html
Currency
Qatari Riyal (QAR) = 100 dirhams. Notes are in denominations of QAR500, 100, 50, 10, 5 and 1. Coins are in denominations of 50, 25, 10, 5 and 1 dirhams; however, only the 50 and 25 coins are in wide circulation, minting of the rest ceased in the 1970s and smaller denominations are becoming ever-scarcer. Note The Qatari Riyal is tied to the US Dollar.
Currency restrictions
There are no restrictions on the import or export of either local or foreign currency. Israeli currency, however, is prohibited.
Banking hours
Sat-Thurs 0730-1330.
Currency exchange
Credit cards
American Express, Diners Club, MasterCard and Visa are widely accepted. Check with your credit or debit card company for details of merchant acceptability and other services which may be available.
Travellers cheques
Widely accepted. To avoid additional exchange rate charges, travelers are advised to take traveller's cheques in US Dollars or Pounds Sterling.