Quick Facts
Region: Middle East
Full Name: Sultanate of Oman
Capital City: Muscat
Language Spoken: Arabic (official), English, Baluchi, Urdu, Indian dialects
Oman Travel Insurance
Get travel insurance to Oman from Direct Travel Insurance. We offer low cost and high quality travel insurance to Oman and most of the world.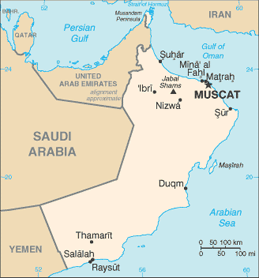 Geographic data
21 00 N, 57 00 E
Elevation Extremes
lowest point: Arabian Sea 0 m highest point: Jabal Shams 2,980 m
Land boundaries
total: 1,374 km border countries: Saudi Arabia 676 km, UAE 410 km, Yemen 288 km
Natural hazards
summer winds often raise large sandstorms and dust storms in interior; periodic droughts
Natural resources
petroleum, copper, asbestos, some marble, limestone, chromium, gypsum, natural gas
Land use
arable land: 0.12% permanent crops: 0.14% other: 99.74% (2005)
Environmental current issues
rising soil salinity; beach pollution from oil spills; very limited natural fresh water resources
Climate
The months between May and August are particularly hot. The climate is best from September through to April. Rainfall varies according to the region. During the period June to September there is a light monsoon rain in Salalah. Required clothing Lightweights are worn throughout the year, with a warm wrap for cooler winter evenings. Light rainwear is advisable.
Time difference
time difference: UTC+4
Population
3,102,229 note: includes 577,293 non-nationals (July 2006 est.)
Age structure
0-14 years: 42.7% (male 675,423/female 648,963) 15-64 years: 54.7% (male 1,001,917/female 695,578) 65 years and over: 2.6% (male 44,300/female 36,048) (2006 est.)
Median age
total: 19 years male: 21.7 years female: 16.5 years (2006 est.)
Population growth rate
3.28% (2006 est.)
Birth rate
36.24 births/1,000 population (2006 est.)
Death rate
3.81 deaths/1,000 population (2006 est.)
Net migration rate
0.35 migrant(s)/1,000 population (2006 est.)
Sex ratio
at birth: 1.05 male(s)/female under 15 years: 1.04 male(s)/female 15-64 years: 1.44 male(s)/female 65 years and over: 1.23 male(s)/female total population: 1.25 male(s)/female (2006 est.)
Life expectancy at birth
total population: 73.37 years male: 71.14 years female: 75.72 years (2006 est.)
Total fertility rate
5.77 children born/woman (2006 est.)
Business Practices
Men should wear suits and ties for business and formal occasions. English is usually spoken in business circles, but a few words or phrases of Arabic will be useful and welcome. In terms of business customs, while most leading businessmen are accustomed to Western business practices, some still operate along more traditional Arab lines. Visiting cards are widely used. A visit to the office of an Omani businessman may involve some of the following elements. Appointments will sometimes not be made until after the foreign businessman arrives in Oman. Upon arriving for an appointment, he may discover that others have appointments at the same time or have arrived without one. However, a visitor should be on time, particularly for government appointments. Once the meeting begins, it may be interrupted by telephone calls. Coffee, tea, or soft drinks will probably be offered (except during the Muslim fasting month of Ramadan) and should be accepted. Politeness is highly valued; blunt statements should be recast into constructive, balanced terms. Visitors should also be sensitive to hosts who break off a discussion for prayer at noon and at sunset, which falls during business hours. Devout Muslims pray five times each day. In dealing with one of the many Omani executives educated in the U.K. or the United States, there is little other than the "dishdasha" national dress worn by the Omani that the visiting western business person will find different from home. Certain business documents, such as company registration papers, must be in Arabic. There have been moves to require that all correspondence with the Omani government be in Arabic; as of late 1998 this is not enforced across the board, though putting documents in Arabic will assist in speeding processing. Office hours are generally 0800-1300 and 1600-1900 Saturday to Wednesday and 0800-1300 Thursday. Government office hours are 0730-1430 Saturday to Wednesday. All offices are closed Friday. Office hours are shorter during Ramadan.
Crime
The incidence of street crime is low in Oman, and violent crimes are very rare. Nevertheless, travelers to Oman should take normal precautions, such as avoiding travel in deserted areas after dark and avoiding travel alone after dark. Furthermore, travelers should also take normal precautions to protect their personal property from theft. In particular, valuables and currency should not be left unsecured in hotel rooms. Common sense and caution are always the best crime prevention.
Hotels
The major hotels patronized by western business visitors and tourists in the Muscat area are as follows: the, the Al Bustan Palace Hotel, Muscat Intercontinental, Sheraton, Muscat Holiday Inn, Gulf Hotel, the Seeb (airport), the Ruwi Novotels, and the renovated Mercure-Al Falaj in Ruwi. In Salalah, the Holiday Inn is favored by foreign visitors as the only hotel with a liquor license; other hotels include the Hamdan and the Haffa House. In the summer 1999, a Hilton Hotel opened in Salalah, in close proximity to Port Raysut.
Communications
Telephone IDD service is available. The country code is 968 and the outgoing international code is 00. The General Telecommunications Organization (GTO) operates a modern and efficient telephone system. Virtually all businesses have fax machines. GSM cellular phones are widely used; roving arrangements already cover the GCC, the UK, and some other countries. International telephone access cards cannot be used in Oman, nor can collect calls be made or received. International rates are very high -- $1.30 per minute peak rate to Europe and the Western Hemisphere. Since early 1997, GTO has provided the region's most economical Internet service.
Electricity
is a 220/240 volts AC, 50Hz. Electricity 220/240 volts AC, 50Hz.
Plug Types
C,G
Food And Dining
Numerous restaurants have opened in recent years, but many people retain the habit of dining at hotels. There is a wide variety of cuisine on offer, including Arabic, Indian, Oriental, European and other international dishes. Coffee houses are popular. Things to know: Waiter service is usual. Muslim law forbids alcohol, but most hotel bars and restaurants serve alcohol. Visitors are only allowed to drink alcohol in licensed hotels and restaurants. To buy alcohol for home consumption, Western nationals must obtain a license from their Embassy.
National specialties:
? Shuwa (meat cooked slowly (up to two days) in underground clay ovens with herbs and spices).
? Mashuai (spit-roasted kingfish served with lemon rice).
? Maqbous (rice dish with saffron cooked over spicy red or white meat).
? Halwa (sticky, sweet, gelatinous substance made from brown sugar, eggs, honey and spices).
? Lokhemat (balls of flour and yeast flavored with cardamom and deep fried, served with sweet lime and cardamom syrup). National drinks:
? Kahwa (coffee; a strong, bitter drink flavored with cardamom, served with Halwa and Lokemat). Tipping : Becoming more common and 10 per cent should be given.
Nightlife
There are a few nightclubs and bars in Muscat, mostly in the hotels. There are three air conditioned cinemas in Ruwi and an open-air cinema at the al-Falaj Hotel showing Arab, Indian and English films.
Entry departure requirements
Visa immigration information
Passports
Passport valid for at least six months required by all except the following:
(a) nationals of Bahrain, Kuwait, Qatar, Saudi Arabia and the United Arab Emirates (Gulf Cooperation Council States) holding national identity cards;
(b) holders of Macau (SAR) Travel Permit.
Visas
Required by all except nationals of the Gulf Cooperation Council States.
Note
(a) Nationals of the following countries may apply for a visa (at a cost of OMR6 for single-entry visas and OMR10 for multiple-entry visas, children 17 years and younger are exempt from paying a fee) on arrival at Oman Seeb International Airport for a maximum stay of one month: Andorra, Argentina, Australia, Bolivia, Brazil, Brunei Darussalem, Canada, Chile, Colombia, Croatia, Ecuador, EU nationals, (Former Yugoslav Republic of) Macedonia, Hong Kong (SAR), Iceland, Indonesia, Japan, Korea (Rep), Lebanon, Liechtenstein, Malaysia, Moldova, Monaco, New Zealand, Norway, Paraguay, Peru, Romania, San Marino, Seychelles, Singapore, South Africa, Surinam, Switzerland, Taiwan (China), Thailand, Tunisia, Turkey, USA, Uruguay, Vatican City and Venezuela. (b) Travelers who have resided in one of the Gulf Cooperation Council countries for at least one year and who hold a valid residence permit and labor card may obtain a tourist visa on arrival, provided they meet certain conditions regarding professional status. Contact Embassy/Consulate for further details. (c) For minors (under 18 years) traveling unaccompanied, a consent letter is required from one of their parents. (d) Any other visitors arriving in Oman without a tourist or a sponsored visa will be refused entry. Visitors are not allowed to enter Oman by road unless their visa states such validity and a designated point of entry. A sponsored visa is obtainable from the Royal Oman Police Immigration Department.
Types of visa and cost
Cost may vary according to nationality, but generally is as follows for tourist/business/ sponsored visas: Single-entry: US$21 (generally for all European and Latin American countries, and the USA; enquire at the Embassy/Consulate for specific details as certain countries may also be/not be eligible); US$24 (other countries). Multiple-entry (see the list of countries eligible for discounted single-entry): US$34 Visitors are advised to contact the embassy. Fees may be paid by cheque if application is made in person.
Validity
Single-entry: One-month stay from date of entry for those listed (can be extended for one-month when in Oman). Multiple-entry: 12 months from date of issue, for stays up to three weeks on each visit (cannot be extended).
Application to
Consulate (or Consular section at Embassy); see Passport/Visa Information for details. Applications are referred to Muscat.
Application requirements
(a) Completed application form (preferably typed) and signed. (b) Valid passport with a blank page to affix the visa. (c) Fee; cash not accepted and cheques must be supported by a cheque guarantee card from bank. (d) Details of travel plans. (e) Evidence of employment or proof of sufficient funds for period of stay, eg bank statement or last two payslips. (f) Business letter, if applicable, detailing purpose of visit and requested travel date. (g) Self-addressed envelope with stamp sufficient to cover cost of posting passport and other documents if applying by post, sent by special or recorded delivery.
Note: Passengers who have a new passport, but whose visa is entered in a previous passport, should also carry their previous passport. Passports must have spare pages.
Working days required
Two to five. Postal applications take longer.
HIV entry requirements
Test required for anyone applying for work or residency permit
Departure tax
OMR5 for all departures (this has usually already been collected at ticket issuance). Children under two years old are exempt.
Embassies
Embassy of the Sultanate of Oman in the UK
167 Queen?s Gate, London SW7 5HE, UK
Tel: (020) 7225 0001 or (0906) 550 8964 (recorded visa information; calls cost ?1 a minute).
Opening hours: Mon-Fri 0900-1530; 0930-1230 (visa section).
Website: http://oman.embassyhomepage.com/
Embassy of the Sultanate of Oman in the USA
2535 Belmont Road, NW, Washington, DC 20008, USA
Tel: (202) 387 1980.
There is a high threat from terrorism. Al Qaeda continues to issue statements threatening to carry out attacks in the Gulf region. These include references to attacks on Western interests, including residential compounds, military, oil, transport and aviation interests.
Travelers should review their security arrangements carefully and should remain vigilant, particularly in public places.
This advice is based on information provided by the Foreign, Commonwealth & Development Office in the UK. It is correct at time of publishing. As the situation can change rapidly, visitors are advised to contact the following organizations for the latest travel advice:
British Foreign, Commonwealth & Development Office
Website: https://www.gov.uk/foreign-travel-advice/oman
US Department of State
Website: https://travel.state.gov/content/travel/en/international-travel/International-Travel-Country-Information-Pages/Oman.html
Currency
Omani Rial (OMR) = 1000 baiza. Notes are in denominations of OMR50, 20, 10, 5 and 1, and 500, 250, 200 and 100 baiza. Coins are in denominations of 50, 25, 10 and 5 baiza.
Currency restrictions
There are no restrictions on the import or export of local or foreign currency. Israeli currency, however, is prohibited.
Banking hours
Sat-Wed 0800-1200, Thurs 0800-1130.
Currency exchange
Credit cards
American Express is accepted, as are other major credit cards. Check with your credit or debit card company for details of merchant acceptability and other services which may be available. There are over 70 ATMs in Oman.
Travellers cheques
Easily exchanged. To avoid additional exchange rate charges, travelers are advised to take traveller's cheques in US Dollars.
City/Region City/Area code Followed by A Dakhliyah 25 + 6 digits Al Batinah 26 + 6 digits Dhofar 23 + 6 digits Muscat 24 + 6 digits