Travelling with mental health issues doesn't have to limit your experiences. Make sure that you have considered what you will be doing while travelling, and with whom, before you go.Since you cannot prepare for every eventuality, having access to the following resources should you experience depression or anxiety could help you cope in an emergency situation.
When depression or anxiety occurs while overseas
If you find that your mental health is affecting your travel and that you are having trouble coping while overseas, it is important to note that help in different countries can vary wildly.Nonetheless, your nearest British embassy, high commission or consulate is a refuge you can reach out to for aid and advice.
YOU CAN FIND YOUR NEAREST EMBASSY ON THIS LIST.
If you are unable to access this list, your hotel, guide, holiday representative or provider should be able to give you the details of your closest FCDO or consulate. You can also receive help from other consular offices, if there is no British one near you. You can access help from the office of another consulate from the European Union, and in some cases,some of the offices of Commonwealth countries.
IT'S IMPORTANT TO REMEMBER THAT YOU HAVE OPTIONS.
Take note of the warning signs
In some cases, you can see depression or anxiety coming. If you find yourself getting close to a negative thought spiral, or find any of the following occur, it is worth reconsidering your travel plans and excursions and focusing on your mental health.
If you find that you are experiencing any of the following, it is time to take action and reach out for help:
increased difficulty concentrating and remembering details
the inability to make decisions
fatigue, low energy or lethargy
feelings of pessimism or hopelessness
distinctly different sleep patterns, including insomnia, early morning wakefulness or even excessive sleeping
restlessness and irritability
loss of pleasure from new experiences or activities
overeating
undereating
persistent aches and pains, headaches, digestive problems that seem unable to be treated with conventional treatments
persistent sadness and feelings of anxiety
thoughts of suicide
Since the symptoms of anxiety and depression can be exacerbated while in an unfamiliar place, taking steps quickly can help get you back on track and keep you safe while abroad.
Ask For Help
Feeling safe, secure and supported are integral parts to recovery and prevention when it comes to depression and anxiety. If you are travelling with friends or family, find the person who makes you feel the most relaxed and able to talk freely and try to discuss your situation with them. Show them this guide so that they know how they can take practical steps to help you and who they can contact for aid.
If you are travelling alone, either discuss the issue with someone that you have met that you feel you can trust, or check in with representatives from your hotel, group or travel agents. Don't be afraid to call home and speak to family or friends openly about what you are experiencing. They can often provide support and advice that you need from afar.
Further Information
Preparing Before Flying
Being prepared is your best tool in coping with depression and anxiety abroad. There are a number of ways that you can prepare for your trip such that your mental health issues can be both managed and minimised while abroad.
Collect together resources and information before you travel. If you are not currently being treated for mental issues via the NHS, it's important to speak up and talk to your GP about what you're experiencing. They will provide additional support and resources. They can also provide access to a range of online resources that you can continue to use while overseas, to help you manage your mental health issues.
Some of the NHS-approved online mental health services that you could use can be seen here: http://www.nhs.uk/conditions/online-mental-health-services/Pages/introduction.aspx
BEING TREATED BY THE NHS BEFORE YOU TRAVEL WILL HELP YOU COPE WHILE ABROAD. THENHS IS A GREAT RESOURCE AND WILL GIVE YOU SECURITY, TREATMENT AND KNOWLEDGE OFWHAT YOU'RE EXPERIENCING.
Other Sources Of Support
There are also a range of charities that run hot-lines and emergency interventions, which may be of use to you while travelling or at home.
SANE is a charity that provides emotional support and information to anyone affected by mental illness - including friends, family, and carers. Their hotline is open from 6pm - 11pmUK-GMT every evening, and their support forum is available 24 hours a day online. Here are further details of the support options provided by SANE: www.sane.org.uk/what_we_do/support/
The Samaritans run a 24-hour hotline. They are available for you to call at any time, 24 hours a day, 365 days a year. They provide a service for anyone who feels they need to talk - whether you are feeling low or unable to cope, or are feeling suicidal. You do not have to be in an 'extreme' situation to call The Samaritans - they can help you by talking to you about your fears, your anxieties and what you can see coming.
YOU CAN CALL THE SAMARITANS FOR FREE AT ANY TIME ON 116 123.
Diet and Exercise While You Travel
Your diet and how much exercise you do may have a significant effect on your mental health. Eating fresh fruits and vegetables regularly plays an important role in the prevention of specific mental health problems such as depression and anxiety.
It can be hard to focus on diet while you are travelling, and you don't want to limit what you are experiencing, but try to listen to your body and make sure you pack at least one meal per day with fresh vegetables and fruits, and avoid refined carbohydrates like bread, pasta and rice for at least one meal per day. This is a simple and relatively easy way to keep on top of your diet while you travel.
(Resource: https://www.mentalhealth.org.uk/a-to-z/d/diet-and-mental-health)
Exercising is also a great tool for coping with mental health issues - the shot of dopamine released by the brain during exercise is a great daily kick that can help you tackle and ward off depression. Keeping it up during travel can be tedious - especially when you are on your feet and exploring every day - but a quick 10 minute, high intensity work-out can help to kick-start your body and the dopamine released can help to keep you happy and healthy.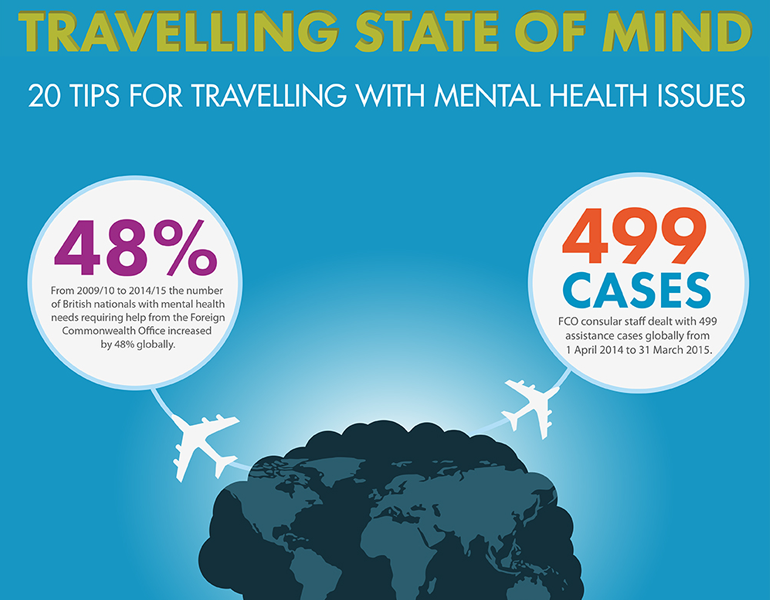 Click Here To View Our Infographic
Don't forget, you can get your travel insurance from DirectTravel at either www.direct-travel.co.uk or ring our friendly team on 0330 880 3600.