The Best of 2019's European Christmas Markets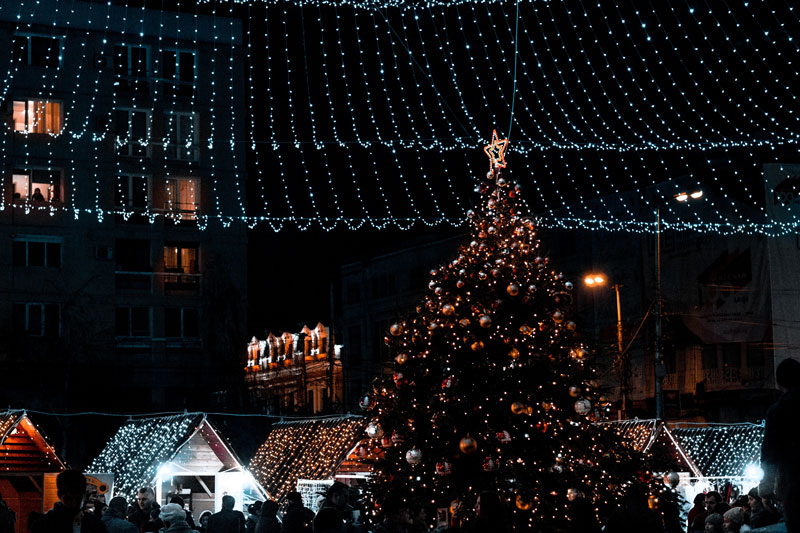 Europe's famous Christmas Markets are the perfect way to get into the festive mood this year, with the smell of mulled wine, bratwurst and the sweet sound of Christmas carols, there's a market for everyone in our Direct Travel Christmas Market Guide.
Gothenburg, Sweden
Open: 15 November to 30 December
There are a huge variety of traditional Christmas Markets in Gothenburg, but the star of the show has to be Liseberg Amusement Park. We know for some of you purists it's just about the shopping, but Liseburg is an immersive Christmas experience you won't forget!
There's a medieval market featuring games, adventure trails and shows. There's artificial snow, Christmas trees and fairy lights by the tonne too. If you can, book to see the A Christmas Carol on Ice show that takes place in the park three times a day, it's sure to be worth a watch.
To warm you up we recommend a cup of Glögg, a Scandinavian mulled red wine with spices. Be warned, it sometimes features vodka or bourbon too, so maybe just one or two... (hic)
Budapest, Hungary
Open: 22 November to 1 January
St. Stephen's Basilica is the epitome of European Christmas market heaven, a stunning church, traditional wares and an ice-rink with an enormous Christmas tree in the centre! Vörösmarty Square is full of embellished nativity scenes, food stalls and festive cheer.
If you'd like a rest, you could take a trip down the Danube River and see the wonderful wintery sights, while enjoying live music and dinner.
Prague, Czech Republic
Open: 30 November to 6 January
Wenceslas Square is famous for two things, it's Christmas Market and the carol 'Good King Wenceslas' that you're probably humming now, sorry…
Wenceslas Square is a wonderfully bohemian backdrop for the large market, with it's twinkly lights and frankly huge Christmas tree. You can watch blacksmiths craft beautiful gifts and trawl the stalls for unique and often handmade trinkets, toys and seasonal delicacies.
Just a short walk away from Wenceslas Square you'll find Old Town Square. Old Town Square is simply magical at Christmastime and is best seen after dark when the market stalls really come to life with locals and tourists alike.
Vienna, Austria
Open: 15 November to 26 December
Viennese Dream Christmas Market has over 150 stalls, selling local products and specialties, it's located in front of the City Hall, a grand and awe-inspiring back drop for this lively, family friendly market.
Children are offered a chance to make cookies, decorate candles or even bejewel their own festive money box for a small fee of between €2 - €4 per activity. Ice skating is also a big deal here, with two ice-rinks opening for the Christmas season. There's also a small collection of romantically themed traditional fair-ground rides, for small children to enjoy.
Don't worry, there's plenty for adults too, for example the local Christmas tipple Glühwein, an Austrian mulled wine, that's definitely for grown-ups!
Nuremburg, Germany
Open: 29 November to 24 December
You really can't write about Christmas markets and not feature a Bavarian Christkindlesmarkt! The Christmas Market is steeped in history and tradition as one of the oldest markets in Europe.
A great way to view the city is by stagecoach tour, you can sit up with the coachman while he plays Christmas carols on his trumpet! Nuremburg is famous for its festive food, we recommend Rostbratwurst a small local sausage served in a freshly baked roll or the honey infused gingerbread – yum!
Shopping is tailored to the traditional in this market, with stunning Christmas decorations to suit any tree and the quirky Prune Men, which adorn many stalls are a fantastic souvenir of your time in the Christkindlesmarkt. If you're travelling with children, there's a market just for them – the children's bakery offers the chance to make a delicious snack from honey cake dough, and once baked to decorate with edible delights.
If you're thinking of travelling this festive season, make sure that you're covered by a specialist insurance policy you can trust to care for your needs. Direct Travel offer specialst medical travel insurance and cover for a whole range of activites, so get a quote today to see what we can do for you!