Not all cultures celebrate Halloween like we do here in the UK. Halloween is not typically celebrated in France, and in Sweden, Halloween, or Alla Helgons Dag, as it is known, is celebrated for a whole week! In this blog post, we go through exactly how the Mexicans celebrate Halloween, with Day of The Dead.
The Day of The Dead is a traditional holiday celebrated by Mexicans on the 1st and 2nd of November. The days, which are celebrated across the country, are used for friends and family to get together and celebrate the lives those who have deceased. Although the name may suggest otherwise, the special day is full of colour, celebrations, and festivities.
The days are national public holidays in Mexico, allowing friends and family to get together in order to put together "ofrendas" (offerings), for those who have passed away. Typical offerings for small children and babies include toys and sweets, whereas typical offerings for adults include traditional Mexican alcohol, such as Tequila. These offerings are then usually taken to decorate the gravestones of their cherished ones, along with their favourite foods.
A lot of planning and preparation work is put into the special day, often months in advance. Leading up to the first day of November, families will build traditional altars, from candles, flowers, pictures of their deceased, and sugar skulls, in order to show respect to their departed friends and family. The relatives also clean, and decorate the gravestones with brightly coloured orange marigold flowers, known as the flowers of the dead, and sugar skulls. The decorating executed by the friends and family, lights up the graveyards, and makes them an abundance of colour and light.
Young children and babies who have passed away, are traditionally celebrated on the first day of the holiday, known as 'All Saints Day.' The lives of departed adults are then celebrated on the second day, known as 'All Souls Day.' Day of The Dead, known as 'Día de Muertos' in Spanish, also lets friends and family reminisce, and tell stories about their loved ones, who have departed.
Day of The Dead, which is now celebrated in other countries across the world, is believed to have originated from Catholics, and the Aztecs. The Catholics believe in purgatory, a space between Earth and Heaven, where the deceased are held and cleansed, before arriving in Heaven. The deceased can only enter Heaven once they are cleansed, which is encouraged by the prayers of those on Earth. The Mexican Day of the Dead provides people with the opportunity to say their prayers, and cleanse their deceased friends and family.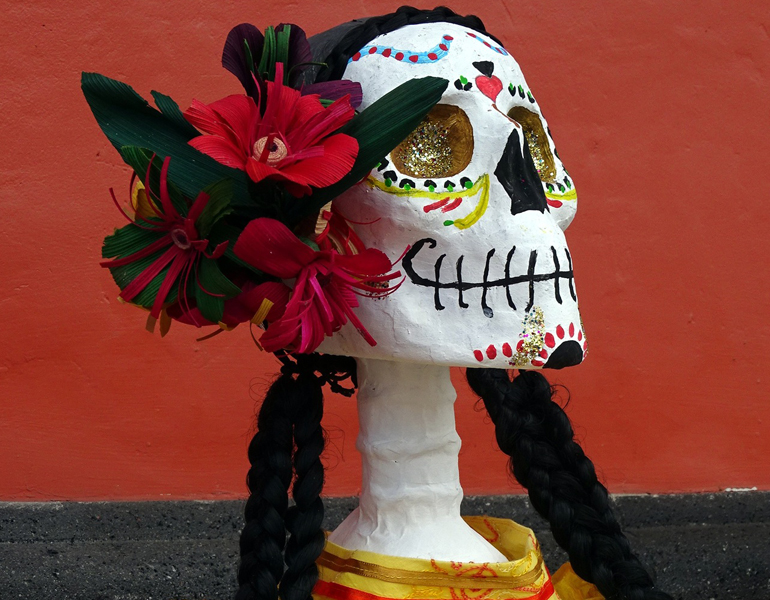 Don't forget, you can get your travel insurance from DirectTravel at either www.direct-travel.co.uk or ring our friendly team on 0330 880 3600.