When it comes to Christmas, the reason for the season is different for everyone. But the theme we can all agree on is cheer and goodwill to all men. And women. And pets. The point is, it's the time to have a good time and in the process, share that joy with others. There's not much better for that than a Christmas Market. It links together the fun of the season with one of the main events- Christmas shopping. Here are five of the top markets, home and away.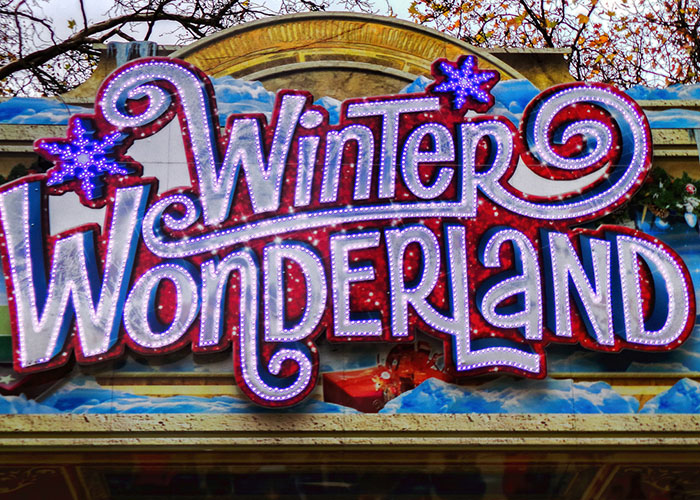 Hyde Park Winter Wonderland
When: Opens 22nd November - 6th January
Where: London, UK
Calling Hyde Park's Winter Wonderland a Christmas market seems a disservice. It's more like a Christmas festival that really lives up to its name. If you're a thrill seeker looking to whizz about on rides, you can take your pick- it boasts over a hundred options, some stirring and some sedate. They're especially proud of their Giant Observation Wheel, a 60-metre tall ride that will give you a spectacular view of the festivities. If you're a grill seeker, food and drink are as varied as you can get. From Bar Ice where chairs, tables even glasses are made of ice to the Fire Pit which brings the heat (and thankfully the chairs are not on fire). They also celebrate the German origins of Christmas markets with a miniature Bavarian village. Of course, no Christmas experience is complete without a Father Christmas, and Hyde Park delivers all that and a bowlful of jelly with their Santa Land. Geared towards the younger set, it provides rides and experiences for kids and the inescapable draw of a Santa's Grotto. Other attractions include shows for all ages, such as a Teletubbies Christmas Show for children or Cirque Berserk for those who wish to witness feats of daring do- or meet in the middle with Zippos Christmas Circus. Relive childhood fantasies or introduce a new generation to the classic Christmas tale with The Snowman Experience, an attraction you won't find anywhere else which allows you to step into scenes from Raymond Briggs' masterpiece.
There's so much to do, they're partnered with Booking.com to provide a service specifically for the park- making it an excellent option for a weekend away.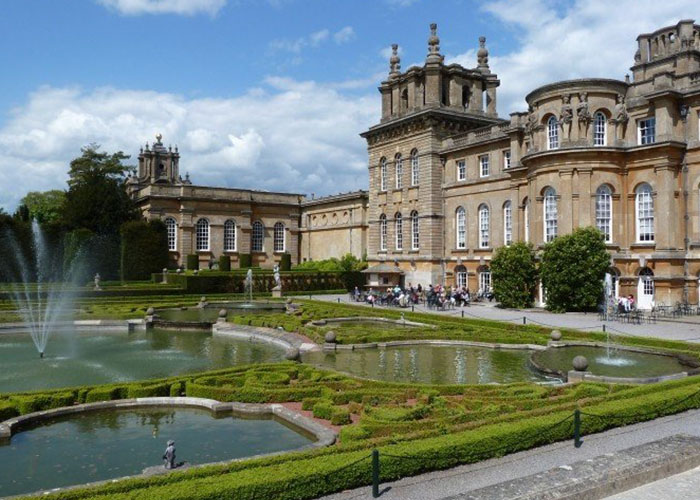 Blenheim Palace Christmas Market
When: 23rd November - 16th December
Where: Blenheim, UK
Blenheim Palace is a sight to behold any time, as befits the UK's only non-royal non-church building deemed a palace. Steeped in history it was the birthplace of Sir Winston Churchill and to make it clear just how very fancy it is, it is partnered with the Royal Butler Academy and offers courses in butler training. But in the Christmas season, it really outdoes itself. This year three Christmassy events begin on the 23rd. There is, as you've probably guessed reading this far, the Christmas market. Entrance to the market is free if you have an annual pass or you purchase admission to either of the other attractions- an illuminated trail or the retelling of the tale of Cinderella. The trek is absolutely gorgeous, with over 1000 lights of every imaginable shape and colour, laser projections and such surprising additions as a scented Fire Garden and singing trees. Festive! The fairy tale experience tells the tale of Cinderella in a number of fascinating setpieces set in the stately rooms, the iconic moments captured in artistic designs. The market itself is focused on finding those perfect Christmas gifts- set out in wooden chalets to ensure it's a comfortable experience they present unique items provided by many designers to serve up, textiles, homewares, ceramics jewellery, toys, stationery, hats, leather goods, bags, tasty treats and more.
Sadly it's not possible to stay the night in the palace, but most of the local places to stay in keeping with the theme of high-class design.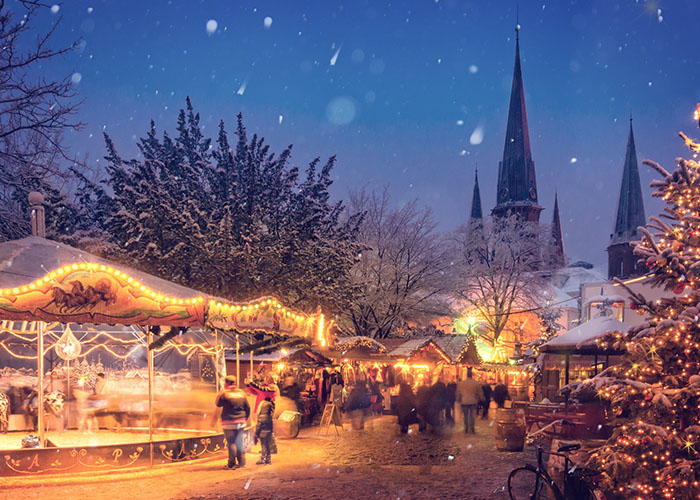 Zagreb Advent
When: 12th December - 6th January
Where: Zagreb, Croatia
When it comes to European Christmas markets, Zagreb is undoubtedly leading the parade. Voted the best in Europe 3 years in a row by the users of European Best Destinations, it has a grand reputation that is well deserved. The capital and largest city of Croatia, almost the entire town is transformed for the event- spread over several markets, there's something suit every taste. Though it's referred to as the Advent, there's more to have than a single chocolate a day. Every attraction, of which there are many, is surrounded by food and drink which gives the entire affair a homely feeling- like a home filled with the smell of Christmas dinner but scaled up across a city. The beautiful King Tomislav Square transforms from a green park to an ice park, beautifully lit at night to make the skating seem all the more like a fairytale. If you like to dance but not on the ice, Strossmayer square hosts 'Fooling Around'. An event that does exactly as it says it does, promising fun and a lively atmosphere. Those who consider shopping the height of the Christmas experience will love the Christmas Fair, where local artisans have crafted a huge number of items to peruse, promising totally unique gift for those back home. Proving Croatia knows just how beautiful it is and how to work it, the Klovicevi Dvori art gallery will this year feature a huge photo frame from which snow can fall on demand, allowing guests to make a memory that's the definition of picture perfect. And lest you forget the reason for the season, Live Nativity Scene at Zagreb Cathedral is renowned for its beautiful storytelling. And all that is just scratching the surface.
Another advantage of Zagreb's method of transforming the entire city is that it's ever-so easy to find accomodation near the action.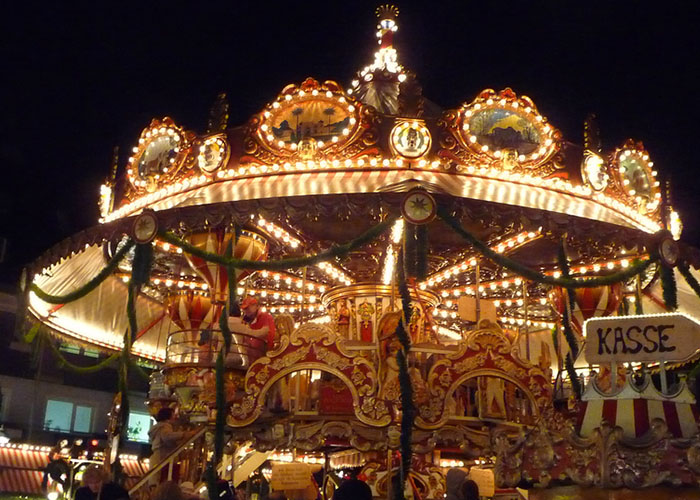 Nuremberg Christkindlesmarkt
When: 30th November - 24th December
Where: Nuremberg, Bavaria
Germany is the origin of the Christmas market, and it's something they take great pride in. If you really want to experience the truly traditional approach, there's nothing better for it that Nuremberg's Christkindlesmarkt. The earliest historical mention of the Christkindlesmarkt was in 1530, but it has likely been running much longer. Not much lasts almost 500 years without being great! The market gets its name from its representative character, the Christkind, a beautiful blonde figure in flowing white robes that does the job usually reserved for Santa in this season. The market has verboten mass-produced goods, meaning everything is handmade and thus utterly unique- just like in the days of old. You'll find the local souvenir of the Prunemen, brilliantly bizarre creations of birch, walnuts and prunes. The saying goes "With a prune man in your house, money and happiness stay, too." The Craftsmen's Courtyard doesn't just have such… unique things on sale. The Master Merchants of Nuremberg, great craftsmen who have received a seal of quality in their field, produce masterful creations of silver, gold, pewter, leather, glass and perhaps most temptingly, gingerbread and other baked goods. The market is surrounded by more history, such as the nearby toy museum which has special extended opening times during the fair.
Several nearby hotels offer special deals this time of year, and more than one boasts being five minutes away.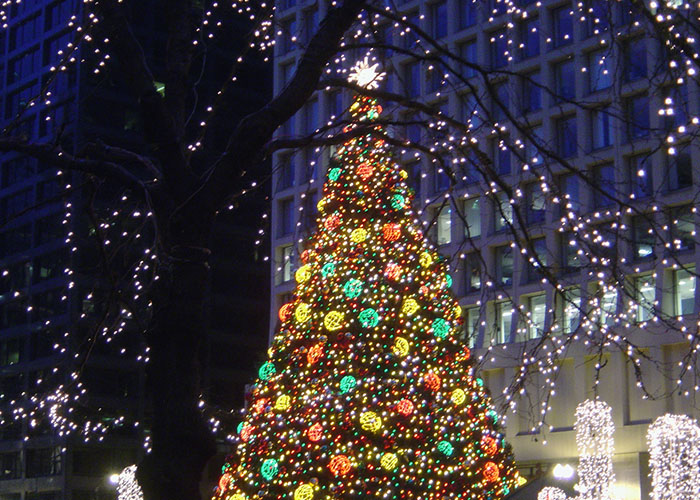 Downtown Holiday Market
When: 23rd November - 23rd December
Where: Washington, USA
The farthest afield in the USA's capital city, Washington's Downtown Holiday Market is celebrating its 14th consecutive year. Set in front of the world-famous Smithsonian American Art Museum and National Portrait Gallery, it bills itself as a shopping village and features over 150 artisans that rotate in blocks of 60 each day. As a result, it's an ever-evolving experience that is never the same twice, introducing new contributions all the time. Local artisans are the draw here with their creations have ornaments, ceramics, artworks, and textiles on display. Bringing back the perfect souvenir can be a difficult task on any holiday, but when it comes to Christmas gifts the strain is doubled- which is why having so much to choose from should make it much more comfortable! Each of the 31 days is done in style, with over 65 performers in just about every musical genre you can think of (except heavy Screamo. Probably). With its always changing layout and quite late opening time at 8pm, you could schedule an entire holiday around visiting other points of interest in one of the USA's most historic settings in the day and popping in during the evening to see what's new.
That's especially easy to do if you decide to stay in any of the many nearby hotels.
So there you have it- rather than order everything online and wait until the day to enjoy the thrill of Christmas, this year make the shopping itself part of the magic.